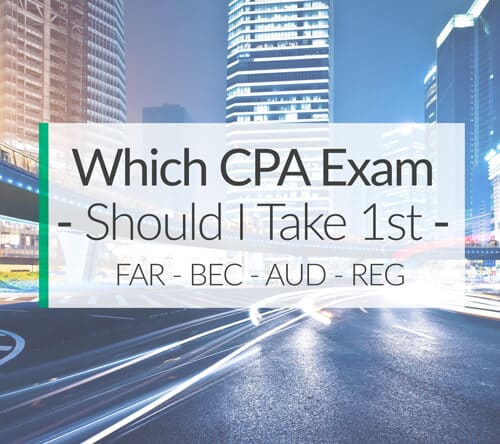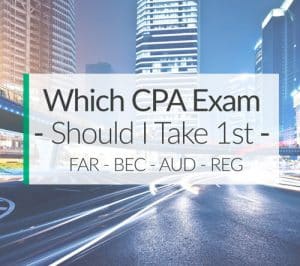 One of the most popular questions we hear from CPA candidates is, "which CPA exam section should I take first?" That's a great question. If you don't already know what the four parts of the CPA exam are, you should read my post about the bagian tina ujian CPA; it will give you more information about each all four sections. akibatna, this post will make a little more sense and help you decide which to choose.
Nu keur ceuk, picking the right CPA exam part to take first is a big decision. It could also mean the difference between passing the exam on time or having to pass parts multiple times. Let's talk about some of the popular theories out there then I will give you my opinion.
---
Take the Hardest Section of the CPA Exam First
You've probably heard this from your professors, co-workers, or even your CPA exam review course. Tons of people give this advice. On the surface it sounds good, bener? Meunangkeun hal nu hardest ujian CPA bagian kaluar tina jalan mimiti. Satuluyna anjeun moal kudu nungkulan eta engké. Nu ngajadikeun rasa, except it doesn't consider how the Certified Public Accountant exam works as a whole.
All four sections of the exam have to be passed in an 18-nguji bulan jandela. kituna, if you don't pass all of them in 18 bulan, éta bagian hareup nu diulik sangkan teuas pikeun baris lungsur dipareuman jeung kadaluarsa.
Related blog posts and resources
Ku kituna hayu urang nyebutkeun anjeun gaduh waktu susah jeung Peraturan. Mutuskeun nu bade sambel salah nu kaluar munggaran. You study your hardest for several months and take it for the first time. lebar, you get the dreaded 74 and you have to take it again. This time you get serious and double down on your CPA review. You study twice as hard and you pass it with a score of 80.
Now fast-forward 17 bulan. You are getting ready to take your last section of the CPA examination. You think it's going to be easy, so you barely study for it and you fail. Now there is no time to retake it and your REG credit gets dropped. Now you have to retake your most difficult section. Does that make sense? Wouldn't you rather retake your easiest section instead?
---
Your First Section of the CPA Exam Should Be Your Most Confident Subject
Your first exam section should be the subject that you feel the most confident with. This is different for everyone. Contona, if the last two classes you took in college were business law and federal taxation, REG would be a pretty obvious first choice. The material is still fresh in your mind and it shouldn't take too much effort to study. You'd basically be reviewing all the financial management information you just learned during the last semester.
If you are fresh out of school, you should focus on the subject that comes most easily to you. Contona, some people are just really good at memorizing legal information and weird tax codes. If you are one of these anomalies, REG would also be a good first choice for you. Alternatively, experts in economic concepts will want to prioritize the Business Environment and Concepts (BEC) section as their first.
If you aren't fresh out of school and you don't have an innate ability to memorize financial accounting information, you could look to your work. Contona, if you are an auditor, Auditing na Attestation (AUD) would be a wise first choice.
titik teh nya eta ujian CPA mimiti Anjeun kedah hal nu ngarasa yakin kalawan sarta bakal rada gampang pikeun anjeun pikeun nyiapkeun sarta lulus.
---
Naha Kudu Anjeun Candak Bagéan ieu munggaran?
janten, naha am I katuhu sarta sakabéh rahayat lianna nu salah? Aya sababaraha alesan naha ieu téh pangalusna strategi CPA.
kahiji, lamun nyandak bagian neneng Anjeun mimiti, Anjeun paling dipikaresep bakal maot eta. Anjeun boga pamanggih naon anu teu ka motivasi anjeun sarta kapercayaan. Nalika anjeun Kaluaran skor na anjeun meunang nu NASBA surat nyebutkeun yen anjeun diliwatan, all you will want to do is jump up and down. It's exciting and gives you the energy to walk into that Prometric center and take on the next set of multiple-choice questions.
Conversely, if you took the most difficult section first and failed it, your confidence and motivation will be shattered. After spending all that time studying this difficult topic and you still fail. You most likely won't be that motivated to continue.
Ningali Kursus-kursus Top CPA Review
View All
kadua, we already talked about losing the credit from a passed exam. If you take your strongest section first and lose it, it won't be fun, but it also won't be devastating. You will have to retake a subject that you are familiar with. It should be pretty easy to retake it.
I hope this helps make up your mind. Believe me. It makes way more sense to start strong subjects. Once you pass the first section, you'll be ready to take on the whole exam.