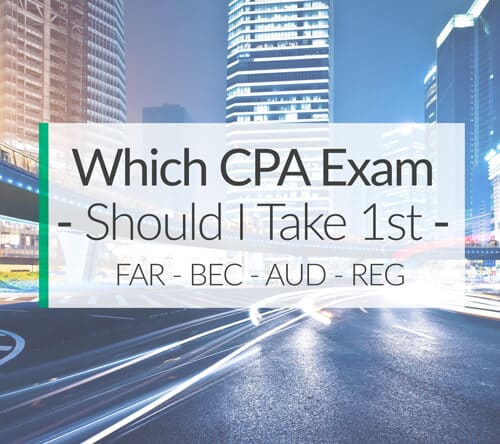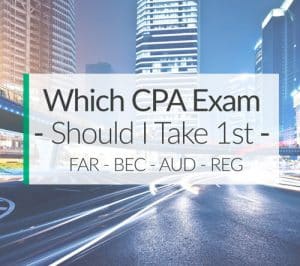 One of the most popular questions we hear from CPA candidates is, "which CPA exam section should I take first?" That's a great question. If you don't already know what the four parts of the CPA exam are, you should read my post about the sections of the CPA exam; it will give you more information about each all four sections. sonuç olarak, this post will make a little more sense and help you decide which to choose.
Söyleniyor ki, picking the right CPA exam part to take first is a big decision. It could also mean the difference between passing the exam on time or having to pass parts multiple times. Let's talk about some of the popular theories out there then I will give you my opinion.
---
Take the Hardest Section of the CPA Exam First
You've probably heard this from your professors, co-workers, or even your CPA exam review course. Tons of people give this advice. On the surface it sounds good, sağ? Get the hardest CPA exam part out of the way first. Then you won't have to deal with it later. That makes sense, except it doesn't consider how the Certified Public Accountant exam works as a whole.
All four sections of the exam have to be passed in an 18-month testing window. bu nedenle, if you don't pass all of them in 18 ay, the first section that you studied so hard for will drop off and expire.
Related blog posts and resources
So let's say you have a difficult time with Regulations. You decide that you are going to knock that one out first. You study your hardest for several months and take it for the first time. ne yazık ki, you get the dreaded 74 and you have to take it again. This time you get serious and double down on your CPA review. You study twice as hard and you pass it with a score of 80.
Now fast-forward 17 ay. You are getting ready to take your last section of the CPA examination. You think it's going to be easy, so you barely study for it and you fail. Now there is no time to retake it and your REG credit gets dropped. Now you have to retake your most difficult section. Does that make sense? Wouldn't you rather retake your easiest section instead?
---
Your First Section of the CPA Exam Should Be Your Most Confident Subject
Your first exam section should be the subject that you feel the most confident with. This is different for everyone. Örneğin, if the last two classes you took in college were business law and federal taxation, REG would be a pretty obvious first choice. The material is still fresh in your mind and it shouldn't take too much effort to study. You'd basically be reviewing all the financial management information you just learned during the last semester.
If you are fresh out of school, you should focus on the subject that comes most easily to you. Örneğin, some people are just really good at memorizing legal information and weird tax codes. If you are one of these anomalies, REG would also be a good first choice for you. alternatif olarak, experts in economic concepts will want to prioritize the Business Environment and Concepts (BEC) section as their first.
If you aren't fresh out of school and you don't have an innate ability to memorize financial accounting information, you could look to your work. Örneğin, if you are an auditor, Denetim ve Tasdik (AUD) would be a wise first choice.
The point is that your first CPA exam should be something that you feel confident with and will be somewhat easier for you to prepare for and pass.
---
Why Should You Take This Section First?
Yani, Neden hakkı ve diğer insanların tamamen yanlış duyuyorum? Bu iyi EBM stratejisidir çeşitli nedenleri vardır.
İlk, öncelikle en güçlü bölümü alırsak, büyük olasılıkla o geçecek. Bunu senin motivasyon ve güven ne yaptığını hiçbir fikrim yok. When your score releases and you get that NASBA letter saying that you passed, Yapmak istediğiniz tüm aşağı atlama yukarı ve olduğu. It's exciting and gives you the energy to walk into that Prometric center and take on the next set of multiple-choice questions.
tersine, İlk en zor bölümünü alıp başarısız olursa, kendine güvenin ve motivasyon paramparça olacak. bu zor konuyu okuyan tüm bu zaman geçirdikten sonra ve hala başarısız. Büyük olasılıkla devam etmek olduğunu motive olmayacaktır.
İkinci, biz zaten geçti sınav gelen kredi kaybetme konusunda konuştuk. öncelikle en güçlü bölümü alıp kaybederseniz, eğlenceli olmayacak, ama aynı zamanda yıkıcı olmayacak. Sen aşina bir konu yeniden ele zorunda kalacak. Onu geri almak için oldukça kolay olmalı.
Bunun kararını ver yardımcı olur umarım. İnan bana. It makes way more sense to start strong subjects. Once you pass the first section, you'll be ready to take on the whole exam.