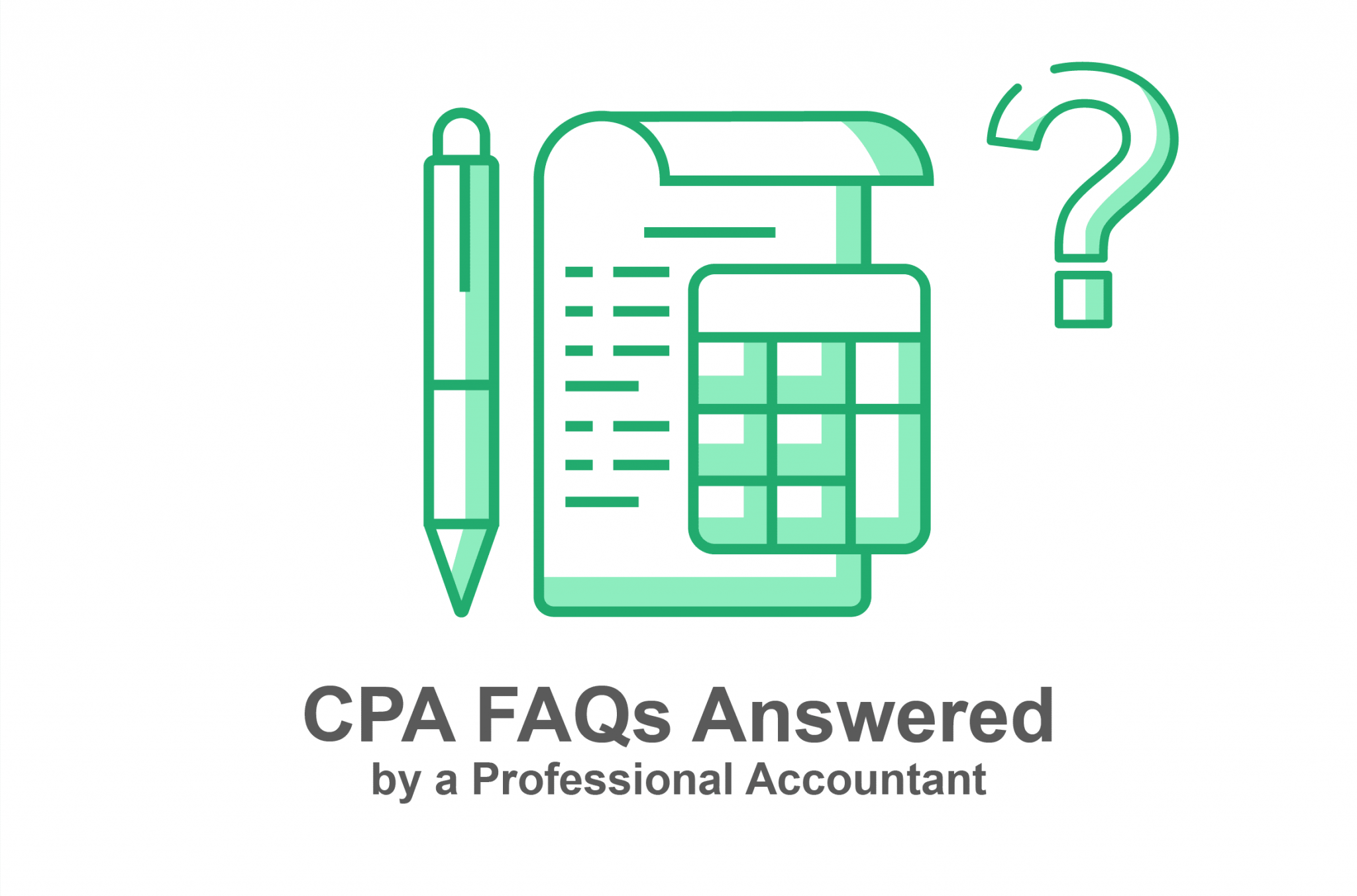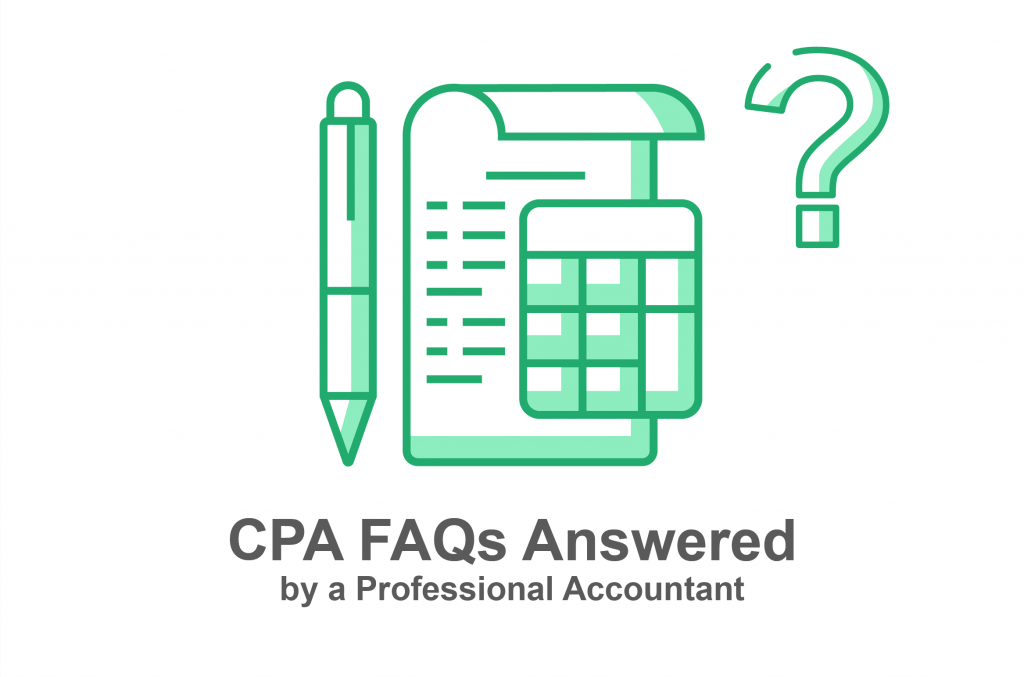 Earning your CPA designation will help you advance in your career. You can take on more interesting work as a CPA; furthermore, many business owners start their careers as accountants.
However, the process is time-consuming and you may feel overwhelmed. Use this set of frequently asked questions to study and pass the CPA exam.
---
What does CPA stand for?
The term CPA stands for Certified Public Accountant. Professionals use the CPA designation to advance in their careers and to eventually manage a business.
---
What does a CPA do?
CPAs perform a number of different jobs in a variety of industries. You can choose to work in public accounting; alternatively, you can work in a particular industry.
Public Accounting Jobs that CPAs Do
CPA firms provide audit, tax, and consulting services. Naturally, these firms are staffed with CPAs.
Auditing: Auditors perform test work on the accounting records in order to issue an audit option on the financial statements. Auditors spend a large amount of time at the client's office, warehouse, and other facilities. Consequently, if you enjoy client interaction, audit may be a good path for you.
Tax: Public accounting firms provide tax planning and preparation services for corporations, non-profits, and wealthy individuals. Tax accountants spend most of their time in the CPA office and work a large number of hours during tax season. Tax work is heavily technical; hence, you'll spend less time in front of clients.
Consulting: Consultants help corporations solve a number of problems: cash management, long-term planning, and operational issues. These CPAs spend the most time traveling, and their work is focused on business management and less on accounting.
Most public accountants (particularly those at large firms) specialize in a particular industry. The benefit to this is that specialization makes you an expert and you can work on more complex issues over time.
Think carefully about the type of clients you enjoy as you start your career. If you like working in financial services, consider specializing in that industry.
Ultimately, however, the public accounting career path is similar regardless of the type of work you do. Typically, you'll start work as a staff accountant and then move up to a senior position. After five years or so, you can be promoted to manager.
Partners own and manage public accounting firms. If you choose to stay in public accounting, it may take 10 years or longer to become a partner.
Most public accountants eventually leave their firms. Furthermore, many go on to work for clients in their area of expertise.
Working in Industry
Within accounting, there is a bit of debate between working in public accounting vs industry, but the truth is, you can do either one. You can choose to start your accounting career working in industry, or move into the field from public accounting. Experienced CPAs who move from public accounting may fill a number of roles, including the job of Chief Financial Officer (CFO).
The start of your career path is similar to public accounting. You start as a staff accountant, and move into an accounting manager role. Additionally, you may eventually become a controller responsible for the day-to-day accounting operations. CPAs also commonly work as treasurers managing cash and investments.
Ultimately, a CFO is the highest accounting position in a business. However, many CPAs move out of accounting and into other business roles, including Chief Executive Officer (CEO).
---
Who needs a CPA?
Your CPA expertise may be a company requirement or a set of skills that management believes is important.
Public companies register securities with the Securities and Exchange Commission (SEC); these firms must have an audit performed by a public accounting firm. Furthermore, other stakeholders, such as creditors and investors, may demand that a CPA firm perform an audit or prepare the tax return.
Essentially, both companies and nonprofits face complex accounting and finance issues. These organizations may insist on hiring CPAs to manage the accounting operation.
---
Can I be self-employed as a CPA?
You can work as a self-employed CPA, if you follow the licensing requirements for your state.
To be certified, you must pass the CPA examination and meet the requirements of your state board of accountancy. Also, CPAs must pay annual dues and complete continuing education courses each year.
Truthfully, many tax preparers are self-employed CPAs.
---
How do you become a CPA?
You must complete these requirements to become a CPA:
State board of accountancy: State boards are responsible for issuing each CPA license. Use this site to contact your state's board and review the requirements for your state.
Education: Each state has an education requirement that you must meet. A growing number of states are requiring a 150-hour accounting degree through a college or university.
Experience: If you work in public accounting, you can meet the experience requirement by working two years of more (check with your state). Accountants who work in industry need more years of experience to obtain a CPA license.
Ethics: Each state board requires CPA candidates to pass an ethics exam. The exam may cover the AICPA Rules of Professional Conduct, and state ethics requirements.
CPA exam: You must pass the CPA exam.
---
Related Articles & Blog Posts
---
How is the CPA exam scored?
You need a score of 75 or higher to pass the CPA exam. Specifically, you must earn a 75 or higher on each of the four tests that make up the CPA exam.
Each test is separated into testlets. Exam grading is adjusted based on the difficulty ranking of each testlet. If you score a 70 on a testlet that is assessed to be difficult, the grading system will add points to your score.
This AICPA document provides more detail on exam scoring.
---
How long is the CPA exam?
You must complete each of the four CPA exam sections within four hours.
All four tests require you to complete between 72 and 90 multiple-choice questions. FAR, AUD, and REG also include 5-7 simulations on each test.
BEC requires several written communication (essay) exam questions and doesn't include simulations.
---
Why is the CPA exam so hard?
CPAs are expected to have a wide variety of skills; hence, the CPA exam addresses many skills.
You must understand the entire accounting process and how to create each of the financial statements. CPAs also use business management, economics, and financial knowledge to perform work.
These skills, along with the ability to write clearly, are all tested on the CPA exam.
---
How many questions are on the CPA exam?
The exam has 324 multiple-choice questions, 20 simulation questions, and 3 written communication (essay) questions.
---
Can I take the CPA exam in a different state?
You'll take the CPA exam at a Prometric test facility. You can choose to take your test at any Prometric location that administers the exam. However, you should check with your state board of accountancy before scheduling an exam in another state.
---
Who can take the CPA exam?
Both US residents and foreign nationals who meet the requirements of a particular state board can take the CPA exam.
---
How many parts are in the CPA exam?
There are four parts in the CPA exam:
Financial accounting and reporting (FAR)
Auditing and attestation (AUD)
Regulation (REG)
Business environment and concepts (BEC)
---
How much does it cost to be a CPA?
CPAs incur several types of fees:
Application fee to take the CPA exam
Examination fee paid for each of the four tests you take
Annual continuing education costs for licensed CPAs
Check with your state board of accountancy for specific costs related to your area.
---
When can I take the CPA exam?
To decide when to take the CPA exam, follow these steps:
Submit your application and all required fees to your state board of accountancy. When the state board approves your application, it contacts the National Association of State Boards of Accountancy (NASBA).
NASBA reviews the state board information, including the tests you are allowed to take. NASBA sends you a Notice to Schedule (NTS).
Use your NTS to contact Prometric and set up a date and time to take your test. The CPA exam provides testing windows, which are time periods when candidates can take tests.
---
What is the hardest part of the CPA exam?
Many CPA candidates struggle with multiple-choice topics on the FAR test.
Pensions, consolidation accounting, and other FAR topics are complex. You need to identify the purpose of the question quickly so you can answer questions in the time allowed.
---
What is the easiest part of the CPA exam?
You may find the BEC multiple-choice topics to be the easiest part of the CPA exam.
Many BEC topics are clear and easy to understand. General business and economic topics are straightforward, and you may learn about these topics in other college courses.
---
Create a Study Plan for The CPA Exam
With proper planning and self-discipline, you can register for the exam, put in the study hours, and earn your CPA designation.
Use this information to create a plan and to gain peace of mind!