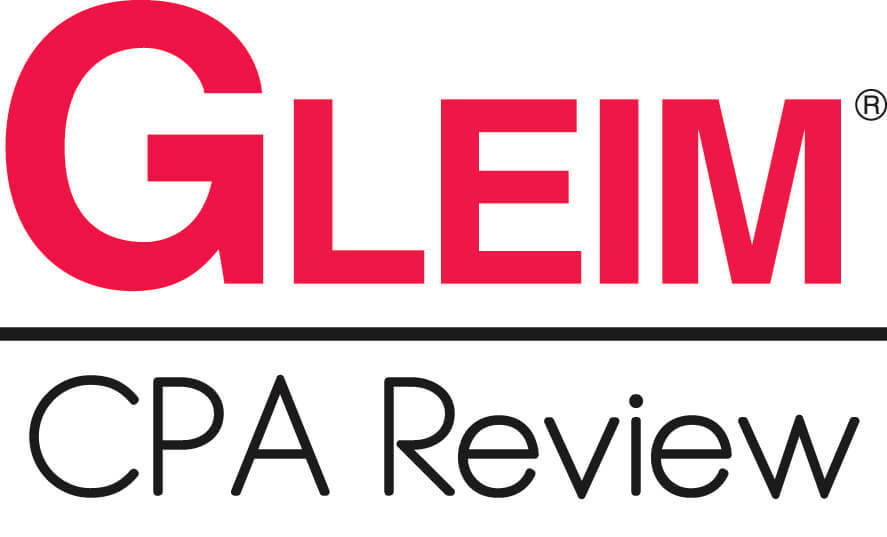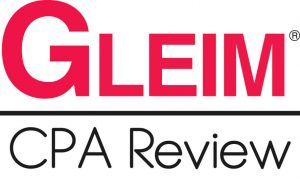 Gleim CPA recensione hè unu di i più antichi è accanusciutu assai nne matiriali studiu esame CPA su oghje u mercatu. Millaie di candidati sò usati sta sicuru rivista à priparà di l 'esame CPA. Esiste, ancu di più ghjente sò usate in parechji prudutti testu Prep Gleim cum'è Masti à altri materiali studiu.
U corsu esame Gleim CPA statu creatu à esse cumpletu è devessenu. Sta rivista spurtati CPA hà più dumanni, più esempii, di più spiecazione, e di più testu di lu studiu di qualunqui avutra corsu nantu à u mercatu. Di cunsiguenza, this level of detail is great for candidates who have been out of school for a long time or don't have a firm grasp on difficult accounting topics. It is also a popular choice for international candidates. If you don't fit into those categories, Nun vi scantati; this study course also has tons of unique features and benefits that can't be found in other study materials.
Chì a l'à marchjà à u revue de cursu Gleim CPA furmatu è vede ciò chì si hà a porghju.
How do you rate Gleim CPA Review?
---
Format Gleim CPA Course
A materia studiu Gleim sò addividìrisi nta autri chi cuncintràrisi nant'à i temi chiavi esame. Ogni capitulu hè custituita di differente moduli revue de esame frà Discorsi Video, testu studiu, dumanni e pratiche, Flashcards, e di più. Avemu Mulateri Di L'revue de ogni Modulo cuntenute in u capitulu e discurriri nzèmmula di u ciucciu è juncu.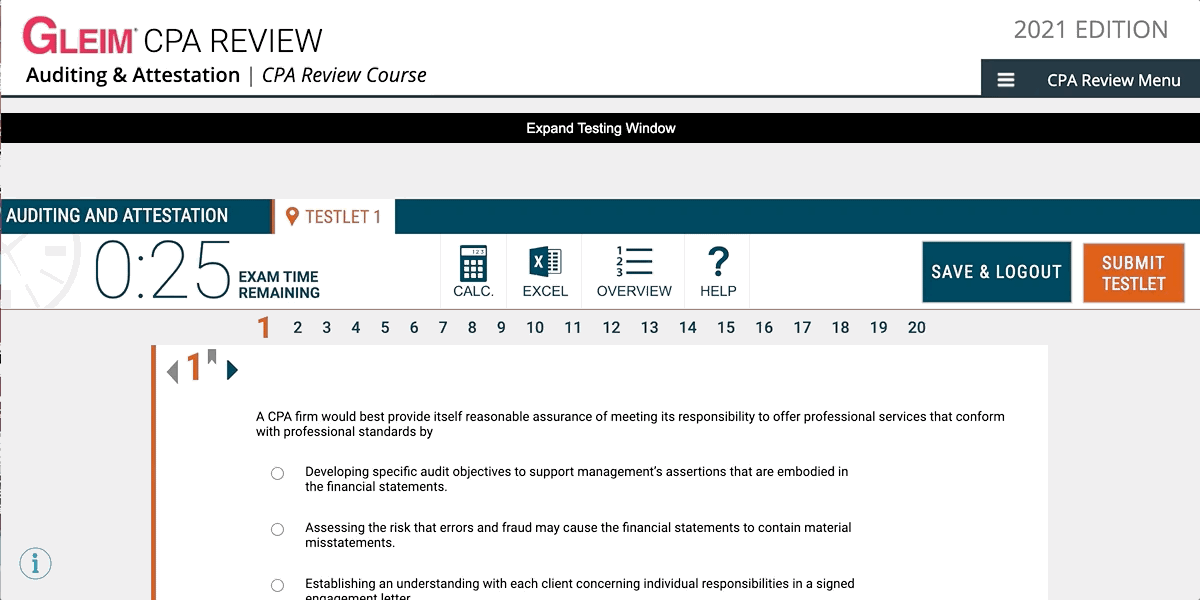 New for 2021, you're now able to take notes while while reading the content outlines. You can format your notes for easy retrieval when reviewing your notes.

Video Foguet
Gleim hè bedda novu à Discorsi Video. Iddi mai usatu a hannu Discorsi Video finu à altre cumpagnii cuminciaru li pruducia. Per una stonda, si fà Audition amparera visuale chì eranu cunziddiratu arregistrata suggetti powerpoint cun faccia. oghje, they have over 100 hours of video lectures taught by highly skilled, knowledgeable instructors that cover key exam topics. These lectures are highly informative and helpful since they go into great detail covering specific CPA exam questions, teaching students how to adequately apply their knowledge.
New for 2021 is a brand new video experience where students are able to take notes within the video platform. Students can also take notes within their course outlines as well.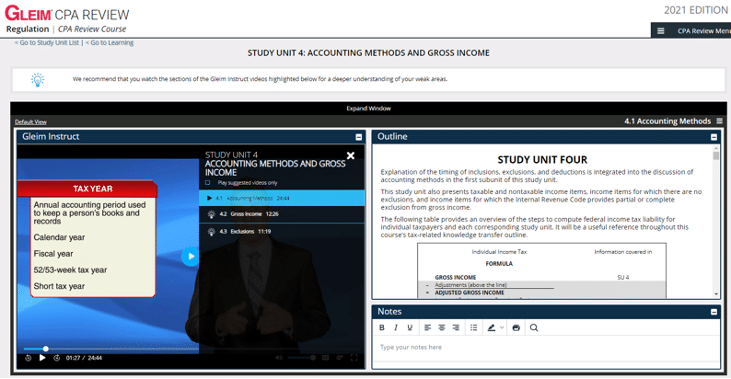 Corso di lingua Testu
U studiu libru Gleim CPA hè u libru più dettagliata è cumpleta nantu oghje u mercatu. In fattu, qualle forsi un pocu troppu info. Certi candidati lamentu chì quandu cù libru l'Gleim, ùn ci hè troppu infurmazioni à studià. Di cunsiguenza, si passanu di più tempu di studià chè nicissaria perchè i libri copre di più cà ciò chì i temi impurtanti sò nantu à u esame. This can be true for people who have a good handle on the information, but it's a good thing for people who need more detailed explanations of concepts and topics.
Gleim CPA Test Bank
The Gleim CPA Review test bank is the largest test bank in the industry. Esiste, this mega test bank includes over 10,000 past exam and practice multiple-choice questions in it. Most other test banks and review systems don't even come close to that number. You might ask, why would I need that many questions? Giustu, unlike extra information in the study text, extra practice questions are good things. You don't know to keep reviewing the same questions over and over because you will start memorizing the answers instead of reading the questions and understanding the concepts. The test bank is probably the best thing about this course. It's also available as a stand-alone product without the purchase of the full course. Many candidates use this as a supplement to their other courses.
Simulazzioni compitu-Fundatu
Similar to the test bank, Gleim includes an industry leading 1,300 task-based solutions in their course. This is almost double what other companies include. With simulations counting more and more in the overall exam score, these are being more and more important to practice. Gleim gives you plenty of different formats, temi, and concepts to be tested on. If you prepare with Gleim practice exams, you will be well-prepared come exam day.
esame simulate
Gleim's exam simulator emulates the real experience of the CPA exam. They've done a really good job on theirs. It is very close to the one used by the AICPA for the actual exam. Also, Gleim lets you use the simulator in a few different ways. You start their standard quizzes found in each exam section or you can create your own using the test bank. cusì, if you wanted to self-study chapters 4 e 9, you could make a custom quiz with only questions from those chapters. As you would expect, after you submit each quiz for grading, you will get explanations for each correct and incorrect answer. Gleim's explanations are like their textbook, extremely detailed. This is a good thing because it helps you understand the concepts better and learn from your mistakes.
New for 2021 is a second mock exam, so now you have 2 full exams to simulate the real thing on test day.
Intuitive Study Planner
The Gleim adaptive learning study planner is a great tool that will help you set and stay on your study schedule. When you first set up your study guide, the study planner will pop up and ask you for your exam date. Enter that and input the number of days per week you want to study, any days you don't want to study, and it will do the rest. It will automatically create a calendar for you that shows how many lessons and what materials you will need to complete each day until your final review. If you miss a day, it will automatically update the rest of the calendar and adjust your study time accordingly. infine, this is a great feature.
Those are the main modules and features of the Gleim CPA study materials, so let's look at the benefits and drawbacks of this review course compared with others on the market.
---
benefici
Trial Free
Gleim is generous enough to allow all CPA candidates access to their materials for free to see if Gleim is right for them. You can test drive the course, practice the study questions, and see what it looks like on the inside without having to pay for anything. Click below to test drive Gleim for FREE!
Largest Testbank
The Gleim CPA test bank is the largest in the industry. This is a huge benefit because it allows candidates to practice near endless amounts of questions without running into the same ones over and over. This is probably the best study aid you could ask for when preparing for the CPA exam.
cunsultura Personal
Gleim is unique to other companies in that they assign you a personal counselor who helps keep you motivated and on track during your study process. cusì, if you fall behind, u vostru lascivious vi mail voi à aiutà jungi daretu à l 'ombra. Tù dinù ponu chjama a vostra tercani cuntabili cun pruvàrinni l 'esame o di materiali revue. Stu hè tempurale di candidati chì bisognu di più aiutu cu li cuncetti.
Access Unlimited
Ô cuntrariu di autri cumpagnii revue de CPA, Gleim CPA puts no time limits on your study process. Thanks to their Access Until You Pass guarantee, your materials will never expire and you'll never have to pay extra fees to review or update them. The only exception is if you want to receive an updated version of their physical textbook, although you only need to pay the shipping costs.
---
scorda
Senicourt di Information
infurmazione Detailed hè una bona cosa. Troppu nantu à u corsu hè una cosa mala. Gleim pò volte marchjà i ligna. I so matiriali sò assai dittagliata è spissu troppu info à u puntu induve si fà candidati à studià troppu assai cose chì ùn essa u esame.
No App Mobile
There is no specific mobile app for the Gleim CPA Review program. Stu pò esse una grossa usure di persone chì sò sempre u muvimentu è tocca à studià da u so telefonu, o scrive. furtuna, Gleim still provides excellent mobile functionality through browser optimization and downloadable audio lectures, although a dedicated app would be a nice addition further down the line.
---
avvisu
Gleim CPA rivista hè una guida studiu Sognu di candidati chì bisognu di babbone info e spiecazione piena di dumanni e pratiche. Hè maiò di pirsuni ca sentu arriatu cù i temi esame o di candidati chì anu fattu fora di scola per un longu tempu. studianti internaziunali chì ùn sò cumpletamenti pràticu cun GAAP dinù tendini à aduprà Gleim. Sè vo vulete, chiaro di détails, chistu è lu cursu di voi. Also, se vo vulete un tempurale, banca francese test, chistu è lu cursu di voi!
Codes régime Gleim CPA & Shepard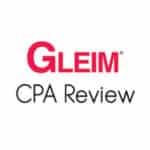 Gleim CPA Premium recensione Discount – Cruciani $200
CPA, Discount suprana, Gleim CPA
34 usa oghje
Last Camion: 7 minuti
Gleim CPA dumandatu Spissu Dumande
Chì hè u megliu corsu revue de CPA?
falzi, Roger, e Gleim tutti porghju benefici solu, sicondu ciò chì hè più impurtante in u vostru studiu (video content, dumanni e pratiche, scheduling technology, exam simulations, etc.). Ogni studiente hè differente, so use our comparison chart to see how they all stack up against each other.
What is Gleim CPA Review?
Gleim is an education-based company that provides study materials and review courses for several professional certifications. Founded by professor Irvin Gleim in 1974, this company provides learning materials for CPAs, CIA, CMAs, and EAs.
Quantu hè Gleim CPA recensione?
corsi revue de l'Gleim sò assai Cosi. U banchina più ch'elli porghju hè u corsu Premium Gleim CPA cun un tag: prezzu di $1,999. Hè menu chè i media l 'industria è include materiali studiu di tutte e 4 e rùbbriche di u esame CPA, in più à una tante catamaran. Certi di sti catamaran prividia Discorsi Giuseppe Verdi, I cuncerti esame, dischettu studiu incù Ragionieri vera, and access to their adaptive learning Interactive Study Planner. Gleim's Traditional CPA review course package which can be purchased for $1,599, è u so banchina più bassu è u Bank CPA Mega Test di $999.
Is Gleim CPA Review Good?
Gleim prupone parechji Corsi Prep è materiali studiu dichjarazioni chi ponu aiutà i studienti priparà per e passari lu esame CPA. Tuttavia, there are much better CPA prep courses available through companies like Surgent and Roger that offer more appealing features, comu a cumpatibulità tilatica, tecnulugia amparera dire, è cuntenutu lizzioni Live.