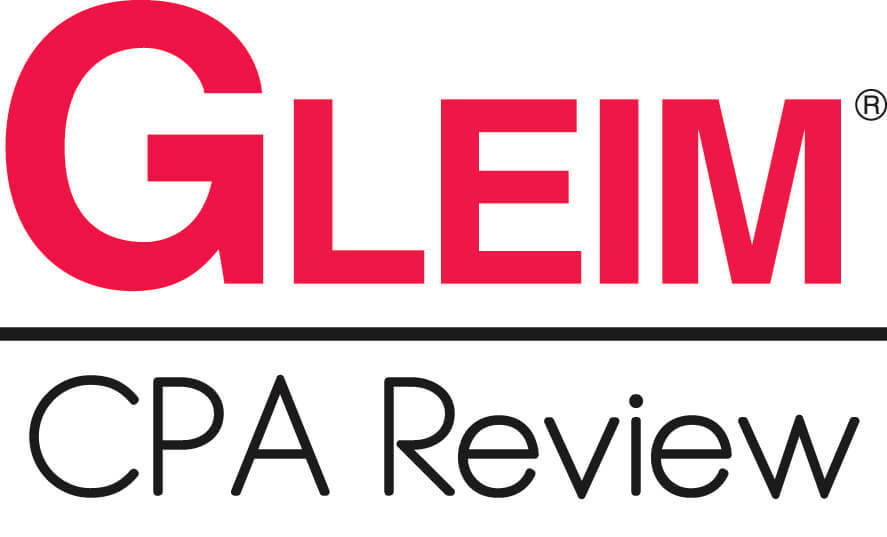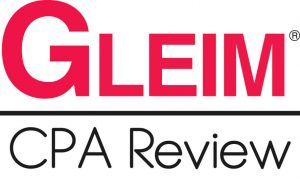 Gleim CPA Review is one of the oldest and most popular CPA exam study materials on the market today. Miles de persoas están utilizando este curso de revisión para prepararse para o exame CPA. ademais, aínda máis persoas están utilizando varios produtos de preparación de exame Gleim como suplementos para outros materiais de estudio.
O curso exame Gleim CPA foi deseñado para ser ampla e explicativo. Esta avaliación premio CPA ten máis preguntas, máis exemplos, máis explicacións, e máis texto de estudo do que calquera outro curso no mercado. consecuentemente, this level of detail is great for candidates who have been out of school for a long time or don't have a firm grasp on difficult accounting topics. It is also a popular choice for international candidates. If you don't fit into those categories, non se preocupe; this study course also has tons of unique features and benefits that can't be found in other study materials.
Let's walk through the Gleim CPA review course format and see what it has to offer.
How do you rate Gleim CPA Review?
---
Gleim CPA Course Format
The Gleim study materials are split into chapters that concentrate on key exam topics. Each chapter consists of different exam review modules including video lectures, texto de estudo, cuestións prácticas, flashcards, e máis. We'll review each module contained in the chapter and discuss the pros and cons.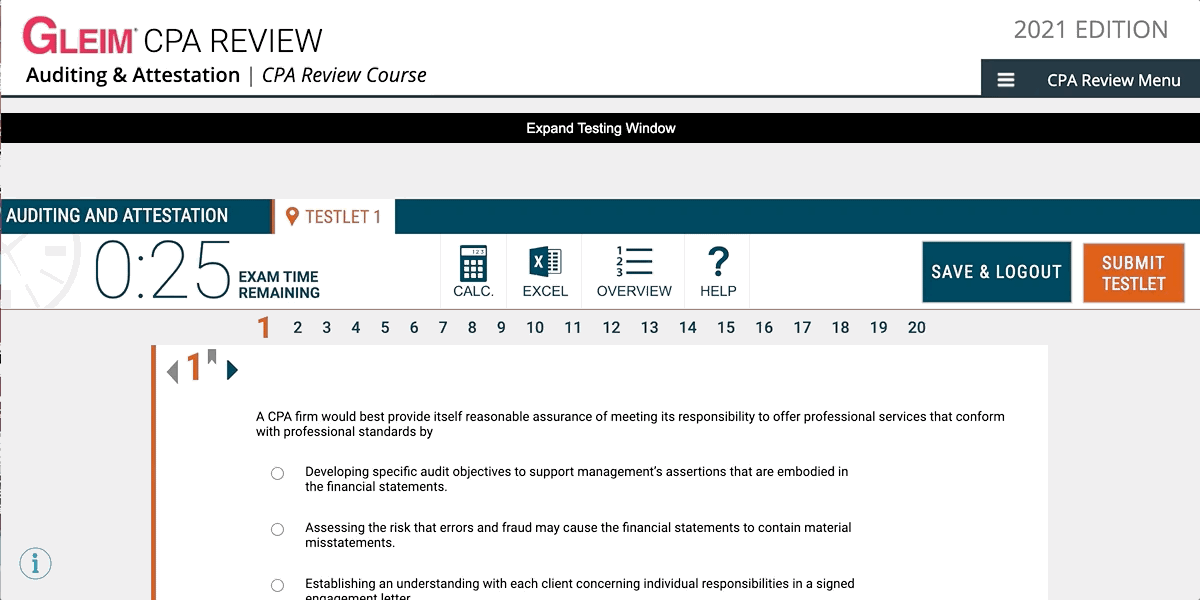 New for 2021, you're now able to take notes while while reading the content outlines. You can format your notes for easy retrieval when reviewing your notes.

Video Lectures
Gleim is pretty new to video lectures. They never used to have video lectures until other companies started producing them. For a while, they make visual learning aids that were basically recorded powerpoint presentations with audio. Today, they have over 100 hours of video lectures taught by highly skilled, knowledgeable instructors that cover key exam topics. These lectures are highly informative and helpful since they go into great detail covering specific CPA exam questions, teaching students how to adequately apply their knowledge.
New for 2021 is a brand new video experience where students are able to take notes within the video platform. Students can also take notes within their course outlines as well.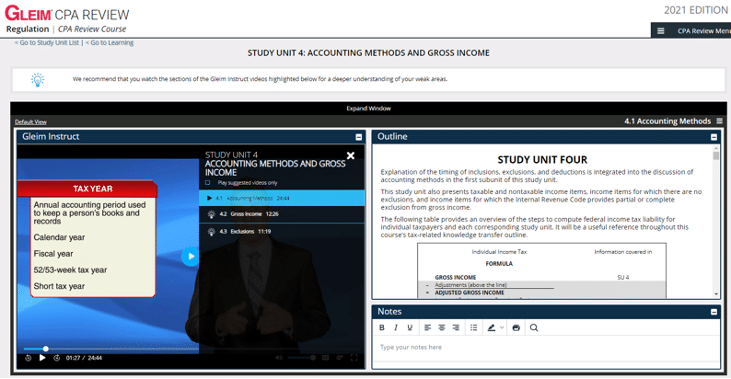 Study Text
The Gleim CPA study book is the most detailed and comprehensive book on the market today. Centrais, it's probably a little too detailed. Some candidates complain that when using Gleim's book, there is too much information to study. consecuentemente, they spend more time studying than necessary because the books cover more than what important topics are on the exam. This can be true for people who have a good handle on the information, but it's a good thing for people who need more detailed explanations of concepts and topics.
Gleim CPA Test Bank
The Gleim CPA Review test bank is the largest test bank in the industry. ademais, this mega test bank includes over 10,000 past exam and practice multiple-choice questions in it. Most other test banks and review systems don't even come close to that number. You might ask, why would I need that many questions? ben, unlike extra information in the study text, extra practice questions are good things. You don't know to keep reviewing the same questions over and over because you will start memorizing the answers instead of reading the questions and understanding the concepts. The test bank is probably the best thing about this course. It's also available as a stand-alone product without the purchase of the full course. Many candidates use this as a supplement to their other courses.
Simulacións Task-Based
Similar to the test bank, Gleim includes an industry leading 1,300 task-based solutions in their course. This is almost double what other companies include. With simulations counting more and more in the overall exam score, these are being more and more important to practice. Gleim gives you plenty of different formats, topics, and concepts to be tested on. If you prepare with Gleim practice exams, you will be well-prepared come exam day.
exame Simulator
Gleim's exam simulator emulates the real experience of the CPA exam. They've done a really good job on theirs. It is very close to the one used by the AICPA for the actual exam. tamén, Gleim lets you use the simulator in a few different ways. You start their standard quizzes found in each exam section or you can create your own using the test bank. así, if you wanted to self-study chapters 4 e 9, you could make a custom quiz with only questions from those chapters. As you would expect, after you submit each quiz for grading, you will get explanations for each correct and incorrect answer. Gleim's explanations are like their textbook, extremely detailed. This is a good thing because it helps you understand the concepts better and learn from your mistakes.
New for 2021 is a second mock exam, so now you have 2 full exams to simulate the real thing on test day.
Intuitive Study Planner
The Gleim adaptive learning study planner is a great tool that will help you set and stay on your study schedule. When you first set up your study guide, the study planner will pop up and ask you for your exam date. Enter that and input the number of days per week you want to study, any days you don't want to study, and it will do the rest. It will automatically create a calendar for you that shows how many lessons and what materials you will need to complete each day until your final review. If you miss a day, it will automatically update the rest of the calendar and adjust your study time accordingly. en definitiva, this is a great feature.
Those are the main modules and features of the Gleim CPA study materials, so let's look at the benefits and drawbacks of this review course compared with others on the market.
---
Benefits
Proba gratuita
Gleim is generous enough to allow all CPA candidates access to their materials for free to see if Gleim is right for them. You can test drive the course, practice the study questions, and see what it looks like on the inside without having to pay for anything. Click below to test drive Gleim for FREE!
maior TestBank
A base de proba Gleim CPA é o maior na industria. Este é un beneficio enorme, xa que permite que os candidatos a practicar preto de cantidades infinitas de preguntas sen executar para os mesmos unha e outra. Esta é probablemente a mellor axuda de estudo que podería pedir ao preparar o exame CPA.
Os conselleiros persoais
Gleim é exclusivo para outras empresas en que asignar-lle un conselleiro persoal que axuda a mantelo motivado e na pista durante o seu proceso de estudo. así, se queda atrás, seu conselleiro electrónico para ti para axudar de volta aos carrís. Tamén pode chamar o seu especialista en contabilidade con preguntas sobre o exame ou materiais de revisión. Este é enorme para os candidatos que precisan de máis axuda con conceptos.
acceso ilimitado
A diferenza doutras empresas de revisión de CPA, Gleim CPA puts no time limits on your study process. Thanks to their Access Until You Pass guarantee, your materials will never expire and you'll never have to pay extra fees to review or update them. The only exception is if you want to receive an updated version of their physical textbook, although you only need to pay the shipping costs.
---
desvantaxes
moita información
Información detallada é bo. Demasiada información é algo malo. Gleim ás veces pode andar na liña. Os seus materiais son moi detalladas e por veces demasiado detallada para o punto onde eles fan candidatos estudar moitas cousas que non será realmente o exame.
Sen App Móbil
There is no specific mobile app for the Gleim CPA Review program. Isto pode ser un gran negocio para persoas que están sempre en movemento e precisan estudar a partir do seu teléfono ou tablet. Fortunately, Gleim still provides excellent mobile functionality through browser optimization and downloadable audio lectures, although a dedicated app would be a nice addition further down the line.
---
recomendación
Gleim CPA review is an excellent study guide for candidates who need detailed textbooks and full explanations for practice questions. It's great for people who feel uncomfortable with the exam topics or candidates who have been out of school for a long time. International students who aren't completely familiar with GAAP also tend to use Gleim. If you want lots of details, este é o curso para ti. tamén, if you want a huge test bank, este é o curso para ti!
Gleim CPA Coupon Codes & descontos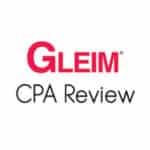 Cyber Monday Sale! Gleim CPA Premium Review Discount –
CPA, desconto exclusivo, Gleim CPA
41 usa hoxe
última usado: 7 minutes
Gleim CPA Preguntas frecuentes
Cal é o mellor curso de revisión CPA?
falso, Roger, e Gleim todos ofrecen beneficios atractivos, dependendo do que é máis importante para o seu estudo (contidos de vídeo, cuestións prácticas, tecnoloxía de programación, simulacións de exame, etc). Cada alumno é diferente, usa o noso gráfico de comparación para ver como todos eles se comportan uns contra os outros.
What is Gleim CPA Review?
Gleim é unha empresa baseada en educación que ofrece materiais de estudo e cursos de revisión para diversas certificacións profesionais. Fundada polo profesor Irvin Gleim en 1974, Esta empresa ofrece materiais de aprendizaxe para CPAs, CIA, CMAS, e EAS.
Canto Gleim CPA Review?
cursos de revisión de Gleim son moi accesibles. The highest tier they offer is the Gleim CPA Premium Course with a price tag of $1,999. This is less than the industry average and includes study materials for all 4 sections of the CPA exam, in addition to a plethora of extras. Some of these extras include audio lectures, exam rehearsals, study sessions with real accountants, and access to their adaptive learning Interactive Study Planner. Gleim's Traditional CPA review course package which can be purchased for $1,599, and their lowest tier is the CPA Mega Test Bank for $999.
Is Gleim CPA Review Good?
Gleim ofrece varios cursos preparatorios e material de estudo adicional que poden axudar os alumnos a preparar e pasar o exame CPA. con todo, there are much better CPA prep courses available through companies like Surgent and Roger that offer more appealing features, tales como a compatibilidade móbil, tecnoloxía de aprendizaxe adaptativa, eo contido charla ao vivo.