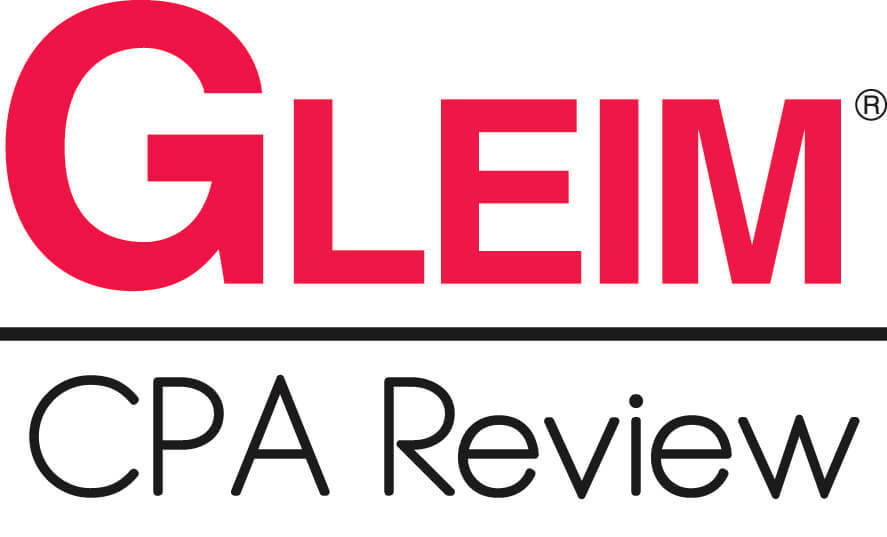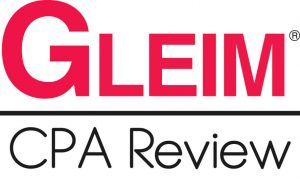 Gleim CPA pregled je jedan od najstarijih i najpopularnijih CPA ispita materijale na tržištu danas. Tisuće kandidata su koristili ovu recenziju tečaj pripreme za CPA ispita. osim toga, čak i više ljudi su koristili razne Gleim Test prep proizvode kao dodatak drugim materijale.
Gleim CPA ispita tečaj je dizajniran da bude sveobuhvatan i razumljiva. Ovaj vrhunski CPA pregled ima više pitanja, više primjera, više objašnjenja, i više studija tekst nego bilo koji drugi tečaj na tržištu. stoga, this level of detail is great for candidates who have been out of school for a long time or don't have a firm grasp on difficult accounting topics. It is also a popular choice for international candidates. If you don't fit into those categories, don't worry; this study course also has tons of unique features and benefits that can't be found in other study materials.
Let's walk through the Gleim CPA review course format and see what it has to offer.
How do you rate Gleim CPA Review?
---
Gleim CPA Course Format
The Gleim study materials are split into chapters that concentrate on key exam topics. Each chapter consists of different exam review modules including video lectures, studija tekst, praksi pitanja, flashcards, i više. We'll review each module contained in the chapter and discuss the pros and cons.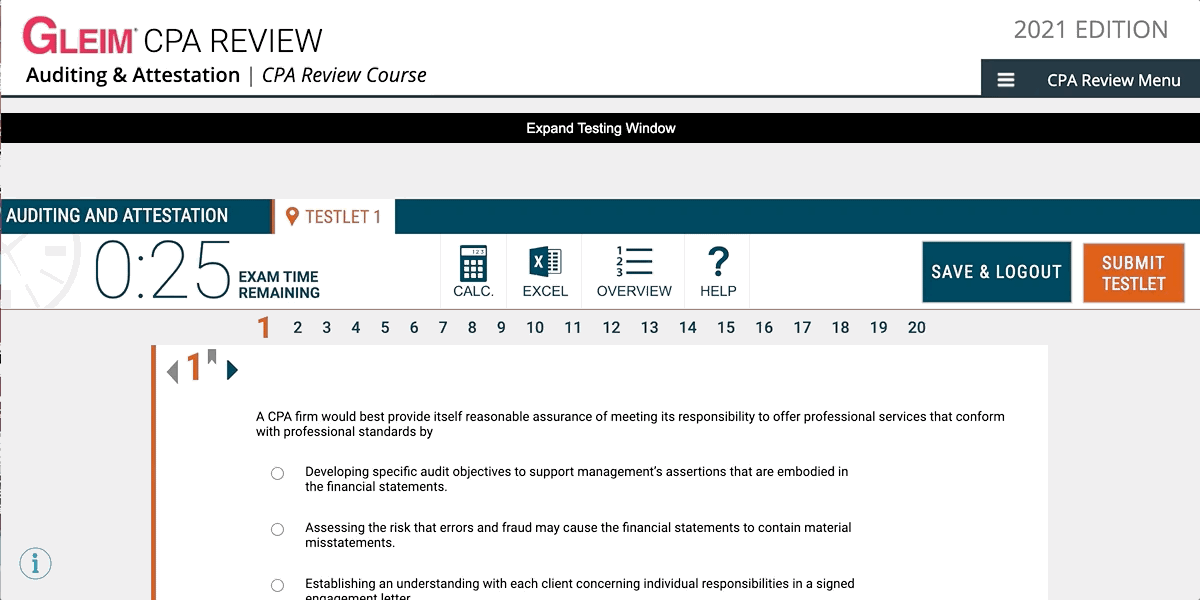 New for 2021, you're now able to take notes while while reading the content outlines. You can format your notes for easy retrieval when reviewing your notes.

Video Predavanja
Gleim is pretty new to video lectures. They never used to have video lectures until other companies started producing them. For a while, they make visual learning aids that were basically recorded powerpoint presentations with audio. Today, they have over 100 hours of video lectures taught by highly skilled, knowledgeable instructors that cover key exam topics. These lectures are highly informative and helpful since they go into great detail covering specific CPA exam questions, teaching students how to adequately apply their knowledge.
New for 2021 is a brand new video experience where students are able to take notes within the video platform. Students can also take notes within their course outlines as well.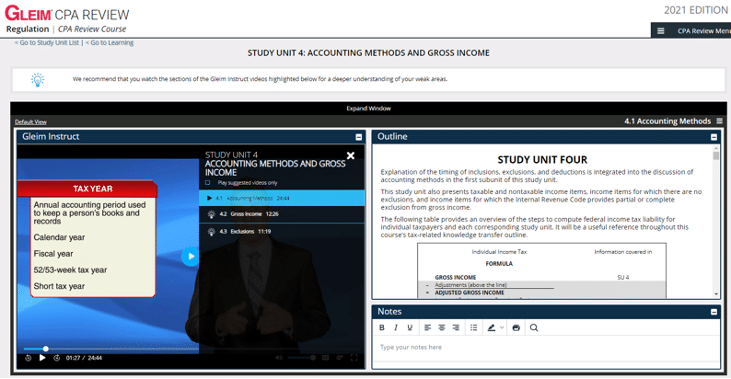 Study Text
The Gleim CPA study book is the most detailed and comprehensive book on the market today. Zapravo, it's probably a little too detailed. Some candidates complain that when using Gleim's book, there is too much information to study. stoga, they spend more time studying than necessary because the books cover more than what important topics are on the exam. This can be true for people who have a good handle on the information, but it's a good thing for people who need more detailed explanations of concepts and topics.
Gleim CPA Test Bank
The Gleim CPA Review test bank is the largest test bank in the industry. osim toga, this mega test bank includes over 10,000 past exam and practice multiple-choice questions in it. Most other test banks and review systems don't even come close to that number. You might ask, why would I need that many questions? Dobro, unlike extra information in the study text, extra practice questions are good things. You don't know to keep reviewing the same questions over and over because you will start memorizing the answers instead of reading the questions and understanding the concepts. The test bank is probably the best thing about this course. It's also available as a stand-alone product without the purchase of the full course. Many candidates use this as a supplement to their other courses.
Zadatak-Based Simulacije
Similar to the test bank, Gleim includes an industry leading 1,300 task-based solutions in their course. This is almost double what other companies include. With simulations counting more and more in the overall exam score, these are being more and more important to practice. Gleim gives you plenty of different formats, teme, and concepts to be tested on. If you prepare with Gleim practice exams, you will be well-prepared come exam day.
Ispit Simulator
Gleim's exam simulator emulates the real experience of the CPA exam. They've done a really good job on theirs. It is very close to the one used by the AICPA for the actual exam. Također, Gleim lets you use the simulator in a few different ways. You start their standard quizzes found in each exam section or you can create your own using the test bank. Tako, if you wanted to self-study chapters 4 i 9, you could make a custom quiz with only questions from those chapters. As you would expect, after you submit each quiz for grading, you will get explanations for each correct and incorrect answer. Gleim's explanations are like their textbook, extremely detailed. This is a good thing because it helps you understand the concepts better and learn from your mistakes.
New for 2021 is a second mock exam, so now you have 2 full exams to simulate the real thing on test day.
Intuitive Study Planner
The Gleim adaptive learning study planner is a great tool that will help you set and stay on your study schedule. When you first set up your study guide, the study planner will pop up and ask you for your exam date. Enter that and input the number of days per week you want to study, any days you don't want to study, and it will do the rest. It will automatically create a calendar for you that shows how many lessons and what materials you will need to complete each day until your final review. If you miss a day, automatski će se ažurirati ostatak kalendara i prilagoditi svoj studij vrijeme u skladu s tim. na kraju, ovo je velika značajka.
Oni su glavni moduli i značajke Gleim CPA materijale, pa pogledajmo o prednostima i nedostacima ovog pregleda, naravno u usporedbi s drugima na tržištu.
---
Prednosti
Free Trial
Gleim je dovoljno velikodušan da bi svi CPA kandidati pristup njihovim materijalima za slobodno vidi da li Gleim je pravo za njih. Možete testirati voziti tijek, praksi studija pitanja, and see what it looks like on the inside without having to pay for anything. Click below to test drive Gleim for FREE!
najveći Testbank
Gleim CPA Test banka je najveća u industriji. To je ogromna prednost jer omogućuje kandidati za praksu u blizini beskrajne količine pitanja bez trčanje u isti oni više i više. To je vjerojatno najbolji studije pomoći možete tražiti prilikom pripreme za CPA ispita.
Osobni savjetnici
Gleim je jedinstven za druge tvrtke u da vam dodijeliti osobni savjetnik koji pomaže držati vas potaknuti i na stazi za vrijeme studijskog procesa. Tako, ako pada iza, Vaš savjetnik će e-mail da bi dobili natrag na stazu. Također možete nazvati svoj računovodstveni stručnjak s pitanjima o ispitu ili pregled materijala. To je ogroman za kandidate koji trebaju više pomoći s pojmovima.
neograničen pristup
Za razliku od drugih CPA pregled tvrtki, Gleim CPA puts no time limits on your study process. Thanks to their Access Until You Pass guarantee, your materials will never expire and you'll never have to pay extra fees to review or update them. The only exception is if you want to receive an updated version of their physical textbook, although you only need to pay the shipping costs.
---
Nedostaci
Puno informacija
Detaljne informacije je dobra stvar. Previše informacija je loša stvar. Gleim ponekad može hodati liniju. Njihovi materijali su vrlo detaljni i ponekad previše detaljan do točke gdje bi kandidati učiti previše stvari koje zapravo neće biti na ispitu.
Ne mobilne aplikacije
There is no specific mobile app for the Gleim CPA Review program. This can be a big deal for people who are always on the move and need to study from their phone or tablet. Fortunately, Gleim still provides excellent mobile functionality through browser optimization and downloadable audio lectures, although a dedicated app would be a nice addition further down the line.
---
Preporuka
Gleim CPA review is an excellent study guide for candidates who need detailed textbooks and full explanations for practice questions. It's great for people who feel uncomfortable with the exam topics or candidates who have been out of school for a long time. International students who aren't completely familiar with GAAP also tend to use Gleim. If you want lots of details, ovo je tečaj za vas. Također, ako želite veliku testnu banku, ovo je tečaj za vas!
Gleim CPA Kupon Codes & Popusti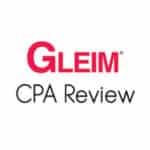 Gleim CPA Premium pregled Popust – Uštedjeti $200
CPA, ekskluzivno Popust, Gleim CPA
35 koristi danas
Posljednja Rabljeni: 2 minuta
Gleim CPA Često postavljana pitanja
Koji je najbolji CPA pregled tečaj?
lažan, sve je u redu, i Gleim svi nude snažne prednosti, ovisno o tome što je najvažnije za svoj studij (Video sadržaj, praksi pitanja, raspoređivanje tehnologija, ispit simulacija, itd). Svaki učenik je drugačiji, tako da koristite naš Usporedni prikaz to see how they all stack up against each other.
What is Gleim CPA Review?
Gleim is an education-based company that provides study materials and review courses for several professional certifications. Founded by professor Irvin Gleim in 1974, this company provides learning materials for CPAs, CIA, CMAs, and EAs.
How much is Gleim CPA Review?
Gleim's review courses are extremely affordable. The highest tier they offer is the Gleim CPA Premium Course with a price tag of $1,999. This is less than the industry average and includes study materials for all 4 sections of the CPA exam, in addition to a plethora of extras. Some of these extras include audio lectures, exam rehearsals, study sessions with real accountants, and access to their adaptive learning Interactive Study Planner. Gleim's Traditional CPA review course package which can be purchased for $1,599, and their lowest tier is the CPA Mega Test Bank for $999.
Is Gleim CPA Review Good?
Gleim nudi nekoliko prep tečajeva i dodatne materijale koji mogu pomoći učenicima pripremiti za te prolaze CPA ispita. Međutim, there are much better CPA prep courses available through companies like Surgent and Roger that offer more appealing features, kao što su mobilni kompatibilnosti, prilagodljiva tehnologija učenje, i žive sadržaj predavanja.