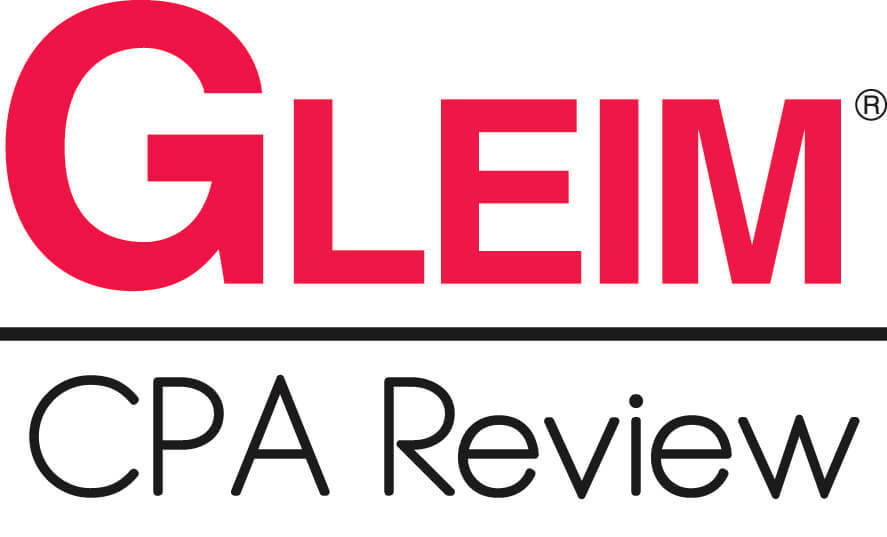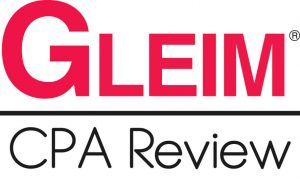 Gleim CPA Review ndi chimodzi mwa zida wamkulu ndi otchuka kwambiri kuphunzira CPA mayeso pa msika lero. Zikwi ofuna kuti ntchito njira imeneyi review pokonzekera mayeso CPA. Komanso, ngakhale anthu ambiri ntchito Gleim mayeso yokonzekera mankhwala osiyanasiyana monga zowonjezera zipangizo zina kuphunzira.
The Gleim CPA Inde mayeso linakonzedwa kuti mabuku ndi ofotokozera. Izi review umafunika CPA ali mafunso, zitsanzo zambiri, mafotokozedwe zambiri, ndipo kwambiri kuphunzira malemba kuposa Inde ina pa msika. Choncho, motere mwatsatanetsatane ndi wamkulu ofuna amene akhala ku sukulu kwa nthawi yaitali kapena mulibe timagwira mwamphamvu nkhani zovuta mlandu. Ndi kusankha otchuka ofuna lonse. If you don't fit into those categories, osadandaula; this study course also has tons of unique features and benefits that can't be found in other study materials.
Tiyeni kuyenda Gleim CPA review Inde mtundu ndi kuwona zomwe izo ziyenera kupereka.
How do you rate Gleim CPA Review?
---
Gleim CPA Ndithudi Mtundu
The Gleim zipangizo yophunzira unagawika Mitu azimvetsera mitu kiyi mayeso. Mutu uliwonse tichipeza osiyana zigawo mayeso review kuphatikizapo nkhani kanema, kuphunzira malemba, mafunso mchitidwe, flashcards, ndi zambiri. Ife kubwerezanso lililonse gawo ali mutu ndi kukambirana ubwino ndi kuipa.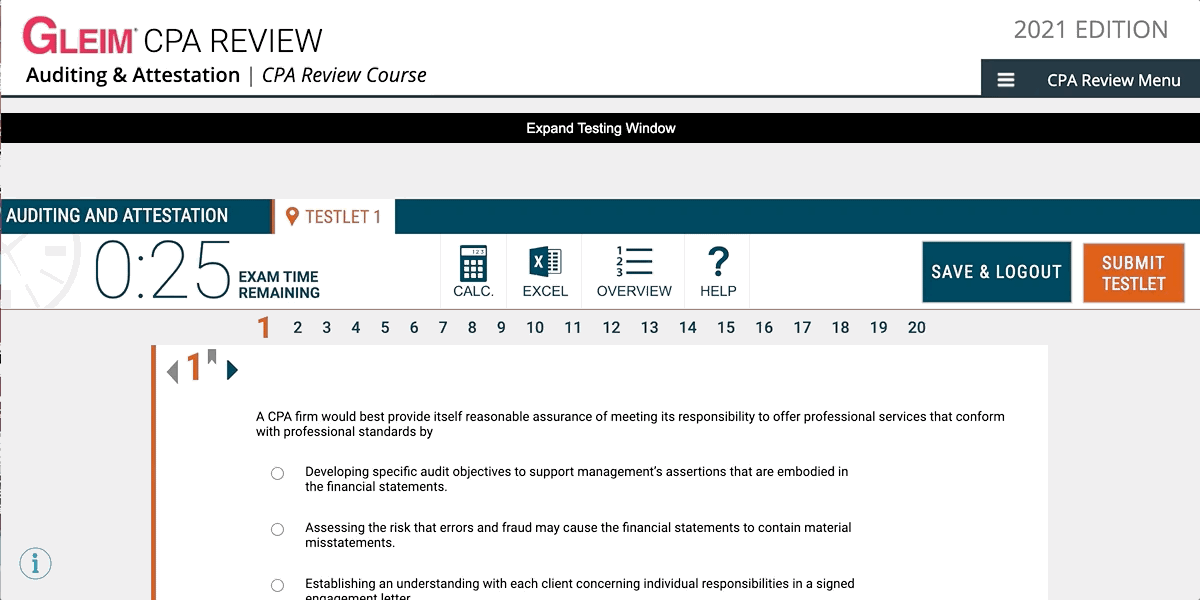 New for 2021, you're now able to take notes while while reading the content outlines. You can format your notes for easy retrieval when reviewing your notes.

Video nkhani
Gleim wokongola latsopano nkhani kanema. Iwo konse ntchito ndi nkhani kanema mpaka makampani ena anayamba kubala iwo. Kwakanthawi, iwo kukhala zooneka kuphunzira anali kwenikweni analemba ulaliki PowerPoint ndi zomvetsera. Today, they have over 100 hours of video lectures taught by highly skilled, knowledgeable instructors that cover key exam topics. These lectures are highly informative and helpful since they go into great detail covering specific CPA exam questions, teaching students how to adequately apply their knowledge.
New for 2021 is a brand new video experience where students are able to take notes within the video platform. Students can also take notes within their course outlines as well.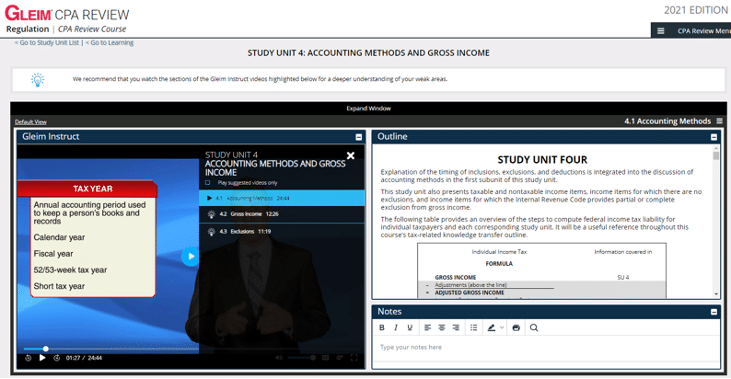 phunziro Text
The Gleim CPA phunziro la buku ndi ambiri zambiri ndi mabuku buku pa msika lero. Pamenepo, mwina pang'ono kwambiri mwatsatanetsatane. Ena ofuna akudandaula kuti ntchito buku Gleim a, pali zambirimbiri kuphunzira. Choncho, iwo nthawi yambiri kuphunzira kuposa ukhondo chifukwa mabuku kuphimba kuposa zimene zofunika ali pa mayeso. Zimenezi zingakhale zoona kwa anthu amene ali ndi chogwirira wabwino ndi zomwe, koma chinthu chabwino kwa anthu amene ayenera kuwafotokozera mwatsatanetsatane mfundo ndi mitu.
Gleim CPA Test Bank
The Gleim CPA Review mayeso banki ndi yaikulu mayeso banki makampani. Komanso, izi Mega mayeso banki zikuphatikizapo pa 10,000 past exam and practice multiple-choice questions in it. Most other test banks and review systems don't even come close to that number. You might ask, why would I need that many questions? Chabwino, unlike extra information in the study text, extra practice questions are good things. You don't know to keep reviewing the same questions over and over because you will start memorizing the answers instead of reading the questions and understanding the concepts. The test bank is probably the best thing about this course. Komanso zilipo monga mankhwala kumbali-yekha popanda kugula kumene utumiki. ofuna ambiri ntchito monga enaake kuti maphunziro ena.
Zitsanzo ntchito Limanena
Similar ku banki mayeso, Gleim zikuphatikizapo makampani kutsogolera 1,300 zothetsera ntchito ofotokoza m'njira yawo. Izi kuwirikiza kawiri zimene makampani ena monga. Ndi zoyeserera kuwerenga zambiri wonse mphambu mayeso, awa pokhala zambiri zofunika kuchita. Gleim kumakupatsani wambiri akamagwiritsa osiyana, nkhani, ndi mfundo ayesedwe pa. Mukamakonzekera ndi mayeso Gleim mchitidwe, mudzakhala bwino okonzeka kubwera mayeso tsiku.
mayeso pulogalamu yoyeseza
pulogalamu yoyeseza mayeso Gleim a emulates zinachitikira weniweni wa mayeso CPA. Iwo achita ntchito zabwino kwenikweni pa yawo. Ndi kwambiri amene amagwiritsidwa ntchito ndi AICPA mayeso leni. komanso, Gleim amalola inu ntchito pulogalamu yoyeseza mu njira zochepa zosiyana. Inu kuyamba quizzes awo muyezo zopezeka mu chigawo mayeso kapena inu mukhoza kulenga anu pogwiritsa ntchito muyeso banki. Motero, ngati inu mutafuna mitu kudziletsa kuphunzira 4 ndi 9, you could make a custom quiz with only questions from those chapters. As you would expect, after you submit each quiz for grading, you will get explanations for each correct and incorrect answer. Gleim's explanations are like their textbook, extremely detailed. This is a good thing because it helps you understand the concepts better and learn from your mistakes.
New for 2021 is a second mock exam, so now you have 2 full exams to simulate the real thing on test day.
Intuitive Study Planner
The Gleim adaptive learning study planner is a great tool that will help you set and stay on your study schedule. When you first set up your study guide, the study planner will pop up and ask you for your exam date. Enter that and input the number of days per week you want to study, any days you don't want to study, and it will do the rest. It will automatically create a calendar for you that shows how many lessons and what materials you will need to complete each day until your final review. If you miss a day, it will automatically update the rest of the calendar and adjust your study time accordingly. Potsilizira pake, this is a great feature.
Iwo ndi zigawo zikuluzikulu ndi mbali ya Gleim CPA zipangizo kuphunzira, kotero tiyeni tiyang'ane pa ubwino ndi zovuta ndithudi review poyerekeza ndi ena pa msika.
---
ubwino
Free Mayesero
Gleim ndi wowolowa manja n'kulola opita CPA kulumikiza zipangizo zawo kwaulere kuona ngati Gleim zabwino kwa iwo. Mukhoza kuyesa galimoto Maphunzirowa, amachita mafunso kuphunzira, and see what it looks like on the inside without having to pay for anything. Click below to test drive Gleim for FREE!
yaikulu Testbank
The Gleim CPA mayeso banki ndi waukulu mu makampani. Ndi phindu yaikulu chifukwa timatha ofuna kuchita pafupi angaphunzire mafunso popanda kukumana anthu amodzimodzi. Izi mwina zabwino lophunzirira mungafunse kuti pokonzekera mayeso CPA.
Alangizi Personal
Gleim ndi wapadera makampani ena kuti asankhe inu nkhoswe amene amathandiza chinachititsa ndi pamzere olondola pa ndondomeko phunziro lanu. Motero, ngati inu kutsalira, Mlangizi wanu imelo kuthandiza kuchotsa inu kumbuyo pa njanji. Mukhozanso itanani mlandu Katswiri wanu ndi mafunso okhudza mayeso kapena zipangizo review. Izi yaikulu ofuna amene akufunika thandizo ndi mfundo.
mALIRE Access
Mosiyana ndi zina makampani review CPA, Gleim CPA puts no time limits on your study process. Thanks to their Access Until You Pass guarantee, your materials will never expire and you'll never have to pay extra fees to review or update them. The only exception is if you want to receive an updated version of their physical textbook, although you only need to pay the shipping costs.
---
zovuta
Zambiri Information
Tsatanetsatane ndi chinthu chabwino. zambirimbiri ndi chinthu choyipa. Gleim zina kuyenda mzere. zipangizo zawo mwatsatanetsatane kwambiri ndipo nthawizina kwambiri mwatsatanetsatane poti iwo kupanga ofuna kuphunzira zinthu zambiri zimene kwenikweni kukhala pa mayeso.
No App Mobile
There is no specific mobile app for the Gleim CPA Review program. Zimenezi zingakhale akutukwana anthu amene nthawi zonse kusamuka ndi ayenera kuphunzira kuchokera foni awo kapena piritsi. Fortunately, Gleim still provides excellent mobile functionality through browser optimization and downloadable audio lectures, although a dedicated app would be a nice addition further down the line.
---
Malangizo
Gleim CPA kuunikidwaku kwambiri phunziro lothandiza anthu ofuna amene muyenera mabuku mwatsatanetsatane ndi mafotokozedwe lathunthu mafunso mchitidwe. Ndi kwambiri kwa anthu amene okayikitsa ndi nkhani mayeso oyimilira amene akhala ku sukulu kwa nthawi yaitali. Mayiko ophunzira amene si kwathunthu bwino GAAP amakonda kugwiritsa ntchito Gleim. Ngati mukufuna zambiri zokhudza, imeneyi kwa inu. komanso, ngati mukufuna yaikulu mayeso banki, imeneyi kwa inu!
Gleim CPA kuponi zizindikiro & kuchotsera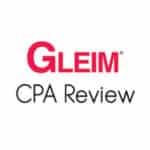 Cyber Monday Sale! Gleim CPA umafunika Review Kuchotsera –
CPA, mwakathithi Kuchotsera, Gleim CPA Promo Codes
33 akugwiritsa ntchito lero
Last ntchito: 6 seconds
Gleim CPA Frequently Asked Questions
What is the best CPA review course?
zabodza, Roger, and Gleim all offer compelling benefits, depending on what is most important to your study (video content, mafunso mchitidwe, scheduling technology, exam simulations, etc). Aliyense amene waphunzitsidwa ndi osiyana, so use our comparison chart to see how they all stack up against each other.
What is Gleim CPA Review?
Gleim is an education-based company that provides study materials and review courses for several professional certifications. Founded by professor Irvin Gleim in 1974, this company provides learning materials for CPAs, CIA, CMAs, and EAs.
Zingati Gleim CPA Review?
Gleim a review maphunziro ndi angakwanitse kwambiri. The gawo apamwamba amapereka ndi Gleim CPA umafunika Ndithudi ndi pamtengo wa $1,999. Izi ndi zochepa kuposa pafupifupi makampani ndi zikuphatikizapo zipangizo phunziro kwa onse 4 Ndime ya mayeso CPA, kuwonjezera plethora zowonjezera. Ena mwa zowonjezera zikuphatikizapo nkhani zomvetsera, rehearsals mayeso, kuphunzira ndi zachuma weniweni, and access to their adaptive learning Interactive Study Planner. Gleim's Traditional CPA review course package which can be purchased for $1,599, and their lowest tier is the CPA Mega Test Bank for $999.
Is Gleim CPA Review Good?
Gleim offers several prep courses and supplementary study materials that can help students prepare for and pass the CPA exam. Komabe, there are much better CPA prep courses available through companies like Surgent and Roger that offer more appealing features, such as mobile compatibility, adaptive learning technology, and live lecture content.