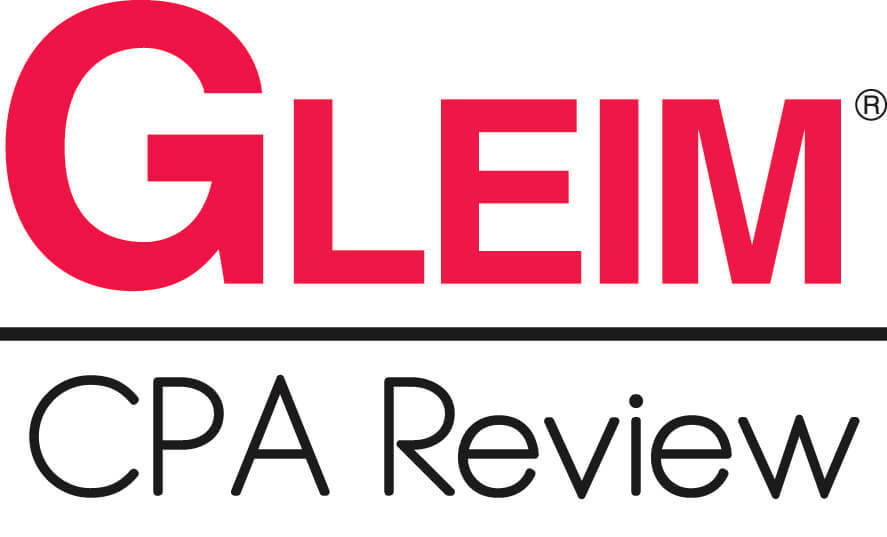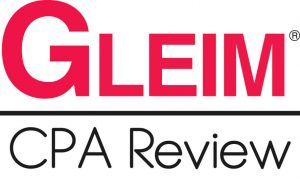 Gleim CPA Review is one of the oldest and most popular CPA exam study materials on the market today. Thousands of candidates have used this review course to prepare for the CPA exam. E le gata i, even more people have used various Gleim test prep products as supplements to other study materials.
The Gleim CPA exam course was designed to be comprehensive and explanatory. This premium CPA review has more questions, more examples, more explanations, and more study text than any other course on the market. O le mea, this level of detail is great for candidates who have been out of school for a long time or don't have a firm grasp on difficult accounting topics. It is also a popular choice for international candidates. If you don't fit into those categories, don't worry; this study course also has tons of unique features and benefits that can't be found in other study materials.
Let's walk through the Gleim CPA review course format and see what it has to offer.
How do you rate Gleim CPA Review?
---
Gleim CPA Course Format
The Gleim study materials are split into chapters that concentrate on key exam topics. Each chapter consists of different exam review modules including video lectures, study text, faiga fesili, flashcards, and more. We'll review each module contained in the chapter and discuss the pros and cons.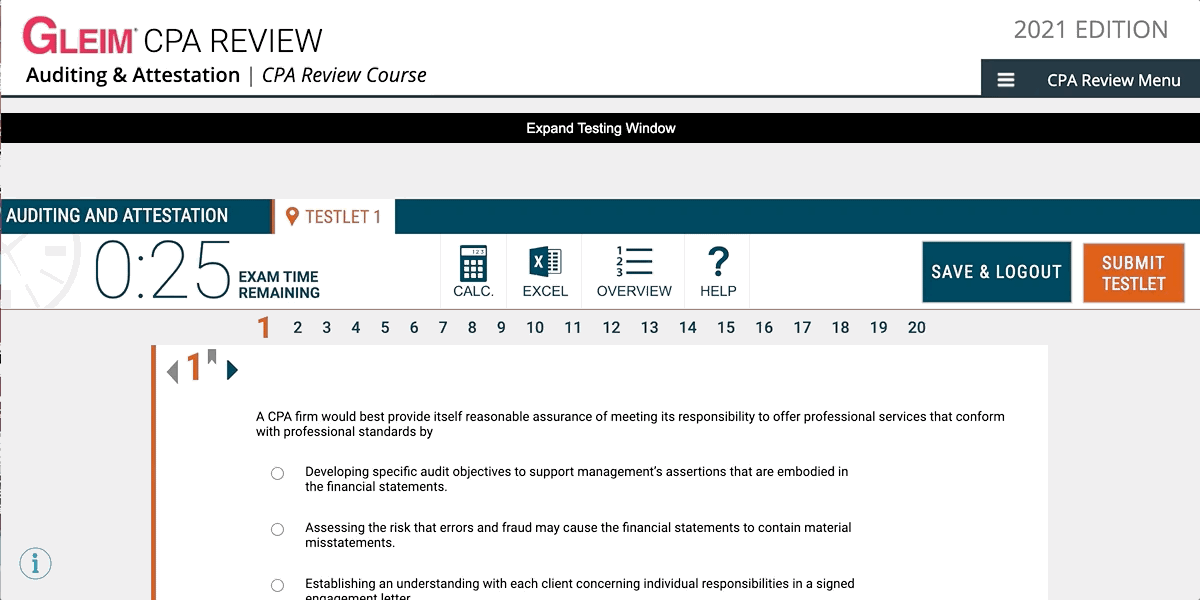 New for 2021, you're now able to take notes while while reading the content outlines. You can format your notes for easy retrieval when reviewing your notes.

Video Lectures
Gleim is pretty new to video lectures. They never used to have video lectures until other companies started producing them. For a while, they make visual learning aids that were basically recorded powerpoint presentations with audio. Today, they have over 100 hours of video lectures taught by highly skilled, knowledgeable instructors that cover key exam topics. These lectures are highly informative and helpful since they go into great detail covering specific CPA exam questions, teaching students how to adequately apply their knowledge.
New for 2021 is a brand new video experience where students are able to take notes within the video platform. Students can also take notes within their course outlines as well.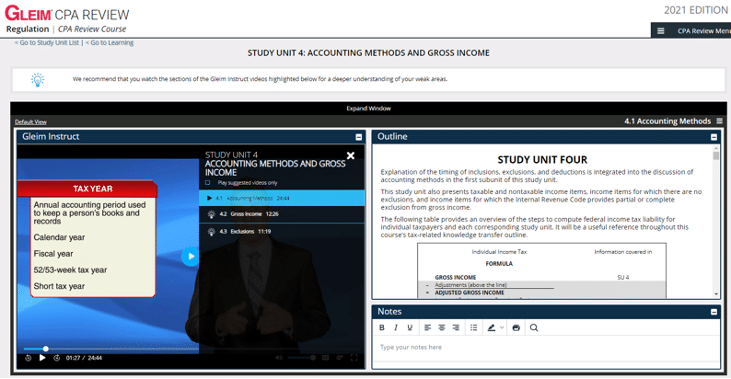 Study Text
The Gleim CPA study book is the most detailed and comprehensive book on the market today. In fact, it's probably a little too detailed. Some candidates complain that when using Gleim's book, there is too much information to study. O le mea, they spend more time studying than necessary because the books cover more than what important topics are on the exam. This can be true for people who have a good handle on the information, but it's a good thing for people who need more detailed explanations of concepts and topics.
Gleim CPA Test Bank
The Gleim CPA Review test bank is the largest test bank in the industry. E le gata i, this mega test bank includes over 10,000 past exam and practice multiple-choice questions in it. Most other test banks and review systems don't even come close to that number. You might ask, why would I need that many questions? lelei, unlike extra information in the study text, extra practice questions are good things. You don't know to keep reviewing the same questions over and over because you will start memorizing the answers instead of reading the questions and understanding the concepts. The test bank is probably the best thing about this course. It's also available as a stand-alone product without the purchase of the full course. Many candidates use this as a supplement to their other courses.
Simulations galuega-faavae
Similar to the test bank, Gleim includes an industry leading 1,300 task-based solutions in their course. This is almost double what other companies include. With simulations counting more and more in the overall exam score, these are being more and more important to practice. e te maua ai Gleim le tele o mamanu eseese, autu, ma manatu o le a tofotofoina i. Afai e te saunia ma Gleim suega faiga, o le a outou saunia lelei oo mai le aso o le suʻega.
Simulator suʻega
simulator suʻega a Gleim emulates le aafiaga moni o le suʻega CPA. Ua latou faia se galuega lelei lava i latou. E matua latalata atu i le tasi faaaogaina e le AICPA mo le suega moni. foʻi, faatagaina Gleim e te faaaogaina le simulator i ni nai auala eseese. E amataina o latou tulaga faatonuina suega maua i le vaega suʻega taitasi po o e mafai ona e faia lau lava le faaaogaina o le faletupe suega. lea, if you wanted to self-study chapters 4 ma 9, you could make a custom quiz with only questions from those chapters. As you would expect, after you submit each quiz for grading, you will get explanations for each correct and incorrect answer. Gleim's explanations are like their textbook, extremely detailed. This is a good thing because it helps you understand the concepts better and learn from your mistakes.
New for 2021 is a second mock exam, so now you have 2 full exams to simulate the real thing on test day.
Intuitive Study Planner
The Gleim adaptive learning study planner is a great tool that will help you set and stay on your study schedule. When you first set up your study guide, the study planner will pop up and ask you for your exam date. Enter that and input the number of days per week you want to study, any days you don't want to study, and it will do the rest. It will automatically create a calendar for you that shows how many lessons and what materials you will need to complete each day until your final review. If you miss a day, it will automatically update the rest of the calendar and adjust your study time accordingly. Mulimuli ane, this is a great feature.
Those are the main modules and features of the Gleim CPA study materials, so let's look at the benefits and drawbacks of this review course compared with others on the market.
---
Benefits
Faamasinoga Free
Gleim is generous enough to allow all CPA candidates access to their materials for free to see if Gleim is right for them. You can test drive the course, practice the study questions, and see what it looks like on the inside without having to pay for anything. Click below to test drive Gleim for FREE!
Testbank aupito tele
Le faletupe suega Gleim CPA o le pito i tele i totonu o le alamanuia. o se faamanuiaga tele lenei mea ona e mafai ai sui faatutu e faataitai latalata gata aofaiga o fesili e aunoa ma le momoʻe atu i le tagata lava e tasi. atonu O le suesuega sili fesoasoani e mafai ona e ole atu mo le pe a saunia mo le suega CPA.
Fesoasoani Tagata Lava
Gleim is unique to other companies in that they assign you a personal counselor who helps keep you motivated and on track during your study process. lea, if you fall behind, your counselor will email you to help get you back on track. You can also call your accounting expert with questions about the exam or review materials. This is huge for candidates who need more help with concepts.
Unlimited Access
Unlike other CPA review companies, Gleim CPA puts no time limits on your study process. Thanks to their Access Until You Pass guarantee, your materials will never expire and you'll never have to pay extra fees to review or update them. The only exception is if you want to receive an updated version of their physical textbook, although you only need to pay the shipping costs.
---
Drawbacks
Lots of Information
Detailed information is a good thing. Too much information is a bad thing. Gleim can sometimes walk the line. Their materials are extremely detailed and sometimes too detailed to the point where they make candidates study too many things that will not actually be on the exam.
No Mobile App
There is no specific mobile app for the Gleim CPA Review program. This can be a big deal for people who are always on the move and need to study from their phone or tablet. Fortunately, Gleim still provides excellent mobile functionality through browser optimization and downloadable audio lectures, although a dedicated app would be a nice addition further down the line.
---
Recommendation
Gleim CPA review is an excellent study guide for candidates who need detailed textbooks and full explanations for practice questions. It's great for people who feel uncomfortable with the exam topics or candidates who have been out of school for a long time. International students who aren't completely familiar with GAAP also tend to use Gleim. If you want lots of details, o le ala lenei mo oe. foʻi, if you want a huge test bank, o le ala lenei mo oe!
Gleim CPA Coupon Codes & faapau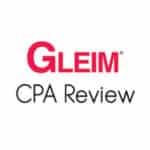 Gleim CPA Premium Review Discount – vagana $200
CPA, pau faapitoa, Gleim CPA
40 faaaogaina i aso nei
mulimuli faaaogaina: 14 minutes
Gleim CPA Frequently Asked Questions
What is the best CPA review course?
sese, Roger, and Gleim all offer compelling benefits, e faalagolago i le mea e sili ona taua i au suesuega (vitio anotusi, faiga fesili, le faatulagaina o tekinolosi, simulations suʻega, etc). E eseese uma lava tagata o le vasega, so use our comparison chart to see how they all stack up against each other.
What is Gleim CPA Review?
Gleim is an education-based company that provides study materials and review courses for several professional certifications. Founded by professor Irvin Gleim in 1974, this company provides learning materials for CPAs, CIA, CMAs, and EAs.
Le a le tele o Gleim CPA Review?
vasega iloiloga a Gleim e matua taugofie. O le maualuga se lua latou ofoina atu o le Gleim CPA Course Totogi ma se pine o le tau o $1,999. e itiiti ifo nai lo lenei le alamanuia averesi ma e aofia ai mea suesuega mo tagata uma 4 vaega o le suʻega CPA, e faaopoopo atu i se plethora o extras. Some of these extras include audio lectures, exam rehearsals, study sessions with real accountants, and access to their adaptive learning Interactive Study Planner. Gleim's Traditional CPA review course package which can be purchased for $1,599, ma o latou maualalo se lua o le CPA Mega Faletupe Suega mo $999.
Is Gleim CPA Review Good?
Gleim offers several prep courses and supplementary study materials that can help students prepare for and pass the CPA exam. Ae peitai, there are much better CPA prep courses available through companies like Surgent and Roger that offer more appealing features, such as mobile compatibility, adaptive learning technology, and live lecture content.