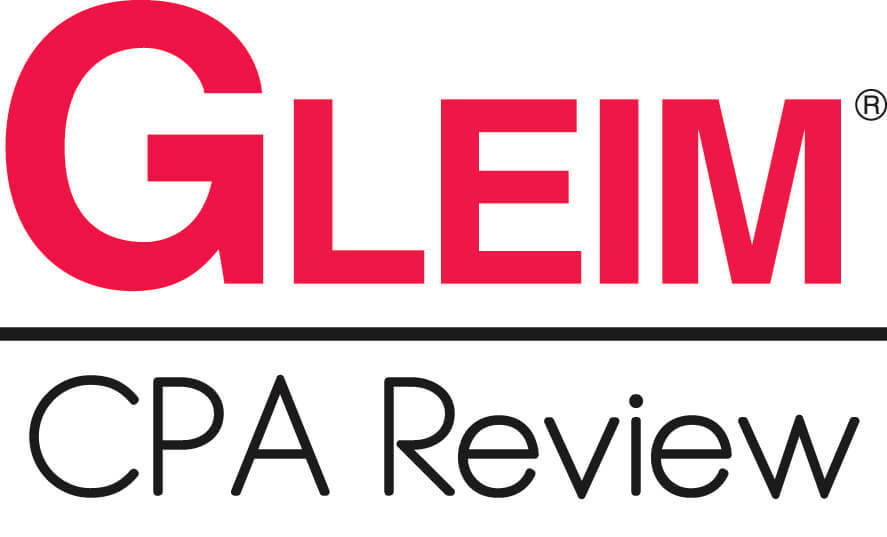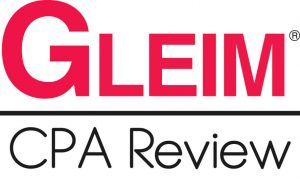 Gleim CPA评论 是目前市场上最古老和最流行的注册会计师考试的学习材料之一. 成千上万的考生都使用这一审查过程中,为注册会计师考试准备. 此外, 甚至更多的人使用了各种Gleim考试准备的产品作为补充其他学习资料.
该Gleim CPA考试课程旨在全面,解释. 这个溢价CPA复习有更多的问题, 更多的例子, 更多的解释, 和更多的研究文本比市场上任何其他课程. 所以, 这些细节是伟大的谁已经离开学校了半天还是没有对困难会计主题,牢牢把握候选人. 这也是国际考生的热门选择. If you don't fit into those categories, 别担心; this study course also has tons of unique features and benefits that can't be found in other study materials.
让我们穿行 Gleim CPA复习课程 格式,看看它提供.
How do you rate Gleim CPA Review?
---
Gleim CPA课程形式
该Gleim研究材料分割成集中在关键考试主题章节. 每章由不​​同的考试复习模块,包括视频讲座, 研究文本, 练习题, 卡片, 和更多. 我们将回顾包含的章节中各模块和讨论利弊.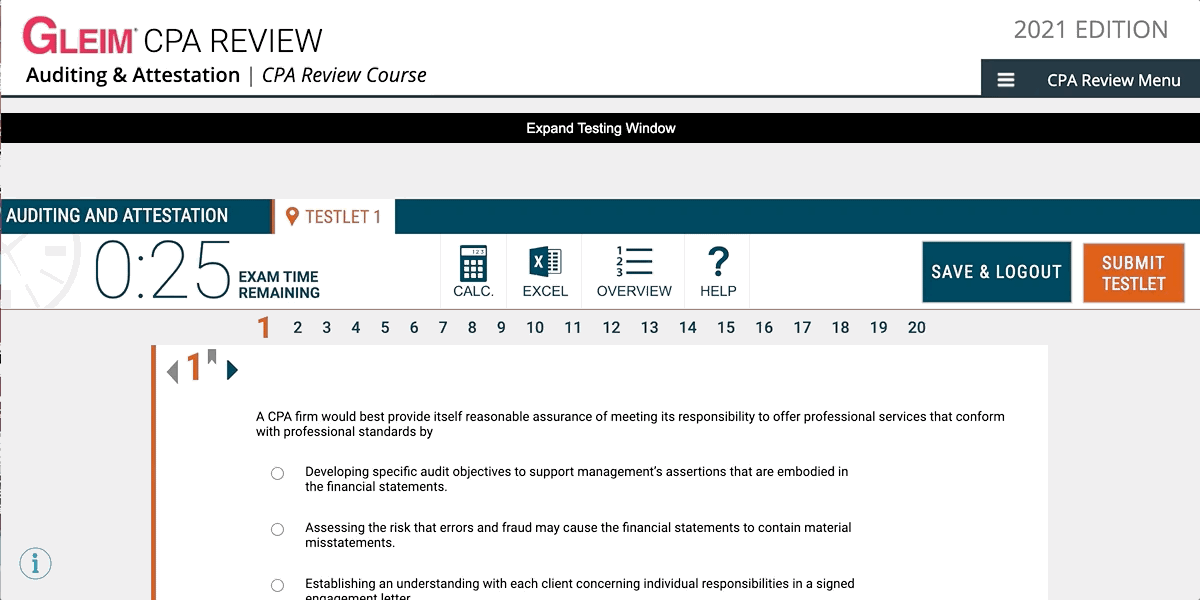 New for 2021, you're now able to take notes while while reading the content outlines. You can format your notes for easy retrieval when reviewing your notes.

视频讲座
Gleim是相当新的视频讲座. 他们从来没有使用有视频讲座,直到其他公司也开始生产它们. 一阵子, 他们做出了基本记录Powerpoint展示与视听学习辅助. 今天, they have over 100 hours of video lectures taught by highly skilled, knowledgeable instructors that cover key exam topics. These lectures are highly informative and helpful since they go into great detail covering specific CPA exam questions, teaching students how to adequately apply their knowledge.
New for 2021 is a brand new video experience where students are able to take notes within the video platform. Students can also take notes within their course outlines as well.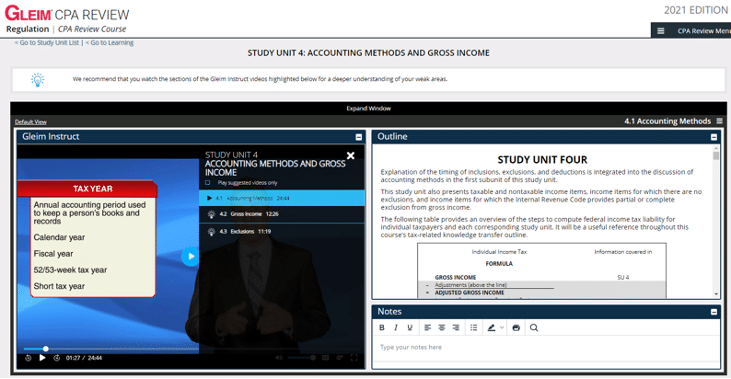 Study Text
The Gleim CPA study book is the most detailed and comprehensive book on the market today. 事实上, 它可能是一个有点过于详细. 有的考生抱怨说,使用Gleim的书时,, 有太多的信息研究. 所以, 他们花更多的时间比需要学习,因为书本覆盖超过了哪些重要的议题是关于考试. 这可以是谁对信息很好地处理人真, 但它是人们的好东西谁需要的概念和主题更详细的解释.
Gleim CPA Test Bank
该Gleim CPA复习测试的银行是业内最大的考验银行. 此外, this mega test bank includes over 10,000 past exam and practice multiple-choice questions in it. Most other test banks and review systems don't even come close to that number. You might ask, why would I need that many questions? 好, unlike extra information in the study text, extra practice questions are good things. You don't know to keep reviewing the same questions over and over because you will start memorizing the answers instead of reading the questions and understanding the concepts. The test bank is probably the best thing about this course. 它也可以作为一个独立的产品,而不购买的全部课程. 很多考生以此为补充他们的其他课程.
基于任务的模拟
类似于测试银行, Gleim包括行业领先 1,300 在他们的课程基于任务的解决方案. 这几乎两倍的其他公司还包括. 随着模拟的整体考试成绩计算越来越多, 这些正在被越来越多的重要实践. Gleim为您提供了大量不同格式, 话题, 和概念被测试的. 如果用Gleim实践考试准备, you will be well-prepared come exam day.
考试模拟器
Gleim's exam simulator emulates the real experience of the CPA exam. They've done a really good job on theirs. It is very close to the one used by the AICPA for the actual exam. 也, Gleim lets you use the simulator in a few different ways. You start their standard quizzes found in each exam section or you can create your own using the test bank. 从而, if you wanted to self-study chapters 4 和 9, you could make a custom quiz with only questions from those chapters. As you would expect, after you submit each quiz for grading, you will get explanations for each correct and incorrect answer. Gleim's explanations are like their textbook, extremely detailed. This is a good thing because it helps you understand the concepts better and learn from your mistakes.
New for 2021 is a second mock exam, so now you have 2 full exams to simulate the real thing on test day.
Intuitive Study Planner
The Gleim adaptive learning study planner is a great tool that will help you set and stay on your study schedule. When you first set up your study guide, the study planner will pop up and ask you for your exam date. Enter that and input the number of days per week you want to study, any days you don't want to study, and it will do the rest. It will automatically create a calendar for you that shows how many lessons and what materials you will need to complete each day until your final review. If you miss a day, it will automatically update the rest of the calendar and adjust your study time accordingly. 最终,, this is a great feature.
这些都是Gleim CPA学习材料的主要模块和功能, 所以让我们来看看利益与复习课程的弊端与他人在市场上比较.
---
优点
免费试用
Gleim真慷慨,让所有考生注册会计师获取其材料免费看是否Gleim适合他们. 您可以试驾过程, 实践研究的问题, and see what it looks like on the inside without having to pay for anything. Click below to test drive Gleim for FREE!
Largest Testbank
The Gleim CPA test bank is the largest in the industry. 这是一个巨大的好处,因为它允许考生练习附近无穷无尽的问题没有遍地运行到同一者. 这可能是最好的学习工具,你可以要求注册会计师考试的准备时.
个人辅导员
Gleim是唯一的其他公司,因为它们分配给您一个个人辅导员谁可以帮助让你的动机和跟踪在您的研究过程. 从而, 如果你落后, 你的辅导员会向您发送电子邮件,以帮助你回到正轨. 您也可以拨打您的会计专家关于考试或复习材料问题. 这是巨大的谁需要概念的更多帮助考生.
无限制访问
不像其他的注册会计师审查公司, Gleim CPA puts no time limits on your study process. Thanks to their Access Until You Pass guarantee, your materials will never expire and you'll never have to pay extra fees to review or update them. The only exception is if you want to receive an updated version of their physical textbook, although you only need to pay the shipping costs.
---
缺点
信息的大量
详细信息是一件好事. 太多的信息是一件坏事. Gleim有时会走线. 他们的材料是非常详细,有时过于详细,他们让考生学习太多的东西,实际上不会对考试点.
没有移动应用
There is no specific mobile app for the Gleim CPA Review program. 这可能是一个大问题的人谁总是在移动中,需要从他们的手机或平板电脑学习. 幸好, Gleim still provides excellent mobile functionality through browser optimization and downloadable audio lectures, although a dedicated app would be a nice addition further down the line.
---
建议
Gleim CPA复习是一个很好的学习指南谁需要详细的教科书和全面的解释为练习题考生. 它的人谁觉得与考试主题或候选人谁已离开学校的时间长不舒服的伟大. 国际学生谁不完全熟悉美国通用会计准则也倾向于使用Gleim. 如果你想很多细节, 这是适合您的课程. 也, 如果你想有一个巨大的考验银行, 这是适合您的课程!
Gleim CPA优惠券代码 & 折扣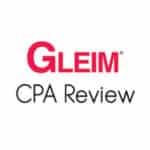 Cyber Monday Sale! Gleim CPA付费评论折扣 –
CPA, 独家优惠, Gleim CPA Promo Codes
35 今天使用
最后使用: 5 minutes
Gleim CPA Frequently Asked Questions
What is the best CPA review course?
假, 罗杰, and Gleim all offer compelling benefits, 根据什么是最重要的你的学习 (视频内容, 练习题, 调度技术, 模拟考试, 等等). 每一个学生都是不同, so use our comparison chart to see how they all stack up against each other.
What is Gleim CPA Review?
Gleim is an education-based company that provides study materials and review courses for several professional certifications. Founded by professor Irvin Gleim in 1974, this company provides learning materials for CPAs, 中央情报局, CMAs, and EAs.
有多少是Gleim注册会计师审查?
Gleim的复习课程是非常实惠. 他们所提供的最高层是Gleim CPA高级课程与价格标签 $1,999. 这是低于行业平均水平,并包括所有的学习资料 4 注册会计师考试的部分, in addition to a plethora of extras. Some of these extras include audio lectures, exam rehearsals, study sessions with real accountants, and access to their adaptive learning Interactive Study Planner. Gleim's Traditional CPA review course package which can be purchased for $1,599, and their lowest tier is the CPA Mega Test Bank for $999.
Is Gleim CPA Review Good?
Gleim offers several prep courses and supplementary study materials that can help students prepare for and pass the CPA exam. 然而, there are much better CPA prep courses available through companies like Surgent and Roger that offer more appealing features, such as mobile compatibility, adaptive learning technology, and live lecture content.