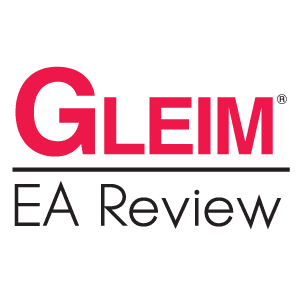 One of the most popular Enrolled Agent courses on the market is the Gleim EA Review, and for good reason; they offer an intuitive take on the educational process to achieve impressive results.
Thanks to their impressive history, Gleim a été en mesure de décomposer le processus d'étude dans une approche en 3 étapes très efficace. Avec l'aide de matériel d'examen substantiel et apport constant de conseillers qualifiés et tuteurs, les étudiants peuvent profiter de cette approche pour assurer la préparation à l'examen maximum EA.
Consultez mon commentaire ci-dessous pour voir si le cours de préparation Agent de Gleim est Enrolled un bon ajustement pour vos besoins d'études!
---

Vue d'ensemble de Gleim EA Cours de préparation
Le Gleim EA Cours de préparation utilise une approche en 3 étapes: Diagnostiquer, Étude, et Appliquer. Upon enrollment in the course, you and other students will begin by pinpointing areas that require the most work. Then, you'll study with review materials and receive assistance from professional educators. finalement, you will apply all of your knowledge with practice exams that emulate the real Enrolled Agent Exam.
What is included in Gleim EA Prep Course:
Tons of practice questions
Support from accounting experts
Les conseillers personnels
---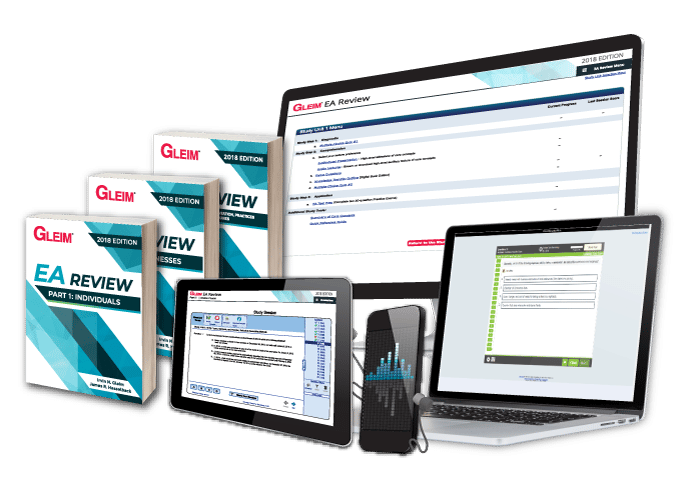 What's Included With Gleim EA Review
Tons of Practice Questions
Gleim has the biggest bank of practice questions in the EA prep course market. With over 2,400 unique multiple choice questions, you will have plenty of material to text your knowledge. Besides the practice questions that emulate the EA exam, you will have over 1,200 true or false questions that you can use to quickly check your comprehension on specific subjects.
Support from Accounting Experts and Your Personal Counselor
Vous êtes obligé de courir dans de nombreuses questions au cours de vos études, si vous avez besoin d'un cours d'examen EA qui aura le soutien aux étudiants de sources bien informées. Gleim a une équipe d'experts comptables qui peuvent vous aider à tout problème que vous rencontrez; il suffit d'utiliser le système d'information intégré dans le logiciel pour obtenir des réponses rapides à toutes vos questions lancinante.
Vous aurez également la possibilité d'un conseiller personnel si vous cherchez plus d'une expérience unique sur une étude. Votre conseiller sera là pour donner des conseils, support, and assistance for your EA exam journey. I like how Gleim provides you with a exam mentor that sees you through to success, especially since becoming an EA can be an overwhelming process.
Audio Lectures
Gleim's audio lessons make this EA course stand out from the crowd. Other courses out there have study material and practice questions, but Gleim's comes with audio lectures that make it easy to take your studies on the go.
You can stream or download specific audio lectures that discuss the most important concepts of the Gleim review books. This makes for an excellent portable study resource perfect for commuting or during a quick lunch break. Auditory learners in particular will benefit the most, making this definitely their ideal course.
---
Gleim EA Review Pricing
When it comes to the price of Gleim, it's quite affordable compared to others. For $629.95, you can get the full Gleim EA course with all its materials, including a vast library of practice questions, in addition to audio lectures and access to student support.
You have the option to buy the whole course or you can buy individual parts to save some money. Gleim even offers financing options where you can pay as low as $56 per month.
Best Gleim EA Coupon Codes & Réductions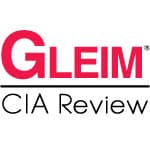 Black Friday Sale! sauvegarder $189 Gleim EA Review
EA, Remise exclusive, Gleim EA
33 utilise aujourd'hui
dernière occasion: 2 minutes
---
Avantages & Les inconvénients
What can you expect with Gleim EA Prep course?
Pro – Largest Test Bank: This course includes over 2,000 questions à choix multiples qui simulent l'examen réel. Vous aurez également plus 1,200 des questions vraies ou fausses qui parsèment le matériel d'étude, offrant l'une des plus complètes ressources d'étude d'évaluation environnementale sur le marché.
Pro – Soutien aux étudiants: Gleim il frappe hors du parc en matière de soutien aux étudiants. Non seulement est-il un système intégré d'enquête où vous pouvez recevoir des réponses à vos questions d'experts comptables, mais il y a aussi des conseillers personnels qui travaillent avec les étudiants individuels. Your personal counselor will be your exam mentor and will be there to help you out with whatever else you need to be successful with the EA Exam.
Pro – Audio Lessons: It can be tough to fit studying into a busy schedule. Gleim has made it easy with the audio lessons. Just plug in your headphones and you can listen to the review material on your way to work, at the gym, or while you're doing laundry!
---

Questions fréquemment posées
Now that you know what to expect with the Gleim EA prep course, let's look at some of the common questions many EA candidates have:
Q: Does Gleim EA Prep Course come with a pass guarantee?
UNE: Oui! The Gleim "Access Until You Pass" promise ensures that you will be able to use the course until you pass. Your materials will be updated so you never have to worry about having outdated study material.
Q: Are the Gleim EA practice exams similar to the real exam?
UNE: Absolutely! When you take the EA practice exams with Gleim, you will become accustomed to the Prometric testing environment. Alors, quand le jour du test réel est, rien ne vous regarder étranger depuis que vous avez pratiqué dans l'essai comme conditions.
Q: Quelle est la politique de retour Gleim?
UNE: Vous avez jusqu'à 30 jours pour retourner votre cours d'examen Gleim EA pour un remboursement complet. toutefois, tout doit être ouvert et non téléchargé afin d'appliquer.
---

idéal client
Toujours incertain si Gleim est le cours d'examen EA pour vous? Découvrez quelques-unes de ces déclarations afin de déterminer la compatibilité de votre:
Si vous voulez une touche plus personnelle lors de l'étude,

C'est le cours pour vous.
If you are an auditory learner,

C'est le cours pour vous.
If you want a basic review course that simply offers practice questions,

this isn't the course for you.
But if you definitely need lots of practice questions, C'est le cours pour vous.
---
Final Recommendation
Gleim has been helping students become Enrolled Agents for decades with their popular and effective study programs. Cette EA review course is considered on of the best on the market and is a sound investment for any aspiring accounting professional.
I would recommend this course to anyone that is serious about the EA exam and wants to pass without any hassle. If that sounds like you, then there's no better time to start than now!
---