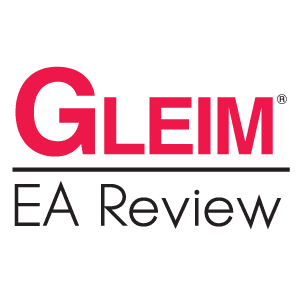 One of the most popular Enrolled Agent courses on the market is the Gleim EA Review, and for good reason; wanatoa kuchukua angavu katika mchakato wa elimu ili kufikia matokeo ya kuvutia.
Shukrani kwa historia yao ya kuvutia, Gleim imeweza kuvunja utaratibu utafiti katika yenye ufanisi wa hatua 3 mbinu. Kwa msaada wa ukaguzi kikubwa vifaa na pembejeo ya mara kwa mara kutoka kwa washauri wenye sifa na wakufunzi, wanafunzi wanaweza kuchukua faida ya njia hii ya kuhakikisha kiwango cha juu EA mtihani utayari.
Angalia tathmini yangu hapo chini kuona kama Gleim ya waliojiunga Agent prep shaka ni fit nzuri kwa ajili ya mahitaji yako ya utafiti!
---

Overview of Gleim EA Prep Course
The Gleim EA Prep Course utilizes a 3-step approach: Diagnose, Study, and Apply. Upon enrollment in the course, you and other students will begin by pinpointing areas that require the most work. Then, you'll study with review materials and receive assistance from professional educators. hatimaye, you will apply all of your knowledge with practice exams that emulate the real Enrolled Agent Exam.
What is included in Gleim EA Prep Course:
Tons of practice questions
Support from accounting experts
---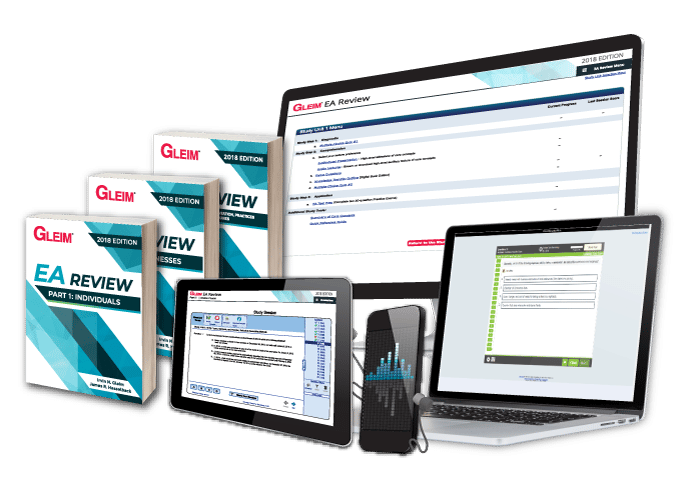 What's Included With Gleim EA Review
Tons of Practice Questions
Gleim has the biggest bank of practice questions in the EA prep course market. With over 2,400 unique multiple choice questions, you will have plenty of material to text your knowledge. Besides the practice questions that emulate the EA exam, you will have over 1,200 maswali kweli au uongo kwamba unaweza kutumia kwa haraka kuangalia ufahamu wako masomo maalum.
Msaada kutoka Uhasibu Wataalam na Mshauri wako binafsi
Wewe ni uwezekano wa kukimbia katika maswali mengi wakati wa masomo yako, hivyo unahitaji EA mapitio kozi ambayo itakuwa na mwanafunzi msaada kutoka vyanzo maarifa. Gleim ina timu nzima ya wataalam wa uhasibu ambayo inaweza kukusaidia na tatizo lolote wewe kukimbia katika; tu kutumia mfumo uchunguzi kujengwa katika programu ya kupata majibu ya haraka kwa maswali yote yako kusumbua.
You will also have the option of a personal counselor if you are looking for more of a one-on-one study experience. Your counselor will be there to provide advice, support, and assistance for your EA exam journey. I like how Gleim provides you with a exam mentor that sees you through to success, especially since becoming an EA can be an overwhelming process.
Audio Lectures
Gleim's audio lessons make this EA course stand out from the crowd. Other courses out there have study material and practice questions, but Gleim's comes with audio lectures that make it easy to take your studies on the go.
You can stream or download specific audio lectures that discuss the most important concepts of the Gleim review books. This makes for an excellent portable study resource perfect for commuting or during a quick lunch break. Auditory learners in particular will benefit the most, making this definitely their ideal course.
---
Gleim EA Review Pricing
When it comes to the price of Gleim, it's quite affordable compared to others. For $629.95, you can get the full Gleim EA course with all its materials, including a vast library of practice questions, in addition to audio lectures and access to student support.
You have the option to buy the whole course or you can buy individual parts to save some money. Gleim even offers financing options where you can pay as low as $56 per month.
Best Gleim EA Coupon Codes & Discounts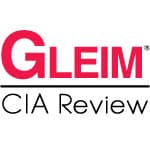 Black Friday Sale! Save $189 Gleim EA Review
EA, Exclusive Discount, Gleim EA
38 inatumia leo
Ilitumiwa mwisho: 3 minutes
---
faida & hasara
Unaweza kutarajia na Gleim EA Prep shaka?
Pro – Kubwa Bank mtihani: Bila shaka hii ni pamoja na zaidi ya 2,000 maswali nyingi uchaguzi ambayo kuiga mtihani halisi. Wewe pia kuwa na zaidi ya 1,200 maswali kweli au uongo, ambazo tuache katika nyenzo utafiti, sadaka moja ya EA rasilimali kina zaidi ya utafiti katika soko.
Pro – Mwanafunzi Support: Gleim hodi ni nje ya Hifadhi linapokuja suala la msaada mwanafunzi. Si tu kuna kujengwa katika mfumo uchunguzi ambapo unaweza kupokea majibu ya maswali yako kutoka kwa wataalam wa uhasibu, lakini pia kuna washauri binafsi ambayo kazi na wanafunzi binafsi. mshauri yako binafsi itakuwa mtihani wako mshauri na itakuwa kuna kukusaidia nje na chochote kingine unahitaji kuwa mafanikio na EA mtihani.
Pro – Audio Lessons: Inaweza kuwa ngumu na kifafa kusoma katika ratiba busy. Gleim imefanya ni rahisi kwa masomo ya kusikiliza. Just plug in your headphones and you can listen to the review material on your way to work, at the gym, or while you're doing laundry!
---

Frequently Asked Questions
Now that you know what to expect with the Gleim EA prep course, let's look at some of the common questions many EA candidates have:
Q: Does Gleim EA Prep Course come with a pass guarantee?
A: Ndiyo! The Gleim "Access Until You Pass" promise ensures that you will be able to use the course until you pass. vifaa yako itakuwa updated hivyo kamwe kuwa na wasiwasi kuhusu kuwa imepitwa na wakati utafiti vifaa.
Q: Je Gleim EA mazoezi ya mitihani sawa na mtihani halisi?
A: kabisa! Wakati unachukua EA mitihani mazoezi na Gleim, wewe kuwa wamezoea mazingira Prometric kupima. Hivyo wakati siku ya mtihani halisi inakuja, kitu kuangalia nje na wewe tangu kuwa kufanya mazoezi katika jaribio kama hali ya.
Q: ni Gleim kurudi sera gani?
A: Una hadi 30 siku ya kurudi yako Gleim EA mapitio shaka kufidiwa kikamilifu. Hata hivyo, everything must be unopened and not downloaded in order to apply.
---

bora kwa Wateja
Still unsure if Gleim is the EA review course for you? Check out some of these statements to determine your compatibility:
If you want a more personal touch when studying,

this is the course for you.
If you are an auditory learner,

this is the course for you.
If you want a basic review course that simply offers practice questions,

this isn't the course for you.
But if you definitely need lots of practice questions, this is the course for you.
---
mwisho Pendekezo
Gleim has been helping students become Enrolled Agents for decades with their popular and effective study programs. This EA review course is considered on of the best on the market and is a sound investment for any aspiring accounting professional.
I would recommend this course to anyone that is serious about the EA exam and wants to pass without any hassle. If that sounds like you, then there's no better time to start than now!
---