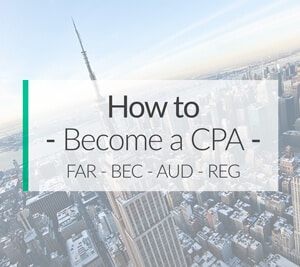 Becoming a CPA is one of the most rewarding experiences that you will have in your public accounting career. Once you get your certificate in the mail from your state board, you'll instantly feel a huge sense of accomplishment and pride that you were able to set your mind to something and conquer it. It's also one of the most financially beneficial decisions you can make. That's not to say that it's easy, hata hivyo.
Becoming a Certified Mhasibu wa Umma takes years of education and professional accounting experience as well as months of hard dedication to pass the exam. It's completely worth it though. You'll find that after you put those three letters behind your name, people will look at you differently. You will have earned the respect of your coworkers, colleagues, and even your boss. Plus, you should get a pretty sizable raise after passing the CPA exam. 🙂
Zaidi ya hayo, most CPA firms won't even hire non-certified individuals for any financial accounting positions at or above the senior role. Hivyo, having your license will give you way more opportunities than you would ever have without it. Having CPA certification is like being part of a club of professionals who are all experts in their field. It sounds a little cheesy, but it's true. There are tons of other benefits and reasons why you should become a CPA, but chances are if you are on this page, you have already made up your mind.
The CPA designation is not a federally issued license. Instead, it's issued by each state individually. Hivyo, every state has its own set of rules and requirements that you will need to fulfill in order to become certified. You should check with your state board to see what the specific requirements are for you. Let's talk about the process of becoming a CPA and the broad steps that you need to go through in each state to get your CPA license.
---
How do You Become a Licensed CPA?
---
Steps to Become a Certified Public Accountant
#1 Fulfill the Educational Requirements
Every state has it's own educational requirements to take the CPA exam and to become a CPA. Some states allow you to take a section of the exam before you graduate from college, but most require you to have at least a bachelor's degree in order to sit for the exam.
These degree programs must typically be in accounting or business and must also include a core set of coursework. Kwa kawaida, CPA candidates must have at least 24 college credit hours in auditing, taxation, and accounting education as well as 30 credit hours of business-related course like finance, business law, and management. Again, these requirements vary by state, so you should check with the state board where you want to sit for the exam.
Some states go beyond the traditional 120-credit hour accounting degree requirement and require candidates to have 150 semester hours to simply sit for the exam. This is the exception to the rule, hata hivyo. The majority of states will let you sit for the exam with only a qualified bachelor's degree.
Karibu wote wa mataifa, hata hivyo, zinahitaji wewe kulipwa 150 masaa mikopo ili kupata leseni yako.
#2 Omba kwa Kuchukua CPA mtihani
Hii inaonekana kama hatua rahisi, haki? Wote una kufanya ni kuomba kwa kufanya mtihani. Vizuri, mchakato CPA maombi ni kweli aina ya ngumu. kwanza, unahitaji kupata mahitaji yako ya elimu kuthibitishwa na serikali ubao wako wa uhasibu. Mara baada ya kukubaliwa, wewe utakuwa na uwezo wa kuomba rasmi ya mtihani.
Baada ya maombi yako ni kupokea na kukubali, utakuwa iliyotolewa Taarifa ya ratiba ya (NTS) kwamba utapata ratiba na kuchukua sehemu ya mtihani CPA. Unahitaji kupata NTS mpya kwa ajili ya kila sehemu ya kuchukua.
Hili ni toleo la mzuri kilichorahisishwa ya utaratibu wa maombi. Kuna mengi ya sheria na hoops unahitaji kuruka kupitia ili kweli kukaa kwa ajili ya mtihani. Niliandika mafunzo ya jinsi ya kufanya hivyo kwa njia ya CPA uchunguzi wa mchakato wa maombi hapa. Iangalie.
---
Get Discounts On CPA Review Courses!
---
#3 Kupata Tathmini kozi na kuanza Kusoma
hatua 2 na 3 Unaweza kweli kuwa interchanged. It's always a good idea to start studying before you actually apply for the exam, so you can get ahead of the game. But, let's be honest. That rarely happens. Most people aren't disciplined enough to pursue an accounting program without a deadline. That's why a numbered them this way. Set up a deadline for yourself and start studying. 🙂
One of the most important career choices you will make in your CPA journey is which CPA exam prep course you will use. Choosing the right course could mean passing all four sections on your first try. Picking the wrong one might mean wasting tens of hours studying for a section just to end up failing it in the end.
You should look for a CPA review course that matches your learning style, study schedule, and budget. I've tested and reviewed all of the most popular ones out there. Check them out to see which one is right for you.
---
#4 Pass the CPA Exam
After you are all signed up to take the exam and have your review course ready to go, it's time to pass the exam. The exam is scored on a scale of 1-99. Candidates must get a score of 75 or higher in order to pass each section.
The CPA exam is tested during four test windows throughout the year. You are able to take all of the sections one time per testing window, but it's probably not a great idea to go overboard scheduling them all in the same window.
Most people recommend that you study for about 6 weeks for each section, so it's probably not a good idea to take more than two sections per testing window.
After you pass you first exam section, you will have 18 months to pass the next three. If you don't pass all four in an 18-month window, your first passed exam will expire and you will have to retake it.
This sucks, but it happens. One thing to keep in mind is that you aren't allowed to retake the same section multiple times in one testing window. Hivyo, if you fail it once, you will have to wait until the next window to retake it.
---
#5 Pass the AICPA Ethics Exam
After you have to pass all four sections of the CPA exam, you will need to take a short ethics exam that is administered by the AICPA. This is more of a take home exam than a real exam.
Once you sign up for it, you will be mailed an ethics textbook that describes the ethical duties and obligations that CPAs are required to uphold. All you have to do is read the book and take the ethics exam online.
The CPA ethics exam isn't mandatory in all states, but it's pretty common. You should check with your state board about this step, but most likely you will need to do it.
---
#6 Kutimiza yako uzoefu wa kazi Mahitaji
Mara baada ya CPA mtihani na AICPA maadili ya mtihani ni nje ya njia, unahitaji kuzingatia hali yako ya kazi. Majimbo yote kuwa na mahitaji mbalimbali uzoefu wa kazi. Wao mbalimbali popote kutoka 6 miezi 2 Miaka ya uzoefu chini ya usimamizi wa moja kwa moja wa CPA. For more information, refer to NASBA's Experience Verification section to see how many hours you need and to verify any experience you've already gathered.
Baadhi ya majimbo pia kuwa wajibu kwamba lazima kuwa walifanya wakati wa matumizi yako ya kazi. Kwa mfano, baadhi ya majimbo zinahitaji wagombea kuwa na angalau 1 mwaka wa ukaguzi wa uzoefu. Other states allow you to skip auditing as long as you fulfill a different set of required duties.
---
#7 Pay Your Dues and Get Your License
After you complete your work experience, all that is left to do is pay your state board its licensure fees and wait for you certificate to come in the mail. 🙂
---
Congrats, Now You Are a CPA!
As can see, it's a long road to get your certification and state license to practice publicly. It has to be for a reason. CPAs are the best of the best. Before you can call yourself a CPA, you have to prove that you are a disciplined, ethical, and hard working person. Consider this journey a vetting process that you have to go through to get into the club.
It's completely worth it. After you have your license, you will be respected as a professional and have doors open to you that you never thought of before. It's a long journey, but you won't regret it.