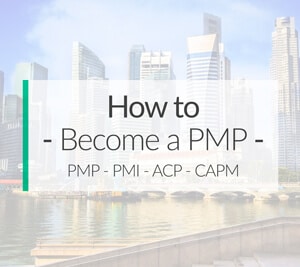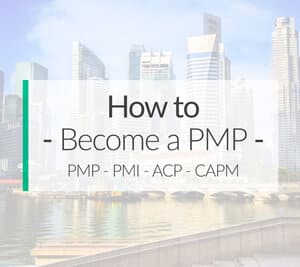 Becoming a PMP (Project Management Professional) is an awesome way to take your PM career to the next level. You'll be able to take on more responsibility at higher company levels with this certification. You will also most likely get a nice salary boost from your new credential.
Professional project managers can work in an amazingly high number of different industries and work environments. Consider that, according to PMI's definition, ntchito ndi "zochita zosakhalitsa anayesetsa kuti akonze mankhwala wapadera, utumiki kapena chifukwa." Chifukwa cha izi, we immediately understand how widespread project management work is. Kuyambira magazini mafashoni zomera nyukiliya, certified project managers have a huge amount of job opportunities.
Whether employed inside an organization or as a freelancer, the nature of the project management experience is extremely various. Komabe, they will all substantially be related to managing projects along their Life Cycle. This will also involve leading teams, ensuring that the objectives are met inside the constraints and making punctual reports.
But what about the salary? Chabwino, malinga ndi PMI a Project Management Malipiro Survey Lachisanu n'chinayi Edition, malipilo PMP ndi pafupifupi 20% kuposa munthu sanali PMP. komanso, when working inside an organization, the project manager's career is likely to be growing during this time. This is thanks to the increased responsibility of their position and the exposure to the board of directors. Potsilizira pake, all of these factors and more are typically gained by managing projects.
Nkosafuna kunena, there are a ton of different reasons to obtain project management certification. Choncho, let's take a look at a list of steps on how to become a PMP certified professional!
---
Kodi Kukhala PMP?
---
Steps to Becoming a Project Management Professional
Fulfill the Project Management Education and Work Experience Requirements
Before you can become a PMP, you have to complete all of the education and work experience requirements. The PMI gives you two different options depending on your educational background and level of education.
Here are the different educational and work experience requirements:
Candidates with a High School Diploma or Associate's Degree must complete 7,500 hours of project management education and experience in leading and directing projects.
Kapenanso, candidates with a four-year college degree don't have to complete as much work experience because they have more education. m'malo, they only have to complete 4,500 hours of experience in leading and directing projects or the global equivalent.
No matter what education level you have, all PMP candidates must pass a 35-hour project PMP exam prep course given by a PMI recognized provider.
Mungapeze chomveka PMP yokonzekera maphunziro kulikonse mu dziko, ndi ndalama kuti zingasiyane mozungulira $1,000 – $2,000 chifukwa mwambo Inde kalasi $100 – $500 zabwino Podcast Inde.
---
Get a Project Management Training Course
Sikuti wanu PMP yokonzekera Inde kuwerenga kwa 35 maola PM maphunziro kuti mufunika. It will also help you pass the exam on your first try!
Kupeza weniweni review Inde ndi ndalama tsogolo lanu. Don't settle for a podcast or some basic level study guide. It won't help you that much. Mwatsoka, too many candidates think that they can fly by the seat of their pants and get away with it.
Trust me. It doesn't work. You need a review course that works within your budget and fits your learning style. This will help you study faster, retain more information, and pass the exam on your first try. Komanso, if you get a course from a registered education provider, you won't regret it. m'malo, you'll be thinking about how happy you are to be done with the exam because you passed it.
Here's a list of the top PMP review courses. Chongani iwo ndi mwaona bwino!
---
Apply for the PMP Exam
To apply for the exam, you will be asked to report your education and experience by using an online form that is quite detailed. In this phase, I highly recommend that you prepare the information in advance, including the contacts of all your employers, which can be used by the PMI to conduct random verifications.
I also recommend that you describe your experiences in a way that is compliant with the PMI standard: generic descriptions may be refused or need to be reprocessed. This will speed things up and make sure that your application doesn't get stopped at some point for more information or worse rejected.
After the application has been submitted, the approval email from PMI usually arrives in less than ten days and the next step is paying the fees for the exam.
---
Become a PMI Member
At this stage, becoming a PMI member is not mandatory, koma imene'yi analimbikitsa ndi yabwino. Kukhala membala ali tani ubwino. Mmodzi amene ali m'munsi ndalama mayeso.
Childs, mtengo wa mayeso PMP ndi:
$405 anthu PMI
$555 for non-PMI members
Poganizira kuti ndalama muyezo PMI umembala ndi $129 kuphatikiza $10 amalipiritsa ntchito kwa nkhani yoyamba (mtengo lonse ndi m'malo $32 chifukwa ophunzira $65 anapuma pa ntchito), zikuonekeratu mayiko kukhala membala PMI patsogolo kulembetsa kwa mayeso.
Kuphatikiza apo, ndi PMI umembala amapereka mwayi kwa ndalama yaikulu chuma kuphatikizapo otsiriza kutulutsidwa kwa PMBOK, maphunziro ambiri ndi zochitika.
Kukalembedwa ndi mayeso PMP ndi mwina kukhala membala PMI yosavuta monga kuchezera www.pmi.org webusaiti ndi kutsatira njira anasonyeza.
An mtengo owonjezera kuti akhoza n'komwe ndi imodzi mwa kujowina mutu m'dera; this choice is recommended if you wish to network and find opportunities in your Area. Mukhoza kulowa mutu m'dera pamene kulembetsa kuti PMI kapena ina, pa mtengo wa za $30.
---
Pay PMP Exam Costs and Fees
Monga ine tatchula, there are a number of fees and costs associated with taking the PMP exam and becoming a certified Project Management Professional. Here is a list of fees that you will need to pay.
| PMP Exam Fees and License Costs | Fees and Costs - PMI Members | Fees and Costs - Non-Members |
| --- | --- | --- |
| Exam Application Fee: | $405 | $555 |
| PMI Membership Fee: | $139 | $139 |
| PMP Preparation Course Materials | $179 - $2,600 | $179 - $2,600 |
---
Pass the PMP Exam
After the payment, you will be able to schedule the exam's date and place. The PMP certification exams take place in one of the Prometric's worldwide testing sites.
Tsiku la mayeso, you will typically sit in a cubicle with nothing but a plain calculator, pepala losalembedwapo ndi pensulo, ndipo adzakukwapulani mosalekeza kuunikira.
Mudzakhala ndi maola anayi kuyankha 200 multiple-choice questions about the main domains of project management.
chikudutsa The / ndithu chifukwa adzapatsidwa yomweyo pambuyo mayeso Kwatha, pamene chitsimikizo yanu chikalata patapita milungu ingapo.
Sindidzamwanso kubisa izo. mayeso si kophweka: mafunso ena ndi ovuta, ndipo ambiri milandu zenizeni m'moyo anapereka, zimene zimachizidwa wotopetsa kuti muwerenge mu nthawi yaifupi. You will have to know everything about the PMBOK and link this knowledge with your experience of project management to be able to correctly answer all the questions.
Ngati inu kukhoza mayeso a, mudzakhala kwa kanthawi ngati munthu osangalala kwambiri padzikoli. Ngati mulibe kupatsira ngakhale, mudzakhala ndi mwayi reschedule nthawi kuposa wina.
---
Maintaining Your PMP Certification
Zofunika PMP tipitirize Education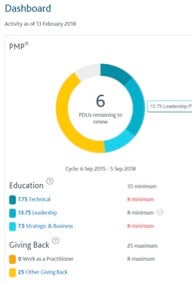 Pofuna kukhala chitsimikizo wanu kupyolera nthawi, Mufunsidwa kuti akwaniritse PMI a wopitiriza chitsimikizo Zofunika (CCR), amene zinzawozo kukhala ndi osachepera 60 PDUs pa zaka zitatu. PDUs (Professional Development mayunitsi) ndi mtundu wa ngongole kuti kwapatsidwa kwa inu kwa ntchito zomwe ziyenela kuvomelezedwa ndi PMI.
mwatsatanetsatane, ndi 60 PDUs ayenera analemba motere:
osachepera 35 PDUs kubwera ku maphunziro mosalekeza (8 osachepera ayenera zokhudzana ndi luso luso, 8 Utsogoleri, 8 kuti njira ndi bizinesi)
Zolemba 25 PDUs kubwera kapena kugwira ntchito monga woyang'anira ntchito (8 maximum) or giving back your knowledge by e.g. creating content, giving courses et. al.
Don't worry if the CCR sounds complicated now: the whole process is so amazingly organized that gaining and reporting PDUs is really easy.
Signing in the PMI website, you will have access to a cool dashboard from which you will be able to monitor your PDUs and claim for new ones. The one in the picture is my own Dashboard, in which you can see that I only miss 6 PDUs to complete my 60.
---
Cost of maintaining the certification
Apart from the initial expenses, the only costs that you will have to sustain to maintain your PMP status are the ones necessary to gain 60 PDUs pa zaka zitatu.
These costs may be quite variable: in the market, you can find quite expensive courses and events, but also cheap or even free ones. Nawo ntchito PMI ndi ufulu mamembala PMI' maphunziro yekha ndi zitsanzo za mwayi PDUs kwaulere.
osokonezeka koma? Tiyeni kuchita MWACHIDULE mwamsanga zimene muyenera kuchita kuti akhale PMP.
---
Summary Steps on How to Become a PMP
Kukakomana ndi maphunziro ndi zinachitikira zofunika, zimene zimatanthauza komanso kutenga 35 maola PMP yokonzekera Inde
Funsirani kwa mayeso PMP chitsimikizo kudzera webusaiti PMI
Landirani PMI ndi chiyanjo imelo
Kulipira malipiro mayeso kupyolera webusaiti PMI
Sankhani mayeso limodzi la padziko lonse malo Prometric
Pass the exam and gain your certification
Maintain the certification by gaining 60 PDUs in three years and reporting them through the PMI website.
---
Will You Become a PMP?
Becoming a PMP means being recognized worldwide as a solid professional of project management, in compliance with the most well-known standard: ndi PMI a PMBOK. komanso, kukhala PMP kumatanthauza umalumikizidwa ndi gulu lalikulu la PMPs, kulankhula chinenero chawo chomwecho, ndipo ankatha kuonana ndi chidziwitso ndi mwayi anapereka dera palokha.
Zabwino zonse ndi PMP njira yanu, ndi, kamodzi mbiri yabwino, musaiwale kulemba PMP® pambuyo dzina lanu mu mbiri anzanu ndipo pamene inu lowani!