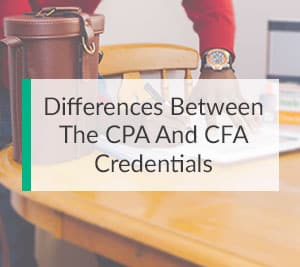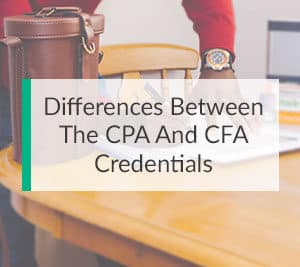 Regardless of which certification you choose, obtaining your Cirtificati lingue Public (CPA) license or the Ca. Infraestrutura (CFA®) credential can help you advance in your career. In fattu, some business professionals work as both CPAs and CFAs for this very reason.
Both of these credentials may require hundreds of hours of study, cumunqui, so the most realistic option for most students is to choose one of the two to pursue. dunque, tu avissi a guardà arechja se u numeru di u travagliu necessariu per ognunu hè Fashion è vi aiuta voi avanzari in u vostru carriera.
Leghje sottu à capisce ognunu appillazioni, lu matiriali testu vi tocca à studià, e lu tipu di travagghiu, pudete fà in ogni rolu. chì manera, vi pò fà una decisione infurmatu è cuntinuà a carriera di u to sonnii!
U Ginecologia CPA
L' AICPA administers l 'esame CPA, è in ordine di discrìviri di stu testu tutti Ragionieri deve suvità u esigenze certificazione di a so particulare bordu di statu di Sguera. L' cartilluna statu sò esigenze educazione chì deve esse scontra nanzu cuntabili pò piglià l 'esame. Cuntrolla cù u vostru statu di definisce u numaru è tippi d 'uri, di crèditu chì vi tocca à piglià l' prove.
CPA Ginecologia Format
L'esame CPA hè divisa in quattru testi:
passava u four CPA exam sections will require hundreds of hours of study, so you should create a realistic plan to study for the tests over several months or longer.
CPA Careers
Once you pass the CPA exam and meet your state's work experience requirements, you can obtain a live license to practice public accounting. You can gain the required experience by working as an accountant in industry or for a public accounting firm.
Accountants working in the private sector may post accounting transactions, generate financial statements and management reports, or prepare tax returns.
If you decide to work in public accounting, you can choose one of these work specialties:
Auditing

: Auditors perform test work on a client's financial statements, and provide a written audit opinion. You should expect to spend a fair amount of time performing audit work at the client's headquarters, warehouse, or manufacturing facility.

Tax

: Tax accountants spend most of their time in the office; these professionals work the largest number of hours in public accounting. Many firms require tax accountants to pass tests on tax concepts periodically in order to ensure that they understand current tax law.

Management Marzocca

: Core aiutà cumpagnii p'arrisòrviri un particulare prublema los, cum'è un Affare logistica o accunciamentu di un merger cumpagnia. Stu travagliu di i cuncetti messu nant'à u testu BEC. Sè voi di sceglie stu chjassu carriera, vi pò marchjà più di ogni simana.
Ragionieri chì travaglià in prus impresi cuntabili publicu pò èssiri di più chè unu di sti parti. Per esempiu, un senior di un cliente urigginariu pò ancu travaglià nant'à u ritornu impositi cumpagnia.
Travaglià in cuntabili publicu hè esigenti, ma Ragionieri chì sceglie sta via pò avè un numaru di e cumpetenze di primura. Parechje CPAs lascià cuntabili publichi è u travagliu di anzianu clienti, o di attività in u listessu industria comu so 'anzianu clienti.
Esiste, qualchi Ragionieri 'aghjunghje a so' gruppi e cumpetenze da ottenimentu scaleddi lege, fici pigghiari MBAs, or by securing the CFA® designation.
---
CFA
®

Certification

CFAs passanu u so tempu davanu Analisi assautu avanzata è gestione Portfolio; induve, u valore di u CFA® exams pò ripiglià 1,000 ore di u tempu storia.

This set of tests covers some of the financial reporting and analysis topics that you'll see on the CPA exam, but most of the topics address investment and money management concepts.
CFA
®

Exam Format

Here are some of the topics covered on this exam:
Quantitative methods

: Time value of money and regression analysis.

Economics:

Supply and demand, the monetary system, and the impact of inflation.

Corporate finance

: Decisions about capital structure, and rates of return on capital.

Investments

: Equities, fixed income products, derivatives, and portfolio management
If you're more interested in economics and investments than in accounting, the CFA® role is a technically challenging career path that you might consider.
CFA
®

Careers

Many CFAs become portfolio managers for banks, mutual fund companies, or pension plans. In this role, the CFA® considers a client's investment objective as well as the current condition of the stock, bond, and other markets, and constructs an investment portfolio.

The performance of the portfolio is typically compared to a benchmark, such as the Standard and Poor's 500 index (an index of 500 widely traded stocks).

As a CFA®, you may also want to pursue a career as a research analyst. Analysts consider financial, economic, political, and other factors to place a current value on an investment or a business. If you work as an analyst, you may dig into more detail than a portfolio manager; therefore, this role is suitable for people with an ability to focus on detail.
---
Your Career Path: CPA vs Francesca. CFA
®
The right career path for your depends on your personal preferences, and you should consider taking a personality assessment before making a decision. A CPA, per esempiu, may have more day-to-day interaction with people than a research analyst. If you prefer spending most of your work time alone, you might prefer one of the research analyst roles that commonly comes from CFA® certification.
As stated above, the public accounting career path may require a large amount of travel, and you'll work a large number of hours in the first quarter of each year. Tuttavia, if you're interested in eventually managing a company, you might become a CPA and obtain an MBA down the road.
finalmenti, if the investment markets interest you, the CFA® is a great option.
---
Take Time To Decide
Before deciding on either the CPA or CFA® credential, assess how much study time you'll need take the exams and if the time and travel demands of these professions are acceptable to you. Ricordati, whichever path you choose: both of these designations can help you advance your career over time.
Bona furtuna!
CFA Institute does not endorse, promote or warrant the accuracy or quality of AIS-CPA.com. CFA® and Chartered Financial Analyst® are registered trademarks owned by CFA Institute.