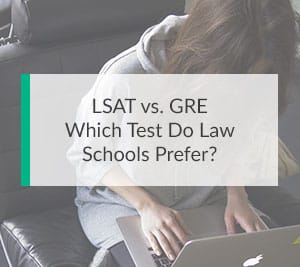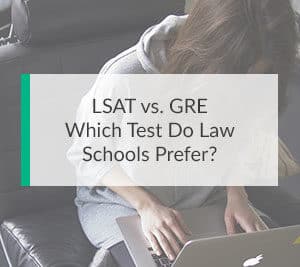 Yn 2016, de Arizona School of wet makke skiednis doe't se begûn te tastean oansteande studinten oan jilde brûkende GRE skoares yn it plak fan 'e LSAT. Nei it fieren fan in stúdzje nei de betrouberens fan GRE skoares foar it foarsizzen fan wet skoalprestaasjes, Arizona found that the GRE was a "valid and reliable" predictor of first-term law school grades. No, oer 23 US law schools accept GRE scores.
So the big question is: LSAT vs GRE, which one do law schools prefer?
Should Law Students Take the GRE or the LSAT?
With names like Harvard, Northwestern, and Columbia Universities on this list, the debate over whether prospective law students should take the LSAT vs GRE has heated up. Accessibility, suitability, and expenses are all factors for determining which entrance exam is best for each individual student, but which is the better choice overall?
Which schools accept the GRE and why?

Earste, let's look at which law schools are open to GRE scores. As of now, 23 fan de 205 American Bar Association approved law schools accept GRE scores as an LSAT substitute:




Brigham Young University Law School

Brooklyn Law School

Columbia Law School

Cornell Law School

Florida State University College of Law

George Washington Law School

Georgetown Law

Harvard Law School

Illinois Institute of Technology College of Law

John Marshall Law School

New York University Law

Northwestern University School of Law

Pace University School of Law

John's University School of Law

Texas A&M School of Law

University of Arizona College of Law

University of California, Los Angeles School of Law

University of Hawaii School of Law

University of Pennsylvania Law School

University of Southern California Law School

Wake Forest School of Law

Washington University School of Law

Yeshiva Universiteit Cardozo School of Law
Sa't jo sjen kinne, der binne in pear swiere-Hitters op dizze list. Ien fan de wichtichste redenen dat it GRE wurdt hieltyd in populêr kar foar wet skoallen is it leauwen bedrach fan veelzijdigheid en berikberens dat it biedt. De redenen dêrfoar binne tal fan, mar hjir binne guon fan 'e meast salient:
De GRE kin nommen op hast eltse dei fan it jier by ien fan oer 1,000 Lanlike test centers. Yn ferliking, de LSAT wurdt allinnich oanbean 4 kear yn in kalinderjier.
GRE biedt flugger ommekear
As in kompjûter-basearre eksamen, de GRE registrearret en rapporten studinten 'skoart fuortendaliks op dien meitsjen fan de test.
GRE wurdt naam troch learlingen fan in soad dissiplines
Fan wittenskip en wiskunde oan de geasteswittenskippen, measte prospective graduate studinten sille nimme de GRE nettsjinsteande harren spesifike programma. Troch it akseptearjen fan de GRE as in LSAT ferfanger, wet skoallen by steat binne om widen harren net en lûken mear ferskaat studinten.
Ferlykjen LSAT vs GRE Formats
Lykas sein hjirboppe, ien fan 'e wichtichste wurdt tusken de LSAT vs GRE is dat de GRE is in kompjûter-basearre test, wylst it LSAT wurdt bestjoerd troch de wei fan ambachtlik pen-en-papier. This has a great impact on score turnaround but also appeals to different learning and test-taking styles. Guon sollisitanten meie fine dat se gewoan nofliker mei in lichaamlike eksamen, gefoel mear yn kontrôle fan harren feardigens om Brainstorm en trochwurkje problemen. Der binne in soad ferskillen tusken de GRE en LSAT, guon Stimmung direkt fan dizze fûnemintele imp in format.
De GRE is in Personalized adaptieve eksamen. Dit betsjut dat in studint syn krektens doe't beäntwurdzjen fan fragen nei it begjin fan it eksamen sil bepale hoe dreech letter fragen sille wêze. Koartsein, goed dwaan en de fragen krije Harder; beantwurdzje ferkeard en de muoite sil oanpasse accordingly.
The LSAT, oan de oare kant, is altyd in foarbeskaaide eksamen. Elts hifkjen sesje verfügt fragen dy't ynsteld yn stien en prestaasjes fan learlingen net faktor yn harren muoite.
Ferlykjen LSAT vs GRE Seksjes
De LSAT eksamen is makke fan seis timed rubriken, five multiple choice sections, and one writing section. Learlingen wurde jûn 35 minutes to complete each section and the test is geared toward assessing reasoning and analytical skills.
Fan de meardere kar cluben, ien is unscored en betsjutte foar gauging potinsjele fragen foar gebrûk op takomstige eksamens. While it can be unsettling to know that one section will not be graded, students are not told which section is unscored until after results are returned. Of the four graded sections, two are logical reasoning (games), one analytical reasoning, and one reading comprehension.
The final section, the writing sample, presents students with two opposing positions and asks them to choose and defend one side. The goal here is to assess a test taker's argumentative writing, language skills, and clarity. While unscored, responses are sent as part of law school applications.
The GRE has six sections: two verbal reasoning, two quantitative reasoning, and two analytical writing sections. Altogether, the test lasts about 3 hours and 45 minutes. Much like on the LSAT, the GRE verbal sections are meant to test a student's ability to extract and synthesize information. In the analytical writing sections, students are tasked with evaluating the structure of a presented argument in addition to crafting an argument of their own.
The GRE tests math skills. This particular difference can be seen as either a positive or negative, depending on each student's history and preferences. Seeing mathematics questions on an entrance exam can be troubling for students with humanities backgrounds, who may not have directly dealt with math in years. This is no secret, lykwols, and many of the top GRE prep courses focus specifically on not only refreshing students' mathematical knowledge but teaching helpful strategies for tackling these questions efficiently.
The LSAT focuses instead on what the test calls "logic games." Dizze typen fan fragen binne as puzels, easkjen studinten te setten unike situaasjes en fêstigje har eigen regels foar it oplossen fan de problemen. Dat benaderjen liedt ta wêzen dêr't studinten krije skonkjelichte de measte oan 'e LSAT; Lokkich, de mearderheid fan LSAT prep kursussen foarsjen studinten mei tips en yn-djipte strategyen foar de oanpak fan dizze wedstriid fragen.
Is de GRE de Right Choice?
De GRE is in soad-brûkt talittingseksamen dat wurdt akseptearre troch graduate programma yn in oantal dissiplines. Dit is faaks it meast salient reden wêrom't de GRE is in oansprekkende opsje foar in soad wet skoallen en oansteande studinten.
Neffens in ferklearring út de Harvard School of Law, soad prospective wet studinten wurde ek sjen nei oare soarten fan programma 's en se nimme de GRE wylst deroer harren ferskate opsjes. De Harvard Law School Dean Martha Minow fynt dat studinten, skoallen, and the field of law in general benefit greatly from a diverse pool of students "in terms of academic background, country of origin, and financial circumstances." Alleviating the financial burden of applying is a big part of this.
Let's quickly recap the positives and negatives for choosing to take the GRE over the LSAT exam as a prospective law student:
| | |
| --- | --- |
| Pros | Cons |
| Offered more frequently | Only accepted by 23 Law Schools |
| More Career Options | Can take 5 times each year |
| Choose what scores to send | Tests on Mathematics |
| No games section | Adaptive Test |
Why Stick with the LSAT?
The LSAT remains the primary entrance exam for the vast majority of law schools. Although the GRE is growing in popularity and may continue to do so, that doesn't change the fact that the LSAT is the only test currently accepted by ALL law schools. If law school is the only career option you are considering, then taking the LSAT is probably the right choice as it allows for your performance to fully dictate where you apply.
The LSAT exam comes with its own list of positives and negatives, and the right choice will depend on each student's learning style and career interests. Here's a quick comparison of some benefits to the LSAT vs GRE certification:
| | |
| --- | --- |
| Pros | Cons |
| Accepted by all 205 ABA-Approved Schools | Accepted only by law schools; not interdisciplinary |
| No Math Section | Tricky Logic Game questions |
| Pen-and-Paper Exam | All Scores are submitted |
LSAT vs GRE: Which to Choose?
As with all application questions, your individual needs as a student and unique professional goals are the most decisive factors when deciding between the LSAT vs GRE.
If you are a student who has had your eye on law school for years, engages in a debate team, studies pre-law, and envisions a future in a private practice or top firm, then the LSAT is likely the test for you. It is also important to factor in your school of choice; if you are committed to a dream school that is not on the list of 23 now accepting GRE scores, then the LSAT is the test for you.
Oars, as jo binne immen dy't noch weagjen meardere karriêre paden, beskôgje nei't jo hiele ynspanning yn 'e GRE en yntsjinje dyn skoare nei ien fan' e wet skoallen.
[no_toc]