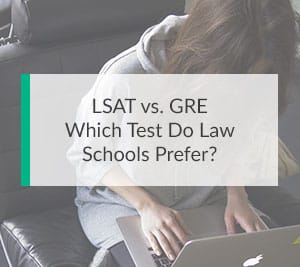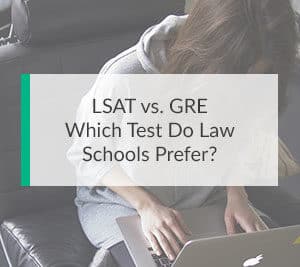 en 2016, the Arizona School of Law made history when they began to allow prospective students to apply using GRE scores in place of the LSAT. After conducting a study into the reliability of GRE scores for predicting law school performance, Arizona descubriron que o GRE foi un preditor "válido e fiable" de notas da escola de dereito de primeira prazo. agora, sobre 23 facultades de Dereito nos aceptar GRE.
Entón, a gran pregunta é: LSAT vs GRE, cal deles prefiren escolas de dereito?
Debe Estudantes de Dereito Leve o GRE ou LSAT?
Con nomes como Harvard, do noroeste, e Universidades Columbia nesta lista, o debate sobre se os estudantes de dereito en potencia debe tomar o LSAT vs GRE ten Calefacción. Accesibilidade, adecuación, and expenses are all factors for determining which entrance exam is best for each individual student, but which is the better choice overall?
Which schools accept the GRE and why?

Primeira, let's look at which law schools are open to GRE scores. As of now, 23 do 205 American Bar Association approved law schools accept GRE scores as an LSAT substitute:




Brigham Young University Law School

Brooklyn Law School

Columbia Law School

Cornell Law School

Florida State University College of Law

George Washington Law School

Georgetown Law

Harvard Law School

Illinois Institute of Technology College of Law

John Marshall Law School

New York University Law

Northwestern University School of Law

Pace University School of Law

John's University School of Law

Texas A&M School of Law

University of Arizona College of Law

University of California, Los Angeles School of Law

University of Hawaii School of Law

University of Pennsylvania Law School

University of Southern California Law School

Acorde Escola Forest of Law

Escola de Dereito da Universidade de Washington

Universidade Yeshiva Escola Cardozo da Lei
Como podes ver, hai algúns pesos pesados ​​nesta lista. Unha das principais razóns que o GRE está facendo unha escolla popular para as escolas de dereito é a incrible cantidade de versatilidade e accesibilidade que ofrece. As razóns para iso son moitas, pero aquí están algúns dos máis saíntes:
GRE administrado máis frecuentemente
O GRE pode ser tomado en case todo o día do ano nun dos máis 1,000 nationwide test centers. In comparison, the LSAT is only offered 4 times in a calendar year.
GRE offers faster turnaround
As a computer-based exam, the GRE registers and reports students' scores immediately upon completion of the test.
GRE is taken by students from many disciplines
From science and math to the humanities, most prospective graduate students will be taking the GRE regardless of their specific program. By accepting the GRE as an LSAT replacement, law schools are able to widen their net and attract more diverse students.
Comparing LSAT vs GRE Formats
As mentioned above, unha das distincións fundamentais entre o LSAT vs GRE é que o GRE é unha proba baseada en ordenador, Tendo en conta que a última é administrada por forma de pluma e papel tradicional. This has a great impact on score turnaround but also appeals to different learning and test-taking styles. Algúns candidatos poden pensar que son simplemente máis cómodo con un exame físico, Sentindo-se máis no control da súa capacidade de reflexionar e traballar con problemas. Hai moitas diferenzas entre o GRE e LSAT, some stemming directly from this fundamental disparity in formatting.
The GRE is a personalized adaptive exam. This means that a student's accuracy when answering questions towards the beginning of the exam will determine how difficult later questions will be. En resumo, do well and the questions get harder; answer incorrectly and the difficulty will adjust accordingly.
The LSAT, por outra banda, é sempre un exame pre-determinada. Cada sesión de probas presenta cuestións que son definidas en pedra e rendemento dos alumnos non factor na súa dificultade.
Comparando LSAT vs GRE Seccións
O exame LSAT está feito de seis tramos cronometrados, five multiple choice sections, and one writing section. Os alumnos reciben 35 minutes to complete each section and the test is geared toward assessing reasoning and analytical skills.
Das seccións de múltiple elección, un é unscored e significar para aferir cuestións potenciais para o seu uso en exames futuros. Aínda que poida ser inquietante saber que unha sección non será avaliado, os alumnos non son informados que sección é unscored ata despois os resultados obtidos. Unha das catro seccións graduais, dous son razoamento lóxico (xogos), un razoamento analítico, e comprensión dunha lectura.
A sección final, a mostra de escritura, presenta aos alumnos dúas posicións opostas e pídelles para escoller e defender un dos lados. The goal here is to assess a test taker's argumentative writing, language skills, and clarity. While unscored, responses are sent as part of law school applications.
The GRE has six sections: two verbal reasoning, two quantitative reasoning, and two analytical writing sections. Altogether, the test lasts about 3 hours and 45 minutes. Much like on the LSAT, the GRE verbal sections are meant to test a student's ability to extract and synthesize information. In the analytical writing sections, students are tasked with evaluating the structure of a presented argument in addition to crafting an argument of their own.
The GRE tests math skills. This particular difference can be seen as either a positive or negative, depending on each student's history and preferences. Seeing mathematics questions on an entrance exam can be troubling for students with humanities backgrounds, who may not have directly dealt with math in years. This is no secret, con todo, and many of the top GRE prep courses focus specifically on not only refreshing students' mathematical knowledge but teaching helpful strategies for tackling these questions efficiently.
The LSAT focuses instead on what the test calls "logic games." These types of questions are like puzzles, requiring students to set up unique situations and establish their own rules for solving the problems. This tends to be where students get tripped up the most on the LSAT; luckily, the majority of LSAT prep courses proporcionar aos alumnos con consellos e en profundidade estratexias para afrontar estas cuestións de xogo.
É o GRE a opción correcta?
O GRE é un exame de admisión amplamente utilizado que é aceptado por programas de posgrao en diversas disciplinas. Esta é quizais a razón máis saínte porque o GRE é unha opción atractiva para moitas escolas de dereito e os futuros alumnos.
Segundo un afirmación da Harvard School of Law, many prospective law students are also looking at other types of programs and they take the GRE while considering their various options. The Harvard Law School Dean Martha Minow believes that students, schools, and the field of law in general benefit greatly from a diverse pool of students "in terms of academic background, country of origin, and financial circumstances." Alleviating the financial burden of applying is a big part of this.
Let's quickly recap the positivos e negativos para a elección de tomar o GRE sobre o LSAT exame como un estudante de dereito prospectiva:
| | |
| --- | --- |
| pros | contras |
| Ofrecido con máis frecuencia | Só aceptado por 23 Facultades de dereito |
| Máis opcións de carreira | pode tomar 5 veces ao ano |
| Escolla o que contas para enviar | Probas en Matemáticas |
| Ningunha sección de xogos | proba Adaptive |
Por que ir con o LSAT?
O último permanece no vestíbulo principal para a gran maioría das facultades de dereito. Aínda que o GRE está crecendo en popularidade e pode seguir a facelo, that doesn't change the fact that the LSAT is the only test currently accepted by ALL law schools. If law school is the only career option you are considering, then taking the LSAT is probably the right choice as it allows for your performance to fully dictate where you apply.
The LSAT exam comes with its own list of positives and negatives, and the right choice will depend on each student's learning style and career interests. Here's a quick comparison of some benefits to the LSAT vs GRE certification:
| | |
| --- | --- |
| pros | contras |
| Accepted by all 205 ABA-Approved Schools | Accepted only by law schools; not interdisciplinary |
| No Math Section | Tricky Logic Game questions |
| Pen-and-Paper Exam | All Scores are submitted |
LSAT vs GRE: Which to Choose?
As with all application questions, your individual needs as a student and unique professional goals are the most decisive factors when deciding between the LSAT vs GRE.
If you are a student who has had your eye on law school for years, engages in a debate team, studies pre-law, and envisions a future in a private practice or top firm, a continuación, o LSAT é probable que a proba para ti. Tamén é importante ter en conta a súa escola de elección; Se está empeñado nunha escola de soño que non está na lista de 23 agora aceptar GRE, a continuación, o LSAT é a proba para ti.
se non, Se é alguén que aínda está pesando varias carreiras, considere poñer todo o seu esforzo ao GRE e enviar a súa puntuación para unha das escolas de dereito.
[no_toc]