Nowadays, everyone feels like they're short on time. With so many demands in a typical day to day schedule, finding time to prepare for the CAPM or PMP exam as an aspiring project manager can seem impossible. Fortunately, Master of Project Academy provides its students with a comprehensive review course that adapts to your schedule, making it an invaluable resource for CAPM prep students on a tight schedule.
But how do they accomplish this, and how do you know Master of Project Academy is the right course for you? We've got you covered:
Check out this deep dive into Master of Project Academy's CAPM Certification review course. Reading our breakdown of the pros and cons of this course will give you everything you need to know before enrolling.
Here's what to expect from Master of Project Academy's CAPM Certification Training Course:
99.6% first time pass rate
Easy access to course discounts
More than 23 hours of video training
Over 300 informative lectures
Completely self-paced lesson plan
Instructed by an industry professional
100% online
30-day money back guarantee
Certificate of course completion
What's Included With Master of Project Academy
99.6% First Time Pass Rate
At the end of the day, all you really need is to pass your certification exam. And while you'll certainly learn a great deal of information in the process, you can rest assured that Master of Project's teachers understand your end goal. This company has a 99.6% first time pass rate for their students— out of a sample size greater than 120,000, that's an extremely impressive track record.
Ample Course Discounts
Simply going to the Master of Project Academy website will usually greet you with a pop up that offers you a discount. Sometimes, these special offers even appear in fun ways— like spinning a wheel to potentially get a higher discount. Although Master of Project Academy's prices are fair already (more on that in the next section), the discounts made an already appealing package that much more tempting.
Self-paced Study Materials
Master of Project Academy really practices what they preach when it comes to their self-scheduled certifcation courses. By providing the entirety of the course online, students simply need an internet connection in order to learn from anywhere. Earn your required 23 PDU requirement of PMI while immersing yourself in over 300 lectures and 600 practice questions.
What if you can't connect to the internet but still want to study? Here's what you do:
Even if you don't have an internet connection available, plan ahead and download some of the handouts and practice materials. This will allow you to keep working on CAPM study materials no matter what!
Led by an Industry Professional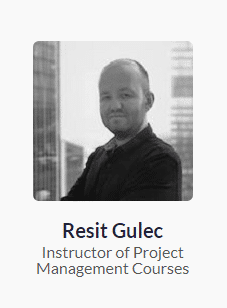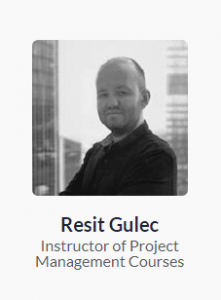 With most online courses, it's rare to see the CEO jump in and teach the courses— they're usually too far removed from the educational aspect of their products.
But with Master of Project Academy, this is not the case. Meet Resit Gulec, CEO and founder of Master of Project Academy:
Resit's impressive track record includes several years with tech industry staples like Nokia and Ericsson in addition to having worked internationally on projects with budgets from $250,000 to $35 million.
Resit has an MBA degree from the London School of Business and Finance and has worked on the front lines of many successful projects. And with him at the helm of all his company's project management courses, you'll be able to learn from one of the experts.
Master of Project Academy Pricing
There's nothing worse than being forced into subscriptions in order to pay for a course. Luckily, Master of Project Academy has designed their pricing structure to be as adaptable as their courses. You can pay on a monthly, annual, or lifetime basis, depending entirely on how often you think you'll need to use the course.
Think you can finish everything in a month? Great, then you can get by with one affordable monthly payment. Want to use the course materials more frequently or have access forever? You can also pay a premium price or enroll in lifetime access.
Pros & Cons
Let's quickly weigh the pros and cons Master of Project Academy's CAPM Review Course:
PROS
Learn from Anywhere
An online course that comes with downloadable review content means that you can take your learning anywhere. Nearly every aspect of this CAPM review course is fully adaptable to your schedule.
Professional Instruction
For just about all of the in-depth topics that Master of Project Academy covers, you'll receive instruction from the company's CEO as he shares knowledge gained through large projects with serious budgets.
Flexible Pricing Model
Don't subject yourself to a subscription service that ultimately costs you more than it's worth. Pay based on the amount of time that you need to complete your coursework— not how long they want you to pay!
High Pass Rates
It's tough to argue with proven results. The incredibly high first time pass rate of 99.6% all but guarantees your success once you've finished the course.
CONS
No Live Courses
Although the recorded lectures available to students are excellent, the lack of live course options could potentially be disappointing— especially if you're concerned with live interaction with your teacher.
Frequently Asked Questions
We've broken down some of the biggest questions asked about Master of Project Academy and their CAPM Review. Check out the answers below:
Does Master of Project Academy have a Money Back Guarantee?
Yes! Master of Project has a 30 day money back guarantee on their CAPM and PMP certification training, and a refund rate of less than one percent overall.
Does Master of Project Academy offer financial aid?
Unfortunately, no. However their site constantly throws free discounts and promotions at users just for visiting. They also have an entire section of their site dedicated to free courses, including a free CAPM course.
Ideal Customer
Curious if Master of Project Academy is a good fit for you? See below and decide for yourself:
If you have a busy day-to-day and need total flexibility in your course schedule, this is the course for you.
If you prefer that your online courses also provide downloadable review material, this is the course for you.
If you are looking for a technologically sound product that allows you to connect with other students across the platform, this is the course for you.
If you enjoy watching video content to review for exams, this is the course for you.
If you are looking for an in-person, traditional learning experience, this isn't the course for you.
Final Recommendation
Let's face it: review work for your certification is an intense process as is. You don't need the process of finding your course provider to be a second job in and of itself!
For this reason, we highly recommend Master of Project Academy for their CAPM Review courses as a solution to prepare for your certification exam. Their 100% online course as well as numerous downloadable review materials and practice questions make them an easy choice. Furthermore, they provide a flexible pricing structure that helps to personalize the entire package even further.