It can be tricky to find the right Six Sigma Certification training course. Six Sigma has become more important in the project management profession; consequently, courses like those offered by Management and Strategy Institute, also known as MSI Certified, are more important than ever for a student's success in their chosen career.
What makes MSI Certified such a great choice for Six Sigma and Lean Six Sigma students? For starters, the fact that a certification exam is included at the end means that you can easily go from a complete beginner to fully certified with the least amount of resistance or inconvenience. Furthermore, their White Belt course is a fast and free introduction to everything they have to offer, meaning that you won't be unsure of the course's quality when you sign up for the full thing.
So keep reading to learn more about Management and Strategy Institute and how their prep courses can help you achieve Six Sigma mastery!
---

Overview Of MSI Certified Six Sigma Programs
MSI Certified has several different courses available for the different levels, or belts, of Six Sigma and Lean Six Sigma methodologies.
However, this review will mostly focus on their Six Sigma Black Belt certification course; this is one of their best and is guaranteed to give a boost to any student's career. But if you're still not convinced, you can try out their free White Belt course for 20 minutes, or take advantage of their 30 day money-back guarantee if you aren't satisfied with your enrollment.
Here's a snapshot of what MSI Certified has to offer:
White Belt Course – FREE TRIAL

Flexible Course Format

Six Sigma Certification Exam Included

Credits for Six Sigma CPE and Project Development
---
Management and Strategy Institute Six Sigma Course Features
White Belt Free Trial Course
It's hard to commit to a prep course without having tested it out first. MSI understands that and offers a White Belt course that takes about 20 minutes to complete. This will give you a taste for what the full MSI courses will be like, without taking up too much of your time, while still imparting valuable project management knowledge.
Best of all: it's free!
Six Sigma Certification Included
There are only a handful of competitors to Management and Strategy Institute that offer certification in their courses, making this prep course provider among the most convenient and cost-effective.
When you purchase a review course with MSI Certified, your certification is included (so long as you pass the test!). This makes the whole price of the course very affordable. They will even send you a physical certificate in the mail for you to proudly display!
Flexible Course Format
This online course allows you to maintain your busy schedule. You can pick your own pace with MSI Certified and its self-paced structure. You can blast through it in a few weeks; alternatively, you can take your time and fit in study sessions when it's convenient. You can use the course up till a year after your purchase, which gives you more than enough time to prepare and pass your exam.
---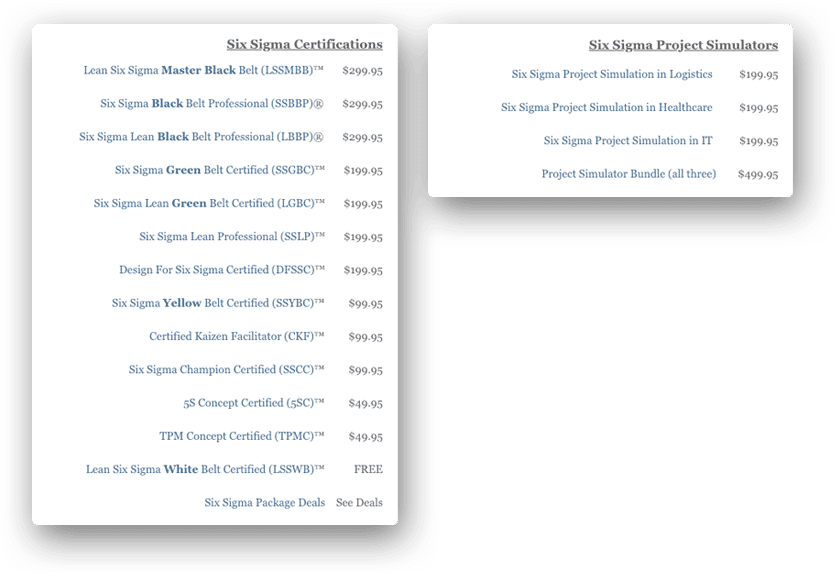 MSI Certified Pricing
The MSI Certified Black Belt Six Sigma course is priced at $299.95. Considering this includes the certification exam at the end, this is an all-in-one package that includes everything you need to improve your career.
When you consider it in this context, MSI Certified's asking price is very reasonable! And if the course isn't what you expected, you still have thirty days from the time of purchase to return it.
---

Pros & Cons
If you're still on the fence, take a look at these positives and negatives:
Pro – Try It Before You Buy It: If you have 20 minutes, you can complete the FREE Six Sigma White Belt course and try before making any monetary investment. This trial course ends with a 15 question certification exam, so you will get a great sample of how MSI Certified courses function as well as a free certification to boo!.
Pro – Everything You Need: After you purchase MSI Certified, you will have everything you need to change your career for the better. All the training material is included to help you study and then pass the certification exam conducted at the very end: no hidden fees, and no extra study materials or tools required.
Pro – Open Note Exam: When you get your Six Sigma certification with Management and Strategy Institute, you will have the opportunity to look at your notes during the exam. These are the notes that you made while studying with the review course, which will definitely help alleviate some testing anxiety for many project management candidates out there.
---

Frequently Asked Questions
Q: How does the Open Note Exam work with the MSI Certified online prep courses?
A: The exam is timed, but the open notes will give you the confidence that you will pass. You can't be looking up specific answers during the test, but you will have full use of your self-made notes that you have collected over the past few weeks or months.
Q: Will I run into any hidden fees?
A: Nope! You will have to pay one time, and as long as you pass the exam, you will have everything you need, including your official certification.
---

Ideal Customer
Check out these additional suggestions to determine if MSI Certified is the right Six Sigma training course for you:
If you are unsure about the Six Sigma certification and want a trial session,

this is the course for you.

If you need a training program that can be flexible with your schedule,

this is the prep course for you.

If you want a cheap course that doesn't include bonuses like the actual certification,

this isn't the course for you.

Finally, if you suffer from testing anxiety,

this is DEFINITELY the training course for you!
---
Final Recommendation
I strongly recommend Management and Strategy Institute to anyone who is even considering getting their Six Sigma or Lean Six Sigma certification. Their free trial and 30 day money back guarantee gives you the freedom to try it out and see how it works out for you. They offer many different Six Sigma certification belts so no matter which one you're looking for they've got you covered.
MSI Certified's online Six Sigma training course allows you to study whenever and wherever you are. Now go check it out for yourself and get started on your Six Sigma certification today!