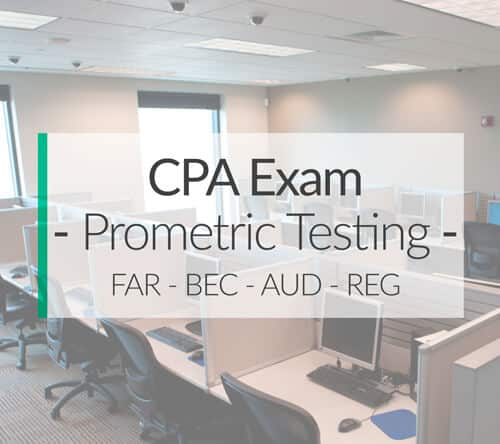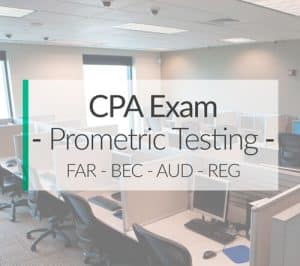 Programando seu exame CPA con centros de probas Prometric CPA é unha especie de confundir a primeira vez que facelo. Como todo o CPA proceso de aplicación do exame, there's a right way to schedule your exam date and there's a wrong way.
Desafortunadamente, if you do this step wrong, you will probably end up paying a bunch of extra fees and waste some time on your journey to becoming a Certified Public Accountant. polo tanto, let's talk about scheduling your CPA examination the right way and go over a few tips that you can use to make sure things go smoothly along the way.
Vexa os cursos superiores CPA Review
View All
What is a Prometric Testing Center?
Before we talk about the steps to schedule your test, let's talk about what Prometric actually is. Prometric CPA is not affiliated with the AICPA, reclamo, or any state board of accountancy. It's simply a company that specializes in administering professional exams.
The CPA exam isn't the only accounting test that Prometric administers. Prometric is also responsible for the CMA exam as well as many other exams for different professions like medical and law licensure exams.
Prometric has test centers all over the country, so chances are there will be one in your area. con todo, it's not uncommon for candidates to drive an hour or more to the nearest testing center.
---
Steps to Scheduling Your CPA Exam with Prometric
Go to the Prometric website
Click Schedule Exam and Agree to Terms
Enter Your Exam ID and Last Name
Pick a Location and Time
Schedule Your Exam
Antes de que poidamos realmente ir a través dos pasos a axenda o seu exame, we need to figure a few things out first. Por exemplo, where is the best place to take the exam and on what day should you schedule it?
Get Your Notice to Schedule (NTS)
Antes de que poida sequera pensar en programar o seu exame CPA, vai ter para rematar o seu proceso de aplicación e recibir a aprobación do seu consello estatal. Unha vez que sexa aprobado para unha sección, they will send you an NTS with an ID number. Vai ter deste a fin de marcar calquera proba na Prometric. Unha vez que ten iso, you can start thinking about where you want to take the exam.
---
Find the Best Prometric Testing Center Location
Where is the best Prometric testing center location to schedule your CPA exam? ben, that depends on where you live and where you think you will be, come exam time. Por exemplo, if you are a student in Michigan and get a job offer for a firm in Chicago, you can schedule your exam in Illinois. That's the cool thing about Prometric. You don't have to take the exam in your home state or the state that you are planning to get licensed in.
dito, 9 times out of 10 it's best to pick the testing center location that is closest to where you live. Go on their website to find the nearest location to your house. Chances are, there is one within an hour driving distance.
CPA Exam Tip: After you pick out your testing center location, drive over there before your exam date. This way you will know where it is and how to get there on your exam date. The last thing you need to be thinking about before your exam is being stressed over finding the testing center.
---
Get Discounts On CPA Review Courses!
---
When to Schedule Your Exam
What is the best time to schedule your CPA exam? o CPA testing windows are available two months out of each quarter, so you can schedule your exam anytime within those windows. Keep in mind that you only have 6 months from receiving your NTS to schedule your exam. If you don't schedule it within that 6-month time period, you will lose your exam fees for that section of the exam and have to pay them again to reregister.
CPA Exam Scheduling Tip: Don't wait to sign up for your exam. The testing centers aren't that big, so they tend to fill up quickly on certain dates. You should plan on scheduling your exam 3-4 weeks before your testing date to make sure it doesn't fill up.
---
Can You Reschedule Your CPA Exam?
You are able to reschedule your CPA exam online through the Prometric website, but it isn't always free. The longer you wait to reschedule, the more it will cost you.
Here's a summary of the rescheduling fees and costs.
| Time Before Scheduled Exam | Rescheduling Fees |
| --- | --- |
| 30+ Days | No Fees |
| 5 - 30 Days | $35 |
| 1 - 4 Days | Full Exam Fees |
| Less Than 24 Hours | Can't Reschedule |
---
What Day is Best to Schedule Your Exam?
This is a somewhat common question for first-time candidates. There is no real best day of the week to schedule your exam. Algunhas persoas prefiren tomar seus exames os luns, porque lles dá todo o fin de semana para estudar para o exame.
Outros candidatos prefiren a metade de semana, simplemente porque poden saír do traballo para facer o exame.
honestamente, Non importa que o día que realmente facer o exame. O importante é o que levando ata o día do exame. Se levalo luns vai axudar a preparar, a continuación, leva-lo o luns. O mesmo é verdade sobre calquera outro día da semana.
---
What to Bring to Prometric on Exam Day?
O que ten que traer á Prometric o día do exame? There are a few things that you need to make sure you bring to the testing center on your exam day.
Two forms of ID
NTS
Directions if you need them
You won't be able to sit for the exam without your ID and NTS. Make sure you have these before you leave the house. tamén, it's a good idea to bring directions to the testing center just in case you forget where it is.
---
Get Ready for Your Exam
Now that you know how to schedule your exam, you need to make sure you are prepared for it. Se non ten usado un curso CPA Cram antes, vostede probabelmente debería ollar para el. Son unha gran axuda nas semanas antes da data do exame. Aquí está a lista dos principais cursos de revisión que ofrecen cursos de empinar. Velos a si mesmo.