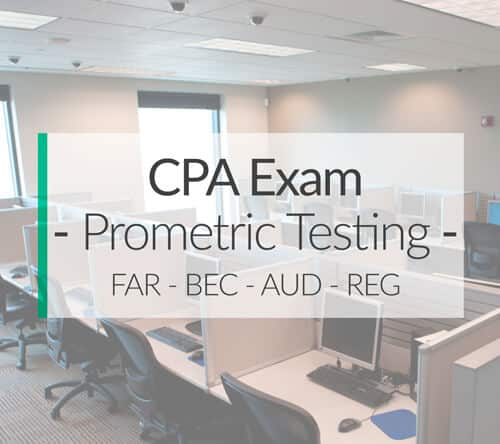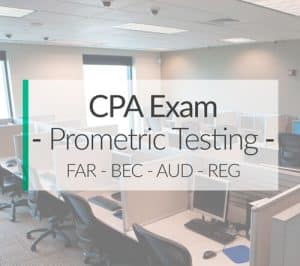 Scheduling your CPA exam with Prometric CPA testing centers is kind of confusing the first time you do it. 好像一切与 注册会计师考试申请流程, 有安排考试日期正确的方法,有一种错误的方式.
不幸, 如果你做到这一步错, you will probably end up paying a bunch of extra fees and waste some time on your journey to becoming a Certified Public Accountant. 因此, let's talk about scheduling your CPA examination the right way and go over a few tips that you can use to make sure things go smoothly along the way.
What is a Prometric Testing Center?
Before we talk about the steps to schedule your test, let's talk about what Prometric actually is. Prometric CPA is not affiliated with the AICPA, 引诱, or any state board of accountancy. It's simply a company that specializes in administering professional exams.
The CPA exam isn't the only accounting test that Prometric administers. Prometric is also responsible for the CMA exam as well as many other exams for different professions like medical and law licensure exams.
Prometric has test centers all over the country, so chances are there will be one in your area. 然而, it's not uncommon for candidates to drive an hour or more to the nearest testing center.
---
Steps to Scheduling Your CPA Exam with Prometric
Go to the Prometric website
Click Schedule Exam and Agree to Terms
Enter Your Exam ID and Last Name
Pick a Location and Time
Schedule Your Exam
之前,我们可以通过实际的步骤去安排你的考试, we need to figure a few things out first. 例如, where is the best place to take the exam and on what day should you schedule it?
Get Your Notice to Schedule (NTS)
Before you can even think about scheduling your CPA exam, 你需要完成你的 申请流程 并从国家局获得批准. 一旦你被批准的部分, they will send you an NTS with an ID number. 您将需要这一点是为了安排在Prometric任何测试. 一旦你拥有了它, you can start thinking about where you want to take the exam.
---
Find the Best Prometric Testing Center Location
Where is the best Prometric testing center location to schedule your CPA exam? 好, that depends on where you live and where you think you will be, come exam time. 例如, if you are a student in Michigan and get a job offer for a firm in Chicago, you can schedule your exam in Illinois. That's the cool thing about Prometric. You don't have to take the exam in your home state or the state that you are planning to get licensed in.
话虽如此, 9 times out of 10 这是最好的挑检测中心的位置,是最接近你住的地方. 去他们的网站上找到最近的位置,到你家. 机会是, 有一个一小时的行驶距离以内.
注册会计师考试技巧: 当您挑选出您的测试中心的位置, 开车那边考试日期前. 你就会知道这样它在哪里以及如何到达那里的考试日期. 你需要的最后一件事要考虑你的考试被强调了寻找测试中心前.
---
Get Discounts On CPA Review Courses!
---
When to Schedule Your Exam
什么是安排您的注册会计师考试的最佳时机? 该 CPA测试窗口 可有两个月每季度, 这样你就可以将这些窗口内随时安排您的考试. 请记住,你只有 6 从收到您的NTS安排考试个月. 如果你不认为6个月的时间内安排其, 你将失去你 考试费 for that section of the exam and have to pay them again to reregister.
注册会计师考试调度提示: 不要等到报名参加考试. 该测试中心是没有那么大, 所以他们往往填补很快在某些日期. You should plan on scheduling your exam 3-4 weeks before your testing date to make sure it doesn't fill up.
---
Can You Reschedule Your CPA Exam?
You are able to reschedule your CPA exam online through the Prometric website, but it isn't always free. The longer you wait to reschedule, the more it will cost you.
Here's a summary of the rescheduling fees and costs.
| Time Before Scheduled Exam | Rescheduling Fees |
| --- | --- |
| 30+ Days | No Fees |
| 5 - 30 Days | $35 |
| 1 - 4 Days | Full Exam Fees |
| 少于 24 Hours | Can't Reschedule |
---
What Day is Best to Schedule Your Exam?
This is a somewhat common question for first-time candidates. There is no real best day of the week to schedule your exam. Some people prefer to take their exams on Mondays because it gives them the entire weekend to cram for the test.
Other candidates prefer the middle of the week simply because they can get out of work to take the exam.
Honestly, it doesn't matter which day you actually take the exam. The important thing is what you do leading up to the exam day. If taking it on Monday will help you prepare, then take it on Monday. The same is true about any other day of the week.
---
What to Bring to Prometric on Exam Day?
What should you bring to Prometric on your exam day? There are a few things that you need to make sure you bring to the testing center on your exam day.
Two forms of ID
NTS
Directions if you need them
You won't be able to sit for the exam without your ID and NTS. Make sure you have these before you leave the house. 也, it's a good idea to bring directions to the testing center just in case you forget where it is.
---
Get Ready for Your Exam
Now that you know how to schedule your exam, you need to make sure you are prepared for it. If you haven't used a CPA cram course before, you should probably look into it. 他们在周中一个巨大的帮助在考试日期前. 下面是,提供补习课程顶部复习课程列表. 检查出来为自己.