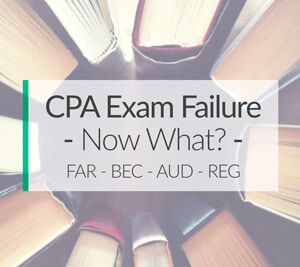 So you failed the CPA exam; now what do you do? Don't feel bad and get down on yourself about failing a CPA exam section. You can still pass the CPA exam. Half of all candidates fail a section each testing window. I'm sure this isn't that comforting, but trust me. It's normal.
The highest pass rates are only about 58 peresenti, kotero inu nokha?. I know this probably doesn't make you feel any better, but it's important to not get depressed and think that you failed the CPA exam because you're just stupid. You aren't! You can pass the exam just like everyone else. You just need to brush this off and get back at it.
Here are some tips on how to pick yourself back up and pass the exam after you have failed a section of the CPA exam.
Onani Top CPA Review Maphunziro
View All
Study Tips After Failing a CPA Exam Section
---
What's the Best Way to Retake a Failed CPA Exam Attempt?
Figure Out Why You Failed the CPA Exam
The first big step in concurring the exam after a failure is analyzing and understanding what you did wrong. You have to know what was wrong in order to improve it, chabwino?
Chabwino, here's a list of the most common reasons why people end up failing a section of the exam. See if any of these match your situation.
Did You Use a Study Guide?
This might sound like a stupid question, but believe it or not a lot of people try to save money by not buying a CPA review Inde. They buy a few outdated books on Amazon or eBay and think that's all they will need to pass.
Mwatsoka, that rarely works. The CPA exam is so big and covers so many topics that it's impossible to simply read a book and be prepared for it. This might be only my opinion, but you need a full-length, legit CPA review course in order to properly prepare yourself for the exam.
A book just won't cut it. You need a textbook, mafunso mchitidwe, nkhani, and study tools in order to truly be prepared on your exam day.
---
Get Discounts On CPA Review Courses!
---
Did You Get the Wrong Review Course?
This might also sound like a stupid question, but a lot of people make this mistake as well. Just because you purchased a review course, doesn't mean that it will actually help you study and learn the information.
Mwachitsanzo, people who prefer to read will get little out of a video lecture heavy course. Chimodzimodzinso, people who learn best by watching others lecture will get little out of a course without videos.
Kubweretsa cholakwika review Inde mukhoza upandu CPA ulendo wanu ndi chifukwa inu amatopa panjira. Ngati munagwiritsa ntchito njira kukonzekera kwa gawo lotsiriza lino mayeso, mungafunike tionenso kuti ndione ngati pali mungachite bwino kunja uko. A zambiri maphunziro kwenikweni kupereka kutembenuza kuchotsera, kotero iwe sukanakhala ngakhale kulipira malipiro okwanira kusinthana ndi osiyana review Inde!
---
Did You Study Enough?
Tsopano ife anakhazikitsa ngati inu ntchito Inde ndipo ngati anali woyenera, tikambirana ndondomeko anu enieni kuphunzira. Kodi muzindikira kuphunzira?
Eya, I get it. You "tried" really hard to study and felt like you studied "a lot," but did you really study? You have to be honest with yourself and look at your study habits. Did you really commit to preparing for the exam?
Please don't take this the wrong way, but most people end up failing a section or two not because the exam is too hard or because they are stupid. They end up failing simply because they didn't put in enough time and take the test seriously.
If this is you, this is a good thing believe it or not. This means all you have to do is change your study habits and take the exam again. The next tip will help you with this.
---
Did You Have a Study Schedule?
Tons of people try to study for the exam off and on. This tends not to work because they aren't going through their course consistently and reviewing things enough times to actually remember them. Motero, they end up forgetting things as they go through their review course.
The only way to study and actually get things done is to set a schedule and study on a consistent basis. This doesn't have to be every day, but it should be regularly. Make a plan and stick to it. That's the only way to get results in the end.
---
Did You Give Yourself Enough Time to Study?
Some people think they can just wing it and try to cram their study process into a two-week period. Sorry, but this rarely works. It has been done and I'm sure you've heard of someone who studied for a week and passed the exam, but this doesn't work.
Chances are that person passed because they studied a lot more in college or had a lot of experience in that field, kotero sanafune kuphunzira mochuluka. Ndibwino kuti kuchita kuphunzira kwa osachepera 6 masabata mbali iliyonse. Chirichonse poyerekeza ndi inu mwina mkokomo izo.
---
Were You Surprised on Exam Day?
Ichi ndi mtundu wa funso njomba chifukwa tonse amadabwa pamene ife kukhala mu kompyuta ndi kuwerenga mafunso ife konse ndinaganiza akanati afunsidwe, koma inu kudabwa ku zinthu zina?
Kodi inu muiwale ID wanu kapena NTS ndipo amayenera kubwerera kunyumba mwamsanga kwenikweni? Kodi inu muiwale kumene Prometric pakati kuyezetsa anali? Did you get stuck in traffic on the way to your exam and thought you would be late? This kind of thing is common and can really stress you out on your exam day. After being so frazzled, you might not be thinking straight when you sit down to take the test. Here's a tip. On exam day, make sure you give yourself plenty of time to get your things in order and arrive at the Prometric testing center. You might also want to go there the night before just so you know where it is ahead of time.
You may have also been surprised to see that the exam looks nothing like what you expected it to look like. izi, again, when getting a proper CPA review course comes into play. All full review courses have exam simulators that look and feel exactly like the real thing. Practice on one of these and you will feel right at home when you sit down at the real thing.
---
Commonly Asked CPA Exam Retake Questions
How many times can I retake the CPA exam?
You can retake it as many times as you want, but you can only take each section once per testing window.
---
How do you retake the CPA exam?
After you get your scores back, you should wait 24 hours and apply for a new NTS. This will be effective starting in the next testing window. Go to the Prometric website and schedule your next exam attempt.
---
Things to Remember Before You Reapply after a Failed CPA Exam Attempt
Your NTS is only valid for one testing appointment.
You must get a new NTS to reapply.
If you apply for a new NTS during the same period as your failed attempt, your NTS effective date will start the next testing window.
You can't take the same section more than once in the same testing window.
You have to wait at least 24 hours after you get your score to reapply.
---
Don't Get Discouraged!
Chinthu chofunika kwambiri kuti ine ndikhoza kukuuzani inu ndi, musagwe mphwayi ngati inu analephera mbali ina ya mayeso CPA. Ine ndikudziwa kuti ndi nkhonya zikuluzikulu cholinga chanu ndi chikhulupiriro chanu monga mlandu wokhala, koma muyenera tiyang'anebe osati pansi nokha.
Gwiritsani kulephera izi monga phunziro ndipo muganize zimene muyenera kusintha kuti musalole izi kuti zichitike kachiwiri. Mukhoza kukhoza mayeso basi monga wina aliyense. You just need to use the right CPA study guide and dedicate yourself to sticking with a consistent program and you will do fine.
If you are considering getting a review course or switching from your current review courses, here's my list of the most popular ones. Check them out and see which one will work best for you and your learning style.
Zabwino zonse!