SmartBarPrep is focused on covering the essential parts of the bar exam— the content that's most aggressively covered on bar exam questions. To ensure that law school students have the greatest likelihood of passing the bar, this bar review course has examined past MBE questions to see which ones most frequently appear.
With this study aid, law students can focus their bar examination prep on the most relevant test content. Studying for the bar is tough and takes time, but SmartBarPrep is here to help.
But what makes this bar prep company so helpful? Read our review to find out!
Overview of SmartBarPrep.com
SmartBarPrep was thought up by the attorney Matthew Bates after he found himself disappointed with the bar study materials available to him. Existing bar prep courses seemed bloated and overpriced and didn't effectively cover the material that was most likely to be on the exam.
As such, the simple mission of his bar exam prep course is to provide an affordable study guide that's focused on a condensed, manageable list of the important topics.
What's Included with SmartBarPrep?
Real Practice Questions

Smart Flashcards

Essay Review and Issue Spotting

Priority Outlines

Smart Attack Sheets

Frequency Charts
Priority Outlines
The center of SmartBarPrep's study materials are priority outlines; these are designed to be a student's go-to resource when studying for the bar.
Each outline covers all rules on the UBE and MEE essay portions that have been tested since 1995. They include all 531 rules tested in the last 37 exams in addition to the frequency with which each rule appears on the exam for a speedy reference.
For added convenience, each rule is also color-coded with a Priority Rating to focus studying. This means that students can be sure they are using their study time most effectively.
But speed isn't the only important thing when studying for the bar:
SmartBarPrep also provides students with the resources they need to answer any question fully and effectively. Model rule statements are drafted according to how examiners test them so you know exactly what to study for. These statements are also kept up to date with the exam, ensuring that you're studying the most recent information.
Each rule is written simply and made easy to remember, but with enough detail to sufficiently answer any essay question. Consequently, SmartBarPrep ensures you have all the necessary material in order to pass the bar.
Smart Attack Sheets
Not only does SmartBarPrep offer plenty of utility within the priority outline, but they further enhance students' understanding with their smart attack sheets.
Sheets include 6-9 page concise explanations of laws or civil procedures designed to be used in tandem with the priority outline. With the same priority color-coded system as the outline and clustered into groups of the most important concepts most often tested together, students can dig deeper into topics presented on the outline for a deeper understanding. This is great for memorization and review in the weeks and days leading to the exam.
Smart Flashcards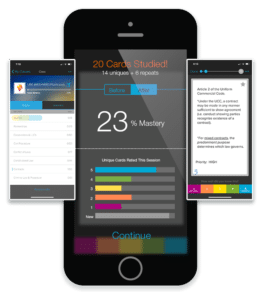 No study guide is complete without flashcards, and SmartBarPrep is no exception.
For students that prefer traditional flashcards, there's a printable option. But in addition to this, SmartBarPrep partnered with BrainScape to provide digital flashcards that can accelerate your learning. These cards use cognitive science to identify your strengths and weaknesses in order to make studying as efficient and painless as possible.
To further reinforce your memory on exam day, flashcards are designed to repeat legal concepts at an optimal interval for memorization. Each card focuses on a Key Concept of the bar exam, and is ideal for memorizing the rules with multiple elements. With over 740 cards available on iPhone, iPad, or Android, this is a killer app that's sure to give you an edge— even when taking the exam for the very first time!
Smart Guide to the MBE
SmartBarPrep's Smart Guide to the MBE is an additional resource including tips, strategies and step-by-step approaches to maximizing your score on the MBE portion of the test. The guide will walk you through several aspects of the exam, including:
How the MBE works

What MBE examiners are looking for

T

he format of the test

What subjects/laws are tested

The timing & pace of the exam

How many questions to expect for each topic

How your MBE score is calculated.
In addition, SmartBarPrep offers essay review and issue spotting guides, so you can be sure your essays are in perfect shape for the exam.
SmartBarPrep Pricing
The price of SmartBarPrep varies by state; use their drop-down menu here to see your specific price.
Beyond that, SmartBarPrep is available at three different tiers: Standard, Deluxe, and Ultimate. The standard course includes the priority outline, frequency charts, and the Smart Guide. The deluxe course adds on smart attack sheets and MBE smart flashcards. Ultimate includes everything from the standard and deluxe courses — plus more smart flashcards — at the best price point out of all three.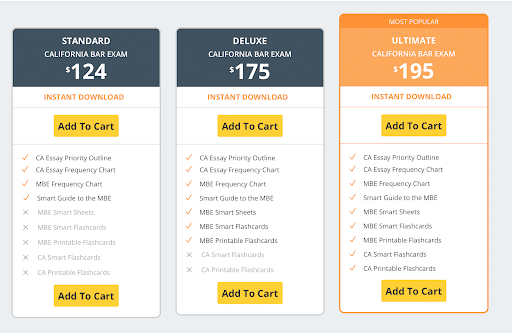 SmartBarPrep also offers several different guides, sheets and other materials that are free to download from their website. Additionally, they offer a 30-day money back guarantee if you're unsatisfied for any reason.
Pros & Cons
So is SmartBarPrep worth it? Here's a few of the pros and cons:
Pro – Plenty of Study Materials:

SmartBarPrep has something for every kind of student in their broad array of exam-focused study materials. From the priority outline to the attack sheet to the smart cards, there is sure to be something helpful included.

Pro – Study Smarter, not Harder:

This course is designed to give students the best possible chance of passing through their innovative priority measurement. Focus on what you most likely need to pass the bar by seeing what is most frequently tested— right down to the percentage!

Pro – Several Pricing Options:

For students on a budget, SmartBarPrep offers some of its most useful course materials for free. In addition, the normal, deluxe, and ultimate study guides ensure that students don't need to pay for any unnecessary study materials.

Con – Varying Prices and Course by State:

Since the bar exam varies by state, it can be hard to know if you're getting the most appropriate study material with this course. Be sure to review what's included with SmartBarPrep in your state so you have access to the materials you want.
---
Ideal Customer
Is SmartBarPrep right for you?
If you're looking to focus your studying to give you the best chance at passing,

this is the course for you.

If you're looking for memorizable and printable study guides,

this is the course for you.

If you're looking for up-to-date and exam focused study materials,

this is the course for you.

If you're looking for a guided, hands-on learning experience,

this isn't the course for you.
Final Recommendation
SmartBarPrep has a lot to offer. Its mission of providing clean and concise, exam-focused study materials make it an incredibly powerful tool. Further, the built in priority scaling to the study material ensures that students use their study time as effectively as possible. Their smart flashcards also help students to memorize the most important information quickly and focus on problem areas.
All in all, SmartBarPrep is a clear standout in bar prep materials and easily worth a look by anyone preparing for the bar exam!
---
Frequently Asked Questions
SmartBarPrep focuses on the questions that most frequently occur, so let's do the same:
How long do I have access to SmartBarPrep's study materials?
All of SmartBarPrep's materials are yours to keep for as long as you want— with the exception of the smart flashcards, which are only available in the 4 months leading up the bar exam. 
Can I print my study materials from SmartBarPrep?
Yes! All of their study materials are available in a printable PDF format. (Except for the Smart Flashcards, which are only available digitally)
When does SmartBarPrep update their study materials to reflect changes to the bar exam?
The release date for SmartBarPrep's new updates depend on when the most recent exam is released. But for example, if you purchase the February materials, they will send you the July materials for free when they are released.