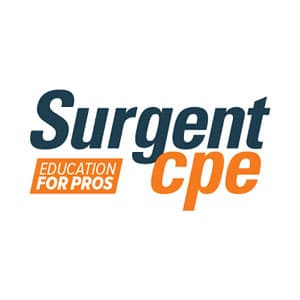 It's no secret that every CPA needs a certain number of Continuing Professional Education hours to maintain their certification. But it can be hard for many students to find a good resource of CPE for CPAs.
Many online educators and platforms offer CPE credits, but their courses can be confusing, outdated, or inefficient. Fortunately, Surgent has an excellent program to help tax professionals like you obtain CPE certificates.
Keep reading to learn more!
How do you rate Surgent CPE Review?
---
Overview of Surgent
Surgent is well-known for their exceptional review courses that have helped thousands of financial professionals pass their CPA e CMA exams. Much like their other courses, Surgent's continuing education content is hosted on an online platform that primarily offers live and on-demand webinars.
In alternativa, they also have a more affordable but limited self study program. però, the main appeal for this resource is how they're able to offer countless live and on-demand courses that are frequently updated for no additional cost. Students are big fans of this feature specifically because it ensures that there's always updated content relevant to the modern accounting industry.
Surgent CPE Course Features:
Live Webinars

Self Study Downloads

On-Demand Webcasts

7,500+ CPE Credits

1 Year Access Period
---
What's Included With Surgent
Webinars
The real meat of Surgent's content lies in their live and on-demand webinars. Each of these conveys a specialized CPA topic in a brief and efficient manner. Since there's such a wide range of materials available, you're able to easily pick and choose the best ones for your career.
There's no need to settle for topics that never pop up in your workplace— focus on whatever is specifically geared towards CPAs, CMAs, agenti iscritti, or other financial professionals.
But any course is only as good as the instructor— so how are the presenters for Surgent's live content?
Each webinar is delivered by a highly experienced professional who regularly deals with the subject they teach. Most of Surgent's CPE instructors have over 20 years of accounting experience, and all of them are licensed CPAs.
As you may have guessed, this means they're uniquely qualified to create effective lessons thanks to their professional experience. They can also help you avoid some of the career pitfalls they may have made when starting out— all you have to do is ask!
Self Study Downloads
Another avenue of learning with Surgent is their self study downloads. These are PDF textbooks that can be read through at any pace you like. Much like the webinars, it uses plenty of visuals to teach you about specific subjects in detail while still being easy to follow. They're also written by the same people who create the webinars— so you can expect the same level of quality across the board.
Once you've downloaded one of these lessons, here's how it works:
Each PDF textbook comes with a short exam covering what you've learned. Completing these gives you the opportunity to apply your knowledge and ensure that you can effectively use any new concepts in a work setting. And once you pass this exam, you'll receive the CPE credits associated with the textbook.
Convenient Course Dashboard
Surgent provides plenty of quality of life features when using their service on your PC. All of your continuing professional education credits are tracked automatically and made available to download from your account home screen.
You can also use your dashboard to choose courses and plot out a schedule to complete them. It may seem like a superfluous feature, but don't neglect this schedule— it ensures that you can fit your CPE hours around any other time commitments you might have.
---
Surgent Pricing
Currently, there are 3 different options available through Surgent for both live and self-study CPE packages.
First up is the 16 credit plan, which costs $399 for webinars and $225 for self-study.

Next is the unlimited access plan, which provides access to 5,500 credit hours and costs $599 live and $499 self study.

Last is the unlimited plus course package. It grants access to all 7,500+ CPE credits in both the live and self-study formats for just $799.
Overall, I recommend the unlimited plus package; it's the best price for the most content. But regardless of which course you choose, there's a lot of helpful content included that will allow you to easily meet all your accounting continuing education needs!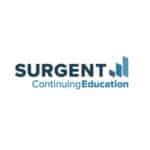 Salvare 20% Off Surgent CPE Unlimited Packages
CPE, Surgent CPE, sconto esclusivo
38 usa oggi
Ultimo uso: 1 minutes
---
Professionisti & Contro
Here's a quick rundown of Surgent's benefits and drawbacks when it comes to CPE:
Instant Course Certificates: Course certificates are available to download the second you've completed your required credits. You don't need to waste time waiting for them to be approved or mailed to you before you submit them to any state boards of accountancy.
Inclusive Packages: Similar CPE courses will charge extra for ethics courses, tax update courses, and other webinars more specific to certain industry professionals. Fortunatamente per voi, Surgent includes these essential courses for no extra cost— pay once and get everything you need immediately!
Frequent Updates: Surgent provides all course updates completely free of charge. Thanks to that, you can rest assured that what you're learning is the most current and effective version of the curriculum.
Limited Self-Study: Come ho detto precedentemente, Surgent doesn't focus as heavily on their self-study materials. That doesn't mean they're bad or unusable, just that the live content is much better. If you're looking for self-paced written material, you may be better off with another company.
---
Domande frequenti
Check out this FAQ section for the answers you need if you still have questions about Surgent's CPE package.
Q: How long will I have access to Surgent's CPE course?
UN: Every payment tier for Surgent CPE grants you a full year of access to the materials on offer.
Q: Can I buy individual Surgent CPE courses instead of course packages?
UN: You can purchase some of Surgent's CPE webinars and downloads separately, although this is more costly if you're planning on buying multiple courses.
Q: Does Surgent CPE come with a satisfaction guarantee?
UN: Surgent fully stands by the quality of all their educational packages. If you have any issues then they will make it right for you, guaranteed.
---
cliente ideale
Still on the fence about this course? I recommend buying it if any of the following applies to you.
If you prefer live content,

questo è il corso per voi.

If you like being able to learn on the go,

questo è il corso per voi.

If you enjoy multiple course formats,

questo è il corso per voi.
If you want to learn in a classroom, this isn't the course for you.
---
raccomandazione finale
Surgent has one of the best CPE programs in the business. Their lessons are engaging and fun, their staff is highly qualified, and their dashboard is efficient and easy-to-use. Make sure to try out this course during your next CPE period, and I guarantee you won't be disappointed.