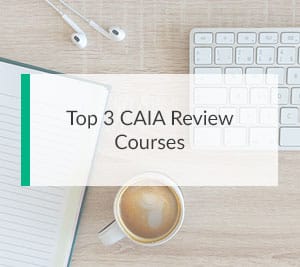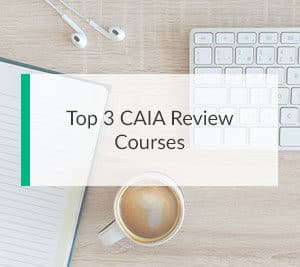 While working towards your Chartered Alternative Investment Analyst (CAIA) certification, you'll likely find you need some extra help.
But with so many CAIA study materials out there, how are you supposed to choose the best one?
Luckily for you, I've spent my time checking out what's on offer and have compiled a list of the top CAIA prep courses to help save you time and money!
Listed below are my top three CAIA review course materials.
The Best Chartered Alternative Investment Analyst Exam Prep Courses
| AIS RANKING | #1 | #2 | #3 |
| --- | --- | --- | --- |
| COURSE NAME | | | |
| PRICE | $795 | $499-$1,029 | $499-$1,129 |
| PASS GUARANTEE | Iè | Iè | Iè |
| STUDY RESOURCES | Video Foguet, Study Guides, base Dumande | Webinars, Self-Study, esami | Webinars, Self-Study, esami |
| LIVE CONTENT | Ask a Teacher | Iè | Iè |
| ACCESS PERIOD | Live Content | Current Exam Period | Current Exam Period |
| SUPPORT | Phone, Email, Live Chat | Phone, Email | Phone, Email, Live Chat |
| DISCOUNT | Cruciani 10% | No Discount | No Discount |
| GET STARTED | Full Course | Full Course | Full Course |
---
#1 Wiley CAIA Review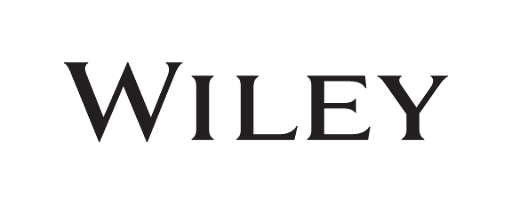 Pro – Predictive Scoring
Your course will generate a potential score range for you as you reach certain thresholds of the course. That way you can see how close you are to being ready for the exam at any time. You can also see what information is being used to generate your potential scores, which lets you know how accurate your potential scores are.
Pro – Mobile App
Wiley understands that it can be difficult to find the time to sit down and study in front of your computer for an extended period of time. That's why they've created a mobile companion app for their course. All course content can be downloaded and viewed offline through the app. Plus, progress is saved automatically once you reconnect, so you can pick up where you left off in the desktop version.
Pro – 11th Hour Review
During the last 2 weeks of the course you'll start an 11th hour review module. This ensures that you remember all the major elements involved in being a CAIA without having to cram or dig back through old content. inveci, you just need to follow along this well-made video course to brush up on each section.
cù – No Live Content
Wiley doesn't offer any live classes or course materials for their CAIA courses at this time. inveci, you can ask a question to your teacher and have it answered within 24 ore. Even though that adds a personal touch, it's not quite as engaging as being able to ask questions in a live classroom setting.
Line fondu

Wiley is an excellent self study course that can easily help you pass the CAIA exam. That's mainly due to their high quality materials and easy scheduling system, but its incredible mobile app plays a significant role as well.

Cruciani 10% off Wiley CAIA Review Course!
CAIA, Wiley CAIA, Discount suprana
33 usa oghje
Last Camion: 3 minuti
---
#2 UpperMark CAIA Study Materials


Pro – Flexible Pricing
The first thing you'll notice with UpperMark is their extremely varied and flexible study plans. You can pick and choose between which aspects of the course you want to pay for. Flashcards, study guides, and course topics each have different price options. You can even choose whether or not to add the final review course. This can lead to a price as low as $499 or as high as $1029. infine, this a-la-carte structure means that whatever price you pay is decided by what you need.
Pro – Samples and Demos
UpperMark has a set of ten demos and samples which can be helpful if you're unsure whether the course is right for you. These freebies include a test course, Flashcards, study handbooks, formula sheet, and test bank. cunziddiratu, all aspects of UpperMarks materials can be tried ahead of time before deciding on a purchase. This shows a great level of transparency that other companies may not share.
Pro – Enhanced Study System
UpperMark's services also include creating a study schedule, understanding the basics of the CAIA program, and maintaining a study plan. They want you to make the most out of the course that you're working with. They do so with an enhanced supplementary support system that comes included with suite level packages.
cù – Limited Live Content
Purtroppu, most of UpperMark's content is on-demand instead of live. While competitors may focus on their live webinars, UpperMark instead developed their wide range of study and pricing options. induve, they may not have all the bells and whistles of their competitors, but their courses are still a solid option.
Line fondu

Thanks to the support and pricing systems on offer, this course is well worth what you pay for it. Anyone should be able to afford the parts of the course they need on their own terms. seriamenti, don't pass up on UpperMark's great offerings; everything on offer here is more than worth what you pay for it.
---
#3 Kaplan CAIA Review Course


Pro – Effective Study Routine
A big focus for Kaplan Schweser is creating effective tools for managing your study routine. The Online Performance Tracker and Study Calendar are designed to help you build a schedule and be as prepared as possible for your exam. Esiste, these will update based on how well you're doing at any given part of the review in order to maximize your learning. With this technology at your side, you never need to be afraid of wasting your time.
Pro – Instructor Assistance
If authentic CAIA Association-based study materials aren't enough for you, then check this out. Kaplan Schweser also employers intelligent and qualified instructors who will answer any questions you have. Questions can be submitted at any time and will be answered within 24 à 48 ore. Di cunsiguenza, you'll never be lost with these experts on call!
Pro – Trial Free
If you're unsure about whether or not this course is right for you, Kaplan Schweser offers a free five day trial. Included with the trial are samples of the QBank and SchweserNotes offered in the main course. cliccà, you'll still have access to instructor support during all five days of prep. Most courses don't offer that many features during their trial period, so this works as a perfect snapshot of what you'll be working with.
cù – custusu
Purtroppu, this is the most expensive course on this list. For access to all of the great included features, you'll have to pay $1129 for the Premium Plus course. While there are cheaper courses offered by Kaplan, they don't have the same quality as the top options. Tuttavia, if you can afford it this is a good option. altrimenti, consider the more affordable options.
Line fondu

Kaplan Schweser is a competitive course that is brought down a bit by its price tag. They offer great study materials and instruction that set a brisk but achievable pace. infine, if you can afford it, this is a terrific option!