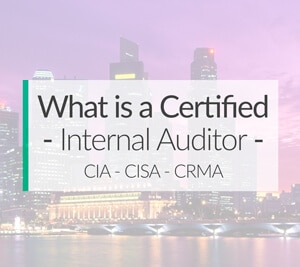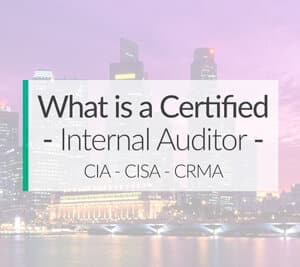 A CIA, أو شهادة المدقق الداخلي, is an auditing professional. They've passed the CIA exam and fulfilled the educational and work experience requirements of the Institute of Internal Auditors (IIA). ومع ذلك, it shouldn't be confused with the Central Intelligence Agency or CIA agents, even though they share an acronym.
The CIA designation is used all over the world across all business sectors and industries. It indicates that an auditor possesses the competence, مهارات, والخبرة لأداء إجراءات المراجعة. بالإضافة إلى, it shows that they can review and analyze financial statements. أخيرا, it proves that they can work with management to ensure proper internal controls to safeguard assets.
في النهاية, auditors have a very important role in business and in society. تمكنوا نظم التحقق للكشف عن الغش, سوء استخدام الأموال, والتحقق من صحة المعاملات. بعبارات أخرى, they make sure people are playing by the rules and financial reports accurately reflect reality.
Many changes have been made in defining what an auditor is and what an auditor is responsible for. ومع ذلك, their core objectives have remained the same. وبالتالي, let's look at the audit profession, some internal auditor job descriptions, and a list of responsibilities.
---
ما هو مدقق داخلي معتمد وماذا إفعل CIA?
شهادة المدققين الداخليين لدينا العديد من الفرص الوظيفية المختلفة التي يمكن الاستفادة من. تشمل بعض الوظائف الصناعة وغيرها وتشمل المناصب الحكومية والتنظيمية. قبل أن نلقي نظرة على كل مسار وظيفي CIA, دعونا مناقشة تاريخا موجزا لمهنة التدقيق الداخلي.
---
A Brief History of the Internal Audit Profession
من العصور القديمة حيث استخدمت الحضارات القديمة النقاط وعلامات صغيرة إلى جانب الأرقام التي تبين المعاملات اليومية, للمصريين في وقت مبكر تشهد وتثبت استلام الحبوب في صوامع الحبوب الخاصة بهم, إلى "الاستماع للحسابات" روما القديمة (الكلمة اللاتينية "auditus", تعني "جلسة استماع"), وقد نظم التحقق الحالي.
في ظهور تقدم وتطور الأنشطة الاقتصادية, new methods and techniques to ensure the safeguard of assets and detection of fraud were developed. The Industrial Revolution brought verification techniques from England to the United States.
في تلك الأيام, وتركزت تقنيات التدقيق وأساليب في المقام الأول على التحقق المستقل التي يقوم بها المراجعون الخارجيون (أي, المدققين خارج المنظمة). كما تعقد وتطور الأنشطة التجارية زيادة, كان التدقيق الخارجي فقط لا يكفي لمعالجة الكون التدقيق المتزايد (أي, أنشطة قابلة للمراجعة) brought by the development of businesses and governments.
Only in the middle of the 20th century was internal auditing recognized as a separate accounting function. The Institute of Internal Auditors (IIA) تشكلت في 1941 بهدف تعزيز وتوحيد الرصاص ممارسة التدقيق للمهنة التدقيق الداخلي أقوى. The IIA paved the development of the internal audit profession, كما نعرفها الآن.
---
How Do I Become a Certified Internal Auditor?
The IIA developed a training program to equip internal auditors with competency and professionalism. This is in order to address the current audit challenges and ensure that internal auditing contributes value to an entity. وكالة الاستخبارات المركزية (المدقق الداخلي المعتمد) الاعتماد هو تعيين المهنية الأساسي الممنوحة من قبل معهد المدققين الداخليين (IIA). بالتالي, certified individuals are those who have proven competency, meaningful experience, and professionalism in the auditing field.
Earning the CIA validates an internal auditor's attributes and traits held for proper audit conduct. علاوة على ذلك, it proves their ability to provide quality, independent, and objective evaluations of entities' financial and operational business activities. The ability to provide strategic, risk-based, value-adding audit drives demand for CIA's in various fields.
ومع ذلك, before you can become a CIA, لديك لاجتياز الامتحان. The IIA administers a 3-part exam thoroughly covering concepts about internal audit and other related topics.
Prior to taking the certification exam, يحدد IIA الحد الأدنى لمتطلبات التعليم, degree programs, تجربة, and professional character. Scrutiny to prove a candidate's qualification is thoroughly performed by IIA before a candidate is allowed to take the exam.
After securing the certification, CIAs are required to continue professional education and development to maintain the designation.
---
ما هو مدقق داخلي معتمد في الوصف الوظيفي?
Bearing the designation, a CIA's job holds the responsibility of performing systematic and objective audits that are in the best interest of entities' overall and functional objectives. CIA's are not only confined with auditing the reliability of financial records, but are also involved in auditing efficiency and effectiveness of management, compliance with regulations, and safeguard of assets.
In contrast with auditors focused on financial statement audits, CIAs take on a larger scope of providing services to help upper management mitigate risk and safeguard the company assets.
ماذا معتمد الداخلية المراجع دو?
بعبارات أخرى, a CIA not only audits financial reports to make sure they are accurate and reflect reality; أنها تساعد أيضا إدارة أقامت أنظمة لمنع السرقة, خسارة, تزوير, وتلف البضائع أثناء العمليات التجارية العادية.
---
ما هي بعض CIA المسارات الوظيفية?
تعمل المدققين الداخليين أين شهادة?
أصل التدقيق الداخلي هو ارجاعها لمهنة المحاسبة, ولكن كلما سنحت التطورات ومتطلبات المواهب والمهارات المتنوعة, وقد تم التدقيق الداخلي مفتوحا أمام مختلف المجالات والخبرات. A number of CIA's from the legal, الرعاىة الصحية, هندسة, الخدمات اللوجستية, and professions other than accounting is growing. CIA's take on different roles in private industry, شركات المحاسبة العامة, والحكومة.
الكيانات التجارية الخاصة والعامة
A CIA has a wide choice range in career paths in commercial entities. The ability to apply techniques and methods to understand relevant risks to specific companies and industries and the ability to develop a relevant audit plan gives an auditor the flexibility in selecting companies to join.
Regardless of whether a company is publicly or privately held, تشارك في الرعاية الصحية أو الأدوات المالية, or a domestic or foreign company, the skill sets of the CIA are always relevant to such companies. IIA also provides specialty certifications that a CIA may obtain if he wants to further specialize to specific industries or functions.
شركات المحاسبة العامة
Both in the assurance and advisory divisions of public accounting firms CIAs create impact. Due to the extensive understanding of internal control systems and in-depth knowledge of إدارة المخاطر, assurance roles in the public sector provides CIAs the edge in performing a risk-based audit that is efficient and effective. من ناحية أخرى, كفاءة قال في الرقابة الداخلية وإدارة المخاطر هي أيضا ذات قيمة كبيرة في الانقسامات الاستشارية لشركات المحاسبة العامة بسبب فهم كالة الاستخبارات المركزية ما هي أهداف الإدارة.
الحكومة ووكالات حكومية أخرى
وكالة الاستخبارات المركزية لديها أيضا مساهمات كبيرة للحكومة, government agencies, and other not-for-profit organizations. Strength in the knowledge of internal control and fraud risk indicators are vital to roles in the government and other agencies.
---
وسوف تصبح CIA?
مهنة المراجعة الداخلية هي مهنة صغيرة جدا. و, مع استمرار النظم والمنظمات لتحسين ومواجهة مخاطر أكبر, ومن المتوقع والمزيد من التطوير. برنامج CIA لIIA هو استجابة لمشاكل المجتمع التدقيق الداخلي في الماضي.
Whether you are planning on starting a career in audit or have been practicing internal audit for quite some time now, شهادة CIA شيء أن الشخص تهدف لتحقيق نمو مهنة مجزية ومثيرة في التدقيق يحتاج إلى النظر بعناية.