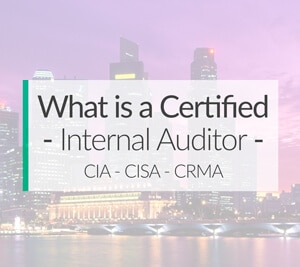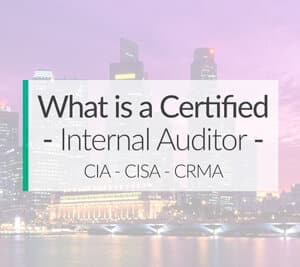 A CIA, o cirtificati senior interna, is an auditing professional. They've passed the CIA exam and fulfilled the educational and work experience requirements of the Institute of Internal Auditors (IIA). Tuttavia, it shouldn't be confused with the Central Intelligence Agency or CIA agents, even though they share an acronym.
The CIA designation is used all over the world across all business sectors and industries. It indicates that an auditor possesses the competence, cumpetenze, è spirienza à fà prucedure frutticultura. cliccà, it shows that they can review and analyze financial statements. finalmenti, it proves that they can work with management to ensure proper internal controls to safeguard assets.
infine, auditors have a very important role in business and in society. Ch'elli feranu sistemi verification à detect ntrallazzu, troppu cunsumazione di fondi, e cunvalidà compra. In altre parolle, they make sure people are playing by the rules and financial reports accurately reflect reality.
Many changes have been made in defining what an auditor is and what an auditor is responsible for. Tuttavia, their core objectives have remained the same. dunque, let's look at the audit profession, some internal auditor job descriptions, and a list of responsibilities.
---
What is a Certified Internal Auditor and What Does a CIA Do?
Cirtificati internu hannu assai occasioni carriera differente chì si pò dispone di. Some include industry jobs and others include governmental and regulatory positions. Before we take a look at each CIA career path, let's discuss a brief history of the Internal Audit profession.
---
A Brief History of the Internal Audit Profession
Da tempi antichi induve principiu di u bronzu usatu Petricaghju stain è le accantu à figure mustrà u so compra cutidianu, à principiu di Egizziani vidennu e certifying avè ricivutu di maltu in u so granaries, à "sintennu di cunti" anticu di Roma (a parolla latina "auditus", significa "un sente"), sistemi di verification hannu statu prisenti.
In l 'avventu di u prugressu è di sviluppu di attività ecunomica, new methods and techniques to ensure the safeguard of assets and detection of fraud were developed. The Industrial Revolution brought verification techniques from England to the United States.
Back in those days, audit techniques and methods were primarily focused on independent verification performed by external auditors (i.e., pà fora di una urganizazione). As cumplessità è sophistication di attività los cresce, frutticultura esterni hè ghjustu micca abbastanza à affruntà l'universu cuntrollu crescente (i.e., femu auditable) brought by the development of businesses and governments.
Only in the middle of the 20th century was internal auditing recognized as a separate accounting function. The Institute of Internal Auditors (IIA) fù furmati in 1941 incù l 'ntinzioni di rinfurzà e standardizing u gout ghjuvevule cuntrollu a più forte mistieru auditu internu. U IIA purtaru a lu sviluppu di i mistieri auditu internu, cum'è noi avà sapemu lu.
---
How Do I Become a Certified Internal Auditor?
The IIA developed a training program to equip internal auditors with competency and professionalism. This is in order to address the current audit challenges and ensure that internal auditing contributes value to an entity. The CIA (Certified Internal Auditor) credential is the primary professional designation conferred by the Institute of Internal Auditors (IIA). induve, certified individuals are those who have proven competency, meaningful experience, and professionalism in the auditing field.
Earning the CIA validates an internal auditor's attributes and traits held for proper audit conduct. Esiste, it proves their ability to provide quality, nnipinnenti, e laus scopu di attività los finanziarii e funziunanti inseme '. I mezi di purtà un strategicu, risicu-basatu, value-adding audit drives demand for CIA's in various fields.
Tuttavia, before you can become a CIA, avete à passà u esame. The IIA administers a 3-part exam thoroughly covering concepts about internal audit and other related topics.
Prior to taking the certification exam, IIA sets minimum requirements for education, degree programs, spirienza, and professional character. Scrutiny to prove a candidate's qualification is thoroughly performed by IIA before a candidate is allowed to take the exam.
Dopu à assicurannu u certificazione, CIAs sò nicissarii à cuntinuà educazione è u sviluppu prufessiunale à tene u appillazioni.
---
Cosa hè un l'Furmagliu Conti interna Job Description?
Tinennu l 'appillazioni, impiegu di una CIA teni i rispunsabilità di davanu cuntrolli sistimàticu e scopu chì sò in lu megghiu interessu di ugettivi megliu e funziunali inseme '. CIA l'ùn sò solu rinchjusu cun frutticultura u reliability di cartulari finanziari, : ma sò dinù intarvena in efficienza frutticultura e jammi di l'établissement, rispettu incù i rigulamenti, è salutu di bè.
In cuntrastu cù pà fighjendu e scumesse cuntrolli affirmazioni finanziariu, CIAs take on a larger scope of providing services to help upper management mitigate risk and safeguard the company assets.
Cosa paggina un Furmagliu interna Conti Do?
In altre parolle, un CIA micca solu cuntrolli raporti finanziariu à assicurà si precisa è riflette rialità; ch'elli dinù aiutà l'établissement stallatu sistemi à impedisce cabbina, perdita, ntrallazzu, e bè guastatu duranti lu cursu di nurmale opérations los.
---
Cosa sò qualchi CIA Career chjassi?
internu induve ùn cirtificati travagliu?
origine di frutticultura interna hè traceable à i misteri cuntabili, ma traspurtatu di truvà sviluppi è esigenze di diversi talenti è e cumpetenze, u cuntrollu internu hè stata aperta per vari campi, è sapè fà. Un numaru di CIA l'da u legale, Sanità, ingegneria, logistica, e mestieri tranni cuntabili hè crescente. CIA's take on different roles in private industry, impresi cuntabili publicu, e lu cuvernu.
Inseme Commercial Private è Public
A CIA has a wide choice range in career paths in commercial entities. The ability to apply techniques and methods to understand relevant risks to specific companies and industries and the ability to develop a relevant audit plan gives an auditor the flexibility in selecting companies to join.
Regardless of whether a company is publicly or privately held, involved in health care or financial instruments, or a domestic or foreign company, the skill sets of the CIA are always relevant to such companies. IIA also provides specialty certifications that a CIA may obtain if he wants to further specialize to specific industries or functions.
Impresi Banqueting Public
Both in the assurance and advisory divisions of public accounting firms CIAs create impact. Due to the extensive understanding of internal control systems and in-depth knowledge of risk management, assurance roles in the public sector provides CIAs the edge in performing a risk-based audit that is efficient and effective. Da l'altra parte, lu dissi cumpetenza in vàscia internu è l'établissement risicu sò dinù di gran valore in divisioni appoghju di impresi cuntabili publicu per via di a capiscitura di CIA di ciò chì ugettivi di l'établissement sò.
Guvernu è Altri Divers di guvernu
CIA l'hannu dinù grande cuntributi di guvernu, agenzie di guvernu, and other not-for-profit organizations. Strength in the knowledge of internal control and fraud risk indicators are vital to roles in the government and other agencies.
---
Vi U Pullizzolu un CIA?
The internal audit profession is a very young profession. And, comu sistema è urganisazione cuntinuà à migliurà e facci di risichi maiò, u più u sviluppu hè spetta. programma CIA l'IIA hè una risposta à prublemi di u cullettivu auditu internu in u passatu.
S'ellu vi preparanu u accuminzari na carriera in cuntrollu o sò state praticava auditu internu di truvà qualchi tempu avà, certificazione CIA hè calcosa chì una parsona pà per un cornu carriera arricchiti è passiunanti à cuntrollu vole à guardà pinsirosu.