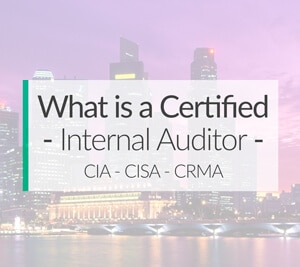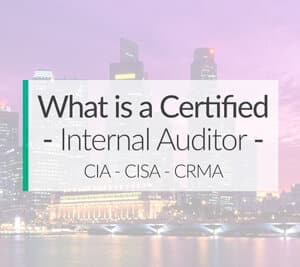 Een CIA, of gecertificeerd interne auditor, is an auditing professional. They've passed the CIA exam and fulfilled the educational and work experience requirements of the Institute of Internal Auditors (IIA). Echter, it shouldn't be confused with the Central Intelligence Agency or CIA agents, even though they share an acronym.
The CIA designation is used all over the world across all business sectors and industries. It indicates that an auditor possesses the competence, vaardigheden, en ervaring om controleprocedures uit te voeren. Daarnaast, it shows that they can review and analyze financial statements. Tenslotte, it proves that they can work with management to ensure proper internal controls to safeguard assets.
tenslotte, auditors have a very important role in business and in society. Zij beheren controlesystemen om fraude op te sporen, misbruik van middelen, en valideren van transacties. Met andere woorden, they make sure people are playing by the rules and financial reports accurately reflect reality.
Many changes have been made in defining what an auditor is and what an auditor is responsible for. Echter, their core objectives have remained the same. daarom, let's look at the audit profession, some internal auditor job descriptions, and a list of responsibilities.
---
Wat is een Certified Internal Auditor en Wat doet een CIA-Do?
Certified Internal Auditors hebben veel verschillende carrièremogelijkheden dat ze kunnen profiteren van. Sommige zijn het bedrijfsleven banen en anderen zijn onder andere overheids- en toezichthoudende posities. Voordat we een kijkje nemen op elk CIA carrièrepad, laten we een korte geschiedenis van de Internal Audit beroep te bespreken.
---
A Brief History of the Internal Audit Profession
Uit de oudheid, waar vroege beschavingen gebruikt kleine puntjes en markeringen naast figuren die hun dagelijkse transacties, vroeg Egyptenaren getuige en certificeren van de ontvangst van de korrels in hun graanschuren, naar het oude Rome "horen van de rekeningen" (het Latijnse woord "auditus", betekent "een hoorzitting"), systemen van de controle aanwezig zijn geweest.
Bij de komst van de vooruitgang en ontwikkeling van de economische activiteiten, new methods and techniques to ensure the safeguard of assets and detection of fraud were developed. De industriële revolutie bracht verificatie technieken uit Engeland naar de Verenigde Staten.
Terug in die dagen, audit technieken en methoden werden primair gericht op onafhankelijke controle door externe accountants (d.w.z., auditors buiten een organisatie). Zoals complexiteit en verfijning van zakelijke activiteiten toegenomen, externe controle was gewoon niet genoeg om de groeiende audituniversum pakken (d.w.z., controleerbare activiteiten) brought by the development of businesses and governments.
Only in the middle of the 20th century was internal auditing recognized as a separate accounting function. The Institute of Internal Auditors (IIA) werd in 1941 met de bedoeling te versterken en standaardiseren van de audit praktijk leiden tot een sterkere interne audit beroep. De IIA maakte de ontwikkeling van de interne accountantsberoep, zoals we die nu kennen.
---
How Do I Become a Certified Internal Auditor?
The IIA developed a training program to equip internal auditors with competency and professionalism. This is in order to address the current audit challenges and ensure that internal auditing contributes value to an entity. de CIA (Certified Internal Auditor) geloofsbrief is de primaire professionele aanwijzing door het Institute of Internal Auditors verleende (IIA). Vandaar, certified individuals are those who have proven competency, betekenisvolle ervaring, and professionalism in the auditing field.
Earning the CIA validates an internal auditor's attributes and traits held for proper audit conduct. voorts, it proves their ability to provide quality, onafhankelijk, en objectieve evaluatie van de financiële en operationele activiteiten entiteiten. De mogelijkheid strategische te voorzien, Op risico gebaseerde, Waarde toevoegende audit drijft de vraag naar CIA in verschillende gebieden.
Echter, before you can become a CIA, je moet het examen afleggen. The IIA administers a 3-part exam thoroughly covering concepts about internal audit and other related topics.
Prior to taking the certification exam, IIA stelt minimumeisen voor onderwijs, degree programs, ervaring, and professional character. Scrutiny to prove a candidate's qualification is thoroughly performed by IIA before a candidate is allowed to take the exam.
Na het veiligstellen van de certificatie, CIAs zijn verplicht om beroepsonderwijs en ontwikkeling voort te zetten om de aanwijzing te behouden.
---
Wat is een Certified Internal Auditor's Job Description?
Met de benaming, een CIA baan houdt de verantwoordelijkheid van het uitvoeren van een systematische en objectieve audits die in het beste belang van de algemene en functionele doelstellingen entiteiten. CIA zijn niet alleen beperkt met de controle van de betrouwbaarheid van de financiële administratie, maar zijn ook betrokken bij auditing efficiëntie en effectiviteit van het beheer, naleving van regelgeving, en instandhouding van de activa.
In tegenstelling tot auditors gericht op de jaarrekeningcontrole, CIAs take on a larger scope of providing services to help upper management mitigate risk and safeguard the company assets.
Wat doet een Certified Internal Auditor Do?
Met andere woorden, een CIA niet alleen controleert financiële verslagen om ervoor te zorgen dat ze juist zijn en realiteit weerspiegelen; ze helpen ook het beheer van systemen opzetten om diefstal te voorkomen, verlies, bedrog, en beschadigde goederen in de loop van de normale bedrijfsvoering.
---
Wat zijn sommige CIA Jobmogelijkheden?
Waar komen gecertificeerde interne auditors werken?
oorsprong Internal Auditing is terug te voeren op het accountantsberoep, maar de ontwikkelingen en eisen voor diverse talenten en vaardigheden ontstaan, de interne audit is open om verschillende gebieden en expertise. Een aantal van de CIA uit de wettelijke, gezondheidszorg, bouwkunde, logistiek, en andere dan accountancy groeit. CIA nemen op verschillende rollen in de particuliere sector, openbare accountantskantoren, en de overheid.
Private en publieke commerciële entiteiten
Een CIA heeft een ruime keuze bereik in loopbaantrajecten in commerciële entiteiten. The ability to apply techniques and methods to understand relevant risks to specific companies and industries and the ability to develop a relevant audit plan gives an auditor the flexibility in selecting companies to join.
Regardless of whether a company is publicly or privately held, die betrokken zijn in de gezondheidszorg of financiële instrumenten, or a domestic or foreign company, de vaardigheden van de CIA zijn altijd aan dergelijke bedrijven relevant. IIA biedt ook speciale certificeringen dat een CIA kan krijgen als hij wil zich verder specialiseren op specifieke sectoren of functies.
Openbare accountantskantoren
Zowel in de assurance en adviserende afdelingen van openbare accountantskantoren CIAs creëren invloed. Due to the extensive understanding of internal control systems and in-depth knowledge of risk management, assurance roles in the public sector provides CIAs the edge in performing a risk-based audit that is efficient and effective. Anderzijds, de genoemde competentie in de interne controle en risicobeheer zijn ook van grote waarde in adviserende afdelingen van openbare accountantskantoren te wijten aan CIA begrip van wat de doelstellingen van het management zijn.
Overheid en andere overheidsinstanties
CIA hebben ook grote bijdragen aan de overheid, overheidsinstellingen, and other not-for-profit organizations. Strength in the knowledge of internal control and fraud risk indicators are vital to roles in the government and other agencies.
---
Word je een CIA?
De interne accountantsberoep is een zeer jong beroep. En, als systemen en organisaties blijven verbeteren en het gezicht van de grotere risico's, hoe meer ontwikkeling wordt verwacht. Het IIA's CIA-programma is een antwoord op de problemen van de interne audit gemeenschap in het verleden.
Whether you are planning on starting a career in audit or have been practicing internal audit for quite some time now, CIA-certificering is iets dat een persoon streven naar een lonende en boeiende carrière groei van de audit moet zorgvuldig overwegen.