Yaeger CPA Review is one of the most popular CPA exam study guides on the market today. Oni su pomaganje tisuće CPA kandidata postati ovjereni javni računovođa više od tri desetljeća. Ova opsežna povijest dokazuje da je njihov sustav funkcionira i nastavlja pružati kvalitetne materijale pregled kandidatima diljem svijeta.
To CPA ispita pregled tečaj je osmišljen kako bi se interaktivni vodič koji integrira predavanja, studija tekst, bilješke, i praksa pitanja u svakoj lekciji. Dodatno, to objašnjava teške teme u detalje na kandidate koji ih ne mogu razumjeti ili se jednostavno treba podsjetiti. stoga, this prep course is perfect for people who have been out of school for a long time or candidates who simply feel uncomfortable with the topics and want more detailed materials. Yaeger is also a great resource for candidates who want detailed lectures that work through practice problems and questions, compared with other courses that only have a written explanation of practice questions.
Pogledajte Top CPA pregled tečajevi
View All
Yaeger CPA Review Course Format
Yaeger CPA materijale su kategorizirane po temama u različitim poglavljima. Svako poglavlje sadrži niz lekcija koje su dostupne kroz myYaeger studentski portal. Pogledajmo što svaka lekcija sadrži.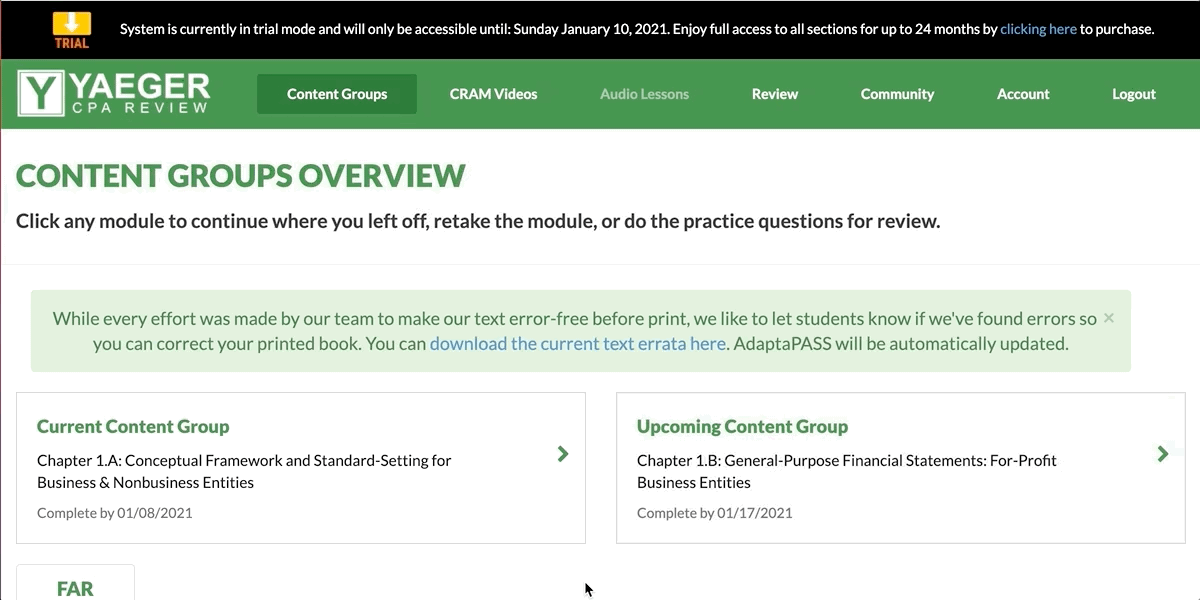 Video Predavanja
Postoji više 104 sati Yaeger CPA video predavanja predstavio nekoliko različitih instruktora. Videozapisi su organizirali i snimili sličan stvarne računovodstvene učionice gdje instruktor predstavlja podatke iz udžbenika studija pred ploču. osim toga, these lectures are pretty detailed and explain individual topics, transactions, and business scenarios brought up in the study text. They are a bit old-school in nature but extremely informative. Probably the most unique thing about these lectures is that students can pick different practice problems to go through at the end of each lecture. Dodatno, candidates can follow along in their study text and listen to the rationale for each correct and incorrect answer. To pomaže pokazati učenicima kako pravilno pristupiti ispitu pitanje.
Studija Udžbenik
Vrlo detaljan Yaeger CPA pregled udžbenika naravno slijedi informacije u predavanjima. Knjige su puno detaljniji od predavanja i uključuju mnogo više primjera i grafikona koji nisu obuhvaćeni instruktora. Knjiga je dostupna u dva različita formata: tiskanom i digitalnom. Digitalna knjiga je integriran u myYaeger portala te se može pristupiti u svakom satu čak i dok su reprodukcije videozapisa. Stoga, this allows candidates to follow along in the digital book, makes notes, bookmark certain topics, and pause the video for more detailed explanations while the lectures are playing.
Yaeger CPA Review Testbank
The Yaeger test bank has over 4,300 past exam and practice questions in it. This is plenty of questions to prevent repeating the same questions over and over again. Like the rest of the course, the test bank is integrated into the student portal, tako da kandidati mogu pristupiti pitanja tematski određenih u svakoj lekciji ili uzeti poseban ispit pokriva više poglavlja. Običaj kvizovi može biti postavljen za pokrivanje bilo koji broj pitanja, teme, i vremenski duljine.
Zadatak-Based Simulacije
Kao i svaki vrhunski pregled naravno, Yaeger CPA pregled uključuje mnoge različite simulacije zadatak-based koje se mogu koristiti da biste dobili osjećaj za ono što su oni kao na pravi ispit. Ove simulacije pokrivaju različite teme i uključuju nekoliko različitih formata.
Ispit Simulator
Most review companies offer some type of exam simulator, but many don't look exactly like the CPA exam. They are close but not exact. The Yaeger exam simulator is pretty close to the real thing. Its interface matches the AICPA interface and includes all of the same tools, timers, and numbering systems. You can use this in two different modes during your study process. The exam mode emulates the exam, is timed, and doesn't show you any answers until you submit the quiz. The practice mode looks the same as the exam mode, ali to pokazuje odgovore i objašnjenja nakon što odgovoriti na pitanje. To je super za proučavanje brzo i učenje kao i ti ići.
audio Predavanja
Yaeger audio predavanja su izvrsni za ljude koji nemaju vremena za sjesti i gledati na sat ili dva sata videa predavanje na vrijeme. Kandidati s dugim na putu do posla na posao ili zauzet rasporedi mogu slušati audio verzije predavanja bilo na njihovim telefonima i mobilnim uređajima.
flashcards
Ove flashcards pokrivaju teme svake lekcije iz ključnih pojmova na pitanja višestrukog izbora. Kandidati mogu koristiti ove flashcards bilo u tiskanom ili digitalnom prakticirati svoje znanje o svim temama koje su iznesene u nastavi. Oni su također velika listati na telefonu dok stojite u redu na Starbucksu, čekaju u liječničkoj ordinaciji, ili bilo gdje drugdje imate nekoliko minuta besplatno.
Yaeger Cram predmeta
Yaeger CPA pregled strpati tečaj je uključen u punom pregled tečaja. To je vrsta velika stvar jer većina drugih kompanija ili ga uključiti u izuzetno skupe naravno ili naplatio dodatnu naknadu za završni pregled. Yaeger je konačni pregled je uključen u standardnu ​​naravno bez dodatne naplate. To je sjajan način za pregled svih važnih materijala za tjedan ili dva prije ispita dan.
To je ljepušan velik dio sve što je uključeno u Yaeger materijale. Razgovarajmo o prednostima i nedostacima ovog predmeta u usporedbi s ostalim kolegijima na tržištu.
CPA Coupon Codes & Popusti
---
Prednosti
Free Trial
Yaeger CPA Review offers a free trial for their full course! That way you can test drive it and see what you think before you buy it. It's a great opportunity to use the course without putting any money down.
1-on-1 Instructor Support
One of the biggest benefits of choosing Yaeger over another course is their commitment to customer service. Other companies offer message boards or some type of email mentoring service, but nothing matches the one-on-one level of support that Yaeger offers. You can call or email the actual instructors at Yaeger with questions about the materials or the exam. They will reply within 24 sati. That's awesome support!
Video Predavanja
For candidates who want detailed video lectures, Yaeger won't disappoint you. Their instructors walk through each concept in the textbook in great detail and explain every topic thoroughly. They even walk through past exam questions in the lectures to give you an idea of how to tackle them on the real exam.
Cram Course & audio Predavanja
Both of these features are included in the standard course. This is a big benefit seeing as most other courses require you to pay a separate fee for both!
Financing Options
Yaeger offer financing plans where you can pay low monthly payments over a period of time. This is a great option for those with tight budgets.
Popusti
Yaeger offers a variety of discounts for candidates and students. Here are a few discounts that will save you a ton of money on your study materials.
Studentski popust: Yaeger gives students a 20% discount on their full review course. Kliknite ovdje kako bi dobili 20% puni tečaj.
Convert Discounts: If you purchased a review course from another company, Yaeger will give you a discount to stop using the other company start using Yaeger's! Click here for more details.
Posebne Promo Kuponi: Yaeger typically offers several different special promo discount coupons throughout the year. Kliknite ovdje da biste vidjeli trenutačnu promociju.
---
Nedostaci
Rok trajanja
Standardna Yaeger studija vodič ističe nakon 18 mjeseci. To znači da ako ste u mogućnosti da prođe sve četiri sekcije ispita u prozoru od 18 mjeseci nakon kupnje na pregled, naravno, ćete morati platiti dodatnu naknadu za obnovu materijale kako bi zadržali studiranje.
Stare škole Nastava
Iako je naravno potpuno moderno i student portal je nevjerojatna, učenje stil predavanja je sličan Sveučilišta predavanje. Tako, many candidates find the lectures informative but boring.
---
Preporuka
Yaeger CPA review is great for candidates who have been out of school for a long time and feel like they need a more detailed refresh of accounting information and concepts. International candidates also tend to gravitate towards this course over others. Predavanja i udžbenika pružaju veliku detalj u svakoj lekciji, pa ovo je tečaj za vas, ako želite detaljnije objašnjenje teme i odgovore.
Yaeger CPA Frequently Asked Questions
Isn't Becker the best CPA review?
They're good, but expensive. For 60 godine, Becker's CPA exam review courses have helped more than one million CPA exam candidates prepare for and pass this challenging exam. Međutim, the study materials for all 4 parts the exam cost a whopping $3,499. By way of comparison, Yaeger's unlimited access is just $1,589 (not to mention they've been in the game for over 30 years themselves).
How much is Gleim CPA Review?
Gleim's review courses are extremely affordable, although it is still more expensive than Yaeger. The highest tier they offer is the Gleim CPA Premium Course with a price tag of $1,999. By way of comparison, Yaeger's unlimited access is just $1,589.
How can I pass the CPA exam while working?
If you don't have a lot of free time to study for the CPA exam because of work, look for a CPA prep course with a great self-paced study program and mobile device compatibility.
How long is the Becker CPA Review Course?
With over 8,000 practice questions and more than 500 simulacije zadatak-based, Becker has enough content in their review course for several months worth of intense studying. They offer an access period of 24 months for their Advantage course and unlimited access for their Premium and Pro subscriptions.