Yaeger CPA Review is one of the most popular CPA exam study guides on the market today. They have been helping thousands of CPA candidates become Certified Public Accountants for over three decades. This extensive history proves that their system works and continues to provide quality review materials to candidates all over the world.
Izi CPA mayeso review Inde lakonzedwa kukhala Chiongoko zokambirana kuti integrates nkhani, kuphunzira malemba, zolemba, ndi kuchita mafunso uliwonse phunziro. Komanso, limalongosola nkhani zovuta mwatsatanetsatane kuti ofuna amene sangadziwitse iwo kapena kungoti ndikusowa refresher. Choncho, njira imeneyi yokonzekera ndi wangwiro anthu amene akhala ku sukulu kwa nthawi yaitali oyimilira amene amangoyankhula okayikitsa ndi mitu ndi kufuna zipangizo zambiri. Yaeger is also a great resource for candidates who want detailed lectures that work through practice problems and questions, compared with other courses that only have a written explanation of practice questions.
Onani Top CPA Review Maphunziro
View All
Yaeger CPA Review Course Format
Yaeger CPA study materials are categorized by topic in different chapters. Each chapter contains a series of lessons that are all accessible through the myYaeger student portal. Let's look at what each lesson includes.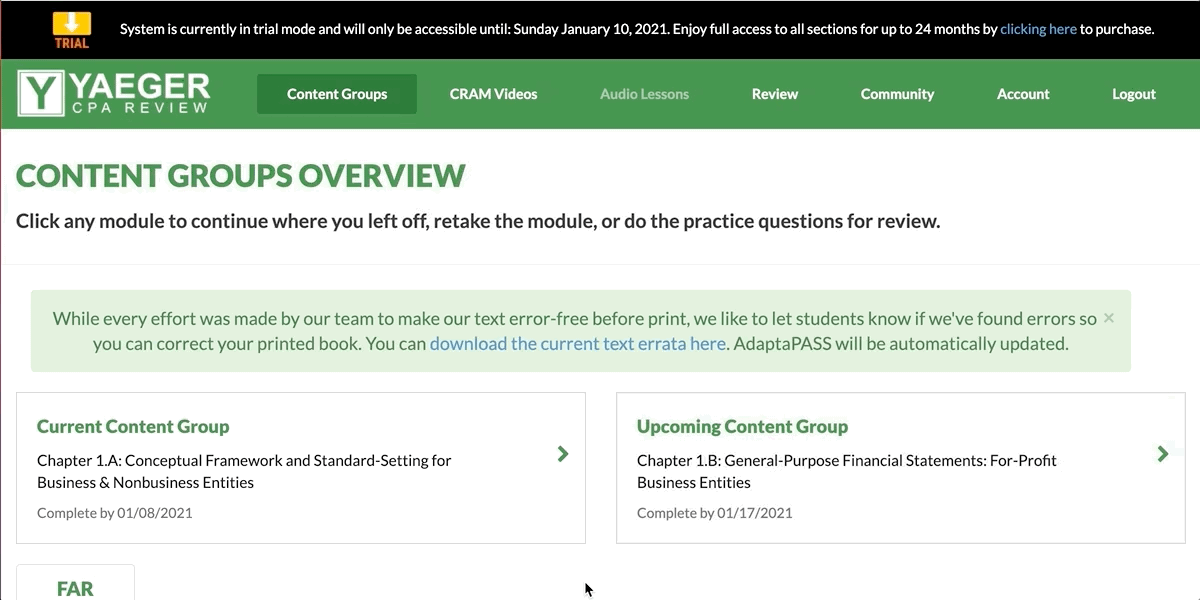 Video nkhani
Pali pa 104 hours of Yaeger CPA video lectures presented by several different instructors. The videos are staged and filmed similar to an actual accounting classroom where the instructor presents information from the study textbook in front of a whiteboard. Komanso, these lectures are pretty detailed and explain individual topics, wotuluka, and business scenarios brought up in the study text. They are a bit old-school in nature but extremely informative. Probably the most unique thing about these lectures is that students can pick different practice problems to go through at the end of each lecture. Komanso, candidates can follow along in their study text and listen to the rationale for each correct and incorrect answer. This helps show students how to properly approach an exam question.
Study Textbook
The highly detailed Yaeger CPA Review course textbook follows the information presented in the lectures. The books are much more detailed than the lectures and include many more examples and charts that aren't covered by the instructors. The book is available in two different formats: kusindikizidwa ndi digito. The digital book is integrated into the myYaeger portal and can be accessed in each lesson even while videos are playing. Motero, this allows candidates to follow along in the digital book, makes notes, bookmark certain topics, and pause the video for more detailed explanations while the lectures are playing.
Yaeger CPA Review Testbank
The Yaeger mayeso banki ali pa 4,300 mayeso ndi mchitidwe mafunso kale izo. Izi wambiri mafunso kupewa kubwereza mafunso mobwerezabwereza. Monga ena Maphunzirowa, banki mayeso ali Integrated mu wophunzira zipata, kotero ofuna angakapeze mafunso mutu pokha mu phunziro lililonse kapena kutenga osiyana mchitidwe mayeso kuphimba machaputala angapo. The quizzes mwambo akhoza kukhazikitsa kuphimba chiwerengero cha mafunso, nkhani, ndipo amayesetsa nthawi.
Zitsanzo ntchito Limanena
Ngati njira iliyonse umafunika review, Yaeger CPA Review zikuphatikizapo osiyana zoyeserera ambiri ntchito za m'Baibulo amene angagwiritsidwe ntchito kuti amaona zimene ali ngati pa mayeso weniweni. zoyeserera zimenezi zikuphatikiza nkhani zosiyanasiyana ndipo zikuphatikiza akamagwiritsa yosiyanasiyana.
mayeso pulogalamu yoyeseza
Ambiri review makampani kupereka mtundu wa pulogalamu yoyeseza mayeso, koma ambiri sasangalala chimodzimodzi monga mayeso CPA. Iwo ali pafupi koma osati ncholinga chofuna. The Yaeger pulogalamu yoyeseza mayeso wokongola pafupi chinthu chenicheni. mawonekedwe ake zofanana ndi mawonekedwe AICPA ndi zikuphatikizapo zinthu zonse za zipangizo yemweyo, zakale, ndipo analipo kachitidwe. Mukhoza kugwiritsa ntchito izi modes ziwiri zosiyana pa ndondomeko phunziro lanu. The mode mayeso emulates mayeso, ndi iliyonse, ndipo alibe kukuwonetsani mayankho mpaka kugonjera ndi mafunso. The mode mchitidwe awoneka mofanana monga mode mayeso, koma zimasonyeza inu mayankho ndi mafotokozedwe pambuyo inu funsolo. Izi kwambiri pophunzira mofulumira ndi kuphunzira pamene inu muzituluka.
zomvetsera nkhani
Yaeger nkhani zomvetsera kwambiri kwa anthu omwe alibe nthawi kukhala ndi penyani ola limodzi kapena maola awiri kanema nkhani panthawi. Candidates with long commutes to work or busy schedules can listen to the audio versions of the lectures anytime on their phones or mobile devices.
Flashcards
These flashcards cover topics in each lesson from key terms to multiple-choice questions. Candidates can use these flashcards either in printed form or digital to practice their knowledge of all topics presented in the lessons. They are also great to flip through on your phone while you are standing in line at Starbucks, waiting at the doctor's office, kapena kwina kulikonse muli ndi mphindi zochepa ufulu.
Yaeger ndayesetsa kudzaza Ndithudi
The Yaeger CPA Review Inde ndayesetsa kudzaza ali m'gulu kwathunthu review. Ichi ndi mtundu wa akutukwana chifukwa kampani ina kwambiri kapena monga mu njira zodula kwambiri mlandu inu amalipiritsa owonjezera kwa review komaliza. Yaeger a review yomaliza m'gulu njira muyezo palibe mlandu owonjezera. Iyi ndi njira imodzi yopambana kuti tibwereze zipangizo zonse zofunika sabata kapena awiri pamaso tsiku lanu mayeso.
That is pretty much all that is included in the Yaeger study materials. Let's talk about the benefits and drawbacks of this course compared with other courses on the market.
CPA Coupon Codes & kuchotsera
---
ubwino
Free Mayesero
Yaeger CPA Review offers a free trial for their full course! That way you can test drive it and see what you think before you buy it. It's a great opportunity to use the course without putting any money down.
1-on-1 Instructor Support
One of the biggest benefits of choosing Yaeger over another course is their commitment to customer service. Other companies offer message boards or some type of email mentoring service, but nothing matches the one-on-one level of support that Yaeger offers. You can call or email the actual instructors at Yaeger with questions about the materials or the exam. They will reply within 24 hours. That's awesome support!
Video nkhani
For candidates who want detailed video lectures, Yaeger won't disappoint you. Their instructors walk through each concept in the textbook in great detail and explain every topic thoroughly. They even walk through past exam questions in the lectures to give you an idea of how to tackle them on the real exam.
Cram Course & zomvetsera nkhani
Both of these features are included in the standard course. This is a big benefit seeing as most other courses require you to pay a separate fee for both!
Financing Options
Yaeger offer financing plans where you can pay low monthly payments over a period of time. This is a great option for those with tight budgets.
kuchotsera
Yaeger offers a variety of discounts for candidates and students. Here are a few discounts that will save you a ton of money on your study materials.
ana asukulu: Yaeger gives students a 20% discount on their full review course. Dinani apa kuti 20% kwathunthu.
Convert Discounts: If you purchased a review course from another company, Yaeger will give you a discount to stop using the other company start using Yaeger's! Click here for more details.
Special Kutsatsa Makuponi: Yaeger typically offers several different special promo discount coupons throughout the year. Dinani apa kuona Kukwezeleza panopa.
---
zovuta
Tsiku lothera ntchito
The standard Yaeger study guide expires after 18 miyezi. This means that if you are unable to pass all four sections of the exam in the 18-month window following the purchase of your review course, you will have to pay an extra fee to renew the materials in order to keep studying.
Old-School Teaching
Although the course is completely modern and the student portal is amazing, kalembedwe kuphunzitsa nkhani ndi ofanana ndi University nkhani. Motero, ofuna ambiri kupeza nkhani nkhani koma wotopetsa.
---
Malangizo
Yaeger CPA review ndi wamkulu ofuna amene akhala ku sukulu kwa nthawi yaitali ndi kumva monga iwo akusowa kulunzanitsa mwatsatanetsatane za akawunti mfundo ndi mfundo. ofuna lonse amakonda kuti zimangokhala kwa Maphunzirowa pa ena. Nkhani ndi buku kupereka mwatsatanetsatane uliwonse phunziro, kotero imeneyi kwa inu ngati mukufuna mafotokozedwe tsatanetsatane wa nkhani ndi mayankho.
Yaeger CPA Frequently Asked Questions
Isn't Becker the best CPA review?
They're good, but expensive. For 60 zaka, Becker's CPA exam review courses have helped more than one million CPA exam candidates prepare for and pass this challenging exam. Komabe, the study materials for all 4 parts the exam cost a whopping $3,499. By way of comparison, Yaeger's unlimited access is just $1,589 (not to mention they've been in the game for over 30 years themselves).
Zingati Gleim CPA Review?
Gleim a review maphunziro ndi angakwanitse kwambiri, although it is still more expensive than Yaeger. The gawo apamwamba amapereka ndi Gleim CPA umafunika Ndithudi ndi pamtengo wa $1,999. By way of comparison, Yaeger's unlimited access is just $1,589.
How can I pass the CPA exam while working?
If you don't have a lot of free time to study for the CPA exam because of work, look for a CPA prep course with a great self-paced study program and mobile device compatibility.
How long is the Becker CPA Review Course?
With over 8,000 practice questions and more than 500 zoyeserera ntchito ofotokoza, Becker has enough content in their review course for several months worth of intense studying. They offer an access period of 24 months for their Advantage course and unlimited access for their Premium and Pro subscriptions.