If you're looking for a comprehensive Continuing Professional Education (CPE) platform to keep your professional skills current and obtain additional industry certifications, Illumeo CPE is the answer for you!
Unlike traditional CPE programs, Illumeo is easily accessible for individual practitioners while also providing affordable, unique, and comprehensive professional education for entire companies! Illumeo offers CPE curriculum for various professional certifications like Certified Professional Accountants (CPA), Certified Internal Auditors (CIA), and more. That alone makes Illumeo an incredible resource for companies and financial organizations with multiple certified professionals requiring CPE credits.
Illumeo also contains over 1,000 courses, webinars and certificate programs accessible to each student, as well as adding 5-10 new resources a week. If your state requires you to obtain some education credits in a live setting, Illumeo has you covered with a schedule of 100 webinars a year that satisfy this state-mandated requirement.
Also, Illumeo prices its courses competitively, with program access at $299 a year. That's a considerable cost saving in comparison to other professional development programs with limited professional offerings.
Let's take a closer look at the available study materials and courses that Illumeo offers below:
About Illumeo
Illumeo is a Silicon Valley-based company incorporated in 2009. This company dedicates itself to solving the problem of long and difficult CPE obtaining processes. They understand that this is an issue for most certified professionals that typically aren't supported by their companies beyond reimbursement.
Illumeo's solution is near-perfect, with a comprehensive cloud-based platform that contains thousands of resources for a variety of certified professionals right at their fingertips!
Illumeo's Top Features
A cloud-based platform that adjusts for display seamlessly on any device, including desktop, mobile phone or laptop

An advanced filtering system that allows search by subject, content type, length and difficulty

Educational supplements delivered in downloadable PDF format

In-depth self-assessment system to measure your readiness for professional disciplines

Forever access to your completed courses when you leave a review

Built-In Compliance Monitor to track your progress in satisfying CPE requirements
Illumeo CPE Fast Facts
Excellent User Experience
An essential feature of Illumeo CPE is its device compatibility. This cloud-based learning platform is accessible from any device at any time. Depending on whether you access course material from a desktop computer, mobile phone, or even a tablet, the display will seamlessly adjust to your screen size. You'll never miss a step!
You never have to worry about completing your CPEs because of limited time or constant travel. You'll have access to your on-demand courses whatever you use!
An Advanced Course Filtering System
Because Illumeo contains so many courses, certification programs and webinars for a variety of disciplines (over 900 courses exist for CPAs alone!), it's crucial that you find what you're looking for quickly. Illumeo delivers on this with an advanced course filtering system that allows you to search by:
Categories like Ethics, Accounting, Sales, Tax and more

26 Certification Interests such as CPA, CFE, and FPC

Course complexity level by Foundational, Intermediate and Advanced
You can also use the search bar for specific keywords and Sort results by:
Most Popular

Term Relevance

Duration

Most Recent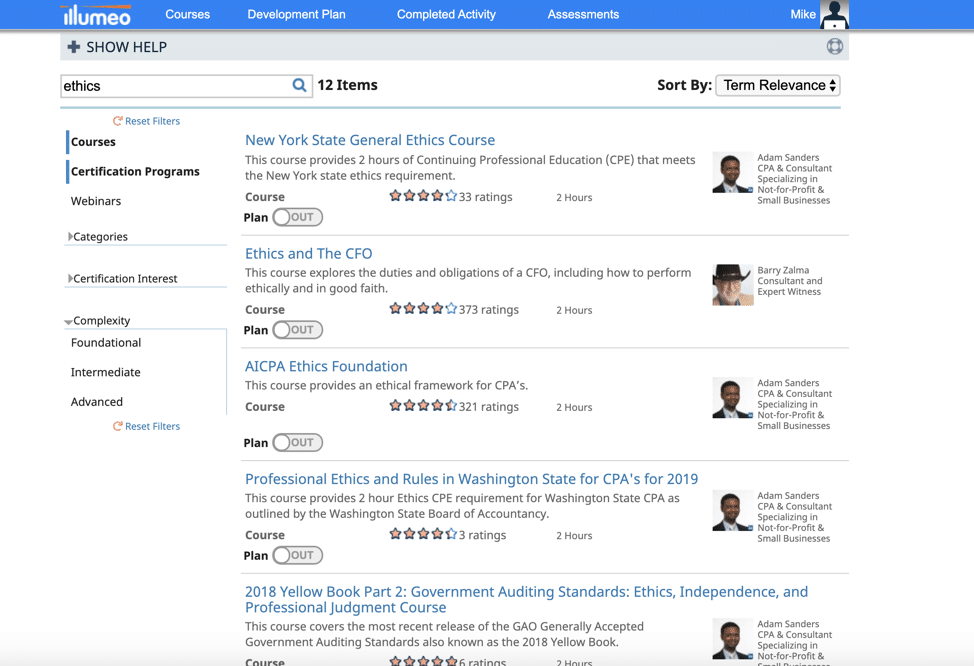 Educational Supplements in PDF Format
Each course, certification, and webinar in Illumeo contains PDF supplements that you can download and access anytime. For example, a session on "Introduction to a Quicker Financial Close" for CPAs comes with a full PDF version of the slides and transcript for review at your leisure!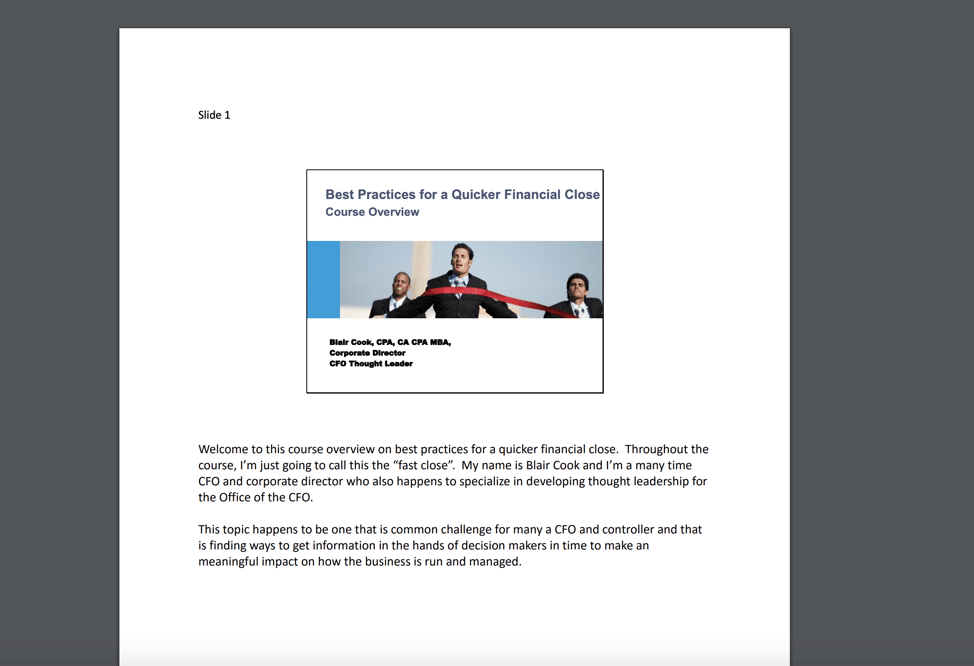 Other helpful supplements like Glossaries are also included. You can see what supplements are provided in each course in the Course Syllabus located at the right of your screen. You don't just have to rely on downloadable resources either – there's an easy message box on the homepage to send the course instructor a question!
---
Related Blog Posts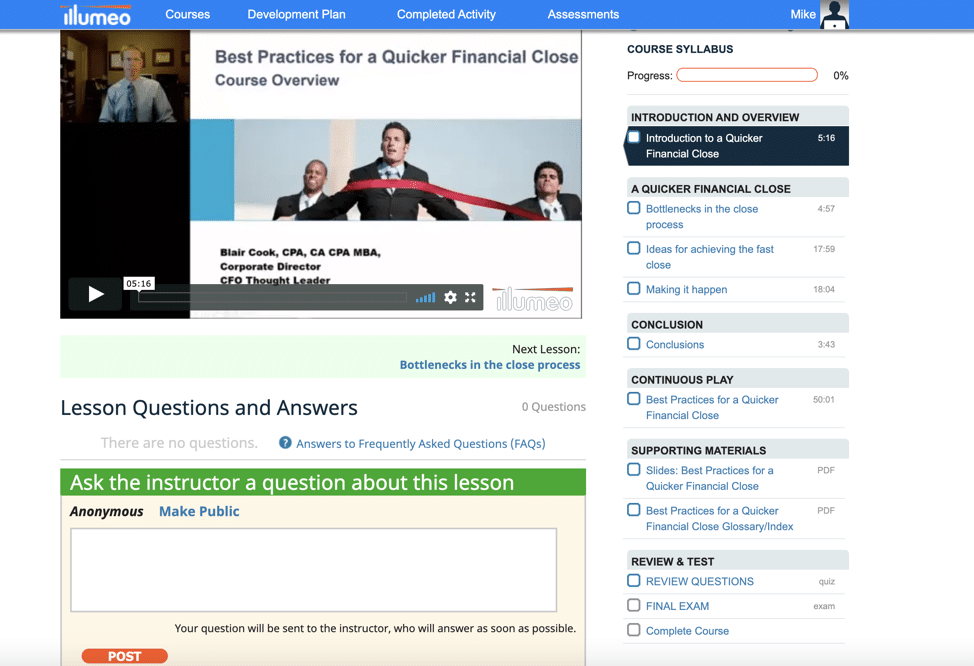 In-Depth Self Assessments
Illumeo CPE also offers unlimited self-assessments to help you understand your professional strengths and weaknesses. Consequently, you can target the most useful learning content for your professional goals. As if this wasn't a helpful tool in and of itself, Illumeo also asks for your self-assessment on competencies that may not be related to your current position. That helps you self-assess your knowledge and compare your skills against all benchmark jobs in your professional function.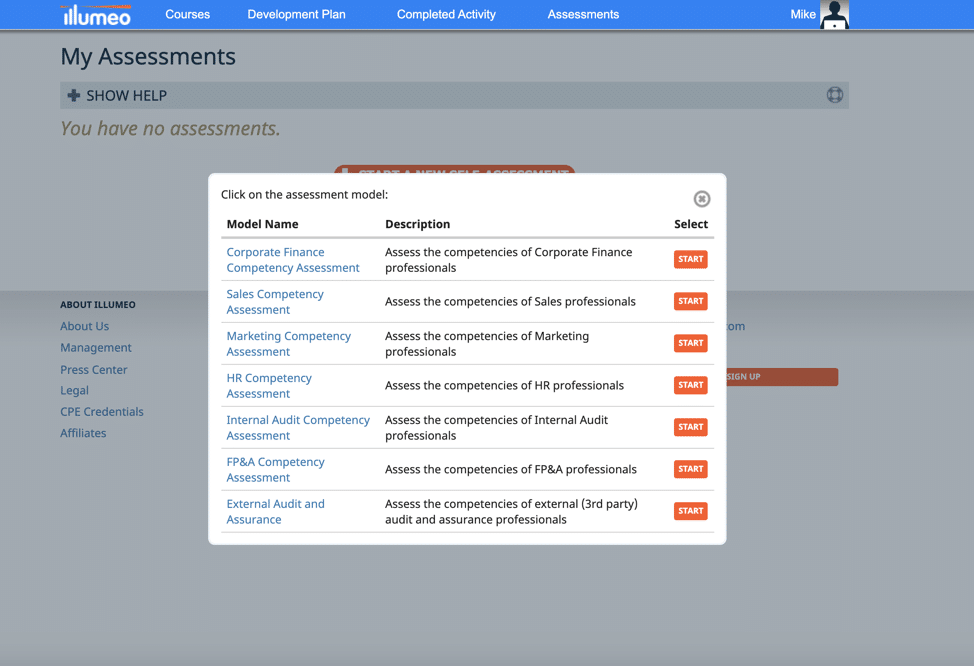 Not only can this help you identify a learning path in the short-term; it can also help you create a long-term learning path to reach your professional career goals. No other CPE review course on the market has such a powerful self-assessment that can drive you and your organization forward!.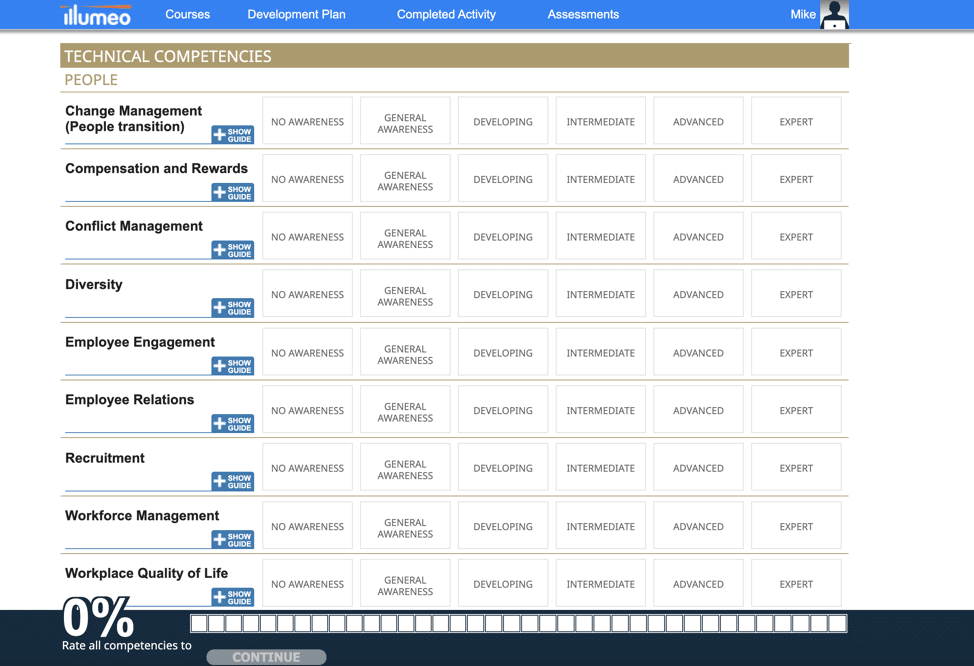 Furthermore, the format and assessment questions couldn't be simpler to answer and rate yourself appropriately. Wonder how effective the learning plans are? Top companies all over the world, such as Google, Oracle, Cisco, Intuit, Wyndham, and Yelp use Illumeo to determine their employees' learning plans.
Forever Access to Your Completed Materials
Illumeo CPE is committed to providing high-quality course content and regularly auditing all offered materials. That's why they've put a handy system in place that benefits the end-user while ensuring they receive regular feedback to help them assess course content!
Once you complete a course, you can obtain access to it forever simply by leaving a review after completion. That helps Illumeo maintain quality control, as all courses below a four-star average rating will be removed and re-evaluated. This system ensures that you can always refresh yourself on topics and competencies while being confident that the material is tried and true by other users like yourself.
---
Built-In Compliance Monitor
Satisfying CPE requirements is crucial to maintaining professional certification and staying abreast of any law or process changes in your field. However, the process can be complicated! That's why Illumeo's Compliance Monitor is a lifesaver when it comes to keeping track of how close you are to satisfying your requirements, based on your location and certification level.
The Compliance Monitor is included in the Individual subscription, but it's also available as a stand-alone product for $49 a year. Also, the information in the Compliance Monitor can be exported easily into a spreadsheet or a PDF. Best of all, you can even track non-Illumeo CPE activity by submitting an easy-to-use form!
Illumeo CPE Subscriptions
In comparison to other CPE programs, Illumeo CPE is priced competitively, especially when you take into account how many materials are available at your fingertips for a variety of professional goals. Here are the available packages:
Free Individual Trial

12 select courses to try

Unlimited live CPE Webinars

User Ratings & Reviews

Instructor Interaction

Global CPE Tracker

Personal Development Planner

One Self-Assessment

Individual

– $299/year

Unlimited access to Course Library

Unlimited access to live CPE Webinars

User Ratings & Reviews

Instructor Interaction

Global CPE Tracker

Personal Development Planner

CPE/ CPD/ PDC Credits

Compliance Monitor

Certificate Program Discounts

Unlimited Self-Assessments

Email and Phone Support

Enterprise

– $349 a seat/year

Unlimited access to Course Library

Unlimited access to live CPE Webinars

User Ratings & Reviews

Instructor Interaction

Global CPE Tracker

Personal Development Planner

CPE/ CPD/ PDC Credits

Compliance Monitor ($49/year if purchased separately)

Certificate Program Discounts

360 Managed Assessments

Custom Company Courses

Custom User Groups

Blended Live and Online Learning

Collaborative Development Plans

Full HR/ L&D Management and Reporting

Enterprise Reporting Suite

Customized Webinars

Certificate Programs –

priced per certificate

Compliance Monitor

– $49/year
Illumeo CPE has an unprecedented number of options, offering more flexibility and affordability than any other comprehensive CPE platform we've seen. It's also a great resource that works for the individual user pursuing a rigorous schedule of CPE credits, and an enterprise organization with many accredited professionals to accomplish their career goals and certificate maintenance in one location.
Ultimately, this flexibility and attention to user needs are some of the primary reasons that this CPE resource is a top choice for students and international brands alike!
Pros & Cons
If you're still on the fence about whether Illumeo CPE is the best choice for you, here's a quick look at some of the main pros and cons of this CPE resource:
Pro – Actual Accredited Instructors:

Each course is taught by accredited and practicing financial professionals, not professors of finance. Their level of expertise is unparalleled, with real-world knowledge and competency you sometimes can't find in a classroom.

Pro – Over 100 Live Webinars a Year

: A packed schedule of 100 Live Webinars satisfies tricky state-by-state requirements while allowing you to learn remotely. You can also replay webinars after the Livecast has ended, which means you'll never miss an opportunity to learn and earn credits!

Pro – Fresh Materials and Course Subjects

: In addition to cornerstone courses that have been rated highly by many students before, Illumeo is always adding courses, webinars, and materials every week to ensure all information is up-to-date. 5-10 courses are added a week, and many classes undergo routine maintenance to update information presented, so you're never learning out-of-date material!

Con – No Video or Audio Supplements

: Illumeo offers downloadable PDF content of all course videos and presentations. However, you cannot download audio or video versions at this time. If you love to learn from videos or audio materials but aren't always within the range of internet connection, this may be a significant con.
---
Ideal Customer
If you're still on the fence about using Illumeo CPE to satisfy your continuing education needs, check out our Ideal Customer profile. This profile helps to determine if this course is right for you!
If you prefer a self-directed study instead of a classroom setting or lengthy live event,

this is the tool for you.

If you own a company or organization with many professionals pursuing CPE requirements,

this is the tool for you.

If you need instructor engagement and constant support available at any time,

this is the platform for you.

If you struggle with self-directed study and scheduling,

this isn't the platform for you.
Final Recommendation
Illumeo CPE is a comprehensive tool that helps you complete your CPE requirements and maintain your accreditations. It's also a definitive resource for advancing your career growth and knowledge.
Illumeo CPE is affordable and guarantees access to your courses forever just by leaving a review. That means you'll never have to worry about paying again to brush up on core concepts.
It's also packed with up-to-date materials, courses, and professional certifications that are updated consistently with 5-10 courses added per week. Regular courses are also being frequently updated to reflect industry changes.
Finally, Illumeo CPE offers thousands of courses and webinars to satisfy your CPE requirements in all different fields and professional certifications. You can also track your CPE progress with the built-in Compliance Tracker to be sure you don't miss anything while maintaining your accreditation.
Ready to try Illumeo out? Get an exclusive coupon code here!
Illumeo CPE Coupon Codes & Discounts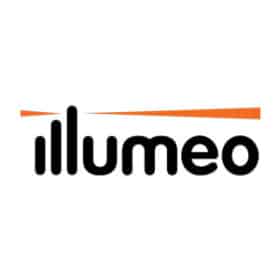 Take $25 Off Illumeo CPE Premium Subscription
9 uses today
Last Used: 20 hours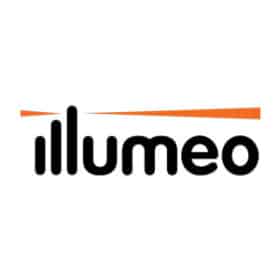 Take Up to 20% Off Illumeo CPE Premium Subscription
1 uses today
Last Used: 6 days
---
Q: Will I have access to instructors when studying?
A: Illumeo CPE is a remote learning course, but that doesn't mean you don't have access to instructors! If at any time you have a question for the course instructor, you can ask in the provided message box on each course home page. The course instructor will get your inquiry immediately and respond in a reasonable time period If you need any support, you can also use email or phone support to troubleshoot.
Q: Are hard copy books and study aids included or do I have to pay for those separately?
A: All courses come with PDF downloadable supplemental materials that you can access anywhere, anytime for no additional cost!
Q: Does Illumeo provide a study plan for me?
A: Illumeo provides the tools and assessments to help you make a study plan based on your individual needs. Using the Assessment and Progress Trackers, you can identify your strengths and weaknesses and receive course recommendations to expedite your learning!