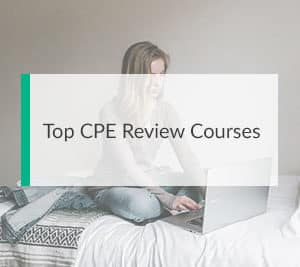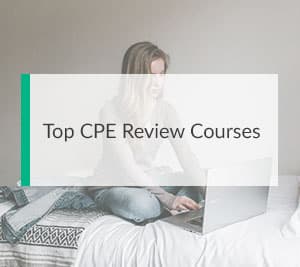 Certified Public Accountants are required to earn continuing professional education (CPE) credits every year in order to renew their CPA license.  Many people who are working as a CPA have one key question on their mind:
What's the best CPA CPE online course on the market?
With so many options, it can be hard to tell which CPE course is right for you. After all, every single one offers their own unique features and each claim to be the best. Consequently, choosing a course can be a stressful and confusing experience, especially if NASBA is breathing down your neck the whole time!
Luckily for you, the choice just became much easier.
Below is our list of the top CPE courses for CPAs currently available to students and professionals. I've gathered this information to help make this choice easier after careful research.
So check out our list of the best CPA continuing professional education courses and self-study programs below:
CPA CPE Course Reviews & Comparison
| COURSE RANK | #1 | #2 | #3 | #4 |
| --- | --- | --- | --- | --- |
| GET STARTED | Full Course | Full Course | Full Course | Full Course |
| CPE Provider | | | | |
| PRICE | $299 - $989 | $399 - $799 | $12 - $600 | $40 |
| CREDIT HOURS | 1200 | 80+ | 100+ | 24+ |
| STUDY RESOURCES | Webinars, Video, Self Study | Webinars, Self Study | Webinars, Video, Quiz, Self Study | Video, Self Study |
| LIVE INSTRUCTION | Yes | Yes | Yes | No |
| ACCESS PERIOD | 1 - 3 Years | 1 Year | 1 Year | 1 Year |
| SUPPORT | Phone, Email | Phone, Email | Phone, Email, Chat | Phone, Email, Social Media |
---
#1 Becker CPA CPE Course


Pro – Experienced Instructors
Becker instructors all have years of experiences in their fields. This helps them stay up to date with new regulations and rulings. That means students can be assured that they are getting the best instruction available for their CPE courses.
Pro – Competitive Pricing
When signing up for a Becker CPE course, you have a choice in prices. That means you can choose between three subscriptions: one year, two years, or three years. These study material packages cost $399, $759, and $989 respectively.
Pro – Flexible Study Formats
Becker offers both On Demand content and Webinars designed to earn CPEs. On demand is a self study format, while Webinars are live instruction with Q&A. Furthermore, all content is quite varied and comes in the form of streaming video, audio, text, and online Q&A.
Pro – Complimentary Demos
Becker CPE allows complimentary demos of many of their accounting CPE courses at no cost. This allows students to test out the various courses before deciding whether or not they are willing to commit to them.
Con – Cost
Although Becker doesn't require students to pay an arm and a leg for most of their CPA continuing professional education courses, some of their more involved packages can run a large bill. For that reason, students with tight education budgets may want to stick to the one-year or two-year packages.
Bottom Line
The CPE courses offered by Becker Professional Education are easily the best option out there. They have extremely well qualified instructors and a wide breadth of course content. In addition, they have very flexible pricing to fit your personal needs.
---
#2 Surgent CPE for CPAs

Pro – Award Winning Staff
The Surgent faculty have over 10,000 years of collective experience in their fields. Additionally, these professional accounting instructors possess more than 500 CPE Speaker of the Year awards. As a result, this makes them uniquely qualified to teach students like you during your CPE courses!
Pro – Webinar Scheduling
All of Surgent's webinars are organized to best fit to a busy schedule. They are offered every day at times fit for all time zones. For example, many enrolled students prefer to use the lunch break time slots to quickly work on their CPE courses.
Pro – Professional Education
Surgent's courses aren't just focused on earning you CPA CPE credits. They also want to help develop your career by keeping your skills and knowledge sharp. Surgent CPE ensures all materials are consistently up to date and as engaging as possible.
Con – High Paywall
Unfortunately, much of the best course content is locked behind the highest payment tier. The other two tiers grant access to the webinars and most of the credits but not all of the self study materials and premium courses. In spite of that, the lower price courses will still help you meet your CPE requirements if you're tight on cash.
Bottom Line
Surgent CPE is well worth your money. Their video content is some the best in the business and their customer support is unmatched. Above all else, their dedication to making sure you receive only the best study materials and education cannot be overlooked.
---
#3 Gleim CPE Courses for CPAs


Pro – Course Flexibility
The Gleim CPE system grants you one year to pick and choose your courses. Consequently, that means you can choose courses suited for your needs as they come up. Gleim provides some examples that illustrate this point excellently, which helps to inspire enrolled students to choose the course most pertinent to their specific needs.
Pro – Modular Pricing
Course prices are based on their hourly content, which varies from one to a hundred or even more. Hence, you and other students only need to pay for the exact amount of time needed. It also lowers the prices per chapter when you're buying bundles of content: as low as $6 an hour depending on which package you choose!
Pro – Free Course
Gleim offers two different free courses so you can get a taste for what their service is like. While only one of these courses can be used for professional credit, both of them work well as a free trial for the full Gleim service.
Con – No Live Webinars
Unlike Becker, Gleim does not offer live webinars. That unfortunately means that there is no live Q&A for what you are watching; you must instead rely on the standard customer service for your questions.
Bottom Line
Although it's not as competitive a choice as Becker or Surgent (mainly due to a lack of live video content), Gleim CPE can still be worth your time. Their customizable prices and content are extremely helpful for a student looking to shore up specific areas of expertise.
---
#4 WebCE Online CPE Courses


Pro – Build Your Own Package
You can create your own CPE package in a similar manner to Gleim's courses. This allows you to mix and match 80 hours worth of content specific to your needs for $99.95, with each additional hour only costing an extra $2.50.
Pro – Self Paced Scheduling
WebCE offers effective self paced and online CPA CPE courses fitted for your personal needs. Consequently, you can tailor your self-study course to fit a busy schedule. Furthermore, thanks to the 24/7 access to the account, your courses will be waiting for you whenever you're ready to work!
Con – No Free Trial
Unfortunately, WebCE does not offer free demos for their course the way Becker does. Even though their courses are usually worth the price paid for them, it would be nice to try them out first to see what they're like.
Bottom Line
Even though it may not be as worthwhile as the first three choices, WebCE can still be worth your time if you want to tailor your course load. While it may not be as effective as Becker CPE, it can still be worth it for its affordable prices.
---
CPA Exam Product Review - Summary
Reviewer
Review Date
Reviewed Item
Top CPA CPE Courses Online
Author Rating