Surgent CPA Review is one of the newest CPA exam study materials on the market today, but it isn't a new company. Surgent has been producing the highest quality professional continuing education for accountants, CPAs, EAs, and other professionals for over three decades. They've taken all of this experience and expertise in professional education and have applied it to help candidates pass the CPA exam. Surgent students have an average pass rate of 88%, significantly higher than the overall average of all CPA candidates.
This CPA exam review course is developed to help candidates learn faster using new adaptive technology. Most other courses on the market require candidates to read through each chapter and watch each lecture individually, even if they already understand the topics and concepts presented in those chapters.
Surgent takes a new look at how a traditional CPA study plan is formatted with its powerful combination of A.S.A.P. technology and ReadySCORE. Their intuitive software helps point candidates to areas of study that they need to work on instead of simply forcing them to study things they already know.
Let's walk through each component of the Surgent CPA Review course format and see what's inside!
How do you rate Surgent CPA Review?
---
Surgent CPA Prep Course Format
The Surgent CPA Review materials have several different components within the dashboard. We'll discuss the details of each one and how you can use them to study for the exam.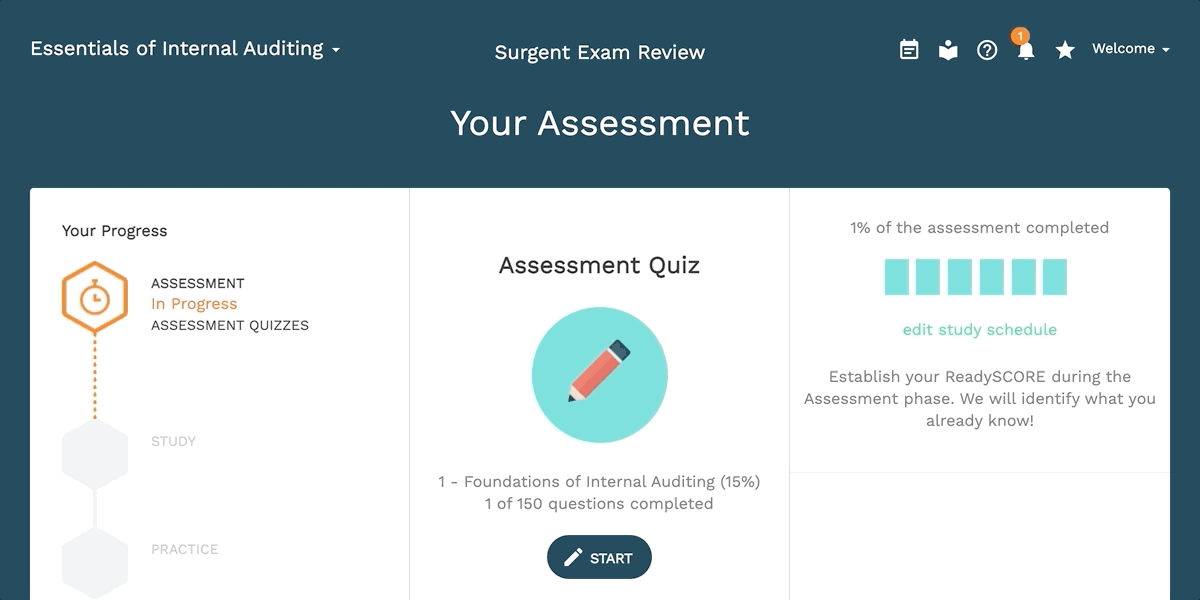 Video Lectures
One of the most important parts of any review course is video lectures. Surgent includes more than 350 lectures covering the most important topics and concepts covered on the exam. These lectures are presented by Surgent's professional instructors, who have decades of experience educating accounting professionals. One of the coolest parts of the lectures is the interface. The videos are played alongside the study text and the notebook. This allows candidates to follow along in the book, highlight sections of interest, and make notes and bookmarks for reference later.
Study Textbook
The study book contains detailed information about the topics covered in the lectures and the practice questions. This book is also integrated into Surgent's adaptive system, so it suggests readings based on your current readings and pace through the practice questions.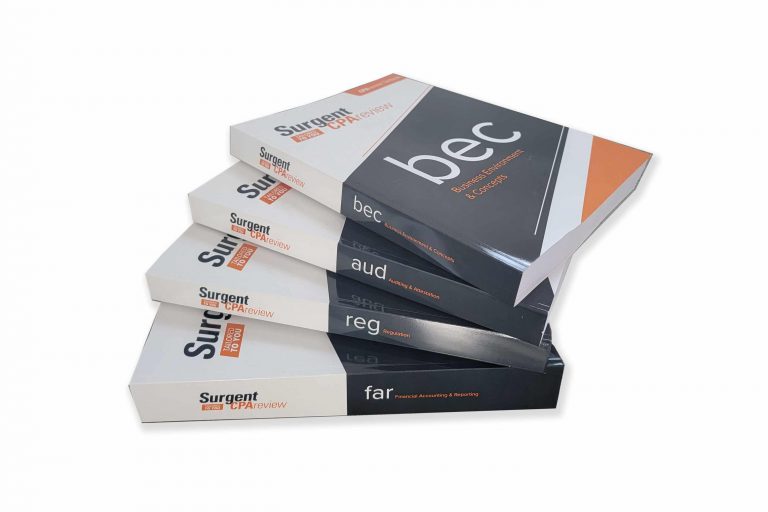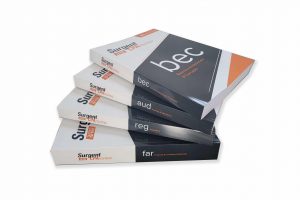 Surgent CPA Review Test Bank
The Surgent CPA Review course test bank includes more than 7,700 multiple-choice and exam questions (8,250+ w/ integrated test bank) that candidates can use to learn concepts and practice taking the exam. This isn't the biggest test bank on the market, but it is uniquely used. The software tracks your answers to help improve your knowledge of different subjects. For example, if you score low on one subject, it will automatically add that topic to your study schedule and suggest that you read that section in the study text. This type of interactive study guide helps create more helpful study materials and increases the candidates' learning efficiency. You can also create custom quizzes on any topic you want through their custom exam generator.
Task-Based Simulations
Surgent CPA Review includes more than 417+ task-based simulations in their course. This is plenty to practice and get a feel for their format on the exam. Plus, like everything else in this course, they are integrated into the adaptive technology. When the software identifies a weak area, it will suggest you try the task-based solution as well to improve your knowledge of the topic.
Exam Simulator
An exam simulator is one of the most important parts of any review course. It allows the candidate to practice taking the exam and navigate the AICPA interface. The Surgent exam simulator is very close to the AICPA version. It also allows you to practice questions in two different modes. Practice questions display the answer and explanation for the answer right after you click your choice. This mode is great for studying concepts and understanding information. The exam mode doesn't display any answers until you submit the full quiz. This mode allows you to practice actually taking the exam.
Flashcards
Many review companies either don't offer flashcards as an option, or they charge a ridiculous fee for them. 2,000 plus digital Surgent CPA flashcards come with the standard study materials for no extra charge. You can use these on your phone or mobile device to study and practice answering questions anywhere. They also have printed flashcards available for a small fee.

Course Analytics
As with any adaptive review course, the main engine that drives it is analytics. Surgent proves one of the most robust analytic packages out of any CPA review course on the market today. For example, their revolutionary ReadySCORE system generates a constantly-changing score that evaluates the readiness of each student to pass the exam, the ReadySCORE is 99% accurate. This algorithm is backed by research into the inner workings of the CPA exam itself, making it highly accurate to real student results.
Furthermore, Surgent's A.S.A.P. technology allows you to pinpoint your weak areas and double down on studying those concepts in a manner that feels effortless. A.S.A.P. technology also uses analytics to suggest areas for you to study. This is one of the most powerful tools in this study guide because it dynamically generates a unique learning environment for every candidate. This means your study guide will be tailored specifically to your learning needs!
Interactive Study Schedule Planner
The interactive study schedule creates a custom study schedule for you. After you identify how many hours per week you want to study and block out free days, the planner automatically generates a study schedule for you. You just have to follow it. The best part is if you miss a day or don't get through enough information in one day, the schedule will automatically update and generate a new schedule based on the remaining material that you need to get through.
That's a brief overview of all the important components in the Surgent CPA Review course study materials. Let's look at the benefits and drawbacks of this review course compared with other ones on the market.
---
Benefits
Special Options for Struggling Students
Surgent's newly launched CPArescue program combines its amazing program with coaching to help struggling students succeed. It offers a full 4-part review course, 100% aligned with AICPA blueprints, making sure you have everything you need to pass your CPA exam.
You will also receive (6) 1-on-1 virtual coaching from a CPA Exam expert, with coaching sessions distributed among Sections 1, 2, 3, and 4, as you define with your coach the order in which you will take the sections of the exam, each session lasting for 30 minutes. The course also includes a study companion app, unlimited practice exams, ultimate customer and technical support, and a 100% pass guarantee, with course access until you pass the CPA Exam.
Free Trial
Are you still on the fence about trying out an adaptive course? Well, you don't have to commit to it before you shell out a bunch of money. Surgent offers a free trial that you can test drive before you buy it.
Customer Service
Ultimate Customer Service includes unlimited content and technical support with responses guaranteed within 1 business day. If you run into any problems during your studies, Surgent offers support via email. You can email [email protected] with specific questions about the course content, and the Surgent editorial group will respond within 24 hours. Just make sure you include your exam section and question ID number when emailing so they can be as specific as possible.
With Ultimate courses, you get a Dedicated Coach who offers you personalized guidance along your studying journey.
Adaptive Learning
Adaptive learning can be a benefit and a drawback at the same time. The technology is amazing and can really help candidates speed up their study time, but some people aren't ready for this type of change.
Unlimited Access
Surgent allows you to use your full course materials until you pass the entire exam. There are no renewal or extension fees. You simply keep using it until you become a CPA. This is a big benefit and huge cost savings.
Financing Options
Surgent CPA Review offers financing options with 0% interest, making it affordable and accessible for everyone, especially when combined with our discounts!
Discounts
Surgent is currently offering an exclusive discount on all their courses. Please click the link below to learn more!
---
Drawbacks
No Offline Course
There is no offline version of this CPA review course available. You can't watch the videos or practice multiple-choice questions without being logged into your account. You can, however, read your printed study materials
No Audio Lectures
This isn't a big deal, but many candidates want audio lectures that they can listen to in the car or while they are doing something else. This course doesn't offer them.
---
Recommendation
This style of prep course is truly powerful. It can help candidates learn much faster than traditional linear courses, but a lot of people aren't ready for it. It only works for candidates who want to use it as it is intended. Thus, if you want an adaptive course, this one is sweet. If you want a more traditional course, this one is probably not for you. That being said. It's an awesome course if you are willing to embrace the new, modern technology of an adaptive course.
Surgent CPA Coupon Codes & Discounts

Take $1,000 Off Surgent CPA Ultimate Pass
66 uses today
Last Used: 4 hours

Take $740 Off Surgent CPA Ultimate Pass
177 uses today
Last Used: 5 hours
Surgent CPA Frequently Asked Questions
✅ Is Surgent CPA good?
Surgent CPA Review is fantastic. It's an extremely comprehensive course, and it would be a great choice for students who want to study efficiently (especially if they prefer having the material explained to them via concise video lectures).
⓵ Which CPA Review is the best?
Surgent, Roger, and Gleim all offer compelling benefits, depending on what is most important to your study (video content, practice questions, scheduling technology, exam simulations, etc). Every student is different, so use our comparison chart below to see how they all stack up against each other.
📅 Does Surgent CPA expire?
No, Surgent's CPA review course has no expiration date! This is just one of the reasons we have found it to be a pretty solid course (full list of pros/cons outlined on this page).