Quick Look at Best CPA Prep Course Reviews and Rankings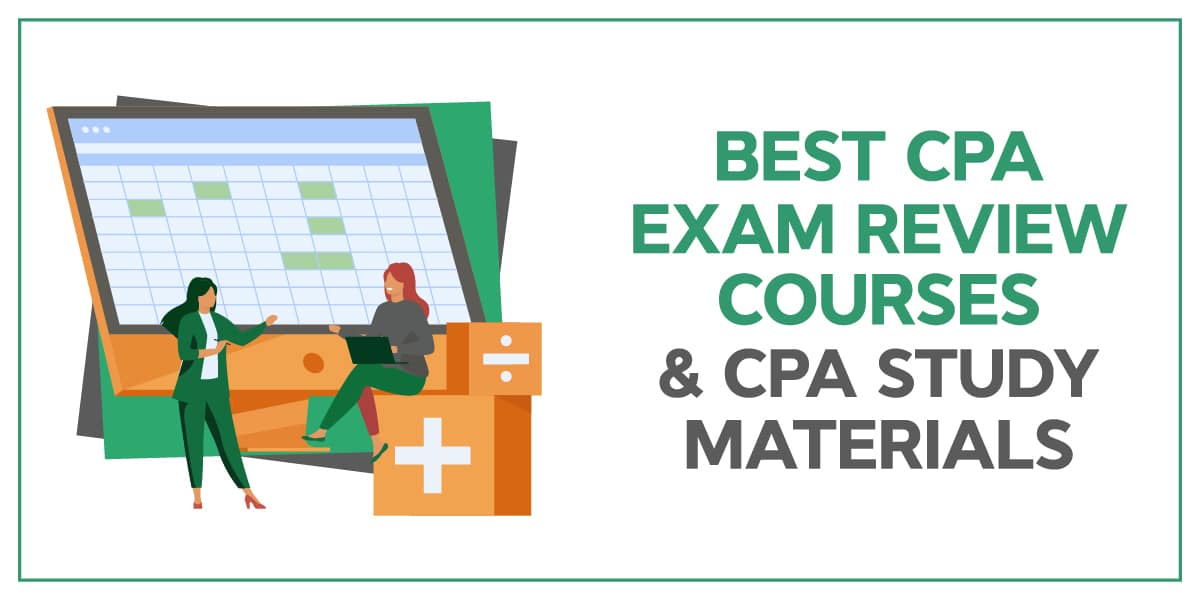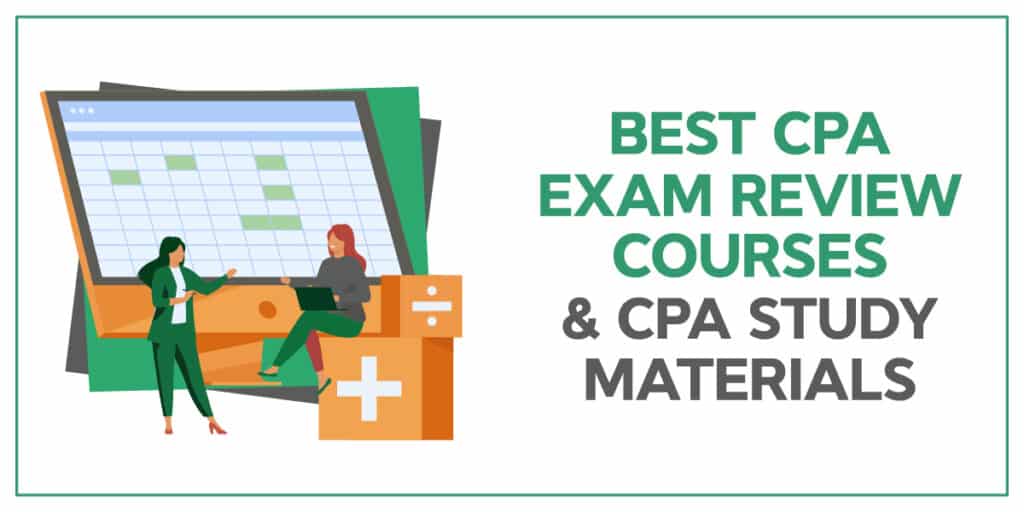 If you've read any articles on the best CPA exam review courses, you've probably noticed the tendency to focus on the fact that AICPA pass rate releases show half of all candidates don't pass the CPA exam on their first try.
Butlet's flip that perspective. Although it's true that roughly 50% bomb the CPA exam the first time, half do pass. And it's what these candidates do right that you need to focus on. So, what exactly, sets the successful half apart from the others?
Picking the right CPA review program to steer their studies.
As much as we might wish that getting a degree in accounting was all the investment needed to pass the CPA Exam, that's just not the case. Picking the right CPA exam review course can truly make or break your results. But this can be hard to do when a quick Google search sends you to the websites of tons of CPA review course providers, all telling you they've got the best CPA review course on the market.
This is where we step in.
We've done the heavy lifting, diving deep into the world of CPA study materials to help you be part of that successful half. Here's how:
Hands-On Experience: We didn't just skim through; we've tested out each and every review course, immersing ourselves in the content. We've taken detailed notes on all of their features — the good, the bad, and the ugly.
Expert Opinions: We've sought the opinions of industry experts like our partner Ken Boyd. He's not just any expert; he's a renowned figure in the world of accounting and personal finance. Ken is the brains behind notable books in the "Dummies" series such as "Cost Accounting for Dummies" and "Accounting All-In-One for Dummies."
Broad Research and Reviews: Beyond our hands-on testing and expert consultations, we've also scoured user reviews, feedback forums, and student testimonials. From Trust Pilot to Reddit, we've got the scoop on what actual CPA candidates think about these CPA review courses. This ensures we get a holistic view of each CPA review course from multiple perspectives.
Direct Conversations with Providers: We don't just rely on secondary information. We've reached out and spoken directly to the providers themselves, from Becker CPA review to others in the industry. This gives us an inside look into their methodologies, updates, and unique selling points, ensuring our evaluations are thorough and informed.
Our ultimate goal is to provide an in-depth comparison of the best CPA review courses of 2023 to help you make an informed decision and achieve your dream of becoming a Certified Public Accountant.
Here are our top-seven picks of CPA review courses that are sure to help you pass the CPA exam.
Related Articles: Becker Promo Codes, Review of Becker, Wiley vs. Becker, Surgent Pros/Cons, CPA Requirements, CPA Schedule
List of Top Rated CPA Review Courses
2023 Comparison of the Best Rated CPA Review Courses:
1. Best Overall CPA Review Course: Becker CPA Review
2. Runner Up – Best CPA Prep for Adaptive Learning: Surgent CPA Review
3. Best Price CPA Review Course: Gleim CPA Course Review
4. Best Value for CPA Exam Prep: Wiley CPA Review Course
5. Best CPA Study Materials and Videos: UWorld Roger CPA Review
1. Becker CPA Review Course
Endorsed by All Big 4 Accounting Firms & Reviewers
Becker CPA Review comes from one of the oldest and most respected companies in the CPA prep game. They have helped thousands and thousands of candidates all over the world pass the exam. Their real claim to fame: They are endorsed by all of the big CPA firms and major universities in the US.
They're also recommended by lots of former CPA candidates. Check out this Trust Pilot review below:
"Becker's CPA program was highly effective in helping me study and pass the CPA exams. I just finished my last test and after passing all four first time around with scores in the mid to high 80's, I don't know how I would have done it without Becker. I followed the study plan very closely and did use the final review tool as well. I felt very prepared going in and couldn't be more satisfied with the results." – Dawn Hill
Becker CPA Review Courses Package Options
Becker CPA Review offers four distinct course package options catering to different needs. The top-tier Concierge package, priced at $5,999, provides unlimited access to the course content, encompassing over 190 hours of instruction across 200 videos, in addition to 400+ SkillBuilder videos. It boasts a question bank of 7,400 questions along with a bonus bank and offers 400 digital flashcards. Moreover, students opting for this package receive support and various other features, indicated by four "Y" marks.
Next in line is the Pro package, priced at $3,799, which similarly provides unlimited access and retains the features of the Concierge, including the 7,400 question bank and the 400 digital flashcards. Unique to the Pro package is the 'Back on Track' plan.
The Premium package, costing $3,099, also offers unlimited access and has the same vast question bank of 7,400 and 400 digital flashcards. However, it lacks some of the features from the previous packages.
Lastly, the Advantage package is available at $2,499 with a 24-month access period. It provides the same large question bank and digital flashcards but offers fewer additional features than the other packages.
Becker Concierge Option
Recently, this top provider has developed an innovative solution to help you conquer the exam with ease. Their newest offering, Becker Concierge, takes CPA exam preparation to the next level.
With Becker Concierge, 300 students will have access to a dedicated team of experts and their own personal success coach, who will help them develop a customized study plan. Concierge CPA candidates can also receive up to 50 hours of one-on-one tutoring sessions every week. These sessions which can be used to address any weak areas you may have and ensure you're CPA exam day prepared.
All of the things listed in Advantage, Pro, and Premium plans, you'll also get with Concierge. As an added bonus, Becker Concierge includes a one-year CPE subscription and CPE certificate, which will help you stay up-to-date with any changes in the field. This will make you a shoo-in for exam day success and your future career as a CPA. And, if somehow you're not exam day ready, you're covered by the Becker Promise.
Why is Becker Our Number One?
So what makes them so great? Our team has combed through the reviews and spoken to those who have wen with Becker and found the following points: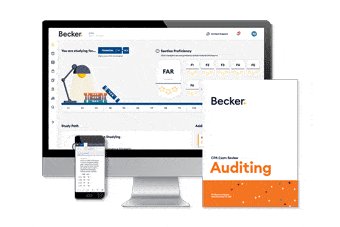 A simple user interface with performance-tracking graphics
Seamless integration between practice questions and lecture content
Machine learning technology to craft unique, optimized study plans
Curriculum that emphasizes techniques like spaced repetition and knowledge gap
And, of course, there are their mock exams which are provided with each CPA exam review section.
There's an interesting aspect to Becker's mock exams that has attracted a lot of positive feedback from enrolled students. They call it the Becker Bump since it's common to get higher scores on the actual CPA exam than you do on Becker's mock exams.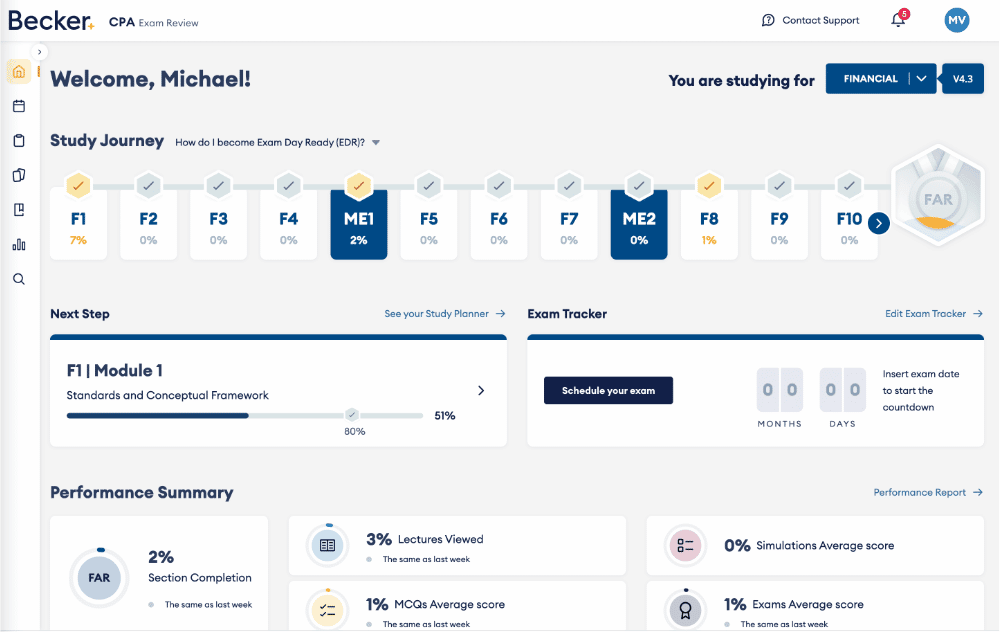 As a result, this is one of the best ways to boost your score on a specific section, such as the notoriously difficult Financial Accounting and Reporting (FAR) test.
A final reason Becker is our number one pick is their live instruction packages. They just can't be beaten by any other provider on this list. Their one-of-a-kind study resources elevate the value that comes from this review course, making it worth all its praise!
Of course, features vary depending on the review course selected. All courses come with:
Adapt2U Technology driven, custom practice tests
Becker's Exam Day Ready toolkit
Mobile App and Game
14-day try-before-you-buy
Q&A database with thousands of solutions and explanations
Let's break down all of these Becker CPA Review course pros a little further.
Pros:
Impressive Success Rate: Becker's CPA Review stands out with its outstanding track record, boasting an impressive 94% pass rate. This achievement underscores not just the quality of our program but also its effectiveness in preparing students for the CPA exam.
Experience Before Commitment: Before making any commitments, Becker offers prospective students a substantial preview of its program. Dive deep into over 31 hours of lecture material, navigate through a diverse set of 1,490+ multiple-choice questions, and engage with 100 TBS questions, all enhanced by our unique SkillBuilder videos. It's an opportunity to experience and gauge the quality of our offerings firsthand.
SkillBuilder Videos: Gain an edge with our exclusive step-by-step tutorials, designed to navigate you through the most challenging CPA Exam tasks: the task-based simulations (TBS). Dive in to understand more.
Personalized Tutoring: Included in our Becker CPA Review Pro package, enjoy bespoke 1-on-1 sessions with our CPA-accredited experts. It's an opportunity to address and overcome your topic challenges directly.
Flexible Learning Modes: Choose your preferred learning environment. Becker presents live lectures either online or in-person, tailoring to students who seek deeper clarity on specific topics or sections. Enhance your understanding with our personalized touch.
Cons:
Higher Price Tag: While some potential students might initially balk at the price tag associated with Becker's CPA Review courses, it's essential to view this investment through a broader lens. Admittedly, Becker's packages come at a premium, but there's a reason they command such a price: unparalleled quality and a track record of success. Think about the long-term perspective: years from now, as a successfully established CPA, the initial cost of your review course will be but a distant memory, overshadowed by the accomplishments and opportunities your certification has brought you. Furthermore, it's noteworthy to mention that a significant number of employers recognize the value of Becker's comprehensive CPA Review, and many will sponsor or reimburse their employees for the course. Investing in Becker is not just spending money; it's placing a bet on your future, a bet that has historically shown high returns for those who commit to the journey. Becker also offers awesome discounts and financing plans, making it a lot easier to pay for their Premium, Pro, and Concierge subscriptions.
Other reasons to choose a Becker CPA review course over their competition include their highly-skilled team of experts who helped craft their massive CPA test banks.
Worried about investing and not being satisfied? If you use Becker's product and aren't satisfied with it within 10 days, they'll provide you with a full refund.
How do you rate Becker CPA Review?
With the backing of all four of the biggest accounting firms, Becker has long been the best of the best. Fortunately, this educational company continually innovates with new ways to help their students pass their CPA exams as quickly as possible. Pulse, their money-back guarantees that if you partner with Becker, your investment is protected.
---
Becker CPA FAQ
Does Becker CPA Review offer live classes?
Yes! For students who prefer working with an instructor who lectures in real time, Becker's LiveOnline courses are the perfect choice. Students can ask questions and receive responses from their teachers in real time: something that isn't provided by many other CPA review course providers.
How can Becker help me save time studying for the CPA exam?
There are two methods Becker's comprehensive CPA review courses provide to help students progress through their studies and pass the exam in record time. The first is their interactive Study Planner, which highlights key areas for students to study, and the second is an accelerated FastPass option that goes through all four exam sections in just three months.
---
Becker CPA Review Discounts & Promo Codes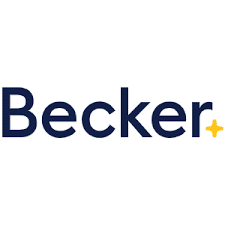 Get $1,140 Off Becker CPA Pro
29 uses today
Last Used: 1 hours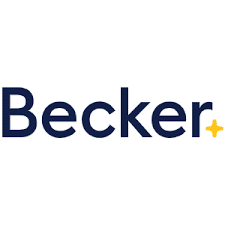 Becker CPA Advantage Package Now $2,499 – Promo
12 uses today
Last Used: 1 days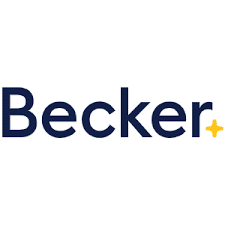 Becker CPA: 0% Interest Payment Plan
173 uses today
Last Used: 23 minutes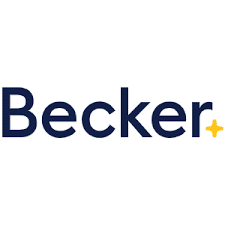 Save on Becker CPA Single Part Courses
228 uses today
Last Used: 21 hours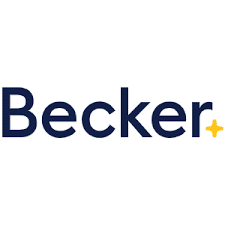 Get CPA Evolution Ready Content on All Becker CPA
6 uses today
Last Used: 15 hours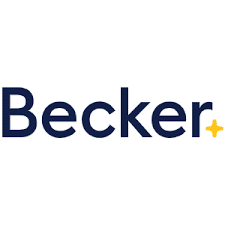 Enjoy a 14-day Free Trial on Becker CPA Courses
4 uses today
Last Used: 1 days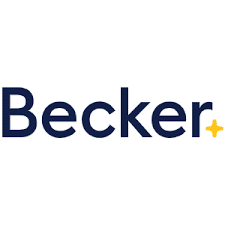 Sale – Becker CPA Premium Package Now $3,099
5 uses today
Last Used: 1 days
---
2. Surgent CPA Review Course

Best Adaptive Learning Software
Surgent CPA Review is a relatively new course on the CPA prep market, but they aren't a new company. Surgent has been providing CPE and other accounting study materials for several decades and has now released a complete set of CPA prep course materials.
Their niche: Surgent takes their experience educating elite accounting professionals and applies it to students and CPA candidates.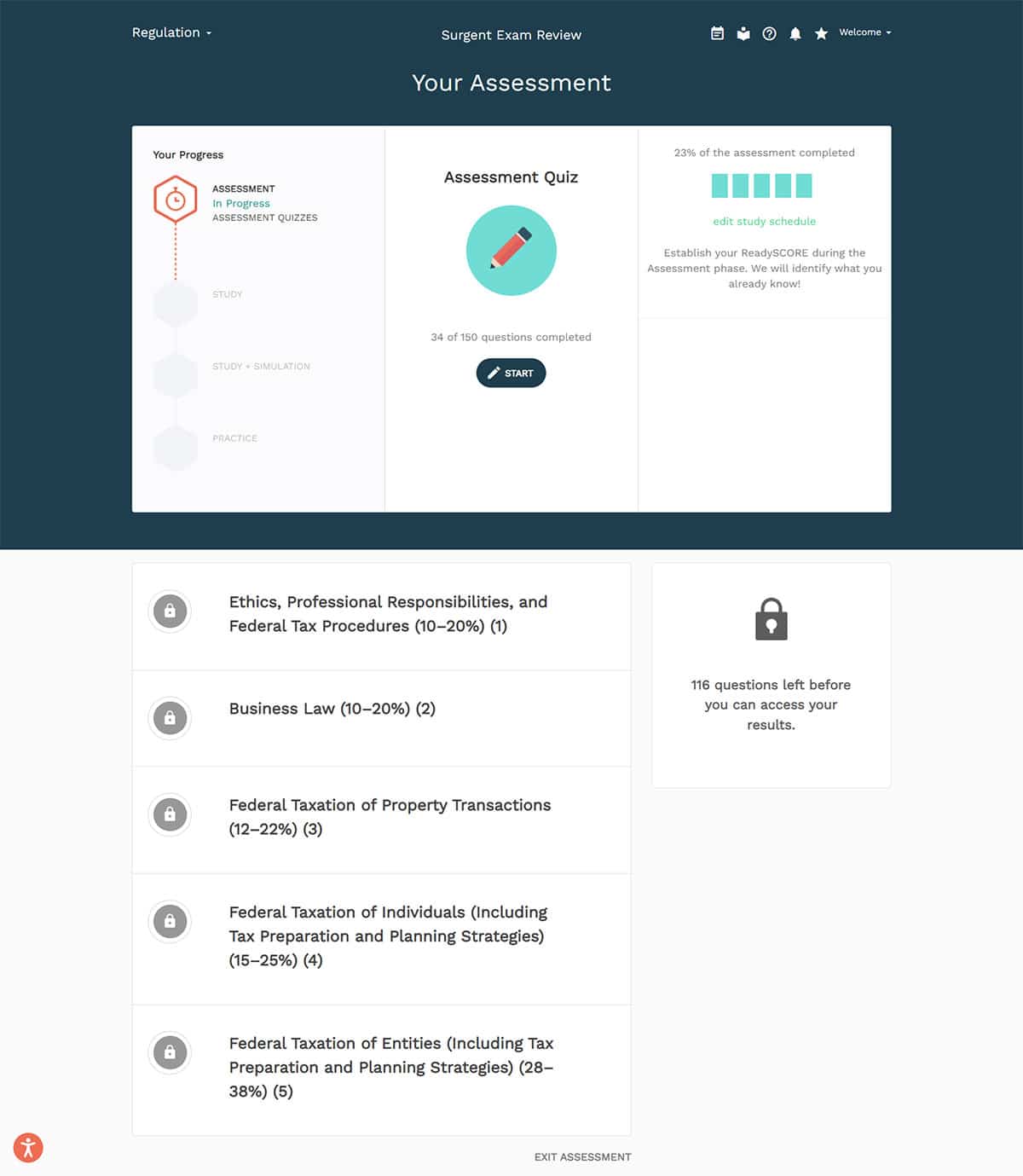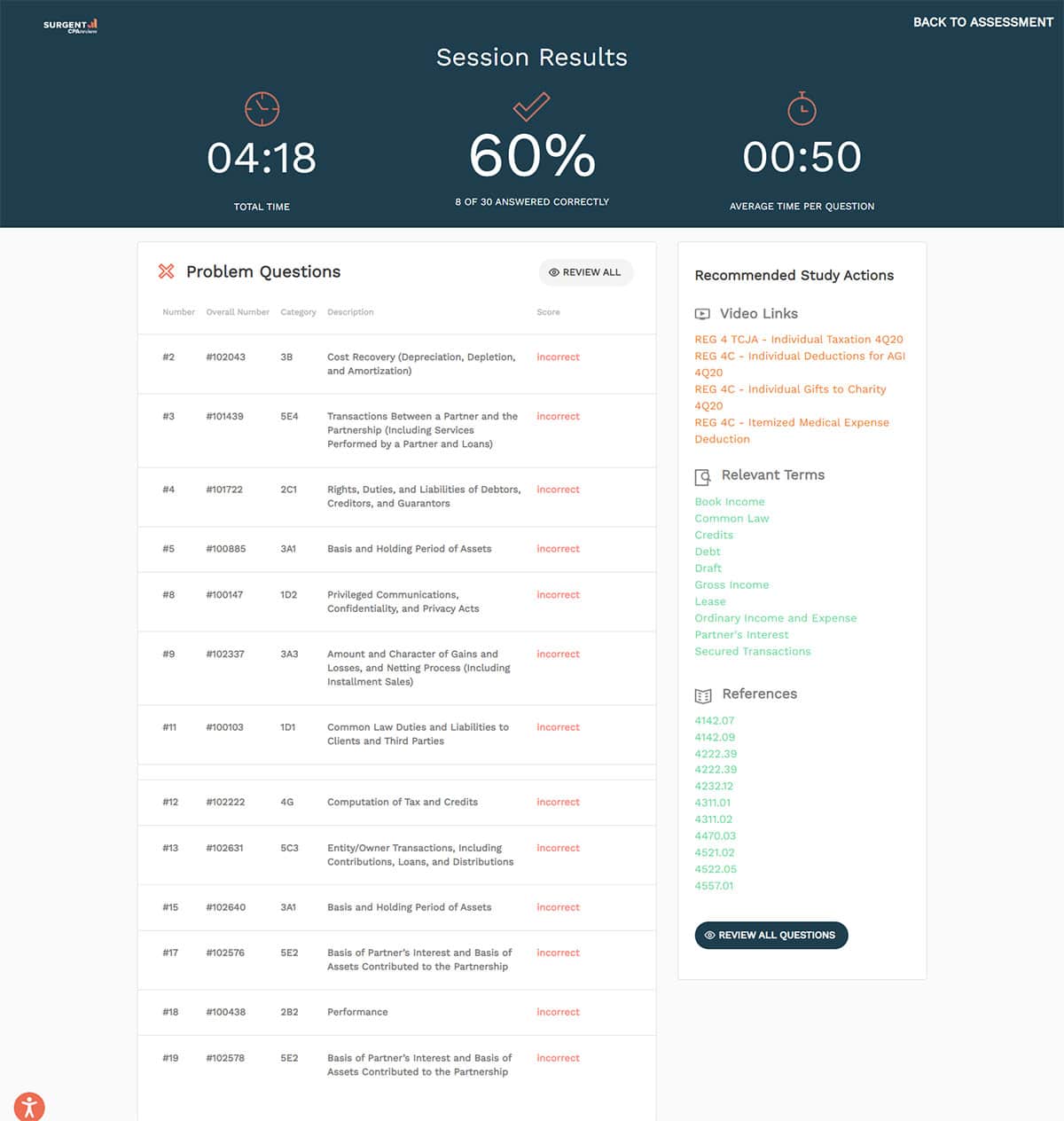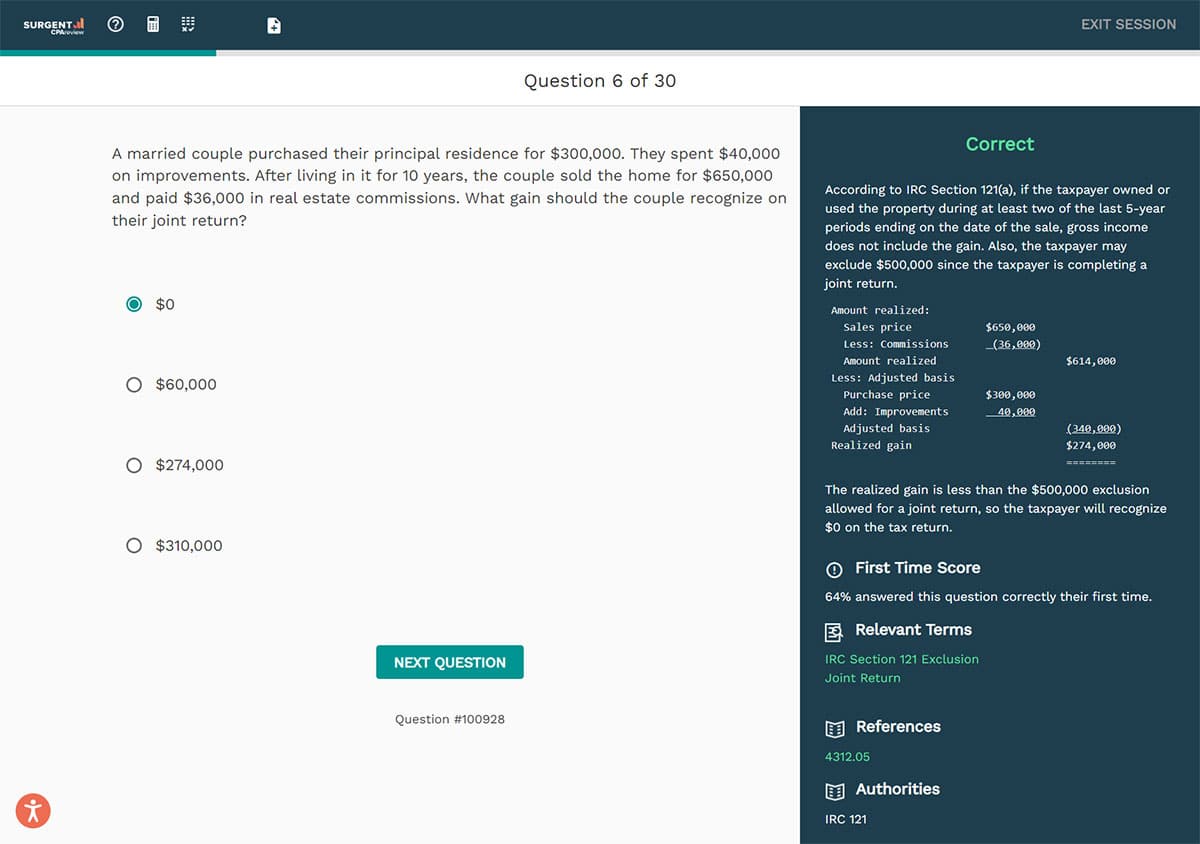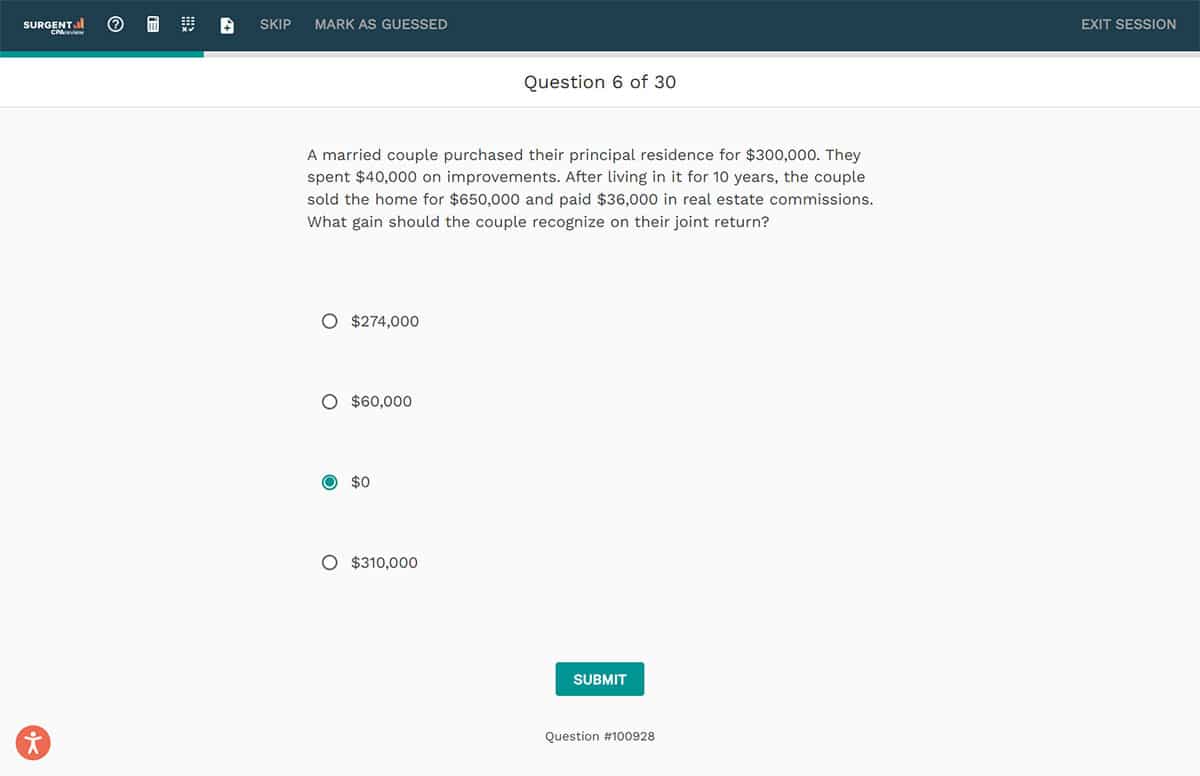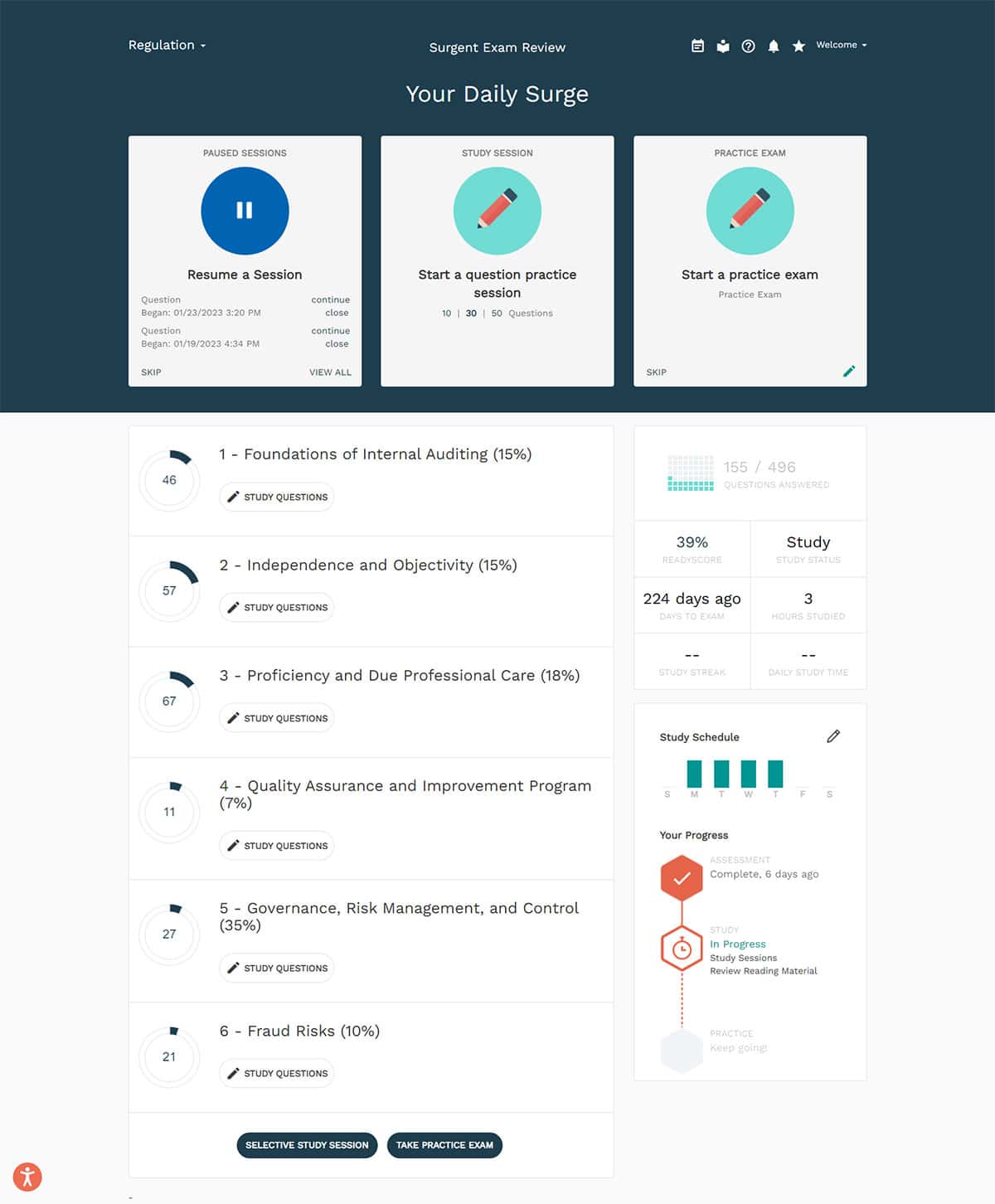 This means students who take Surgent's course can pass the entire exam faster than it takes other students to pass just one section of the test!
Surgent Features:
Student assessment with a diagnostic report
Customized study plan
Adaptive learning technology
Course category weighting
Personalized, daily study planner
1-on-1 coaching
Full purchase price Pass Guarantee
Unlimited access until you pass
Try before you buy
Surgent CPA Review Course Options
At first glance, Surgent's array of CPA Review courses showcases a commitment to diverse study needs and budgets. The Ultimate Pass, priced at $1,999, appears as a comprehensive powerhouse. Our review team was particularly impressed with its all-inclusive offering of unlimited access, over 350+ instructional videos, a colossal question bank of 8,800 MCQs, and the bonus of an additional 1,000 MCQs. Furthermore, the inclusion of printed textbooks, flashcards, a pass guarantee, and personalized one-on-one coaching set it apart.
For those who might not require the full breadth of the Ultimate, we found the Premier Pass to be a compelling alternative. At $1,599, it retains most of the Ultimate's core features, including the expansive video library and question sets. However, while it comes equipped with printed resources, it does miss out on some of the Ultimate-exclusive perks.
Surgent CPA Review A.S.A.P. Technology
The Essentials Pass, with its $999 price tag, appealed to our team as a streamlined yet robust option. It offers a similar digital experience as the pricier packages but pares back on physical materials, making it a fit for the digitally inclined student. Meanwhile, the Single Course option at $549 caters to students with targeted study needs, a feature we appreciated for its flexibility.
What we particularly like about Surgent's offerings is its focus on adaptive learning. Every student undergoes an insightful assessment, resulting in a diagnostic report. Paired with a customized study plan, we found this approach optimizes study sessions, making them more efficient. Surgent's adaptive learning technology is genuinely innovative, continually adjusting to students' evolving strengths and weaknesses. This is further complemented by features like course category weighting and daily study planners.
For those leaning towards the Ultimate Pass, our review team believes it offers an unmatched premium experience. The bonus of an integrated test bank, audio lectures, rapid-response customer support, and the exclusive Surgent's Excel® for Accounting Professionals course made it a standout.
All in all, our deep dive into Surgent revealed a suite of CPA Review courses that aren't just comprehensive but are also tailored, adaptive, and student-centered. We believe Surgent provides more than just a course; it offers a personalized study journey for every CPA aspirant.
Here are a few things that set Surgent CPA review options apart:
Their online dashboard and smart course design is modern and a breeze to use
Surgent's guide includes over 350 video lectures and 7,250+ practice questions with explanations
Surgent provides a 3-day money-back guarantee offer for anyone who isn't satisfied with their system
Big on tech support? Surgent's Ultimate Customer Service includes unlimited content and technical support with responses guaranteed within one business day.
So, why not try it out for yourself? What's there to lose?
Like with Becker, the actual features depend on the CPA review course plan you choose.
| | | | |
| --- | --- | --- | --- |
| | Ultimate | Premier | Essentials |
| Price | $2,999 | $2,399 | $1,599 |
| Course Access | Unlimited | Unlimited | Unlimited |
| A.S.A.P.® Technology | ✅ | ✅ | ✅ |
| 7,700 MCQs, 400+ simulations, 350+ videos | ✅ | ✅ | ✅ |
| E-books and lecture study notes | ✅ | ✅ | ✅ |
| Spiral-bound flashcards | ✅ | ✅ | ✅ |
| 1-on-1 virtual coaching | ✅ | ✅ | |
| Printed textbooks | ✅ | ✅ | |
| 1,000 extra MCQs | ✅ | | |
| Audio lectures | ✅ | | |
| MCQ Bank | ✅ | | |
| Ultimate customer support (within 24 hours) | ✅ | | |
| Excel certificate course | ✅ | | |
Why Surgent Stands Out in CPA Exam Preparation
Surgent has carved a unique niche in the landscape of CPA exam preparation, making it an excellent choice for many students. For those always on the move, Surgent's platform is a boon, seamlessly catering to on-the-go learners. At the heart of their approach is adaptive technology; this, combined with their digital platform, ensures that students receive a study plan meticulously tailored to their strengths and areas of improvement. But it's not just about efficient studying—Surgent ensures deep understanding.
Their CPA exam review courses come with modeled answers, guiding students to truly grasp complex concepts, not just memorize them. For those on the fence, Surgent offers a risk-free introduction with a trial of their CPA exam prep courses. Lastly, but certainly not least, is their support system. Surgent's support team has garnered praise for their rapid response, ensuring that CPA exam candidates always have a lifeline when they need it.
In essence, Surgent isn't just about passing the CPA exam; it's about fostering a confident, knowledgeable, and supported journey toward becoming a CPA.
But what are Surgent-led CPA candidates saying about their CPA review course materials? For one, they're helping them pass the CPA exam. A Surgent CPA review user said this:
"I'm using it, passed audit with a 75, reg with an 85 and take far next month. I enjoy it and their customer service is the best!" – Regulus3333″
Navigating through the intricacies of CPA exam preparation with Surgent, potential candidates will encounter a blend of advantageous offerings and a few considerations to ponder, as we delve into the pros and cons of their CPA review courses.
Here's an overview of Surgent CPA review course's pros and cons:
Pros:
Efficient Preparation: Efficiency meets effectiveness with Surgent. Their adaptive learning model not only personalizes the study approach but also cuts down preparation time by 50% compared to conventional methods. This means students can achieve optimal readiness in half the time while still gaining a deep and thorough understanding of the content. It's the best of both worlds: swift preparation without any cut corners.
ReadySCORE Indicator: Gone are the days of wondering if you're truly prepared for the exam. Surgent's ReadySCORE metric provides a clear indication of a student's readiness. By utilizing an advanced adaptive learning algorithm, it measures a student's grasp across all CPA Exam content, giving a real-time ReadySCORE to determine exam preparedness.
Confident Pass Guarantee: Surgent stands by its promise of quality. If students don't pass on their first attempt, they are entitled to a refund. This assurance stems from Surgent's comprehensive exam review materials, which arm students with all necessary information, ensuring their dedication translates into success on exam day.
Exceptional Value for Comprehensive Preparation: Surgent sets the gold standard in delivering unparalleled CPA exam preparation without breaking the bank. Each of their meticulously crafted packages, replete with top-tier resources and features, is astoundingly priced under $2,000. This ensures that students receive a holistic, high-quality study experience while also enjoying the most affordable pricing in the industry. It's an unbeatable combination of excellence and economy.
Cons:
Inconsistent Lecture Quality: While some of Surgent's lecturers, like Liz Kolar, excel in breaking down concepts with clarity and precision, others seem to merely read from the materials, offering little additional insight. There are also discrepancies between the lecture PowerPoints and the recorded lectures, such as mismatched slides or altered details.
Occasional Inaccuracies: There have been instances where users have encountered erroneous questions that could mislead or confuse them. Even when these inaccuracies were reported to the editorial team, there seemed to be limited action taken to address them. Furthermore, typographical errors have been spotted, reflecting a possible lack of thorough proofreading.
Surgent is the best CPA prep course for students looking to ace the CPA exam and start their careers the right way. The instructors are all highly qualified, and the entire course is backed by top-of-the-line adaptive learning technology, all packaged in a user-friendly and highly compatible format. If you need to prep quickly, choose Surgent.
---
Surgent CPA FAQ
Can I access Surgent CPA Review on a mobile device?
Yes! Surgent has designed all of their coursework to be compatible with a variety of mobile devices, whether they run Android or iOS. Furthermore, they have a companion mobile app with over 2,000 flashcards available on the Google Play Store and Apple's App Store. Unfortunately, these features are not compatible with E-Reader devices such as Nooks or Kindles.
How good are the instructors at Surgent CPA Review?
Technology aside, an educational prep course is only as good as its instructors. Fortunately, Surgent CPA Review has a fantastic team of experts with ample professional and educational experience to write and teach their CPA review courses. Because of this, Surgent boasts a student pass rate of nearly 90%!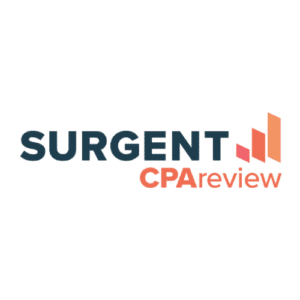 Take $740 Off Surgent CPA Ultimate Pass
186 uses today
Last Used: 7 hours

Take $700 Off Surgent CPA Ultimate Pass
uses today
Last Used: 5 hours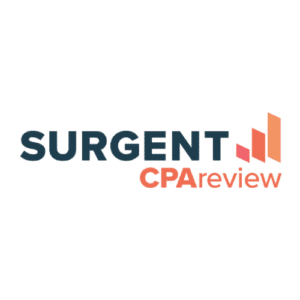 Take $1,000 Off Surgent CPA Ultimate Pass
87 uses today
Last Used: 12 hours
---
3. Gleim CPA Exam Review Course

Most Multiple-Choice Questions and Task-Based Simulations
Navigating the vast landscape of CPA exam preparations, our team has come to deeply appreciate the enduring legacy of Gleim CPA Review. Drawing on decades of trust, it's evident that countless candidates have turned to Gleim as their trusted ally, successfully conquering the AICPA's certification exam on their first attempt. Such longevity in the market speaks volumes – Gleim's CPA review courses are not just effective; they're a testament to commitment and quality.
So, what sets Gleim apart in our eyes?
First and foremost, Gleim boasts one of the most expansive test banks among all CPA exam course providers. Coupled with this, their comprehensive textbooks have become a hallmark, setting benchmarks in the industry.
But it's not all about the traditional. Gleim's offerings are far from monotonous. They've seamlessly integrated innovation into their approach, evidenced by their revamped CPA exam review course. Contemporary video and audio lectures not only enhance engagement but also empower candidates with tools to bookmark content and jot down insightful notes as they traverse through the lectures.
In essence, our team believes that Gleim strikes a harmonious balance between tried-and-true methodologies and modern-day innovations.
Navigating the vast landscape of CPA exam preparations, our team has come to deeply appreciate the enduring legacy of Gleim CPA Review. Drawing on decades of trust, it's evident that countless candidates have turned to Gleim as their trusted ally, successfully conquering the AICPA's certification exam on their first attempt. Such longevity in the market speaks volumes – Gleim's CPA review courses are not just effective; they're a testament to commitment and quality.
So, what sets Gleim apart in our eyes?
First and foremost, Gleim boasts one of the most expansive test banks among all CPA exam course providers. Coupled with this, their comprehensive textbooks have become a hallmark, setting benchmarks in the industry.
Gleim Features
Access Until You Pass® guarantee
10,000+ questions
Expert-led Gleim instruction videos
1,300+ task-based simulations
Guidance from personal Counselors
Digital and physical books
Accounting expert assistance
Access to private study groups
Audio lectures and digital flashcards
But it's not all about the traditional. Gleim's offerings are far from monotonous. They've seamlessly integrated innovation into their approach, evidenced by their revamped CPA exam review course. Contemporary video and audio lectures not only enhance engagement but also empower candidates with tools to bookmark content and jot down insightful notes as they traverse through the lectures.
In essence, our team believes that Gleim strikes a harmonious balance between tried-and-true methodologies and modern-day innovations.
Because it is so detailed and packed with CPA prep info, Gleim'scourse is ideal for candidates who have been out of school for a long time or international students.
Gleim Features:
Access to all six CPA Exam sections, Disciplines, and Core!
The unmatched "Access Until You Pass®" guarantee
All-new lecture videos led by seasoned educators
Endless support from a team of accounting specialists
A complimentary year of CPE as required
Gleim CPA Review Course Options
Topping their list is the Premium Pro package, priced at $3,499. Designed for those who seek nothing but the best, it offers unlimited access to a robust 100 hours of video content, a staggering 10,000+ MCQs, and 1,300+ TBS. Although it doesn't offer traditional live courses, it compensates with audio webinars. The package also includes two mock exams to test and solidify knowledge. The value addition of a private study group, printed textbooks, a money-back guarantee, and flashcards makes this package stand out as the ultimate choice for comprehensive exam preparation.
The Premium option, coming in at $2,999, is closely aligned with its Pro counterpart. It retains the unlimited access, 100-hour video library, and the impressive 10,000+ MCQs. However, it shifts gears slightly by not including certain Pro features, most notably the flashcards and printed textbooks. Nevertheless, it remains a solid choice, especially for those who might prefer digital over physical resources.
For those leaning towards a more traditional method and seeking a slightly leaner budget option, the Traditional package at $2,499 offers an 18-month access, 10,000+ MCQs, and one mock exam. Though it doesn't have video access, it does provide audio webinars, ensuring auditory learners are catered to. With printed textbooks included, it strikes a balance between the old-school and modern learning tools.
The Mega Bank package, available for $999, is geared towards those who desire extensive practice. It grants 18 months of access to the vast reservoir of 10,000+ MCQs. This package, however, omits video content and only provides printed textbooks, making it a fit for students who already have a strong foundation and are looking for extensive question practice.
Lastly, for those with very targeted needs or perhaps looking to supplement another course, the Single Course option at $599 allows for specialized focus.
To summarize, Gleim's structured and tiered approach ensures every CPA aspirant can find a course that aligns with their study habits, content needs, and budget constraints. Whether you're seeking a comprehensive experience or focused practice, Gleim has a tailored solution.
Pros:
Dedicated Support from Personal Counselors: Users are backed by Gleim's team of Personal Counselors – mentors who provide unwavering encouragement and support throughout the study journey. The platform's interactive study planner allows users to adjust the extent of support they receive and chart out their performance and study plans seamlessly.
In-depth Video Lectures with Gleim Instruct: With over 100 hours of comprehensive content, Gleim Instruct presents video lectures that delve deep into essential CPA Exam Blueprint topics. Led by a team of accounting experts, these videos not only guide users through significant topics but also demonstrate tackling exam questions effectively.
Extensive Question Bank: Gleim proudly houses the market's most expansive collection of unique and authentic sample problems. With 10,000+ Multiple-choice questions, 1,300+ Task-based simulations, and Written Communications, all accompanied by in-depth explanations, users can thoroughly equip themselves for the CPA Exam's diverse question types.
Mock Exams & Focused Final Review: Gleim offers eight exhaustive mock exams to evaluate knowledge and exam readiness, complete with predictive scoring to gauge expected exam day performance. As the exam approaches, students can leverage the Final Review Mode to hone weak areas and elevate their CPA Exam scores.
Cons:
Price Surge: Over a short span, Gleim's courses have seen a marked increase in their pricing. This sudden escalation can be a barrier for many students, especially those who are self-financing their CPA exam preparations. While investing in a comprehensive review course is crucial, the affordability factor can't be ignored.
Absence of a Mobile App: In today's digital age, where learners prefer on-the-go studying, the absence of a dedicated mobile app for Gleim's content can be a notable shortcoming. Mobile apps offer flexibility, allowing students to squeeze in study sessions during commutes, breaks, or other downtimes. Without this, students might feel a bit tethered to their desktops or laptops.
Gleim's CPA exam prep course has been around for a long time. They offer a bridge between old and new study techniques. If you learn best through audio lectures and physical textbooks alongside your video lectures and interactive schedules, Gleim CPA Review might be the best CPA review course for you.
Gleim CPA FAQ
Does Gleim offer physical or digital learning materials?
Actually, Gleim CPA review offers both! It doesn't matter which version of Gleim's CPA prep course you purchase since all three provide physical textbooks that are mailed to your location for CPA candidates who prefer traditional study techniques.
Do I have to pay for updates with Gleim CPA Review?
Gleim CPA review options provide updates to all of their material free of charge as part of their "Access Until You Pass" guarantee. This means that students will not only know that their material is always up-to-date, but they can take all the time they need to prepare for the CPA exam.
---
Gleim CPA Review Discounts & Promo Codes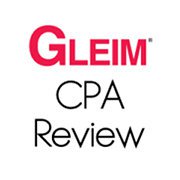 Save $1,400 On Gleim CPA Premium Pro
1 uses today
Last Used: 7 hours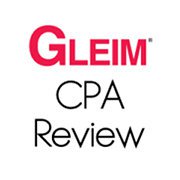 Take $460 Off Gleim CPA Premium Course
uses today
---
4. Lambers CPA Prep Course Review

Best for CPA Exam Retakers
Best for CPA Exam Retakers
Lambers CPA Review has a combination of video and audio lectures that helped them make our list of the best CPA review courses.
Many companies completely ignore audio as a study format in lieu of strengthening their video content instead. However, Lambers is well aware of how convenient an audio-only lecture is. This is especially true for students who have long commutes or like to exercise frequently.
Lambers CPA Review Course Options:
Lambers CPA has put forth two intriguing programs: the Lambers Enhanced Test Prep at $999 and the more streamlined Single Course option priced at $250. However, one hurdle our team encountered is the clarity regarding package inclusions. Unfortunately, precise details about what each package offers aren't readily accessible on their website, which can pose a challenge for potential candidates trying to gauge the best fit for their study needs.
Furthermore, there are fewer firsthand experiences circulating about Lambers compared to some other heavyweights in the CPA review space. This makes anecdotal evaluations a bit sparse. Despite these nuances, we continue to recommend Lambers. The reasons for our endorsement are anchored in the notable advantages we'll outline below.
Pros:
Established Legacy with Proven Results: Founded in 1966, Lambers CPA Review boasts a rich history, having guided over 250,000 candidates to CPA Exam success. With its origins as New England's premier live instruction program, Lambers has transitioned seamlessly to offer its renowned methodology online and on-demand.
Three-Mode Testing Methodology: Lambers employs a unique three-tiered testing approach. It begins with the 'Pre-Test Mode' to assess initial knowledge, progresses to the 'Adaptive Mode' for targeted learning, and culminates with the 'Simulated Mode' to mirror the real exam conditions. This ensures candidates are both knowledgeable and exam-ready.
Targeted and Effective Test Prep: Lambers prides itself on a focused curriculum. Instead of overwhelming students with countless questions, it zeroes in on what's essential for exam success. The approach is not just about quantity but quality, making Lambers a complementary tool to other course materials and a smart choice for those aiming for CPA success.
Cons:
Outdated Digital Infrastructure: Users often find the Lambers website to be slow-loading, outdated in its design, and occasionally glitchy. This can sometimes hinder a smooth study experience and create frustration for those relying on online materials.
Limited Modern Tools: While Lambers has an extensive history, it appears to lag behind some newer CPA review courses in terms of integrating cutting-edge learning tools, interactive elements, and gamification.
Lambers offers a unique mix of video and audio lectures, ideal for on-the-go learners. With over 90 hours of segmented video content and a course guarantee, it has its strengths. However, the lack of modern resources like blueprints, textbooks, and flashcards, combined with an outdated feel, may deter some students. Consider the trade-offs before committing.
Lambers CPA FAQ
How often does Lambers CPA Review update?
Once installed, the software for Lambers CPA review will update automatically when changes are made to the exam. These updates will be free to all enrolled students for one year; however, after this period, they will need to pay a renewal fee to continue receiving them.
Does Lambers CPA Review have a mobile app?
Unfortunately, Lambers doesn't include any kind of mobile app or dedicated mobile support for any of their CPA prep courses. However, students who prefer studying on mobile can work around this limitation by listening to the audio lectures on their smartphone or tablet, in addition to the video lectures, with a bit more effort.
---
5. Yaeger CPA Review Study Materials

Best for Affordability
Best for Affordability
Yaeger CPA Review is a company that prides itself on providing great customer support. If you purchase a Yaeger course, you will be able to contact one of the presenters almost any time of the day.
Additionally, you will actually be able to communicate with the lecturers and presenters themselves. You can call their hotline and speak to any one of them about your questions, and they will help you understand the materials.
Aside from their next-level customer assistance, Yaeger offers a full premium review course with very easy-to-follow lectures. There are several presenters that explain topics in great detail, so you can follow along and take notes.
The instructors also review hundreds of multiple-choice practice questions in the lectures, so you can follow along with them.
Here are the features of Yaeger that really help them stand out:
Online textbook with video sync, audio lectures, and digital books
Access to test bank, quizzes, and exams
One 15-minute phone call with Phil Yaeger to set up a personal study plan
Another 15-minute phone call with Phil Yaeger to review progress
Access to the Yaeger Instructor Hotline
Yaeger CPA Course Options:
Yaeger CPA Review is a noteworthy name in the realm of CPA exam preparation. Their primary offering, the Yaeger CPA Review course, is priced at $1,237. This package provides candidates with 24 months of access, but for those who might need a bit more time, there's the convenience of a one-year extension option for an additional $99. Students can delve into an impressive 120 hours of video content, ensuring a comprehensive understanding of the curriculum. While the course does not come with physical textbooks, it compensates with PDF versions, allowing for easy access and portability.
For candidates seeking a more targeted study experience, the Single Course option is available at $337, providing 24 months of access. This package is ideal for those who might be looking to focus on a specific section of the CPA exam or to supplement their primary study materials.
Pros:
Blueprint-Centric Approach: In 2017, the CPA Exam shifted from vague content specifications to detailed blueprints, and Yaeger adapted swiftly. They are among the few to craft their materials based solely on these blueprints, ensuring students are studying precisely what will be tested. This approach emphasizes understanding over rote memorization, guiding students to approach the exam with clarity and confidence.
Personalized Support and Affordability: Yaeger prioritizes its students above all else, offering unparalleled support. Whether it's for clarifying doubts, motivation, or even venting frustrations, Phil Yaeger prefers direct phone or Zoom conversations over emails, ensuring genuine understanding. Additionally, Yaeger provides flexible payment plans, making their high-quality resources more accessible to a broader range of students.
Cons:
24-Month Limited Access: One of the considerations when opting for Yaeger CPA Review is the 24-month access duration. For some candidates, especially those who might be juggling multiple commitments or prefer a more relaxed pace, this time frame might feel constraining. However, it's worth noting that there's an option to extend access for another year at an additional cost, providing some flexibility for those unforeseen circumstances.
Lectures Move Really Fast: Some of our team members found that Yaeger's lectures tend to move at a brisk pace. This speed can be challenging for students who prefer taking their time to digest complex topics or those who appreciate frequent pauses for in-depth explanations. It's a reminder that while the content is comprehensive, the pace might require some to frequently hit the pause or rewind button to ensure full comprehension.
No In-Person/Live Classes: In today's digital era, many are comfortable with online learning. However, the absence of in-person or live class options in Yaeger's offerings might be a drawback for those who thrive on real-time interaction, live Q&A, and the traditional classroom environment. For such candidates, it's essential to weigh the benefits of online convenience against the value of face-to-face instruction
Yaeger has carved out a niche in the CPA prep world with its focused content. However, its 24-month access, speedy lecture pace, and absence of live classes could be limiting for some. Despite these considerations, many appreciate the depth and clarity of their materials, making it a viable option for a specific segment of CPA candidates.
Yaeger CPA FAQ
Does Yaeger offer physical CPA study materials?
Yaeger CPA Review's textbook is available in physical and digital formats. Their flashcards are also offered in physical format as well as digital; however, the rest of their CPA exam prep materials and study tools are only available in a digital version.
Does Yaeger offer financing?
In the past, Yaeger has offered students the ability to pay their enrollment fees in installments as a form of financial aid. However, currently, the closest thing that Yaeger CPA Review provides to a financing plan is the ability to pass smaller prices for separate portions of their review course that focus on one of the four exam sections (FAR, BEC, REG, and AUD).
---
6. UWorld Roger CPA Review Test Prep

Best for Engaging Content
Best for Engaging Content
Roger Phillips, your Roger CPA personal counselor, is notorious for his flashy and flamboyant lecture style that keeps candidates' attention and focus. So, if you think you'll get bored with traditional accounting lectures and want something a little more entertaining and eye-catching, UWorld Roger CPA is a good choice for you.
This prep course is developed around the Roger Method of self-study learning, where candidates watch his lectures, read the text-based materials, and practice the review questions. It includes more than 6,000 review questions in addition to tons of unique mnemonic techniques and strategies.
Best of all is how well these different techniques work with the rest of UWorld's study materials, including the use of SmartPath predictive technology to create an optimized study schedule for each student.
Here's a recap of the features of UWorld Roger CPA review courses:
100+ hours of video lectures
Digital textbooks and flashcards
Hundreds of task-based simulations
Customizable quizzes
Unlimited full-length practice exams
Curriculum that maps to the AICPA blueprints
Browsing through the annals of Reddit, it's evident that Roger CPA Review, now part of UWorld, has garnered a legion of advocates. Many users have enthusiastically shared their success stories, crediting Roger CPA for their first-time pass. The dynamic and engaging teaching style resonates with a significant segment of CPA aspirants.
Intriguingly, there's also a subset of Redditors who turned to Roger after facing setbacks with other programs. For these individuals, the switch proved transformative, as they were able to conquer the exam. The collective sentiment suggests that Roger CPA Review holds a unique edge in guiding a diverse range of students to success.
Want to know more about this CPA option? Check out the UWorld Roger pros and cons below.
Pros:
Active Learning Methodology: UWorld emphasizes a "learn by doing" approach, allowing students to retain over 70% of the information needed for the CPA Exam, compared to a mere 30% through conventional methods. They achieve this by focusing on both the quantity and quality of questions, ensuring students practice with around 6,000-7,000 high-caliber CPA questions that are highly reflective of the CPA Exam concepts.
Comprehensive Feedback: Their focus on quality is evident in their answer explanations. Every question comes with a thorough yet succinct explanation, inclusive of educational illustrations, reasonings for each answer option, and concise summaries. This ensures that students understand not just the "what", but also the "why" and "how" behind every question.
Cons:
Price Considerations: While UWorld Roger CPA Review offers an expansive array of resources and has garnered praise for its effectiveness, its pricing can be a point of contention for some candidates. Especially when compared to some other market offerings, the cost of their premium packages might be prohibitive for students on a tighter budget. Although the depth and quality of the content can justify the price for many, it's essential for potential users to weigh the financial commitment against the perceived value and their personal budget constraints.
Adapting to Constant Changes: Another aspect to consider is the frequent updates and changes within the UWorld Roger platform. While it's commendable that they strive to stay abreast of the latest in CPA exam content and trends, the continuous evolution can be disorienting for some users. Candidates might find themselves having to adapt to new formats, features, or content presentation styles, potentially disrupting their study flow. Consistency is key for many during their preparation phase, and these changes, although well-intended, can pose challenges.
Digital Limitations: Though the digital age has brought about many conveniences, some users have expressed a preference for physical study materials. UWorld Roger heavily leans towards digital offerings, which, while environmentally friendly and easily updated, might not cater to those who find better retention with printed textbooks and flashcards. The tactile experience of highlighting, annotating, and flipping through pages is something that a segment of learners might miss in this predominantly digital suite.
UWorld Roger CPA Review Course Options
UWorld Roger CPA Review presents a robust suite of course options tailored to cater to a range of study preferences and budget considerations. At the pinnacle of their offerings is the Elite Unlimited + package, priced at $4,099 (with a promotional price of $2,699). This comprehensive package offers unlimited access to a vast library of resources, including 100 hours of video lectures, 6,000 multiple-choice questions, and digital flashcards. What sets it apart is the Money-Back guarantee, ensuring candidates' confidence in their investment.
A step down is the Elite Unlimited option, with a price tag of $3,899 (and a promotional rate of $1,999). Like its superior counterpart, this package boasts unlimited access, 100 hours of videos, and 6,000 MCQs. However, it excludes the money-back guarantee, making it a slightly more economical choice without that added assurance.
The Premier package, priced at $3,499 ($1,799 on promotion), offers 18 months of access. While it maintains the 100-hour video content and 6,000 MCQs, it forgoes some of the added perks available in the Elite tiers.
Lastly, for those looking for more targeted study resources, the Single course option ranges from $899 to $999 (with promotional prices between $599 to $699). This package is ideal for candidates focusing on specific sections of the CPA exam.
UWorld is a breath of fresh air for struggling CPA candidates. Thanks to a unique teaching style, a conveniently designed course interface, and rapid response times for any customer concerns, UWorld Roger CPA Review is a strong offering for anyone looking to pass their exams with flying colors! Just keep in mind that some of their written materials are lackluster and offers are time-sensitive.
UWorld Roger CPA Review Discounts & Promo Codes
Roger CPA FAQ
What if I experience problems while using UWorld Roger CPA Review?
In the rare event that you run into an issue with the curriculum or the service itself, there are a few ways of contacting and receiving support. UWorld Roger CPA Review guarantees Elite-Unlimited students a response time from a real CPA within a 24-hour window. Alternatively, students with Premier or Single packages can review previously asked questions on their Study Hub.
How long can I access UWorld Roger's study materials?
The access period for each student enrolled in UWorld Roger CPA review courses depends on the package that they purchase. The most affordable tier provides 12 months of access, the Premier tier offers 18 months, and the Elite tier of Roger CPA review course is unlimited. So, if you choose the Elite option, you'll have access to your study materials as long as you need them.
---
While Wiley was once among our top recommendations for CPA prep, its recent acquisition by UWorld casts uncertainty on its future. Given the potential for it to be phased out post-merger, we can't confidently recommend Wiley at this time.
7. Wiley CPA Exam Prep Review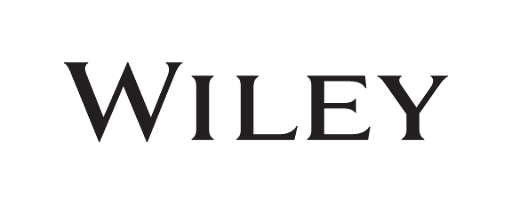 Best for Students with Busy Schedules
Best for Students with Busy Schedules
Do tight schedules and demanding commitments dominate your life? If so, Wiley has historically been a prime solution for those seeking a self-study course with a significant emphasis on video content.
With a mission rooted in over two centuries of dedication, Wiley has consistently aimed to champion the success of accounting and finance students, irrespective of their stage in education or career.
The highlights of Wiley's course offerings include:
Over 2,200 pages of digital CPA exam study materials
A whopping 20,000+ test questions and simulations
Access to collaborative peer study groups
Round-the-clock customer support
One of Wiley's standout features is its user-friendly exam planner. It not only aids in maintaining focus throughout prolonged study periods but also offers a clear gauge of exam readiness.
Flexibility is a cornerstone of Wiley's approach. The course tailors its syllabus based on your availability, adjusting seamlessly to accommodate work or school commitments. Entrusting Wiley means relinquishing the stress of scheduling; they've got it covered.
Diving deeper, Wiley's inbuilt score predictor stands out. By analyzing data from your course performance, it forecasts a potential exam score range. However, to ensure precision, this projection isn't available until you hit specific course completion milestones. In essence, Wiley takes the guesswork out of gauging your standing, offering clarity on your likelihood of passing the CPA exam.
Pros:
Expansive Test Bank: One of the standout advantages of Wiley CPA is its impressive 10,000-question CPA test bank. This vast reservoir of questions ensures that students have ample opportunities to practice, familiarize themselves with a variety of question types, and reinforce their knowledge across all CPA exam sections.
Generous Free Trial: For individuals still deliberating about their best fit for CPA exam prep, Wiley CPA offers a 14-day free trial. This trial period is perfect for those on the fence, as it allows prospective students to get a firsthand experience of the platform's offerings, ensuring they make an informed decision about their CPA review course investment.
Cons:
Coverage Gaps: There have been instances where Wiley CPA seems to overlook certain critical subject areas. This oversight could potentially leave students unprepared for some segments of the exam.
Requires Supplementation: While Wiley offers a comprehensive review, some students find that they often need to supplement their study with additional resources to ensure they cover all exam areas adequately.
Textbook Integration Issues: One of the challenges with Wiley CPA is that their textbooks aren't seamlessly integrated with their other review materials. This can make it a bit disjointed for learners trying to correlate content across different study tools.
Uncertainty Due to Merger: With the recent merger and consolidation of products, there's an air of uncertainty surrounding Wiley CPA. Changes brought about by such mergers can be unsettling for current and prospective students as they may influence the course content, structure, or support.
Wiley's CPA course is an excellent choice for anyone looking for a flexible option to fit their busy schedule. What and when you learn is based on your current level and your availability, and the predictive score ensures that you can take the exam as soon as you're ready. However, their recent sell-out to UWorld takes away our confidence in the brand and leads us to recommend other CPA prep programs instead. 
Wiley CPA FAQ
Does Wiley CPA let me connect with other students or my teachers?
Yes! Wiley Efficient Learning offers several avenues for you to ask questions and learn extra information. The first is the ask-an-instructor feature; you're guaranteed a response within 24 hours to any questions you may have about the course. Alternatively, you can check out Wiley's online forum to see what other CPA candidates have asked about Wiley CPA Review.
How long will I have access to Wiley CPA Review Course?
You'll be able to access course materials until you've passed the exam. Unlike other CPA review courses, Wiley CPA doesn't attach any strings to this guarantee. They will never cut you off from this course, no matter how long it takes you to prepare. Six months, one year, or two–Wiley is there for you. If it's still around.
---
Best CPA Review Course Comparisons: Head To Head
With so many CPA courses on the market, it can be tough to pick the best one for you. Luckily for you, I've compared the strengths and weaknesses of some of them to make picking easier.
Now that you know the basics about each of the top CPA courses, let's compare them to each other!
Becker CPA Review vs Wiley CPA Review
Becker CPA Review is built around giving you a customized and flexible studying experience. It does this via its study planner and study roadmap tools. Using these will give you a flexible and competitive study experience.
Alternatively, Wiley CPA has built their courses for studying in short bursts. Lectures are designed to be short enough that you can listen to them during break times at work. Each lecture ranges from thirty to forty-five minutes.
While both courses are good in their own way, Becker has the better overall package. So, if you want the best possible set of CPA study tools, Becker it is!
---
Becker CPA Review vs. Surgent CPA Revie
Becker CPA and Surgent CPA review courses both have a very important feature; their use of technology. Even though Becker offers a useful mobile app, Surgent's course is designed to be much more intuitive. Their short video lectures and dashboard are both designed to be as straightforward as possible.
Not only are Becker discount codes frequently lower than Surgent, they offer more to justify the cost. Whether you're interested in print textbooks, final review, or just a huge bank of practice questions, this is the better option of the two.
rgent's course is designed to be much more intuitive. Their short video lectures and dashboard are both designed to be as straightforward as possible.
Not only are Becker discount codes frequently lower than Surgent, they offer more to justify the cost. Whether you're interested in print textbooks, final review, or just a huge bank of practice questions, this is the better option of the two.
---
Becker CPA Review versus UWorld Roger CPA Review
UWorld Roger and Becker CPA Review both approach teaching in very different ways. Becker's online CPA program offers a wide range of qualified professionals and a massive support team, while Roger's courses and lectures focus on just one instructor: Roger himself. This is done so that students will always work with the same teacher, making the course feel like a real life college course. All of Roger Philip's lectures are engaging thanks to his excited and involved delivery. While he is a great teacher, I actually prefer seeing different styles of teaching from Becker's variety of teaching.
Roger is a good option at a lower price tag, but if you can afford Becker I would recommend choosing them due to their high quality study material.
---
Gleim CPA Review vs. Wiley CPA CPA Review
Wiley CPA and Gleim CPA Review both offer a wide range of exam content. Gleim and Wiley each offer massive amounts of test questions. Additionally, Wiley's questions come directly from old CPA exams so you can be sure what you're seeing is what will be on the test. On the other hand, Gleim's question types are more varied and can appear as MCQ tests, true/false questions, or task-based simulations.
Unfortunately, Gleim's CPA review books tend to be pretty unwelcoming to beginners. This is due to their books being filled with technical jargon that may lead to information overload. Still, Gleim offers the largest bank of practice questions and TBS out of any course provider, giving them the win.
---
Top-Rated Supplemental CPA Review Study Materials
Although all of the courses that we listed above are great, sometimes the course that is right for you doesn't have one key feature that you wish it included. Don't worry. There are a ton of different supplemental study materials that you can use to add on to your CPA prep course to make sure it has everything you need to pass. The most popular supplements are test banks, mobile apps, flashcards, cram courses, and audio lectures.
Let's talk about each of these and look at why you should consider buying them. Keep in mind that purchasing supplements from a company other than your main review course can be a good thing. As a result, it gives you a different perspective and a better variety of materials.
---
Best CPA Review Test Bank
Practicing multiple-choice questions is the best way to study for the CPA exam by far. It helps you understand the topics and practice taking the test at the same time. Nothing is better than that. So, if you are going to get any supplemental study materials, getting an additional CPA test bank should be your first choice.
Gleim CPA Review Test Bank
The Gleim test bank has long been hailed as the top-rated test bank in the industry. It includes more than 13,500 multiple-choice questions and task-based simulations. Because the Gleim authors write detailed and in-depth solutions to each question, you understand what you got wrong. This Gleim CPA Megabank is a perfect add-on to any full-length review course.
---
Best CPA Exam Study Flashcards
Flashcards are a great way to memorize topics and concepts. They are especially useful for definitions and tax code questions. Most of the CPA review courses above include a set of digital flashcards, but not all of them include a physical printed set. Don't worry; you have several different options for printed flashcards.
Becker CPA Review Printed Flashcards
Becker offers a set of flashcards, but they only come in digital format unless you enroll in their Pro package. If you're interested in physical flashcards, it's not a bad idea to sign up for this course since it also includes countless additional benefits.
UWorld Roger CPA Review Printed Flashcards
The UWorld Roger CPA flashcard set includes a little less than some other courses, but it's also a little cheaper. It includes 200 cards for each section utilizing Roger's unique mnemonics and memorization strategies. Most of the cards have either a term or mnemonic on the front and a definition or description on the back.
---
Best CPA Review Mobile App
Unfortunately, not all of the top review courses offer a mobile app that allows you study on your phone on the go. This isn't a big deal though, because you can always get an app from a different company that provides one. Here are your options.
Becker CPA Review Mobile App
Becker offers the best mobile experience for CPA candidates thanks to not one but two mobile apps. Their first app is a companion to their review course, which will allow you to watch lectures and work with your flashcards.
The second app Becker provides its students is a game: Accounting for Empires. This is a unique way to prepare for the exam since it teaches you while also being a fun mobile game. You're not going to find anything like this from any other company on this list!
Surgent CPA Review Mobile App
Surgent has grown quite a bit in the last few years offering a ton of new study products. They just came out with a full CPA mobile app that rivals Roger's very closely. It includes over 2,200 and it's FREE
---
Best CPA Cram Course and Final Review Materials
A few of the different review companies offer cram courses and final review products, but only one actually offers it as a stand alone option.
UWorld Roger CPA Review Cram Course
The UWorld Roger CPA cram course is meant to be used as a final study guide during the last two weeks leading up to your exam day. It covers all of the key topics on the exam and should refresh your memory on some things you may have forgotten along the way. It includes full length lectures and textbooks.
Lambers CPA Review
Since you can easily pick up study materials for one or two sections of the CPA exam without paying very much, Lambers offers an extremely helpful resource for final review. If you want to test yourself in a specific exam section, this is an option that's worth your consideration.
---
Best CPA Exam Audio Lectures
Audio lectures are great for people who have a long commute to work or who like to exercise. You can listen to a lecture while working on something else. Here's a few options for stand alone CPA audio lectures.
Yaeger Audio CPA Review
Yaeger CPA audio lectures are detailed and more in depth than most. They are kind of dry, but very informative. These are great for people who want to know every detail about a topic.
---
Methodology: How We Find the Best CPA Review Course
One of the most important aspects of a course is how much it has to offer. Every course has practice exams, video lessons, and study notes. But seeing exactly how much of each material is on offer shows us which providers have put in the work to make a great course. 
Of course, that doesn't mean smaller courses are low quality; this is just a natural starting point when assessing each CPA course.
Next, we check out the quality of each material type. There's no point in completing 1,000 practice problems if each one is poorly written or structured. At this point, we're seeing how effective the learning tools truly are— which is the most important aspect of each prep course.
After that, we see how well each section of the course prepares you for the respective part of the CPA exam. For example, one course may have excellent content for individual parts such as Auditing and Attestation (AUD), but we'll lower their ranking if they struggle with the other sections.
After checking everything else, we finally assessed the formats and teaching styles included in the course. Many providers focus on video lessons but fewer include audio content or offline materials. These are great bonuses for any student preparing for the CPA exam, so we tend to rank courses that cover multiple formats and styles higher.
---
Common CPA Exam Questions
What is the cheapest CPA prep course?
The least expensive CPA study materials that include printed textbooks are Gleim and Yaeger. Both of these courses start at around $1,000 after applying these exclusive discount codes.
Which CPA prep course is best for college students? 
A lot of college students and grads ask which course is best for them since they are freshly out of school. Keep in mind that there is not such thing as "the best" course. The most important thing about picking a course is finding one that fits your learning style. You should try out each course you are interested in by taking advantage of free trial offers. Test them out and see which one you like the best. I'd recommend looking into Becker CPA Review and Surgent CPA Review first.
What is the best CPA review course for audio, video, and digital materials? 
Lambers CPA Review is the ideal exam prep course for a student who wants video, audio, digital, and physical materials all at the same time.
What is the overall best CPA prep course?
There are several CPA review study materials on the market that all claim to be the industry's most elite and top-rated CPA review course. Consequently, it's important to look at each one before you make a decision. All of the CPA review courses on the market are designed with different kinds of learning technology and study plans; consequently, these varied CPA review courses can help students with a wide range of learning styles. That said, our top recommended course is Becker CPA. They have a comprehensive course with many different kinds of study materials, which keeps your study routine interesting and engaging. They also offer two mobile apps, tons of flashcards, a great pass guarantee, and financing.
Is the CPA exam hard?
Although some sections of the 4-part CPA exam are easier than others, all of them are notoriously difficult. On average, roughly 50 percent of people who take the exam earn a passing grade. Find out how to pass on the first try here. 
How do I apply for the CPA exam?
The application process is somewhat difficult and lengthy in many states. First, you will need to submit your college transcripts along with your application to the state board of accountancy. After you submit all the necessary documents and your application is approved, you will be able to schedule your exam date with a testing center. We advise you to contact your state board for more information about this process as well.
Which CPA Exam Section Should I Take First?
This is a common question that many CPA candidates have because they want to make sure they take all the sections in the "right" order. The truth is, there isn't a correct order to take the exam parts. You should focus on completing the exam sections that you feel most confident with first and then move on to the ones that you need to work on more. Read more about which exam section to take first here: https://www.ais-cpa.com/first-cpa-exam-section/
How Do I Become a CPA?
There are numerous steps that you need to go through in order to become a Certified Public Accountant. The first is to fulfill the educational requirements. Every state has slightly different requirements, so it's a good idea to check with your state board before you being your CPA journey. After you educational requirements are met, you can sit for the exam. Once you pass all four sections and take the ethics test, you can finish your work experience requirements and call yourself a CPA!
Why Should I Become a CPA?
This is a good question because it's important to understand what you are shooting for in order to stay motivated during the process. Certified Public Accountants typically earn more than $1,000,000 more than their non-certified counterparts. This increase in pay also comes with more attractive jobs and career paths as well.
Read More About Why You Should Become a CPA.
How Long Should I Study for the CPA Exam?
This is an interesting question because it depends on your understanding of accounting topics and the concepts covered on the exam. The general rule is that you should study about 80-100 hours for each section of the exam. This might be overkill for some candidates. It might not be enough time for others. The best thing you can do is work through your CPA study materials and see where it takes you. If you get through the materials before you reach the 80 hour mark, good for you!
What Are the CPA Exam Requirements in My State?
Every state has different requirements to sit for the exam and obtain your license. The two best places to contact for specific details about your requirements is your state board of accountancy and your state CPA society. Both organizations will be able to answer all the questions you have about the requirements you need to become a CPA.
CPA Exam Qualifications and Eligibility Requirements
Should I Take Multiple CPA Exam Sections in the Same Testing Window?
There is nothing wrong with taking more than one exam section in the same testing window. You just need to make sure you adequately prepare yourself for each section. Many candidates try to take on too many things at once and end up failing all of them because they didn't give themselves enough time. If you are going to take more than one section in a single testing window, it would be wise to schedule them at either end. Take one at the beginning and one at the end. This way you will have enough time to properly recover from the first and prepare for the second.
Read More About the CPA Exam Schedule
---
How Do I Apply for the CPA Exam?
Make Sure You Are Eligible

Send In All Official Transcripts to Your State Board

Submit CPA Exam Application and Fees

Obtain Your Authorization to Test (ATT)

Obtain Your Notice to Schedule (NTS)

Schedule Your Exam

Pass the Exam
Wiley CPA vs Roger vs Gleim vs Becker vs Yaeger vs Surgent vs Lambers
Best CPA Course Coupon Codes & Discounts
If you're looking for great deal on your CPA exam prep materials, you've come to the right place! Check out our list below of our top-rated CPA review course discounts, as well as some excellent CPA prep promo codes, to help you save money while studying. Keep an eye out for promotions with companies like Surgent, Becker, Gleim and more!
My Suggestions
Rushed for time? TL;DR? Do you just want to know which course is the best for you based on a one-sentence summary? Then take a look below for our ideal student suggestions!
Becker CPA Review

is the ideal exam prep course for a student who wants to learn with material endorsed by the top accounting firms in the industry and those who want to invest in premium packages.

Surgent CPA Review

is the ideal exam prep course for a student who wants to learn as fast as possible with the most advanced technology.

UWorld Roger CPA Review

is the ideal exam prep course for a student who wants to learn with the most high-quality, engaging, and entertaining video content

Gleim CPA Review

is the ideal exam prep course for a student who wants to learn with a physical textbook that they can write notes in.

Yaeger CPA Review

is the ideal exam prep course for a student who wants to have convenient and instant access to instructors for extra help.

Lambers CPA Review

is the ideal exam prep course for a student who wants video, audio, digital, and physical materials all at the same time.