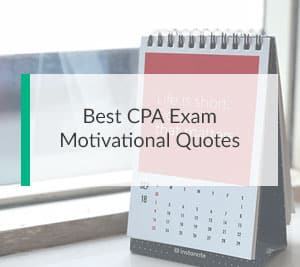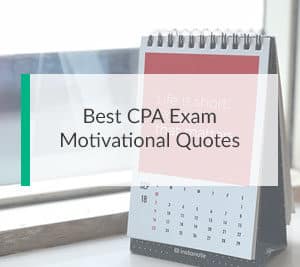 Studying for the CPA exam is challenging. Sometimes you get stuck in a rut and start questioning your ability to pass the CPA exam. Or worse, you start asking yourself why you even started this journey to begin with. We've all been there before. Don't get discouraged. All you need is a little pick-me-up and a motivational boost.
Here are some inspirational and motivational quotes to get you inspired and some of the best motivational songs for studying.
CPA Exam Motivational Quotes
You have to learn the rules of the game. And then you have to play better than anyone else. -Albert Einstein
Of course it's hard.  If it were easy, everyone would do it.  It's the hard that makes it great. -Tom Hanks
Our greatest glory is not in never falling, but in rising every time we fall. -Confucius
The difference between a successful person and other is not a lack of strength, not a lack of knowledge, but rather a lack of will. -Vince Lombardi
Today I will do what others won't, so tomorrow I can accomplish what others can't. -Jerry Rice
One of the most common causes of failure is the habit of quitting when one is overtaken by temporary defeat. -Napoleon Hill
Work until your idols become your rivals. -Drake
In order to succeed, we must first believe we that we can. -Nikos Kazantzakis
The way to get started is to quit talking and begin doing. -Walt Disney
The secret of getting ahead is getting started. -Mark Twain
Motivation is what gets you started. Habit is what keeps you going. -Jim Rohn
To hell with circumstances. I create opportunities. -Bruce Lee
It isn't the mountains ahead to climb that wear you out; it's the pebble in your shoe. -Muhammad Ali
---
Get Discounts On CPA Review Courses!
---
Best Motivational Songs for Studying
Yes, I already know these are really cheesy. You have to admit that they are pretty motivational though. 🙂
1) Rocky Theme Song
Trying hard now
It's so hard now
Trying hard now
Getting strong now
Won't be long now
Getting strong now
Gonna fly now
Flying high now
Gonna fly, fly, fly…
---
2) Eye of the Tiger – Survivor
Rising up, back on the street
Did my time, took my chances
Went the distance, now I'm back on my feet
Just a man and his will to survive
Survivor - Eye Of The Tiger (Official HD Video)
---
3) Lose Yourself – Eminem
You better lose yourself in the music, the moment
You own it, you better never let it go
You only get one shot, do not miss your chance to blow
This opportunity comes once in a lifetime you better
Eminem - Lose Yourself (Official Music Video)
---
4) Not Afraid – Eminem
I'm not afraid (I'm not afraid)
To take a stand (to take a stand)
Everybody (everybody)
Come take my hand (come take my hand)
We'll walk this road together, through the storm
Whatever weather, cold or warm
Just letting you know that you're not alone
Holler if you feel like you've been down the same road (same road)
---
5) Happy – Pharrell Williams
Here come bad news, talking this and that (Yeah!)
Well, give me all you got, don't hold it back (Yeah!)
Well, I should probably warn ya, I'll be just fine (Yeah!)
No offense to you, don't waste your time
Here's why…
Because I'm happy
Pharrell Williams - Happy (Official Music Video)
---
6) Fireworks – Katy Perry
'Cause baby, you're a firework
Come on show them what you're worth
Make them go, "Oh, oh, oh"
As you shoot across the sky
Baby, you're a firework
Come on let your colors burst
Make them go, "Oh, oh, oh"
You're gonna leave before they know
Katy Perry - Firework (Official Music Video)
---
7) Beat it – Michael Jackson
Just beat it, beat it, beat it, beat it
No one wants to be defeated
Showin' how funky and strong is your fight
It doesn't matter who's wrong or right
Just beat it, beat it
Michael Jackson - Beat It (Official 4K Video)
8) Stronger – Kelly Clarkson
What doesn't kill you makes you stronger
Stand a little taller
Doesn't mean I'm lonely when I'm alone
What doesn't kill you makes a fighter
Footsteps even lighter
Doesn't mean I'm over cause you're gone
Kelly Clarkson - Stronger (What Doesn't Kill You) [Official Video]
---
Do you have a favorite motivational quote or song? Leave it in the comments. Let stay motivated together!