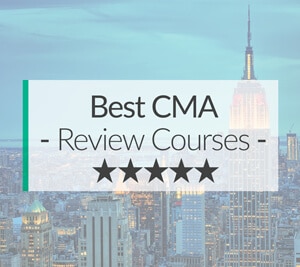 Deciding on the best CMA review course & study materials that will help you pass the Certified Management Accounting exam and become a CMA in the shortest amount of time possible isn't that easy. There are a few different companies that make CMA prep courses and, believe it or not, all of them boast their study materials to be the best. How are you supposed to differentiate between them all and decide on one?
Well, the first thing that you have to know is that there isn't just one "best" CMA study guide. All of the courses have their own benefits and drawbacks that work for some people and not for others. The important thing is that you check out each of the best CMA study materials to see which one will work for you.
Everyone is different. We all learn differently and different ways of staying focused while we study. Some strategies work well for some people and not for others. It's important to find a study guide that matches your learning style and will help you stay focused. You will most likely end up spending over 100 hours preparing for the Certified Management Accountant exam. The last thing you want is a review course that will add study time to your schedule instead of speeding it up. You want a study guide that will help you learn faster—not hold you back.
That's why I've reviewed all of the top-rated CMA study guides. I wanted you to be able to look at each one and understand which fits your learning style, study schedule, and most of all, your budget. I review the study text, video lectures, and all of the features of each course, so you will be able to see all of the benefits and drawbacks.
---
The Top 5 Best CMA Exam Prep Course and Study Materials of 2019 [Updated: 07/19/19]: