It can be tough to choose the right CMA prep course. There are so many choices and each of them claims to be "the best". How do you know which one really is the best?
I looked at 2 of the most popular CMA prep courses currently available for students. By comparing the strengths and weaknesses of each course, I can help you determine which of them is the best choice for your study needs.
Becker and Gleim's courses differ from each other in a few key areas. Keep reading to learn more:
---
Price
The first thing any student needs to consider is the price of each course. Obviously this isn't the main deciding factor. However, it's still handy to know what the cost of each course is when choosing which one to sign up for.
Becker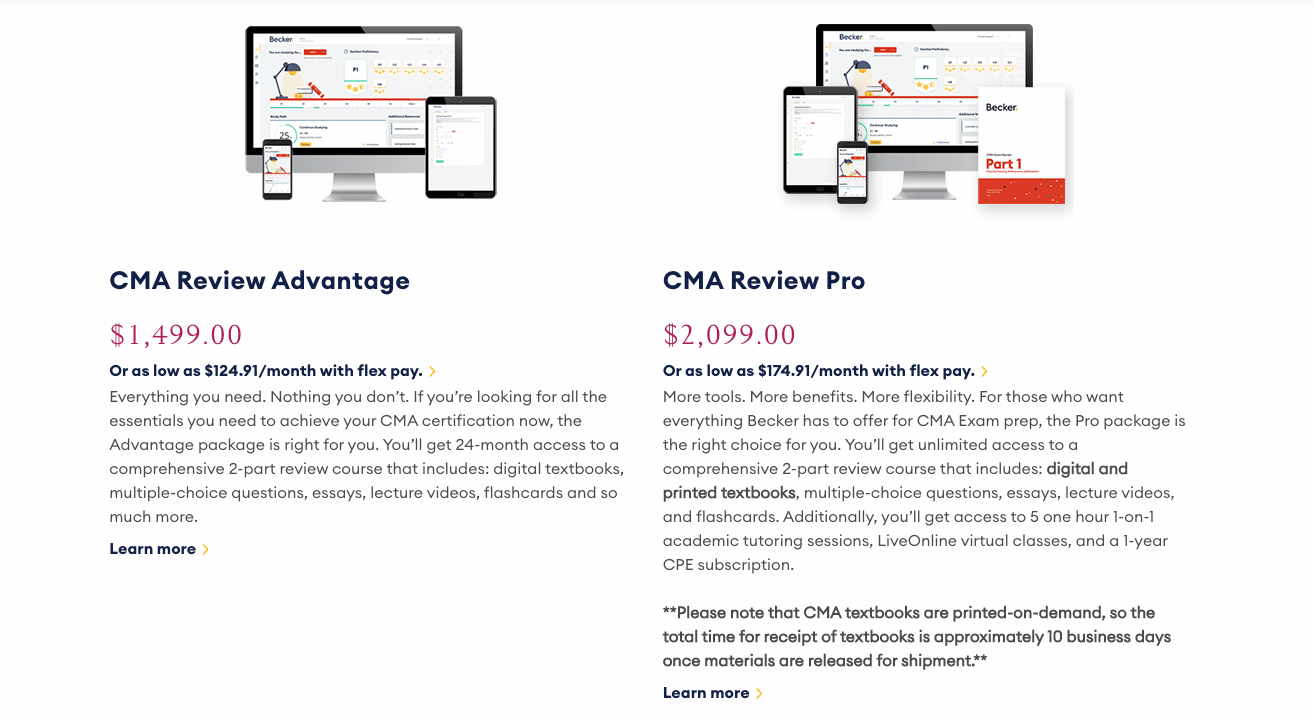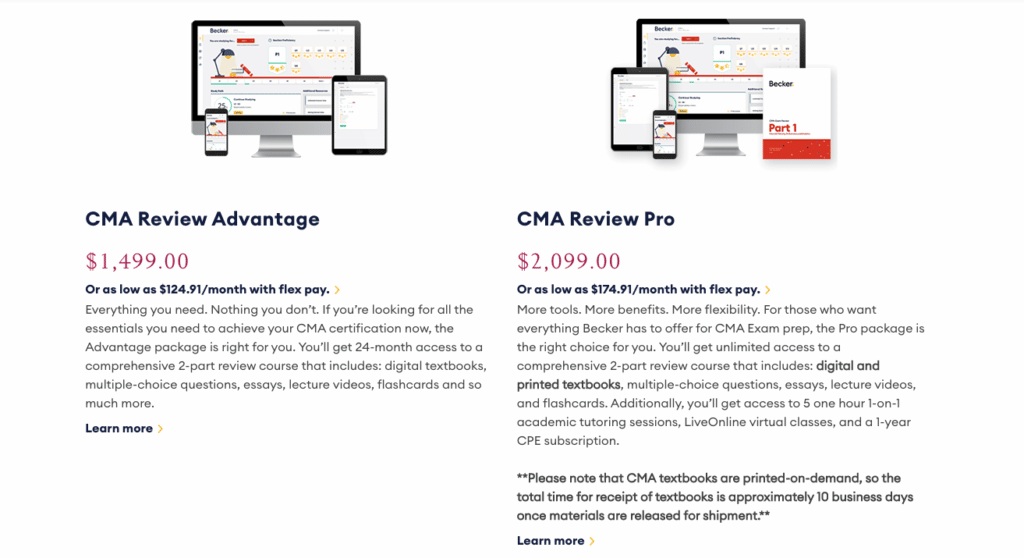 Becker has 2 different course options for their CMA program. First is the Review Advantage course for $1,499. It comes with everything you need for self study and 24 months of access. Alternatively, you can enroll in the CMA Review Pro course for $2,099, which adds in virtual tutoring sessions and live CMA lessons.
Gleim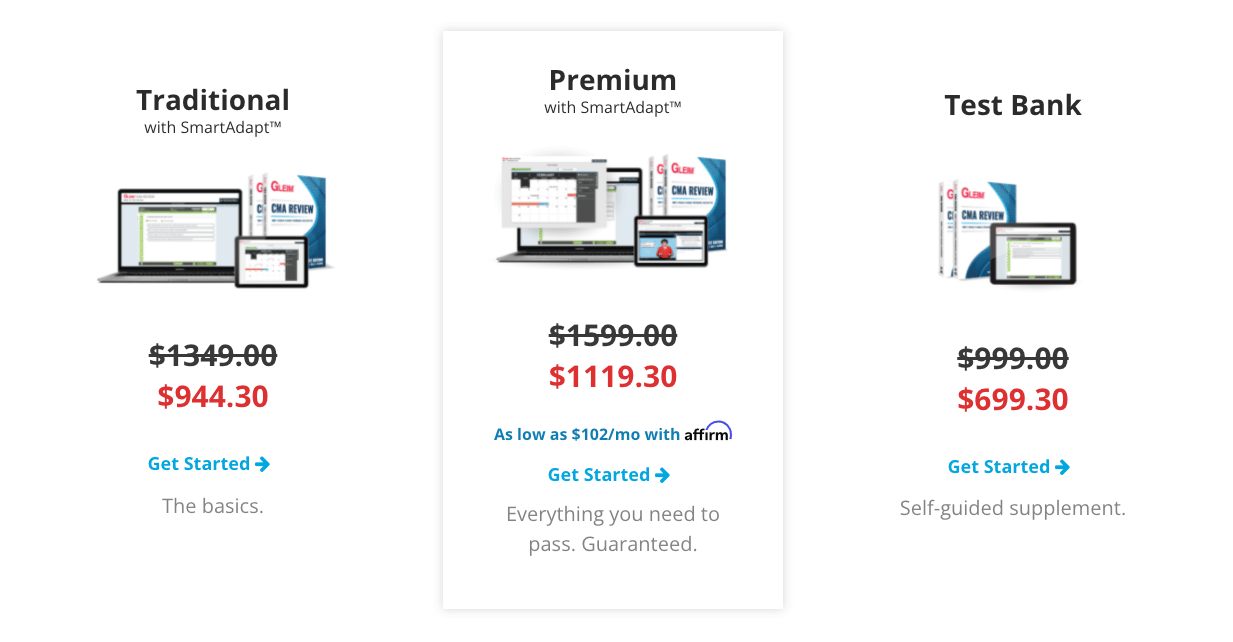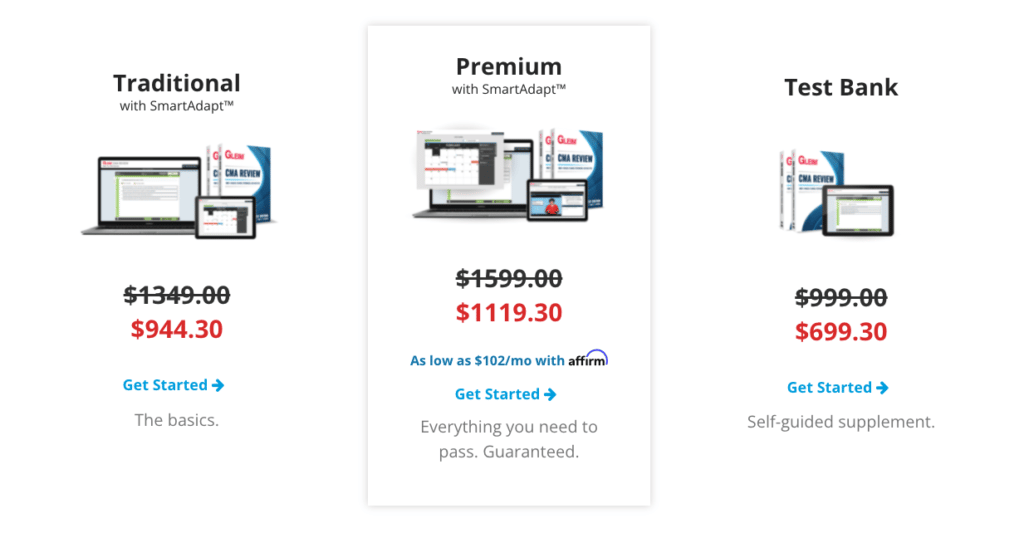 On the other hand, Gleim has 3 different course options. Students can access just their practice questions for $999 with the CMA Mega Test Bank. Anyone interested in more will need to pay $1,349 for the Traditional study course. Much like Becker, this gives you a set of self study materials. Alternatively, you can add in some live learning (but no tutoring) by enrolling in the $1,599 Premium course.
---
Lectures
Video lectures are a major component of both CMA courses. However, both companies have different instructors and methods of teaching over their video content. Here's a quick comparison:
Becker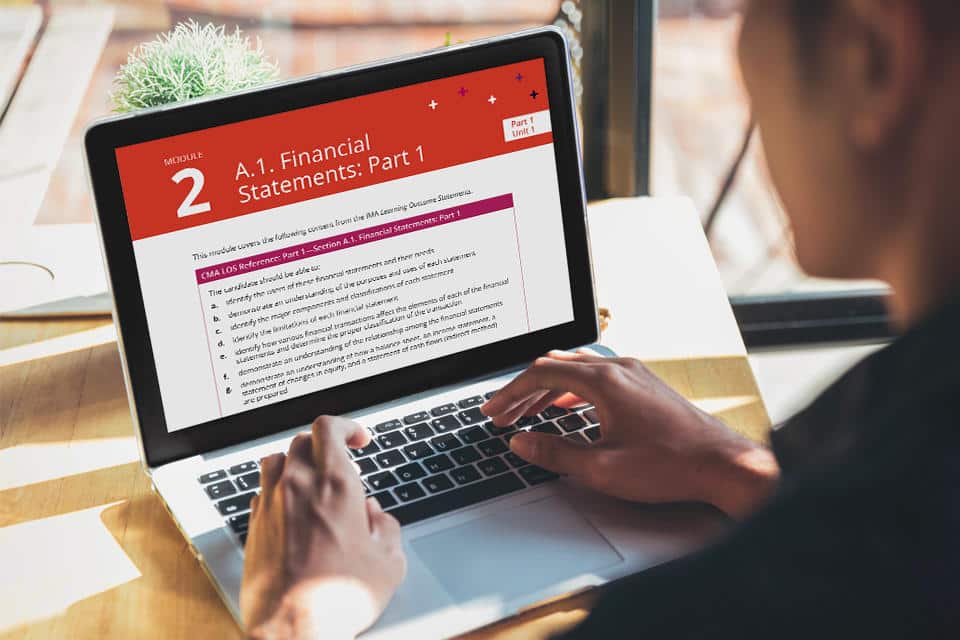 Becker spreads their lectures across both parts of their CMA course. Part 1 includes 35+ lecture hours and part 2 comes with 20+ hours. Each lecture is kept short and engaging so they can be easily watched and understood. Each bite sized lesson lasts between 30-45 minutes and breaks down complicated concepts into easy to understand parts. Plus, live learners have a chance to ask questions while they complete each lecture.
Gleim
Gleim has a very different approach to their lectures. Each individual lecture tends to be much longer than Becker's. This allows them to go into further detail, but it also makes their content much more dry and unengaging. Doing so can make it more difficult for students to pay attention and learn what they need to know in each lesson.
---
Practice Problems
Becker and Gleim take a very similar approach when it comes to CMA practice problems. Despite that, you can see the difference between the 2 courses below:
Becker
Becker courses come with over 4,000 multiple choice questions and 70 practice essay questions. Completing these will ensure that you're an experienced test taker before you have to sit for the CMA exam. Plus, each question comes with a detailed answer explanation; these walk you through the problem solving process and teach you how to work through each question type.
Gleim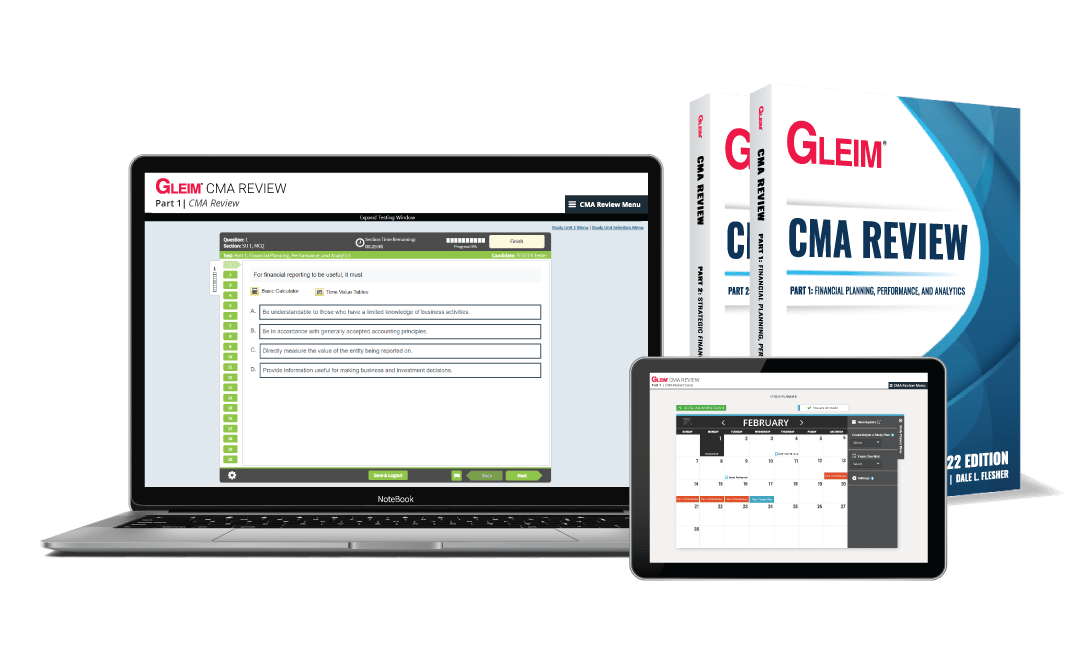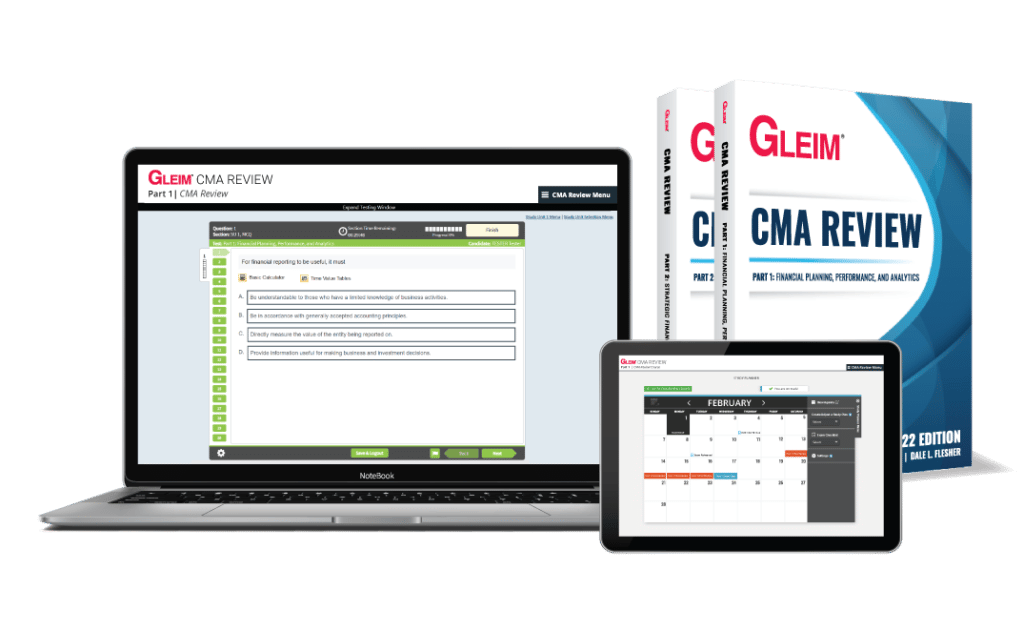 As stated above, Gleim has a very similar approach to Becker. Their course comes with 4,500+ questions and 130+ unique essay scenarios. However, many of these are gated behind higher payment tiers. Even their answer explanations aren't free from this. Text based explanations are available for everyone, but anyone interested in video explanations needs to pay for the most expensive course tier.
---
Mobile Content
Many people find mobile study content important. A well designed mobile course allows you to study on the go and make the most of any small breaks during the day. Here's how both of these CMA review courses approach studying on mobile:
Becker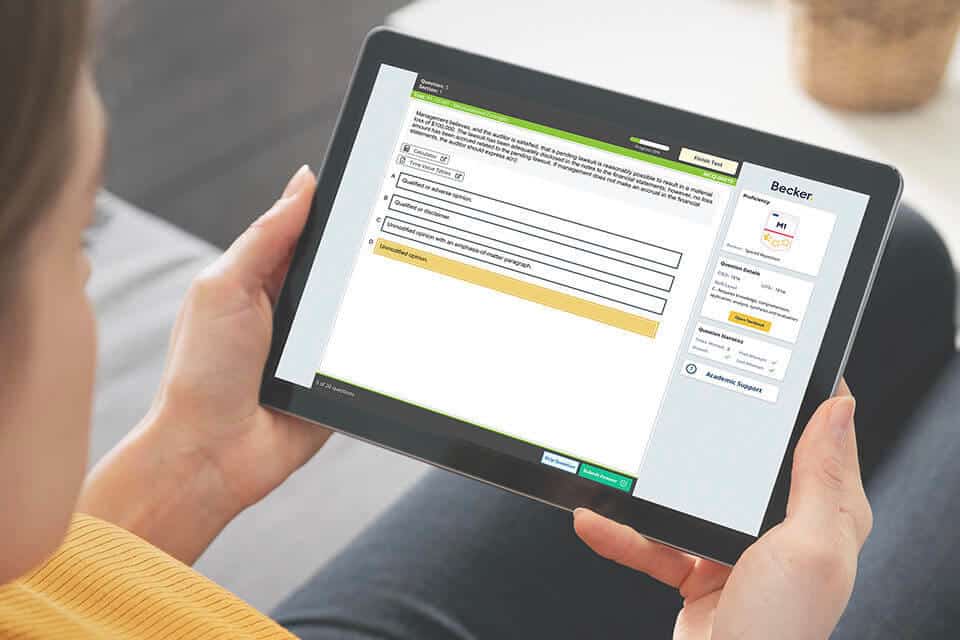 Becker's course comes with a well made mobile app. All course content can be accessed on the app and progress is saved automatically between devices. Thanks to that, you can easily switch between desktop and mobile study methods whenever you want. Plus, Becker allows you to download some of their materials for offline learning. As a result, even people with slower internet access are able to complete this program.
Gleim
On the flip-side, Gleim doesn't have any specialized mobile content. Most of the design attention has gone towards the desktop site. You can access the site on mobile, but it's not as developed as Becker's mobile app. Unfortunately, this makes it very difficult to take your learning on the go. Instead, you need to block out long stretches of time to work in front of your computer.
---