Becker CMA Review's streamlined approach blends modern study technology and traditional study techniques into a powerful CMA prep course. They've also taken things to the next level by becoming official partners with the Institute of Management Accountants— the official organization behind the CMA exam.
I've taken an extensive look at their new review course; read my full review below to find out if Becker CMA prep is a good choice for your study needs:
Overview of Becker CMA Review Course
Becker was founded with the understanding that education opens doors. For over 60 years, this accountant-focused educational company continued to grow and iterate upon their approach to teaching. Their partnerships now extend to corporations, government agencies, accounting firms, and universities.
The Big 4 accounting firms work closely with Becker to provide training materials for the next generation of accounting and finance professionals. They've also maintained steady friendships with 99 out of 100 of the top firms located in the US.
Essentially, this company is extremely capable at providing students with up-to-date study materials whether they're preparing for the CMA or CPA exam.
Before we dive in, here's a quick overview of what Becker's CMA Exam Prep includes: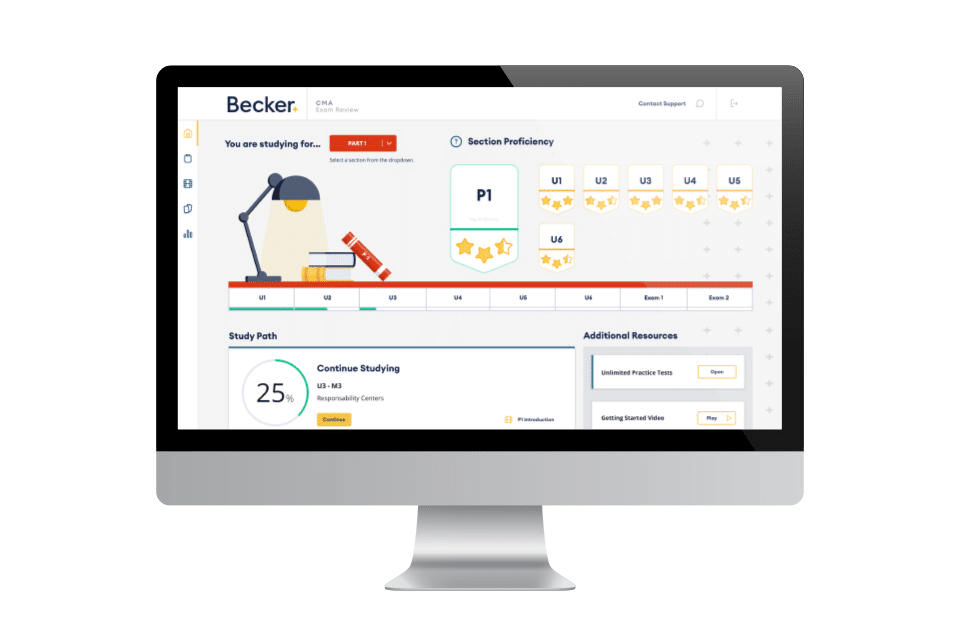 Flexible Course Structure
Over 3,000 Multiple Choice Questions
Unlimited Practice Tests and Simulated Exams
Lecture Videos and Personalized Review Sessions
More than 500 Digital Flashcards
Digital and Printed Textbook Options
70 essay questions
Regularly Updated Content
1-on-1 Tutoring
Adapt2U Technology
Money Back Guarantee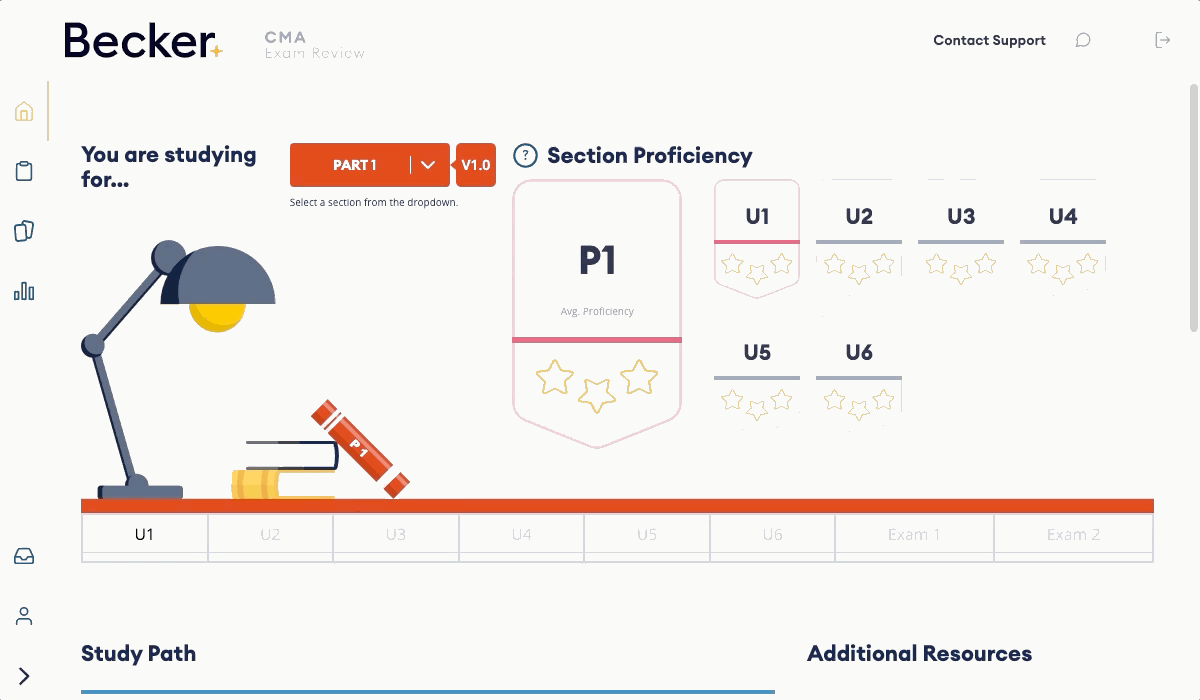 ---
What's Included With Becker's CMA Study Materials?
Schedule Flexibility
Everyone has a hectic schedule these days. To accommodate this, Becker built their CMA course to accommodate any schedule. Whether you're working with their digital or physical resources, you'll be able to use them at any hour of the day. Additionally, their resources vary in length, so you can easily implement them in short study sessions or marathon cram nights.
Becker's CMA course is split into two parts— one for each part of the CMA exam. However, you can prepare for both parts of their CMA exam review course in whichever order you choose. You can switch freely between both parts of the course, regardless of how far you've progressed in either one.
By allowing you to jump around their library and curriculum, Becker CMA Review enables you to make your own mental connections between the different knowledge areas that a CMA needs to know.
Digital and Print CMA Review Materials
Speaking of flexibility, it's easy to use this course for learning on the go. If you're on a long commute or have a short break at your day job, Becker's many study tools can be accessed on your smartphone or tablet. But if you're somewhere without a charger or a signal, you can also use their physical textbooks and flashcards to accomplish the same task.
Basically, enrolling in Becker's review course means that you'll run out of excuses to procrastinate on your studies!
Adapt2U Technology
In addition to accounting firms, Becker Professional Education has partnerships with major software companies such as Sana Labs. This is how Becker implemented Adapt2U Technology into their platform.
This breakthrough technology can help CMA students in a few unique and fascinating ways:
First, there's Becker's highly specified proficiency tracker. As you work through the course, you'll see colored badges that provide a visible indication of your progress. A gray badge means no work has been completed, red reflects lower proficiency, yellow means moderate proficiency, and green indicates high proficiency.
Adapt2U takes this information and uses it to craft personalized review sessions just for you. The end goal is to prioritize any red areas until you can work your way up to green. It's an intuitive and effective way to eliminate your knowledge gaps and improve your chances at passing the CMA exam on your first try.
---
Becker CMA Exam Prep Pricing
Becker's course content is clearly an incredible value. But what does it cost?
The first thing to note is that Becker offers two enrollment options under $2,000: the CMA Review Advantage and the CMA Review Pro. While Advantage is more affordable, we recommend spending the extra money on Pro. It's less than $300 more and it includes live learning options— including 5 one hour personal tutoring sessions and LiveOnline virtual classes. When compared to the average per-hour cost of a CMA exam tutor, this is one of the best deals you can find online. Keep in mind also, that Becker frequently offers discounts on their courses as well.
Even if you're unable to pay the entire cost up front, you don't have to miss out on Becker's best set of CMA study materials.
Both Advantage and Pro students are eligible for financing; you can cover the costs in monthly installments via flex pay. Additionally, Becker's Money Back Guarantee promises you a full refund if you're unhappy with their materials within 10 days of signing up, effectively providing a 10-day trial period.
---
Becker CMA Exam Review Pros & Cons
Let's also take a deeper look into some of the great (and not so great) features of Becker CMA Review:
Pro – Highly Adaptable: No two students are alike, and many of us have different learning styles. Becker's course takes this into account by providing multiple types of learning materials for you to take advantage of. Their Adapt2U technology also uses adaptive learning to craft personalized review sessions that play to your learning strengths.
Pro – IMA Official Partners: Many online courses will claim to be the best way to help you pass an exam. With Becker, there's an added layer of legitimacy to this claim; they're official partners of the Institute of Management Accountants. Their course content is constantly updated with guidance from IMA to provide exam prep that's as close to the actual exam as possible.
Pro – Extra Credit: If you want even more help preparing for the CMA exam, Becker has your back. With their Pro review course, you'll have access to support options like 1-on-1 tutoring sessions and success coaches that can help you nail tougher concepts. They also have a support team that typically answers personal questions within 48 hours or less.
Con – Limited Money-Back Guarantee: While it's true that Becker offers a Money-Back Guarantee, there are limits. You have to make a decision within ten days of signing up in order to get your money back. With so much content on hand, it can be difficult to really get a solid understanding of how their more advanced tech works in such a short period of time.
---
Who is Becker's Ideal Customer?
Still undecided on if Becker's CMA Review Course is right for you? Here are some final points to consider:
If you have a hectic schedule and like to switch between various topics of study at once, this is the course for you.
If you like having tons of study materials including digital flashcards, textbooks, multiple choice practice questions, and exam simulations, this is the course for you.
If you prefer a technologically advanced approach to learning and want personalized review sessions, this is the course for you.
If you need a guarantee that you'll pass the CMA exam — or need longer than two weeks to decide if you want to enroll — this isn't the course for you.
---
Final Recommendation


How can we not recommend Becker's CMA review courses? There are almost too many positives to account for.
Their carefully curated content adheres to IMA guidelines while also being regularly updated to meet their changes. This ensures that you'll be prepared for the test with the most accurate and relevant practice materials you can find.
There aren't any other online CMA review courses that provide a better or more personal experience for each student. At no point of your enrollment will you be forced to fend for yourself, even if you don't opt for the Pro package.
All students have access to online FAQ boards and can get quick responses to their questions from Becker's excellent support team.
If you're looking to become a CMA the right way, Becker is the best choice by far.
Becker CMA Review Course Coupons
---
Frequently Asked Questions about the CMA Exam
Still have questions about the CMA exam? We've got you covered:
Q: What is a CMA?
A: CMA stands for Certified Management Accountant. This is a designation for accounting professionals that must be held to work in management accounting. Professionals with this title are in high demand and can attract annual salaries of over $90,000.
Q: How do I get certified as a CMA?
A: In addition to passing both parts of the CMA exam, you need to complete some educational prerequisites. You'll also need to be a member of the IMA and be able to prove work experience within your field, among other requirements.
Q: What kind of jobs can a CMA get?
A: CMAs can work in positions like CFO, Controller, Corporate Accountant, Financial Analyst, and many more. However, it can take a long time to work up to these high-paying managerial positions; you may need to start in an entry-level accounting position first.