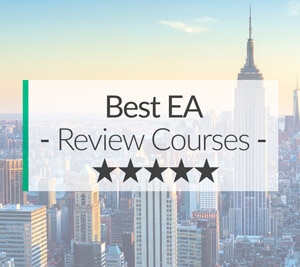 Finding the best EA review course to help you pass the enrolled agent exam is pretty difficult because there are so many options out there. How can you choose between 16 EA prep courses all claiming to be the best? Is there really a difference between them and will any of them help you pass the EA exam more than the other?
The short answer is: There is a lot of differences between all of the study guides out there that will make a difference in your exam performance. I don't think there is one set of best EA study materials for everyone however. Each course is designed slightly differently and benefits candidates differently. The important thing is that you look at what course fits your learning style and study schedule best. This is the right course for you.
For instance, if you have a busy schedule, a course that has long lectures probably won't work that well for you. You should look for something with short, bite-sized lessons that will fit into your schedule. Likewise, if you learn best by watching videos, you will be much better off with a course that includes heavy amount of video lectures.
Most likely, you will spend over 100 hours preparing for the EA exam. The last thing you want is an EA study guide that will get in your way, cause you to learn less efficiently, and add study hours to your schedule. You want something that works for you.
That's why I've reviewed all of the top-rated enrolled agent exam review courses. I walk you through the advantages and disadvantages of each course as well as the software features. This way you can decide which study guide is right for you.
After all, the last thing you should be worrying about is which course to buy. You have an exam to ace. 🙂
---
Quick Look at Enrolled Agent Prep Course Reviews and Rankings
Here is a list of the top EA exam prep materials on the market today.
---
Top EA Exam Review Courses and Study Materials of 2018 Below: 
Here are the best EA exam study material review courses to help you pass the exam on your first try and become an enrolled agent.
---
Gleim EA Review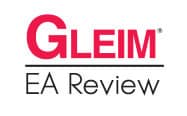 Gleim has been providing extremely comprehensive review courses for the enrolled agent exam for decades. They are widely recognized as one of the best courses because of their thorough approach to presenting information. It's pretty much impossible to go through a Gleim course and not understand the topics. Yes, it is that in-depth.
This course includes over 2,400 multiple-choice questions that you can use to practice the concepts found in the comprehensive textbooks. It also includes more than 1,200 true and false questions that help you quickly test your knowledge on the subject. Gleim has the biggest test bank out of any EA study guide. It also includes audio-visual video lectures.
You also get access to a personal counselor who will help keep you motivated, on schedule, and understanding the information in the study text. This is a huge benefit that other courses don't offer. The course also has advanced analytics that allow you to track all of your tests and target the areas that you need to improve on.
I think this is the best overall course and would recommend it to anyone who is serious about passing the EA exam. It even includes a full final exam review that you can use to prep yourself before your exam day. This is a great course. 🙂
---
Fast Forward Academy EA Review

Fast Forward Academy is an innovative review prep company that has taken the idea of efficient learning to new heights. They have pioneered and perfected the adaptive learning course that actively tests you to decrease your study hours.
An adaptive course uses software that tracks your answers to understand your knowledge of the subjects. Once it knows your strong areas and weak ones, it tests your weak areas to improve them. This way you aren't going over topics that you already understand a million times.
The Fast Forward test bank is the second largest and includes over 3,100 multiple-choice and essay questions. This is particularly important because you don't want to review the same questions over and over to the point that you memorize them.
The FFA analytics are also extremely detailed, as they are part of the adaptive course.
Unlike most of the other EA exam guides, Fast Forward also includes video lectures that discuss the most difficult topics covered in the course. If you learn better by watching a teacher or listening to a lecture, this is a great course for you.
Also included is a full set of printed and electronic textbooks.
---
Surgent EA Review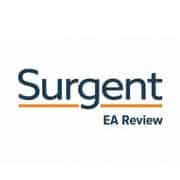 Surgent is a fairly new company when it comes to the enrolled agent exam, but they aren't new to the exam prep industry. Surgent has been producing some of the highest quality CPE courses used by professionals for decades. They know what it takes to pass the exam.
Like the Fast Forward course, this study guide is also uses the adaptive approach. Many people like this style of course because it's much more efficient than a traditional linear course, when used properly. This course includes over 1,800 multiple-choice questions, which is less than Gleim, but it is plenty to prepare you for the exam.
The Surgent EA dashboard is also designed to be easy to use. All of the analytics and course sections are clearly displayed and easy to navigate. This way you can track your progress and see what topics you need to study more before you exam day.
---
ExamMatrix EA Review

ExamMatrix has been providing education training for over 20 years. They offer several different test prep course including one for the EA exam.
Their course is also an adaptive approach that uses your answered quizzes to help target the topics that you need to work on more. This course is much smaller than the previous three study guides, but it is also much more affordable.
ExamMatrix includes over 1,700 multiple-choice questions along with a pass guarantee. This means that they guarantee that you will pass the exam using their course. If you don't pass, you might be eligible for a full refund or can use the course again to retake the exam for free.
Unfortunately, these study materials aren't that comprehensive and don't include any type of video lectures. I would recommend trying this out first with their free trial option before you purchase it.
---
Lambers EA Review

Lambers has offered enrolled agent exam courses for decades. They are definitely an industry leader in some respects. In other respects, they aren't that great.
Their course is one of the most full featured study guides and includes tons of extras and options that other companies don't, but you will pay for it.
The full version of the Lambers course is 3-4 times more expensive than any other review guide. Keep in mind that this includes flashcards, a full set of video lectures, audio lectures, and a test bank of over a few hundred for each section.
The choice is up to you. Lambers does come with a lot of great EA study resources, but it's not worth the price in my opinion. Plus, you'll have to fail the exam twice before they will give you a money back guarantee. Not really that great of a deal.
---
Wiseguides EA Review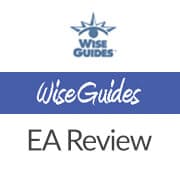 Wiseguides is by far the smallest company on this list. They don't offer that many products or study resources, but their guides are extremely affordable.
This prep course includes over 2,900 multiple-choice questions and your choice of printed or digital textbooks. It also includes over 1,700 digital flashcards that you can use to practice memorizing important topics and concepts.
It also using some pretty outdated technology. The user interface is pretty dated and not that great to use, but it is affordable. It's less than half of the course of Gleim, Fast Forward, and Surgent.
That being said, I would recommend this as a supplement and not an actual review guide. It's great to use for extra practice questions, but it's not enough for a full guide.
---
What are the best EA exam review courses?
Top 5 Best Enrolled Agent Review Courses of 2018 – Comparison Guide
| EA Review Courses | Best for: |
| --- | --- |
| Gleim EA Review | Biggest Test Bank |
| Fast Forward Academy | Adaptive Learning |
| Surgent EA Prep | Course Design |
| ExamMatrix EA Review | Most Affordable |
| Lambers Enrolled Agent | Most Features |