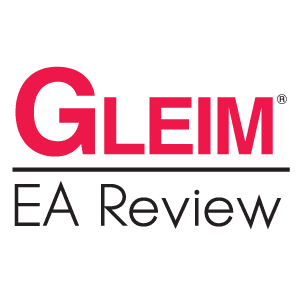 One of the most popular Enrolled Agent courses on the market is the Gleim EA Review, and for good reason; they offer an intuitive take on the educational process to achieve impressive results.
Thanks to their impressive history, Gleim has been able to break down the study process into a highly effective 3-step approach. With the aid of substantial review material and constant input from qualified counselors and tutors, students can take advantage of this approach to ensure maximum EA exam readiness.
Check out my review below to see if Gleim's Enrolled Agent prep course is a good fit for your study needs!
---

Overview of Gleim EA Prep Course
The Gleim EA Prep Course utilizes a 3-step approach: Diagnose, Study, and Apply. Upon enrollment in the course, you and other students will begin by pinpointing areas that require the most work. Then, you'll study with review materials and receive assistance from professional educators. Finally, you will apply all of your knowledge with practice exams that emulate the real Enrolled Agent Exam.
What is included in Gleim EA Prep Course:
Tons of practice questions
Support from accounting experts
Personal Counselors

Audio Lessons
---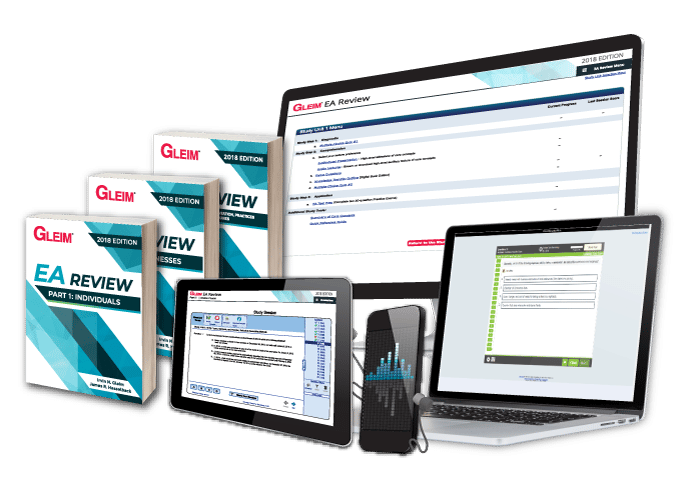 What's Included With Gleim EA Review
Tons of Practice Questions
Gleim has the biggest bank of practice questions in the EA prep course market. With over 2,400 unique multiple choice questions, you will have plenty of material to text your knowledge. Besides the practice questions that emulate the EA exam, you will have over 1,200 true or false questions that you can use to quickly check your comprehension on specific subjects.
Support from Accounting Experts and Your Personal Counselor
You are bound to run into many questions during your studies, so you need an EA review course that will have student support from knowledgeable sources. Gleim has a whole team of accounting experts that can help you with any problem you run into; just use the inquiry system built into the software to get quick answers to all of your nagging questions.
You will also have the option of a personal counselor if you are looking for more of a one-on-one study experience. Your counselor will be there to provide advice, support, and assistance for your EA exam journey. I like how Gleim provides you with a exam mentor that sees you through to success, especially since becoming an EA can be an overwhelming process.
Audio Lectures
Gleim's audio lessons make this EA course stand out from the crowd. Other courses out there have study material and practice questions, but Gleim's comes with audio lectures that make it easy to take your studies on the go.
You can stream or download specific audio lectures that discuss the most important concepts of the Gleim review books. This makes for an excellent portable study resource perfect for commuting or during a quick lunch break. Auditory learners in particular will benefit the most, making this definitely their ideal course.
---
Gleim EA Review Pricing
When it comes to the price of Gleim, it's quite affordable compared to others. For $629.95, you can get the full Gleim EA course with all its materials, including a vast library of practice questions, in addition to audio lectures and access to student support.
You have the option to buy the whole course or you can buy individual parts to save some money. Gleim even offers financing options where you can pay as low as $56 per month.
Best Gleim EA Coupon Codes & Discounts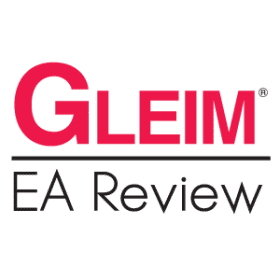 Cyber Monday Sale – $200 Off Gleim EA Premium
4 uses today
Last Used: 7 hours
---
Pros & Cons
What can you expect with Gleim EA Prep course?
Pro – Largest Test Bank: This course includes over 2,000 multiple choice questions that emulate the real exam. You will also have more than 1,200 true or false questions that are sprinkled throughout the study material, offering one of the most comprehensive EA study resources on the market.
Pro – Student Support: Gleim knocks it out of the park when it comes to student support. Not only is there a built in inquiry system where you can receive answers to your questions from accounting experts, but there are also personal counselors that work with individual students. Your personal counselor will be your exam mentor and will be there to help you out with whatever else you need to be successful with the EA Exam.
Pro – Audio Lessons: It can be tough to fit studying into a busy schedule. Gleim has made it easy with the audio lessons. Just plug in your headphones and you can listen to the review material on your way to work, at the gym, or while you're doing laundry!
---

Frequently Asked Questions
Now that you know what to expect with the Gleim EA prep course, let's look at some of the common questions many EA candidates have:
Q: Does Gleim EA Prep Course come with a pass guarantee?
A: Yes! The Gleim "Access Until You Pass" promise ensures that you will be able to use the course until you pass. Your materials will be updated so you never have to worry about having outdated study material.
Q: Are the Gleim EA practice exams similar to the real exam?
A: Absolutely! When you take the EA practice exams with Gleim, you will become accustomed to the Prometric testing environment. So when the real test day comes, nothing will look foreign to you since you have been practicing in test like conditions.
Q: What is the Gleim return policy?
A: You have up to 30 days to return your Gleim EA review course for a full refund. However, everything must be unopened and not downloaded in order to apply.
---

Ideal Customer
Still unsure if Gleim is the EA review course for you? Check out some of these statements to determine your compatibility:
If you want a more personal touch when studying,

this is the course for you.
If you are an auditory learner,

this is the course for you.
If you want a basic review course that simply offers practice questions,

this isn't the course for you.
But if you definitely need lots of practice questions, this is the course for you.
---
Final Recommendation
Gleim has been helping students become Enrolled Agents for decades with their popular and effective study programs. This EA review course is considered on of the best on the market and is a sound investment for any aspiring accounting professional.
I would recommend this course to anyone that is serious about the EA exam and wants to pass without any hassle. If that sounds like you, then there's no better time to start than now!
---