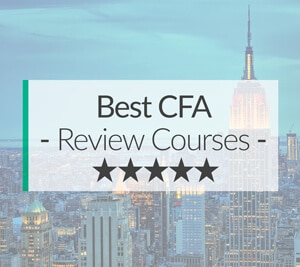 Picking out the best CFA® study materials and courses to help you pass the chartered financial analyst exam isn't as easy as it seems. There are many different test prep companies that all claim they're the greatest at helping you prepare for the exam, but how can you know for sure which is the best CFA® course for YOU?
There's only one way: closely examine each one and compare how well they will function for you.
Despite the claims of each company, there is no single greatest CFA® prep course. There are a number of different study guides and practice exams out there, that all have their benefits and downsides, meaning that they function excellently for some people and aren't as effective for others.
Therefore, it's important to read through the sales pitch and the hyperbole present in each course. Ultimately, your primary goal should be to ascertain if it matches your learning style, study schedule, and budget.
It's pretty common that most CFA® study guides recommend at least 300 hours spent studying in order to pass all three exam levels. This statistic assumes that you are efficient with your study time and your review course is actually helpful.
If you have a set of monotonous, mundane CFA® exam prep books that don't enable you to focus on their educational material, you'll probably waste excessive time studying things that don't sink in. Consequently, this could add hours of additional studying for each level. The primary aspect you need to think about is obtaining a course that works for you, maintains your focus, and actually prepares you for exam day.
I know how difficult it is to decide which course is ideal with the limited information out there. That's why I personally tested and evaluated all the top-rated CFA® exam prep materials on the market and reviewed them below. Furthermore, I walk through some of the benefits and disadvantages of each platform along with their unique characteristics. This means you don't have to rack your brain about which course to use and can simply start focusing on taking the exam.
Here is a ranking of the best CFA® study materials on the market right now. Check it out and determine which one will work best for you!
---
These Are The Top 5 Best Chartered Financial Analyst (CFA

®

) Exam Review Courses & Study Materials in 2020 [March]:
Here are the best CFA® study materials to help you pass the exam on your first try and become a Chartered Financial Analyst!
---
Wiley CFA

®

Review

Wiley has been producing review courses for the test prep industry for decades. Consequently, they are one of the biggest companies in the industry and the most respected by far. This is for one single reason: they make great products!
Wiley CFA® Classes are broken down into bite-sized lessons that can easily be completed in 10-20 minutes each. This means that you will be able to fly through several self-study lessons in the same amount of time that it would take you to go through one lesson of another company's course.
Wiley comes with over 110 hours of video lectures, a 4,000 strong multiple choice question bank, and 3 full practice tests. It's precisely because of features like these that they are considered the best. Additionally, they offer review materials for all three level exams and give you access to your study materials until you pass. This means there are no extra fees down the road.
It also offers a final review cram course that you can use to make sure you go over all of the important facts one more time the week before your exam day. Wiley also offers a free trial of this study guide, so you can test it out before you buy it.
---
AdaptPrep CFA

®

Course

AdaptPrep CFA® has taken a page out of Wiley's book and created their own bite-sized learning approach. Each lesson is short, so you don't have to sit through long lectures to get to the information you need to know.
Along with more than 40 hours of video lectures and 3,000 multiple-choice questions, AdaptPrep also offers some great analytics, so you can target your weak topics more effectively. They call this their topic mastery feedback system.
This affordable study guide is great for self-studiers and offers course options for all three levels. This course has plenty of materials to ensure you are prepared on exam day, but it's not as comprehensive as Wiley's course is since it only has one-third the amount of video lectures. It's an amazing deal for the price through.
---
The Princeton Review CFA

®

Study Materials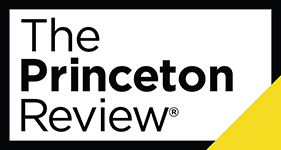 The Princeton Review CFA® is a company with a rich history of high-quality test prep study materials for a wide range of trades and professional disciplines. Although this is their first foray into CFA® test prep, you wouldn't know it at first sight because they've done an incredible job.
For starters, this CFA® prep course is designed from top-to-bottom to help their students get the most out of their limited amount of study time. If you can only schedule around 100 or so hours to prepare for the Level I CFA exam, The Princeton Review is by far your best choice.
In the absolute worst case scenario that you enroll in their course and still fail your exam, all is not lost! The Princeton Review offer full refunds to students who take their course without earning a passing exam grade.
The only downside to this CFA® prep course provider is the fact that they only offer materials for Level I of the exam at this time. However, this is a company you'll definitely want to keep your eye on because they'll definitely be releasing more excellent study guides and test prep programs for higher levels in the future.
---
Apptuto CFA

®

Review

Apptuto is a relatively new company, but don't let that fool you. They have developed a pretty comprehensive and sophisticated course in a short period of time. This set of materials is a steal at this price!
Their CFA® test bank includes more than 3,000 multiple-choice practice questions and gives you the options of taking their preset quizzes or making your own custom quizzes from selected topics. This custom quiz option couples with Apptuto's advanced analytics makes this course a pretty powerful study tool.
Apptuto also offers live-online training for CFA® level 1 and level 2 exams. They are still working on their level 3 materials, so they aren't available just yet. The premium course includes 18 weeks of live classes online totaling 54 hours of classroom teaching. They also offer an option that includes 100 hours of live instructor lead training.
---
AnalystPrep CFA

®

Study Materials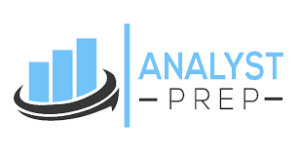 AnalystPrep offers a full set of review materials for an affordable price. Their base course is only $129! That's a crazy deal. Although I wouldn't recommend relying on this small course to prepare you for the exam exclusively, it is a great supplement for another course.
AnalystPrep also offers a full coaching package that includes 3,000 practice questions, 4 full mock exams, over 40 hours of video lectures, and last but not least 5 hours of 1-on-1 coaching.
That's right! You will have access to a personal coach who will be available to answer questions you have about the course, the materials, or even your study habits. They might even push you along and help you get into a study routine. Let's face it. If you are like me, you probably need a little encouragement to get back in the books.
This is a great course option and it comes with their pass guarantee!
---
Bloomberg CFA

®

Exam Prep

Bloomberg CFA® exam prep offers training and instruction from some of the most respected and knowledgeable people in the industry. You can rest assured that if you decide to go with Bloomberg CFA®, you will be getting instructions from the best out there.
This course utilizes an advanced adaptive learning software that actually learns what you know and what you don't know as you go through the course. It sounds kind of creepy, but it's actually pretty cool. As you answer questions, the program keeps track of your wrong answers and retests you on the topics you struggle with most. This way you aren't constantly studying the same information that you already know and understand. You only focus on the stuff you don't know.
As with any adaptive course, it comes with awesome analytics and a sweet dashboard that displays all the features and functions of the course. This course also includes the biggest CFA® test bank in the industry with more than 8,000 practice questions and 8 full-length mock exams. That's plenty of stuff to practice. The one big downside to this course is that there are no video lectures, so if you are someone who learns best by watching lectures, this one might not be right for you.
Otherwise, it's an extremely comprehensive course. You should take it for a test drive with their free trial option to see it for yourself.
---
Top CFA

®

Course Discounts
There's enough to worry about when studying to become a Chartered Financial Analyst, so why worry about the cost of studying?
That's why we've organized this list of promos and discounts for the most popular CFA® study courses and resources: to help ease your mind as you study with noteworthy educational companies like Wiley CFA® Review and AdaptPrep!
Take 10% OFF AdaptPrep CFA Level 1, 2, and 3 Complete courses!

CFA, Adapt Prep CFA, Exclusive Discount 33 uses today
CFA 38 uses today
Take 10% OFF AdaptPrep CFA Level 1, 2, and 3 Complete courses with this Adapt Prep coupon code!
Last Used 3 hours ago
Expiration Date:
March 29, 2020
Wiley CFA Review SAVE $279 OFF!

CFA, Deep Discount, Wiley CFA 34 uses today
CFA 34 uses today
CFA Exam Results are Out. Jumpstart your studies for 2019 with Wiley. Save $279 OFF on your Wiley CFA Platinum and Gold Review Course with code.
More
Last Used 4 hours ago
Expiration Date:
March 31, 2020
Save $50 OFF AdaptPrep CFA Review

CFA, Adapt Prep CFA, Exclusive Discount 35 uses today
CFA 40 uses today
Get $50 Off AdaptPrep CFA Review.  Offer is valid for the June 2019 exam.
Last Used 12 hours ago
Expiration Date:
March 29, 2020
What are the Best CFA

®

Prep Courses on the Market?
Compare the Top 5 Best CFA

®

Review Courses of 2020 
| CFA Study Materials | Best for: |
| --- | --- |
| Wiley CFA Review | Most Videos Lectures |
| Adapt Prep CFA | Bite-Sized Lessons |
| Apptuto CFA Review | Most Affordable |
| Analyst Prep CFA | 1 on 1 Support |
| Bloomberg CFA Prep | Biggest Test Bank |
---
CFA Institute does not endorse, promote or warrant the accuracy or quality of AIS-CPA.com. CFA® and Chartered Financial Analyst® are registered trademarks owned by CFA Institute.