These days, more and more businesses are looking for qualified analysts with CFA® and FRM certifications. After all, modern companies rely on the Chartered Financial Analyst and Financial Risk Manager to prevent disasters like the 2008 financial crisis.
Essentially, having one (or both) of these credentials is a fantastic way to get started in a high-paying career. But passing these certification exams won't be easy!
Most candidates spend years studying and preparing for each exam. And in order to avoid wasting your time, getting the right kind of study materials is crucial.
Here's the good news: we can help you get started on the right foot!
AnalystPrep's study materials are some of the most popular for CFA® and FRM candidates. We've taken an extensive look at their catalog of video lessons, question banks, and focus notes— see our findings below!
---
Overview of AnalystPrep
AnalystPrep is a relatively new company founded by James Forjan in 2014. Their CFA® level 1 online study material was first developed as a question bank; from there, they've expanded over the years to provide a multifaceted curriculum for several different exams.
Their current exam prep catalog covers all three CFA® exam levels, FRM Part 1, and FRM Part 2— as well as resources for three actuarial exams. Additionally, this company is always optimizing their existing content with frequent updates. As a result, any AnalystPrep content you use will always be up-to-date.
One of AnalystPrep's strongest company principles is a commitment to keeping their prices lower than the market average. That's because they believe that study guides for financial certifications should be accessible for every qualified candidate.
According to their data, AnalystPrep has helped over 25,000 students to earn a pass rate of roughly 80%. Considering the difficulty of the exams they cover, that's an impressive rate of success!
Let's look at what their study materials include:
Here's a quick snapshot of what you can expect from AnalystPrep's courses:
Extensive Question Bank

Advanced Performance Tracking Tools

Video Lessons

Printable Mock Exams

Study Notes
---
What's Included With AnalystPrep
Extensive Question Bank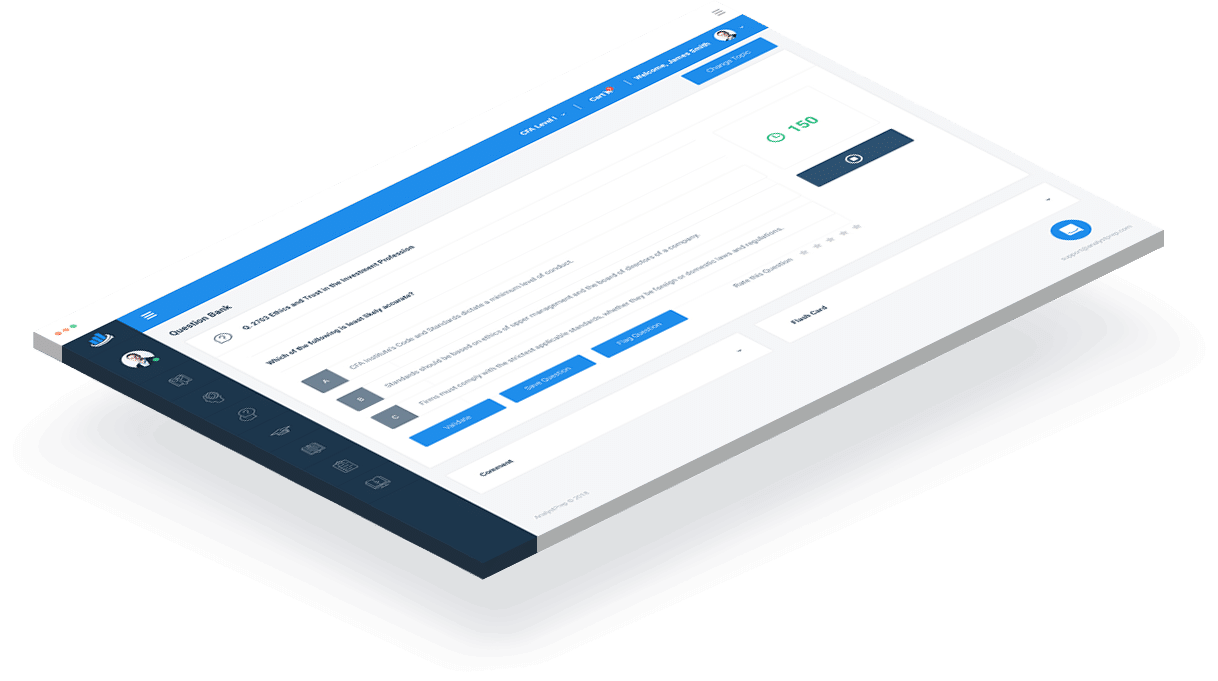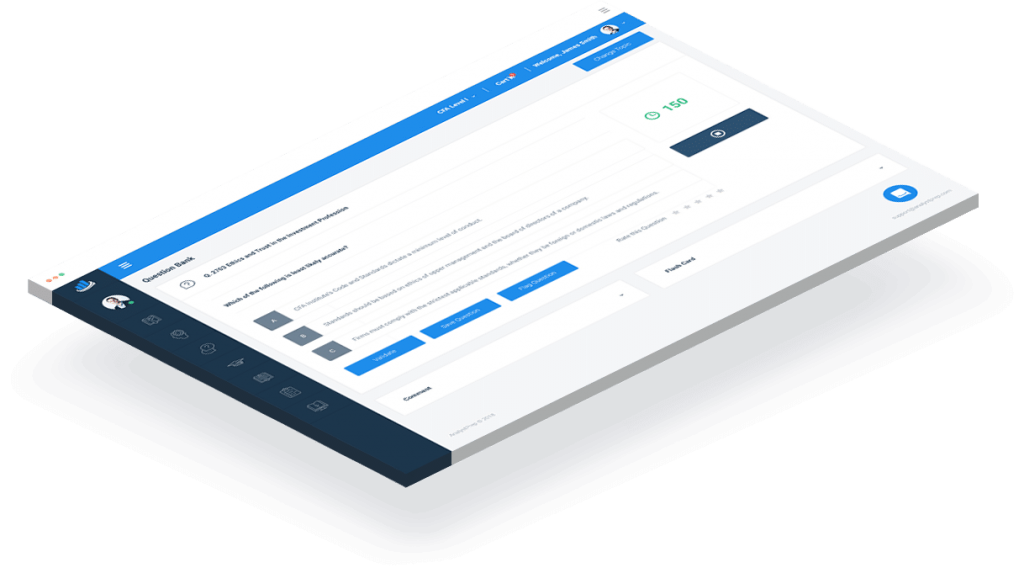 When it comes to passing the CFA® and FRM exams, practice questions are one of your most important tools. These questions are how you'll determine whether you understand the core concepts required for each certification. Practice questions are also the main way to practice performing important calculations. Since both tests need to be completed in a limited amount of time you not only need to be able to perform the calculations, you need to do it quickly.
Advanced Performance Tracking Tools
Performance tracking tools help you monitor your own performance as you work through AnalystPrep's study guides. They help you see if you're on track with the rest of your class and ensure you're fully prepared when it's time to sit for the CFA® or FRM test.
Being able to track your performance improvements over time can also help you stay motivated and focused over the weeks. Basically, you won't have to worry about burnout if you take advantage of this core feature!
Video Lessons
Hours of included video lessons help identify core concepts and focus your attention on the most important aspects of each section. They can also be a useful tool for visual learners and anyone who doesn't learn well from non-visual study materials. But the best part is that all of AnalystPrep's video series are easily accessible on any device— so you can study on the go or at home.
Printable Mock Exams
Mock exams are one of the most important tools in this company's catalog. They're uniquely designed to track your progress, work on improving your test-taking speed, and help simulate the real testing environment to relieve your pre-test anxiety.
Another helpful aspect of AnalystPrep's quizzes is versatility. You're free to print out physical copies, which is a great way to acclimate yourself to a testing center environment. Additionally, you can save money by purchasing these mock tests separately from the rest of their course.
AnalystPrep offers mock exams for these certification exams:
If you can comfortably pass one of these mock exams within the time limits of the actual exam, you're ready for the real thing!
Study Notes
Having access to reliable study notes makes it a lot easier to understand the material you're studying, and can help you overcome any comprehension barriers as you learn. In particular, AnalystPrep's study notes are designed to help you focus on the most important information from any module, helping you direct your study time and make sure you get the key concepts of any module.
---
AnalystPrep Pricing
All of AnalystPrep's course offerings include unlimited access to the study material, course updates, and technical support. They also break down most of their courses into three different subscription plans:
The lower two subscription plans for both the FRM and CFA® exams grant you 12 months of access to the materials— which is usually enough time for most students preparing to take one of these exams. The highest subscription level is more expensive, but it gives you unlimited lifetime access to the most up-to-date content.
Both courses start at around $149 for the most basic level of access. The most expensive tier for the FRM is $349, and the most expensive tier for the CFA® is $449. But if you want to try it out first, here's what you can do:
Sign up for an account with AnalystPrep. Once you do that, you'll be able to access some FRM and CFA® study material— free. Then, you can always enroll in a full course if you like what you see!
---
Pros & Cons
Here are the main benefits and drawbacks of AnalystPrep:
Pro – Unlimited Access:

AnalystPrep's best FRM and CFA® exam packages allow you unlimited time to study on your terms. But even if you opt for a lower tier, you'll never be pressured to meet specific deadlines. Feel free to review each section as many times as necessary, going over all the concepts until you're sure you understand them.

Pro – Lots of Ways to Learn:

Everyone learns in their own way and at their own pace. By combining study notes with video lectures and mock exams — as well as an extensive question bank — these guides give you several different ways to learn. Additionally, access to study notes can also help you hone in on the most important aspects of the content, improving your odds of passing each exam.

Pro – Printable Exams:

The printable exams make it easier to mimic the conditions of a real test. That way you can train your brain for what to expect on testing day and are less likely to miss questions just because of unfamiliar formatting. Printable exams also mean that you can still practice and study for your exams when you are away from home and don't have access to the online study portals.

Con – No Personal Instruction: These guides only focus on independent study and don't offer any instructional time with a teacher or professor. So, while you can access the study materials whenever you like, there's only a limited support system to help you if you get stuck on key concepts or aren't sure you understand some of the material.
---
FAQ Sources:
All of this information was found from these sources:
---
Who's The Ideal AnalystPrep Customer?
Not sure whether you're a good fit for AnalystPrep's study materials? We've got you covered.
Here are our recommendations for who would and wouldn't be a good fit for these guides.
If you're a self-motivated learner who likes a loose study structure and the ability to direct your own learning,

this is the course for you.

If you like being able to study whenever you want without set deadlines, then

this is the course for you.

If you like regular progress reports and analysis of your performance as you study, then

this course is for you.
If you're interested in free CFA® study material, this is the course for you.

If you need strict deadlines and a study schedule to help keep you motivated and on-track, then

this course is not for you.
If you benefit most from hands-on instruction and/or personal time with an instructor, then this course Is not for you.
---
Final Recommendation
AnalystPrep is great if you're looking for top-notch study materials and don't mind that there aren't any instructors available to hold your hand. They have extremely competitive prices and more study materials than with many similar programs.
In fact, AnalystPrep is one of the best FRM and CFA® study guide producers out there— especially if you aren't someone who needs individual instruction and attention. However, the lack of professors to help answer questions and overcome study hurdles can be a significant drawback for some learners. Make sure you carefully evaluate how you have best learned in the past before you commit to an AnalystPrep study program.
Ready to get started? Get your AnalystPrep study guide today!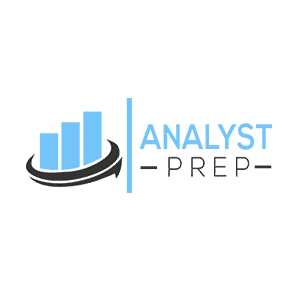 20% Off Analyst Prep CFA & FRM Courses
230 uses today
Last Used: 20 hours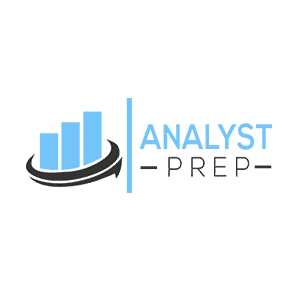 Enjoy 30% Off Analyst Prep CFA & FRM Courses
29 uses today
Last Used: 14 hours
---
Frequently Asked Questions
Have more questions? You've come to the right place:
Q: What is the FRM Exam Pass Rate?
A: According to the Global Association of Risk Professionals (GARP), FRM exam pass rates are usually around 45% for Part 1 and 50-60% for Part 2.
Q: What is the CFA® Exam Pass Rate?
A: According to the CFA® Institute, pass rates vary for each level of the CFA® exam. For 2019, the Level 1 pass rate was 41%, Level 2 was 44%, and Level 3 was 56%.
Q: What is the difference between Part I and Part II of the FRM and CFA® Exams? 
A: Part I of the FRM exam focuses on the tools that you use to assess risk, and has more questions than part two of the exam. Part II focuses on the application of those tools.
In comparison, the CFA® exam is a little different:
Level 1 is divided into part 1 and part 2, with 120 questions in each part that cover all CFA® level 1 topics.
Level 2 has 20 multi-part questions that are evenly split between the morning and afternoon sessions.
Level 3 includes multi-part questions similar to level 2 in the first session. The second session of the test is essay writing in response to several complex question prompts.
Q: How much time should I spend studying for the FRM and CFA® exams?
A: Both the FRM and CFA® exams require extensive studying before you should attempt the main exam.
According to the CFA® Institute, candidates spent approximately 300 hours studying for Level 1, 330 hours studying for Level 2, and 340 hours studying for Level 3.
GARP states that students typically devote between 100 and 400 study hours to preparing for the FRM exam, with the average at 240.