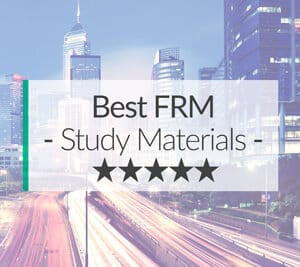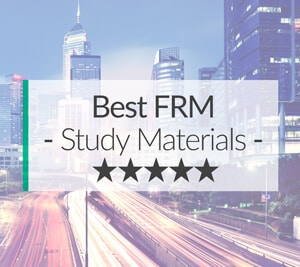 Finding the best FRM study materials that will prepare you to pass the Financial Risk Manager exam is harder than you think. There are a bunch of different options you can choose from and obviously, each company is going to say that its FRM certification course is the best. Therefore, what are you supposed to do and how are you supposed to decide which one is right for you?
The first thing that you need to do is to think about how you learn. Everyone learns differently, so it only makes sense that the best FRM study materials aren't the same for everyone. For instance, a course that your friend or colleague used might have worked for them, but it might not work for you.
For example, if you are someone who needs a structured schedule to stay on task, a prep course that doesn't include a built-in study planner might not be the right course for you. Likewise, if you retain information best through quantitative analysis, you should look a for the study materials with the biggest test bank of past exam questions.
After all, you will probably spend a few hundred hours studying for the FRM exam. Therefore, you need an FRM study guide that will help you decrease your total number of study hours, improve your retention, and make you more efficient. Unfortunately, too many people get the wrong study course and end up adding study hours to their schedule instead of subtracting them.
That's why I've reviewed all of the top-rated FRM exam review courses on the market today. I compare each one, so you can easily look through the course features, advantages, disadvantages, and discounts to find the right course for you. It's as simple as that. Check out the course comparisons below and see which one will help you prepare for the exam the best.
---
Quick Look at FRM Course Reviews and Rankings
Here's a list of the top FRM exam prep materials on the market today.
---
These are The Top FRM Exam Prep Courses and Study Guides in 2020 (March):
Here are the best FRM exam study material review courses to help you pass the exam on your first try and become a financial risk manager.
---
Wiley FRM Review Course

Wiley has been developing professional education and exam prep materials for decades. Furthermore, they are best known for their bite-sized learning approach to studying where they break topics for each FRM exam part down into smaller sections in order to reduce the lesson sizes. Consequently, this helps keep your attention and retain information while you move through the financial analyst topics quickly.
The Wiley FRM exam review course is made up of lessons are only 30-45 minutes each. Hence, this is a perfect course for someone with a busy schedule who can't sit down for hours on end to study. Additionally, it includes a professional exam planner and a personalized study schedule that you can use to stay on track.
Also, the video lectures are designed to match the bite-sized lessons, so they are short and to the point. However, that doesn't mean they aren't highly informative. They explain all the key topics on each exam part in great detail. Additionally, the FRM study textbook also follows this same format.
Furthermore, Wiley's Financial Risk Manager test bank includes more than 480 practice exam questions and 1 full-length mock exam. Hence, you can use these to learn specific concepts, such as risk models and investment management, and practice taking the exam.
Also, this prep course also offers professional online mentoring where you can ask any questions about the exam or the study materials and a financial risk management exam expert will reply to you within 24-48 hours. As with all of Wiley's courses, there is a pass guarantee. You can use your course until you pass the exam. There are no extra charges or artificial time limits.
Ultimately, this is a great course for people with busy schedules and a need for shorter lessons.
---
Bionic Turtle FRM Review


Bionic Turtle FRM offers some of the best Financial Risk Manager prep materials out there. Their study notes and video lectures work hand-in-hand to explain the complicated topics on the exam, so you can understand and remember them when working as a certified FRM. Furthermore, the examples they use in the textbook and the explanations in the video lectures are super easy to follow. They do a really good job of breaking down practice problems, analyzing concepts like portfolio management and asset management, and showing you how to solve them.
The study materials are only part of this course though. Bionic Turtle features the largest FRM test bank in the industry with over 4,400 practice questions. Ultimately, this is one of the most important parts of a review course because it allows you to think through a concept, learn the material, and practice taking the exam all at the same time. The best thing about this test bank is that it's always up to date. New questions are constantly being added to match the new changes to the exam!
Bionic Turtle also offers an interactive study community forum where you can learn from other candidates taking the exam. You can post questions, read other people's answers, or take advantage of the hundreds of GARP practice question discussions on the forum. This is no ghost town forum. There are over 30,000 members who actively use this to ask and answer questions. Consequently, it's quite a resource to students lacking work experience.
You will have access to all of the online Financial Risk Manager study materials for a full year. This is plenty of time to prepare for the exam, but if you need more time, you can get a 3-month course extension.
Essentially, this is a great course for people who want detailed materials on financial markets and a huge test bank to practice with.
---
APNA FRM Review

APNA FRM is by far the most affordable financial risk manager exam review course on the market. Starting at only $180, this is the perfect course for someone who is on a budget and doesn't need a ton of review materials for each FRM part.
Although this course doesn't have quite as many features as other full-time courses do, it still has all of the basics that you need to prepare yourself for the exam. It comes with 4 complete mock exams. This is more than any other course!
APNA also includes 300 past exam practice questions with solutions and over 35 hours of video lectures explaining more than 100 key topics on the exam. Similar to Bionic Turtle, APNA offers an interactive study forum where you can participate with other people studying by asking questions and reading posts by the forum moderators.
It doesn't include all the frills and flashy features that the other courses do, but it has more than enough to explain the topics on Part I and Part II of the exam and help you prepare. Plus, it's so affordable you could even use it as a supplement to one of the other courses. This way you can take more mock exams and practice questions.
---
FRM Prep Course Discounts
If you're looking to earn the FRM designation, it might be helpful to mitigate the financial burden from purchasing study materials and enrolling in prep courses.
To help you with this, we've put together this list of discounts and promotions for the FRM study materials with the highest ratings, like those from Wiley FRM Review and Bionic Turtle. Check it out below!

FRM, Exclusive Discount, Wiley FRM 40 uses today
FRM 33 uses today
Save 20% on your Wiley FRM Silver and Self-Study Courses with code.
More
Last Used 3 hours ago
Expiration Date:
March 29, 2020
What is the Best FRM review course?
Top 3 Best FRM Prep Courses of 2020 – Comparison Guide
| FRM Review Courses | Best for: |
| --- | --- |
| Wiley FRM Review | Bite-Sized Lessons |
| Bionic Turtle FRM | Largest Test Bank |
| APNA FRM Review | Most Affordable |