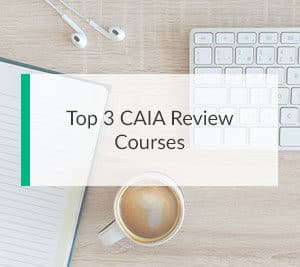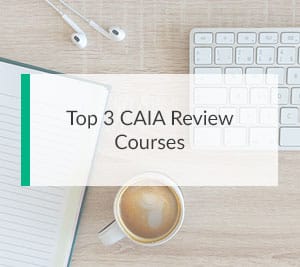 While working towards your Chartered Alternative Investment Analyst (CAIA) certification, you'll likely find you need some extra help.
But with so many CAIA study materials out there, how are you supposed to choose the best one?
Luckily for you, I've spent my time checking out what's on offer and have compiled a list of the top CAIA prep courses to help save you time and money!
Listed below are my top three CAIA review course materials.
The Best Chartered Alternative Investment Analyst Exam Prep Courses
| AIS RANKING | #1 | #2 | #3 |
| --- | --- | --- | --- |
| GET STARTED | Full Course | Full Course | Full Course |
| COURSE NAME | | | |
| PRICE | $495-$745 | $499-$1,029 | $499-$1,129 |
| PASS GUARANTEE | Yes | Yes | Yes |
| STUDY RESOURCES | Webinars, Self-Study, Exams, Lectures | Webinars, Self-Study, Exams | Webinars, Self-Study, Exams |
| LIVE CONTENT | Yes | Yes | Yes |
| ACCESS PERIOD | Unlimited | Current Exam Period | Current Exam Period |
| SUPPORT | Phone, Email, Live Chat | Phone, Email | Phone, Email, Live Chat |
| DISCOUNT | | | |
---
#1 Wiley CAIA Review Study Materials
Pro – Adaptive Exam Planner
Wiley's adaptive exam planner and flexible study guides are designed to work around your personal schedule. Many people can only devote a few short hours of study intermittently throughout the day. Others have a schedule that allows for one or two long study sessions every week. Ultimately, Wiley takes situations like these into account and creates a schedule around students' limitations.
Additionally, their schedule gets even more in-depth:
Students have no need to worry about missing out on any aspects of their CAIA Level I or Level II exam courses. Wiley has done their due diligence to ensure all materials can be easily organized and accessed. They've even been reduced to bite-sized lessons as short as forty five minutes. These segmented versions of lessons also allow Wiley to better assess how well you're responding to certain lessons and check on your progress.
Pro – Range of Study Materials
This CAIA course offers an extremely wide range of study materials for all of their customers. Included with the course are study guides, mock exams, practice questions, video lectures, and more. With all of these great options you have a much higher chance of passing your upcoming certification test.
These materials can even be purchased on a low budget!
The best part about these materials is that almost all of them are included in the lower price options. Unlike other services, Wiley wants you to be able to learn what you need without breaking the bank. You can even buy each study material individually if you're not interested in purchasing the full course. Wiley is dedicated to an expansive and affordable learning experience.
Pro – Strong Pass Guarantee
Wiley Efficient Learning has one of the best pass guarantees I've seen. They allow you to retake their course as many times as possible so you can pass. Consequently, you have an unlimited access period for their course. With this access period comes free updates and nonstop access to your notes and metrics. No matter how long it takes to obtain your CAIA designation, no matter how intimidating the exam's pass rates are: Wiley's got your back!
Con – Pay Extra for Video Lectures
The one negative aspect of Wiley is that only the highest payment tier has access to video lectures. This means that anyone taking the cheaper self-study options won't have all of the same advantages of the course. However this does appear to be the only thing missing from the other tiers, so it's not a deal breaker for anyone interested in the course.
Bottom Line
Wiley is hands down the best option when studying for the CAIA exam. They have a wide range of understandable and affordable materials and are dedicated to helping you pass. You even gain unlimited access to their course when purchasing it. With competitive features like these, you owe it to yourself to try out Wiley!
---
#2 UpperMark CAIA Study Materials


Pro – Flexible Pricing
The first thing you'll notice with UpperMark is their extremely varied and flexible study plans. You can pick and choose between which aspects of the course you want to pay for. Flashcards, study guides, and course topics each have different price options. You can even choose whether or not to add the final review course. This can lead to a price as low as $499 or as high as $1029. Ultimately, this a-la-carte structure means that whatever price you pay is decided by what you need.
Pro – Samples and Demos
UpperMark has a set of ten demos and samples which can be helpful if you're unsure whether the course is right for you. These freebies include a test course, flashcards, study handbooks, formula sheet, and test bank. Basically, all aspects of UpperMarks materials can be tried ahead of time before deciding on a purchase. This shows a great level of transparency that other companies may not share.
Pro – Enhanced Study System
UpperMark's services also include creating a study schedule, understanding the basics of the CAIA program, and maintaining a study plan. They want you to make the most out of the course that you're working with. They do so with an enhanced supplementary support system that comes included with suite level packages.
Con – Limited Live Content
Unfortunately, most of UpperMark's content is on-demand instead of live. While competitors may focus on their live webinars, UpperMark instead developed their wide range of study and pricing options. Hence, they may not have all the bells and whistles of their competitors, but their courses are still a solid option.
Bottom Line
Thanks to the support and pricing systems on offer, this course is well worth what you pay for it. Anyone should be able to afford the parts of the course they need on their own terms. Seriously, don't pass up on UpperMark's great offerings; everything on offer here is more than worth what you pay for it.
---
#3 Kaplan CAIA Review Course


Pro – Effective Study Routine
A big focus for Kaplan Schweser is creating effective tools for managing your study routine. The Online Performance Tracker and Study Calendar are designed to help you build a schedule and be as prepared as possible for your exam. Furthermore, these will update based on how well you're doing at any given part of the review in order to maximize your learning. With this technology at your side, you never need to be afraid of wasting your time.
Pro – Instructor Assistance
If authentic CAIA Association-based study materials aren't enough for you, then check this out. Kaplan Schweser also employers intelligent and qualified instructors who will answer any questions you have. Questions can be submitted at any time and will be answered within 24 to 48 hours. Consequently, you'll never be lost with these experts on call!
Pro – Free Trial
If you're unsure about whether or not this course is right for you, Kaplan Schweser offers a free five day trial. Included with the trial are samples of the QBank and SchweserNotes offered in the main course. Additionally, you'll still have access to instructor support during all five days of prep. Most courses don't offer that many features during their trial period, so this works as a perfect snapshot of what you'll be working with.
Con – Expensive
Unfortunately, this is the most expensive course on this list. For access to all of the great included features, you'll have to pay $1129 for the Premium Plus course. While there are cheaper courses offered by Kaplan, they don't have the same quality as the top options. However, if you can afford it this is a good option. Otherwise, consider the more affordable Wiley instead!
Bottom Line
Kaplan Schweser is a competitive course that is brought down a bit by its price tag. They offer great study materials and instruction that set a brisk but achievable pace. Ultimately, if you can afford it, this is a terrific option!