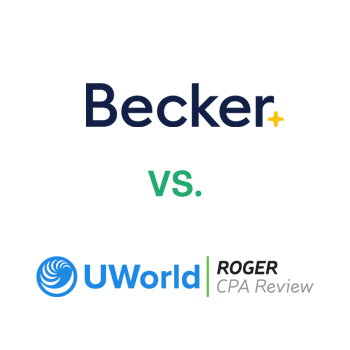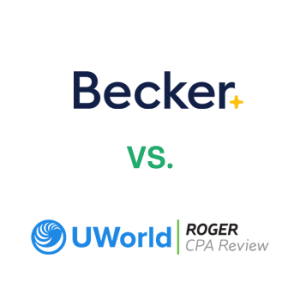 If you're starting your career as a Certified Public Accountant, you won't be so lucky. Passing the CPA exam is an essential first step that requires plenty of time and effort. That's why you can't waste time looking for CPA study materials.
We've looked at two of the top CPA review courses in the field: Becker versus UWorld Roger.
Both Becker CPA Review and UWorld Roger CPA Review are praised for their effective study courses. But even the best CPA program will only be the perfect fit for some CPA candidates.
Read on to see just how these two-course providers stack up against each other!
UWorld Roger vs Becker: Format and Features
Over 60 years. This is how long Becker has been helping financial experts enhance their careers. The most trusted name in CPA test prep, those who know the CPA world know Becker. With a pass rate 40 points higher than the national average, Becker has the backing of every one of the Big 4 accounting firms in the nation.
Becker cares a great deal about delivering solid CPA content. Content that mirrors the CPA exam in every single way. They also assist their clients with other parts of the CPA license process. With Becker, it's not just about just getting you to buy in. They'll help you cross the finish line.
Becker CPA Review Courses and Offerings
We know Becker for its three core programs: the Advantage, Premium, and Pro courses. Each is one-of-a-kind and offers things that no other course provider offers.
The textbooks that come along with Becker's offerings are two things: high-quality and informative. With colored diagrams and detailed images, Becker's books are well-organized and structured in a way that makes them so easy to read. In addition, the CPA review courses also go into a lot more detail than you might expect. This means that the Becker CPA review course materials are an excellent refresher resource if you've forgotten some important terms and topics.
Although their textbooks are excellent, you may prefer the format and content of the UWorld Roger CPA textbooks if you need memorization aids. Regarding videos, there are pros and cons to both, but we'll discuss that in the video lectures section of this CPA review.
When you choose Becker, you receive the following:
A 4-part course based on AICPA CPA Blueprints
Becker's Exam Day Ready toolkit
Books (print and electronic textbooks)
Video lectures and question banks
They pair all of this with practice exams and full length mock exams, an on-the-go mobile app and game, and a final review (lessons from cram courses.)
The result?
The Becker Bump!
The Becker Bump is the difference between how well Becker CPA candidates perform on their CPA exam on actual exam day and their simulated mock exams. For most test takers, the Becker practice exams prove more complex, and they see a boost in test scores when they sit for the exam.
Recently, Becker launched a new CPA prep program: Concierge.
When you enroll in Becker's Concierge program, you gain access to a dedicated team and a personal success coach to support you through your CPA Exam journey. In addition to the complete 4-part Becker CPA Exam Review course, which is regularly updated to align with the AICPA's blueprint (including CPA Evolution launching in 2024), you also receive up to 50 weekly one-on-one hour-long tutoring sessions to help you master the material.
Becker's Final Review, with over 900+ multiple-choice questions (MCQs), and bonus content, are included in the program, as well as printed and digital CPA review textbooks, flashcards, a mobile app, and an award-winning game.
If you require more customized instruction, Becker Concierge provides access to online virtual classes and live in-person sessions. Furthermore, the program offers unlimited custom practice tests powered by Adapt2U Technology with 8 simulated exams and 12 mini exams. This means you can prepare for your CPA exam day with the utmost confidence.
In addition, if you require further assistance, the Concierge program provides exclusive access to over 7,000 MCQs and 400+ TBS questions, including exclusive SkillBuilder solution videos to help you work through challenging questions.
UWorld Roger CPA Review Courses and Offerings
Roger Philipp is becoming a household name in the CPA exam review. UWorld Roger CPA Review offers three different course packages, each providing students with high-quality CPA exam content.
The UWorld Roger packages range from limited course access for 18 months to a mid-level option that provides unlimited access to many features. Their most expensive package includes an online video program, an online study planner, private tutoring sessions, and more.
Boasting a 94% pass rate, Uworld Roger CPA review ties Becker for the highest pass percentage in CPA prep.
What makes this program that Roger Philipp designed so top-tier?
It includes 100s of hours of video lectures, audio lectures, and Study hub access. You'll also get in-color digital textbooks and a personalized study planner to guide and track your process. In addition. Uworld Roger vs Becker CPA review gets you:
6,000+ practice questions
Hundreds of task based simulations
Digital flashcards for studying CPA concepts
Unlimited access to practice exams
If you choose an Elite course offering, these add-ons exist:
Printed textbooks and digital flashcards
A Pass Guarantee that promises $250 back on any section of the CPA exam you fail
Reading our individual review of the UWorld Roger CPA prep course can help you see how impressive it really is. Roger CPA review textbooks can be found online and in traditional print, but regardless of how you access the information, it's direct and to the point.
Roger CPA review course includes all critical CPA topics and subtopics. In addition, it provides mnemonics to help make memorization easier. And, of course, full length practice exams to help you test what you know.
Best of all, the video lessons, practice tests, and other resources are fully integrated into the Roger software. As a result, students can highlight important points, create flashcards, and take notes as they study.
Both Becker vs. Roger provides a final review, so you'll know that you know what you need to do before your CPA exam test day.


Winner: Becker CPA Review
Roger vs Becker CPA Review: Lectures and Videos
Stellar study lessons are what most CPA candidates look for. Roger CPA has them, and most come in the form of video lectures.
What makes these so great?
Roger himself.
Roger CPA Review Video Lectures
UWorld Roger CPA review has something that others don't. They have Roger. When watching these video lectures, not only will you learn everything necessary to pass the CPA exam, you'll be entertained.
No yawning, no spacing out. Just learning.
Check Roger out here to see his style and understand why UWorld Roger wins where.
Becker CPA Review Lectures and Video Lessons
Although Becker CPA review courses aren't as personal, they are predictable. They begin with skills practice and then move into multiple-choice practice questions.
Simulation practice is the follow-up. Simulations are a part of the CPA exam, and use real-life work situations to test your in-depth knowledge in a subject area. Since the CPA exam includes 28 of these exercises and accounts for 50% of the test, it's important to have lots of practice with them.
They use both books and video lessons to help you build this core knowledge. They're even connected to Becker's mini and full length exams! We'll talk more about these in the next section.
Still, we have to give Roger the win for CPA videos.

Winner: UWorld Roger CPA Review
Best Practice Questions and Exams
When comparing the Becker CPA review course vs UWorld Roger CPA course packages, most students focus on one thing: practice questions. However, practice tests and simulated exams are also crucial since getting a feel for the test set-up is important to ensure you pass.
Here are the numbers.
Both CPA exam prep providers offer thousands of practice and task based simulations to help students prepare for the real CPA exam. Becker includes 9,000+ (not including simulations), and Roger includes over 6,000 high-quality practice questions with their video lessons. Practicing these, along with their 400 simulations over and over, can help you pass the CPA exam.
Now, we realize that numbers don't matter as much as quality. Becker brings that in the form of their mini exams.
But what are they?
Becker has split their Simulated Exam into three smaller, bite-sized exams. They serve as knowledge checkpoints and are presented in the middle of sections. As their website explains, these exams:
"…will give you exam experience earlier in the studying process, and allow you to test your knowledge more frequently during your study journey and in a real exam-like environment."
The simulated exams are different in how they're built in as well as how long they take. Simulated exams require a 4-hour commitment instead of four.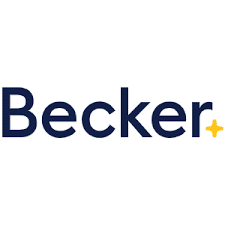 Get $1,140 Off Becker CPA Pro
5 uses today
Last Used: 3 hours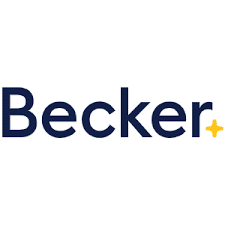 Becker CPA Advantage Package Now $2,499 – Promo
9 uses today
Last Used: 7 hours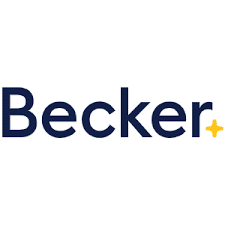 Becker CPA: 0% Interest Payment Plan
173 uses today
Last Used: 7 hours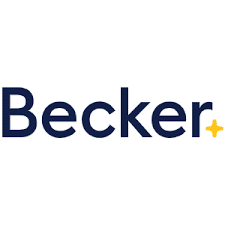 Save on Becker CPA Single Part Courses
228 uses today
Last Used: 7 hours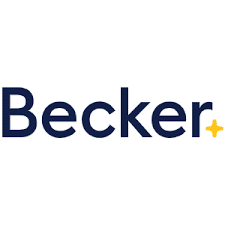 Get CPA Evolution Ready Content on All Becker CPA
5 uses today
Last Used: 7 hours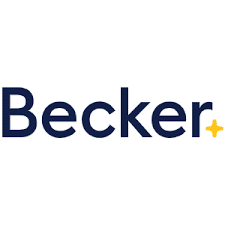 Enjoy a 14-day Free Trial on Becker CPA Courses
4 uses today
Last Used: 7 hours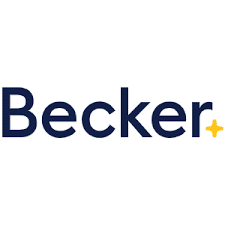 Sale – Becker CPA Premium Package Now $3,099
2 uses today
Last Used: 7 hours
---
Winner: Becker CPA Review
---
UWorld Roger CPA Review vs. Becker: Best Flashcards and Resources
Bonus materials are mostly the icing on the cake when it comes to reviewing courses. They aren't strictly necessary, but they're very nice tools to have— especially if they include physical or offline content that you can use to learn on the go. Because of that, most courses go out of their way to offer you something extra while you're learning.
Aside from their three study packages, Becker offers extra textbooks, digital flashcards, and study notes. These should help you structure your study schedule in a way that's more convenient for you. For example, you can easily take your textbooks or some flashcards with you to work and learn when on break or during your commute if you take public transit.
UWorld Roger is no slouch in this department either— they're essentially identical to Becker in this department. They also include flashcards, textbooks, and study guides in the same physical and digital formats.
When it comes to Roger vs Becker CPA flashcards, you're good to go with either one. Which one you choose (UWorld Roger CPA review vs Becker CPA review) depends on one thing: how do you like to study?
If you're a CPA candidate who really needs something in your hand (printed flashcards) for the material to click, Becker vs. UWorld Roger is probably a better fit. If you're a tech-based studier and prefer flashcards offered through a mobile app, Roger is it.
Also, it's important to note that the Roger CPA review technology allows you to create and customize your own flashcards. So, if you think you'd spend the extra time doing so, it's something to consider.
For a significant number of students, lectures are the most effective way of learning topics on the CPA exam. In order to accommodate these students and help them pass on the first try, both UWorld Roger and Becker provide them with lecture content.
---
Best Mobile App and Technology
A killer mobile app and advanced technology are crucial parts of any unlimited access study materials included in a CPA review program.
When comparing the UWorld Roger CPA review vs Becker, you should consider the following questions:
Do the features available on the mobile app replicate the desktop version?
Are all of the CPA course materials accessible on the app?
Is the mobile app updated regularly?
UWorld Roger CPA is up to speed and assures that its desktop version matches the mobile version. So, you can access task-based simulations, practice questions, lectures, and more through the app. This is in part to UWorld Roger CPA's adaptive tool called SmartPath Predictive Technology™.
Uworld Roger technology gives recommendations on how to focus your study efforts based on data gathered from your progress and performance. According to UWorld Roger, students who meet all SmartPath™ targets while taking their CPA course average a 94% pass rate!
Becker has the same pass rate and top-tier technology (Adapt2u Technology), which uses AI to identify your weak spots. This way, you're not just studying random topics. Becker tech makes sure you're lasered into the areas you really need help with.
But what about their mobile app? Users rate it 4.7 out of 5 because of its dependability. Becker CPA review also allows you to access the app offline. So, even if you don't have access to the internet, your study time won't be cut short. This is part of the reason why Becker tops our list with its technology.
---
UWorld Roger CPA Review vs Becker CPA: Who has the Most Updates?
Both UWorld Roger and Becker study materials are updated on a regular basis. Specialists for both companies are in charge of following the AICPA-approved changes and updates to the CPA Exam. Whether existing chapters are altered or new topics are added, it is important that test prep providers not only know about it but also mold their materials.
How do they do this? They study and tailor the CPA Blueprints. The CPA Exam Blueprints are created by the American Institute of Certified Public Accountants (AICPA) as a way to guide CPA candidates. Although they aren't a substitute for a recommended CPA test prep program, they do give a general understanding of what skills and content topics will be tested on the CPA Exam.
For example, in 2022, there was an increase in employer-dependent care exclusion to $10,500. This had to be updated in prep materials.
Thankfully, both companies do an excellent job in this category.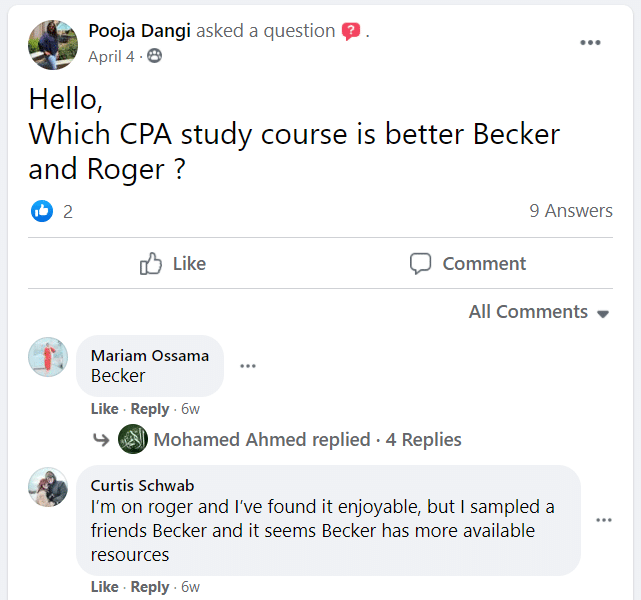 ---
Roger vs Becker CPA Course Expiration and Access
Top-tier course offerings for both Becker and UWorld Roger CPA review come with unlimited course access. This used to not be the case for Becker, but they realized the importance and stepped their game up.
If you're going to purchase Becker's bare-bones program, you'll only have 24 months to study. With Roger CPA course review, expiration happens at the 18-month mark. So, if you think you might need extra study time or are worried you won't pass on your first attempt, you'll want to go with CPA study materials with no expiration sticker.
---
Uworld Roger CPA Review vs Becker: Value Comparison
If your mind is on the money, you're not alone. Comparing Becker CPA review cost with UWorld Roger CPA review's pricing is important.
Originally, Becker was a lot more expensive than UWorld Roger CPA review course offerings. However, several deals and discounts by Becker and raisings in course prices by UWorld Roger CPA have shaken things up.
Currently, you're looking at spending $2,499 to $5,999 for full-price Becker CPA review course plans. Of course, Becker is usually offering a discount of some kind, so this number could be drastically different the day you sign up for Becker's Pro plan (or some other course.) We definitely recommend using our Becker coupons before purchasing.
Although we recommend Becker, the UWorld Roger CPA review is offered at a really reasonable price that is hard to ignore, from $3,299 to $3,899. Their upper plans have a prettier price tag, especially when you consider that they're often found on sale at the under 2,500 mark.
As long as the plan you pick fits your budget, you're sure to crush the CPA exam, but Roger is a little more affordable for most.

Winner: UWorld Roger CPA Review
---
Is Roger CPA Better Than Becker? Final Recommendation
At the end of the day, Becker is the superior option between these two courses. They've got an unparalleled dedication to teaching you everything you need to know about the CPA exam. That's not to say that Roger is bad— far from it. They're a solid option for your educational needs, especially if you're on a tight budget. It's just that Becker outperforms it in most ways that count.
Becker's practice tests and study materials show a level of care that competitors can't match. You can really tell how they're using the money they've earned to improve their overall product. Because of that, Becker offers the best chance for you to pass the exam on your first try.
Make sure to check them out as soon as you can!
---
Roger Vs Becker CPA FAQs
Do you still have questions about Roger CPA's review or what Becker offers? Here are a few answers that other CPA candidates have asked.
Is Roger CPA good?
Yes! UWorld Roger CPA is one of the best CPA review programs on the market. Their review courses are known for being two things: affordable and personable. Roger also has a very high pass rate. 94% of the CPA candidates who complete their program pass the CPA exam.
Is Roger CPA better than Becker?
For most candidates, Becker CPA review is a better choice than UWorld Roger. Although Roger CPA does have a solid review program, Becker CPA is the most popular CPA program around for a few reasons. By signing up for a Becker free trial, you can test their video lectures, practice tests, and amazing study tools.
Which CPA review course is best?
Becker CPA Review is the most popular CPA Review course. They've been around for over 60 years and have helped over 1,000,000 students prepare for the CPA exam. Best of all: it works. Becker has a super high pass rate of at least 94%. You can join them and prepare to pass your CPA as well.