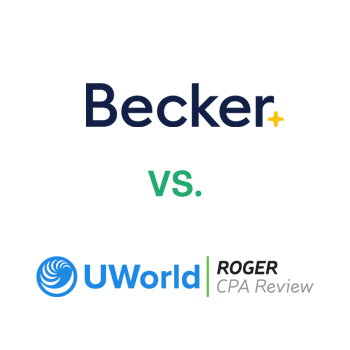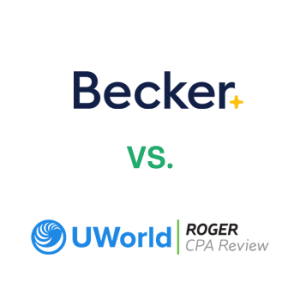 Every accountant will need to take the CPA exam to start their career as a Certified Public Accountant. It's an important first step that requires plenty of time and effort to pass. That's why you can't waste time looking for study courses. You need to know which ones are the best, and you need to know now.
To that end, I've taken a look at two of the top CPA review courses in the field: Becker and UWorld Roger.
Both Becker CPA Review and UWorld Roger CPA Review are praised for their effective study courses. But only one of them can be the best, and that's what we're here to find out. So read on to see just how these two course providers stack up against each other!
Becker vs. UWorld Roger CPA Review: Price
Typically, the first thing most people look at when shopping for cram courses is the price. Sure, there are other factors— but how much something costs play a major part in deciding whether or not to buy it. Both of these courses are on the pricey side, but one is much more expensive than the other.
Becker has three different course options: Advantage, Premium, and Pro packages. Each of these comes with their own set of advantages and cost $1,899, $2,099, and $2,399 respectively. That's fairly expensive, but you can read our full review to see what makes them worth the price (also, keep in mind that Becker frequently offers discounts on their courses).
By contrast, UWorld Roger CPA Review is the more inexpensive option. They also have three course options at a far lower price: Single Course at $649, Premier Package at $1,899, and Elite-Unlimited at $2,999. Admittedly, this is still a large financial commitment— but it's much more affordable than their competitors.
Between these courses, UWorld Roger wins out in this category. However, price isn't the only factor when studying:

Winner: UWorld Roger CPA Review
Becker vs. UWorld Roger: Free Trial
Free trials are a great way to get a feel for the course you're interested in. Plus, they can show just how confident a company is in their materials. That's why it's important to look at the impressions that a free trial can give you.
Becker and UWorld take a similar approach to their trials, with a few small differences.
Becker offers a 14-day demo of their course. This demo is essentially a small slice of the full course. Although small isn't exactly the right way to put it— the trial includes 31 hours of lectures and over 1,500 multiple choice test questions. It even includes several simulated exams and unlimited practice tests. From this impression, Becker clearly knows their course is good and isn't afraid to show it off.
By contrast, UWorld Roger CPA Review only offers a 7 day free trial. And while that's half the length of Becker's, the UWorld trial actually includes full access to all their materials. Essentially, the trial starts at the beginning of the course, giving you the option to continue past the first week if you choose to pay for it. All course progress is carried over from the trial into the paid version.
Both trials have their benefits (and you should definitely try them both yourself!), but Becker does a much better job. It's nice that UWorld Roger lets you get a first impression and seamlessly transitions into a full course, but Becker's catered approach is more effective at showing you what their course is like overall.


Winner: Becker CPA Review
---
Becker vs. UWorld Roger: Practice Tests
Practice tests and multiple-choice questions are an essential part of studying for the CPA exam. They allow CPA candidates to familiarize themselves with both the content and format before taking the real thing. Because of that, prep courses need to focus on their test banks and make them a core part of learning.
Becker offers 12 simulated exams designed to simulate the CPA exam style and content. They do so by giving you the same time limit as the exam and asking you to test in an isolated environment. These are extremely effective learning tools for anyone with a self-study learning style. Plus, they also offer unlimited practice exams from the large pool of practice questions.
Much like Becker, UWorld Roger's CPA prep course also offers unlimited practice exams. But while the format is similar, they don't have any final review tests that perfectly emulate the CPA exam as Becker does. Instead, their focus is on their bank of practice questions. This is fine for studying content but can leave you under prepared for the test taking experience.
Once again, Becker comes out on top here. They have a dedication to recreating the CPA testing experience that UWorld can't quite match.


Winner: Becker CPA Review
---
Get Discounts On CPA Review Courses!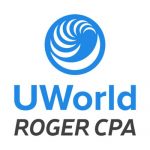 Save $1,900 Off UWorld Roger CPA Elite-Unlimited Package
CPA, Exclusive Discount, Roger CPA Promo Codes
88 uses today
Last Used: 35 minutes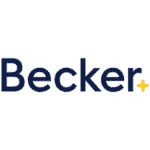 Save $1,700 Off Becker CPA Pro+
CPA, Exclusive Discount, Becker CPA Review Promo Codes
26 uses today
Last Used: 16 minutes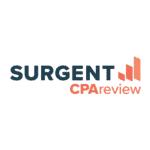 Save $1,500 off Surgent CPA Ultimate Pass
CPA, Exclusive Discount, Surgent CPA Promo Codes
109 uses today
Last Used: 35 minutes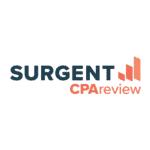 Switch to Surgent & Save $1,200
CPA, Exclusive Discount, Surgent CPA Promo Codes
59 uses today
Last Used: 1 hours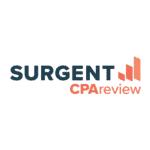 Save $1,100 off Surgent CPA Ultimate Pass
CPA, Exclusive Discount, Surgent CPA Promo Codes
107 uses today
Last Used: 12 minutes

Save $800 off Wiley CPA Platinum Review Course
CPA, Exclusive Discount, Wiley CPA Promo Codes
241 uses today
Last Used: 25 minutes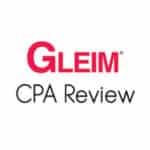 Save $500 Off Gleim CPA Premium Review
CPA, Exclusive Discount, Gleim CPA Promo Codes
21 uses today
Last Used: 35 minutes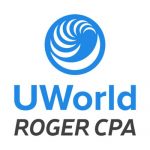 Save $300 off UWorld Roger CPA Review Premier
CPA, Exclusive Discount, Roger CPA Promo Codes
8 uses today
Last Used: 5 minutes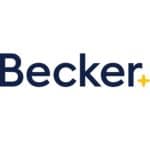 Save on Becker CPA Single Part Courses
CPA, Exclusive Discount, Becker CPA Review Promo Codes
148 uses today
Last Used: 3 minutes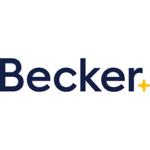 Becker CPA Review Free Trial
CPA, Free Trial, Becker CPA Review Promo Codes
59 uses today
Last Used: 2 hours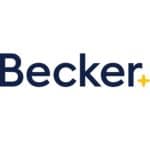 Becker CPA: 0% Interest Payment Plan
CPA, Exclusive Discount, Becker CPA Review Promo Codes
76 uses today
Last Used: 2 hours
---
Becker vs. UWorld Roger: Lecture Content
For a significant number of students, lectures are the most effective way of learning topics on the CPA exam. In order to accommodate these students and help them pass on the first try, both UWorld Roger and Becker provide them with lecture content.
Becker includes several hours of video lecture content in all three of their CPA prep courses. they're taught by a team of instructors who are highly experienced and have connections with the Big 4 accounting firms. Further, these same instructors provide over 400 SkillMaster companion videos with their task-based simulations, so you'll never run out of video content.
UWorld Roger's video lectures are a huge selling point for their CPA prep course since they're taught by the company founder, Roger Philipp. His style of instruction is personality-driven, engaging, and informative for students— making it a terrific choice if you're interested in lecture content above all else. That being said, the UWorld Roger video library has 100 hours worth of content, which is far less than Becker's video library.
Although Becker provides a larger volume of lecture content, UWorld Roger wins through sheer force of personality. The learning experience when watching Roger's lectures are entirely unique and can't be replicated anywhere else.

Winner: UWorld Roger CPA Review
---
Becker vs. UWorld Roger: Extra CPA Study Materials
Bonus materials are mostly icing on the cake when it comes to review courses. They aren't strictly necessary, but they're very nice tools to have— especially if they include physical or offline content that you can use to learn on the go. Because of that, most courses go out of their way to offer you something extra while you're learning.
Aside from their three study packages, Becker offers an extra set of textbooks, digital flashcards, and study notes. These should help you structure your study schedule in a way that's more convenient for you. You can easily take your textbooks or some flashcards with you to work and learn when on break, or during your commute if you take public transit.
UWorld Roger is no slouch in this department either— they're essentially identical to Becker in this department. They also include flashcards, textbooks, and study guides in the same physical and digital formats.
This category ends in a tie. Becker and UWorld Roger have essentially identical extra materials and both of them are extremely effective.
Winner: Tie
---
UWorld Roger CPA Review vs. Becker: Final CPA Course Recommendation
At the end of the day, Becker is the superior option between these two courses. They've got an unparalleled dedication to teaching you everything you need to know about the CPA exam. That's not to say that UWorld is bad— far from it. They're a solid option for your educational needs, especially if you're on a tight budget. It's just that Becker outperforms it in most ways that count.
Becker's practice tests and study materials show a level of care that competitors can't match. You can really tell how they're using the money they've earned to improve their overall product. Because of that, Becker offers the best chance for you to pass the exam on your first try.
Make sure to check them out as soon as you can!