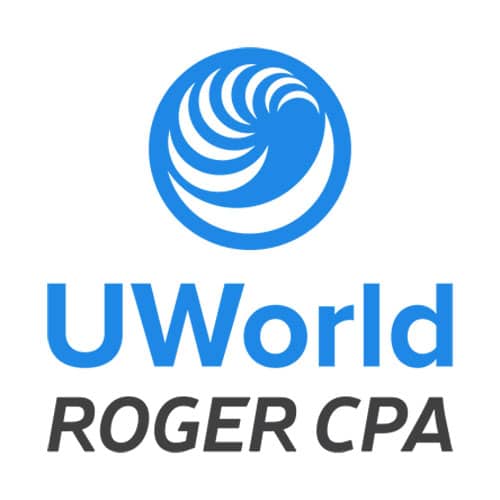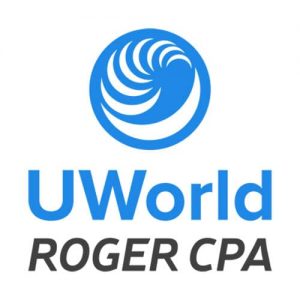 UWorld Roger CPA Review is one of the most popular CPA exam study guides because it's energetic, interesting, and retains candidates' attention. This review course is built on the Roger learning method that integrates lectures, study text, and practice questions to help candidates learn and remember information about complicated topics.
This study guide is most known for its lectures present by Roger Philips, the founder of the company. Roger is a flamboyant lecturer with a sense of humor and personality. He explains topics with jokes and creates ingenious test prep memorization devices, like mnemonics, that CPA candidates can use to recall important topics or steps in a series of events. This course is great for candidates who are tired of the same old boring accounting lectures and want something that will hold their attention and even (gasp) entertain them.
How do you rate UWorld Roger CPA Review?
The overall UWorld Roger CPA Elite course format looks like this:
---
UWorld Roger CPA Review Course Format
The UWorld Roger CPA study materials are split into chapters covering different topics. Each chapter consists of several different review components and modules that help candidates study in different ways. Let's take a look at each chapter component and explain what's inside.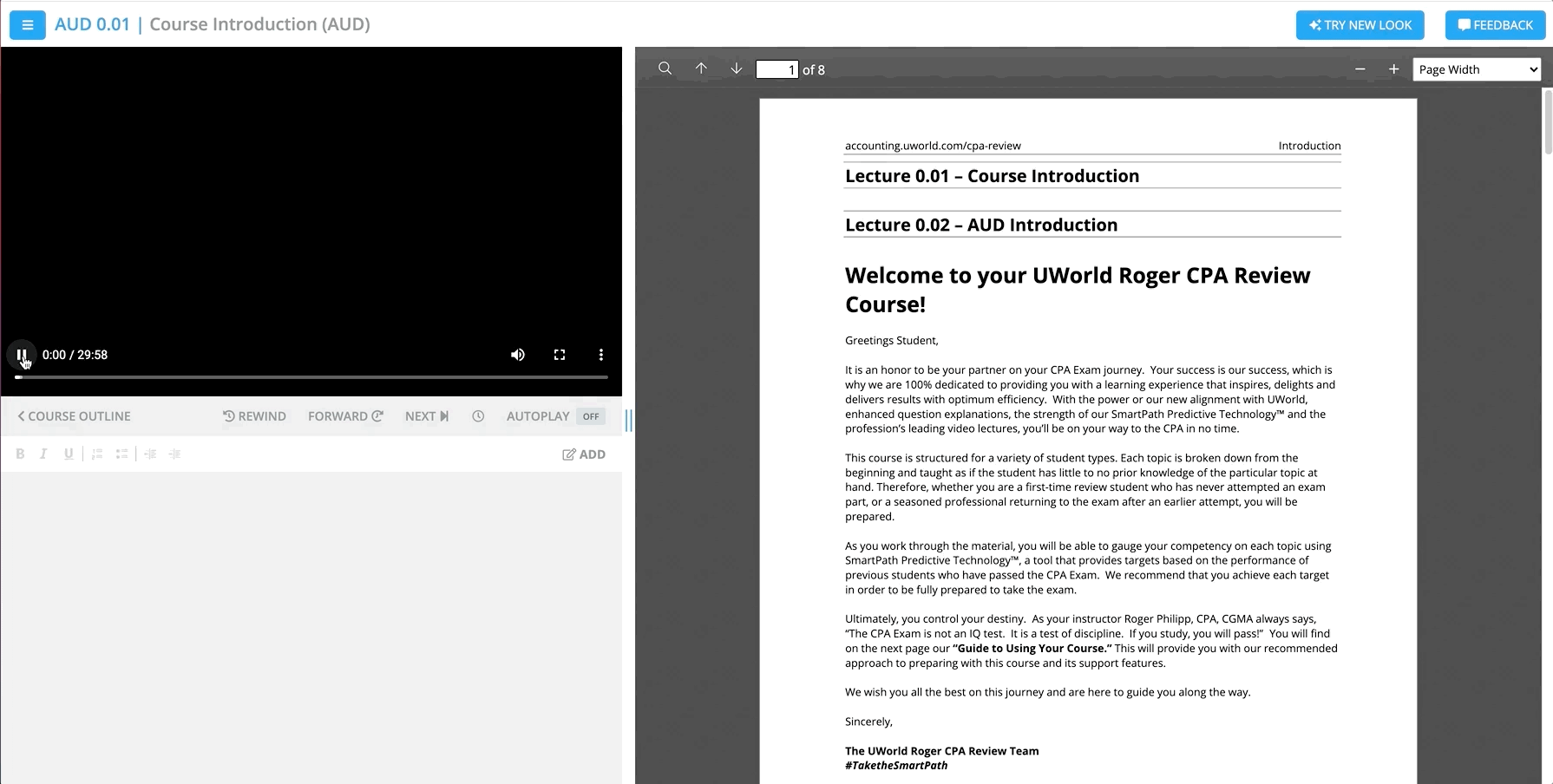 Video Lectures
UWorld Roger CPA Review lectures are probably the biggest and most well-known component of this CPA course. Roger himself is the instructor in all the lectures. He delivers fun, energetic performances that will grab your attention, entertain you with his antics, and educate you on the important information all at once.
Each chapter is covered in great detail, but you can increase the detail by seamless pulling up relevant text passages and practice questions at the same time. You can also speed up or slow down each video, add captions, and leave bookmarks for future reference.
SmartPath Predictive Learning
Recently, UWorld Roger CPA Review has been completely revamped after being acquired by UWorld. As a result, their adaptive learning program SmartPath, in conjunction with their QBank of multiple-choice questions, is now one of its strongest features. Not only is this an impressive selling point, but it actually stands out as one of the most technologically advanced programs in CPA test prep.
UWorld Roger CPA Review Test Bank
This test bank isn't the largest in the industry, but it includes many features that other AICPA-approved prep courses don't. The 6,000+ multiple choice questions include an explanation of the correct answers, so candidates can review what answer was correct and why the other answer was wrong. It also includes a custom quiz generator that allows you to create custom quizzes from any chapter or topic. Thus, you can focus on practicing specific topics instead of answering questions about topics you already understand over and over.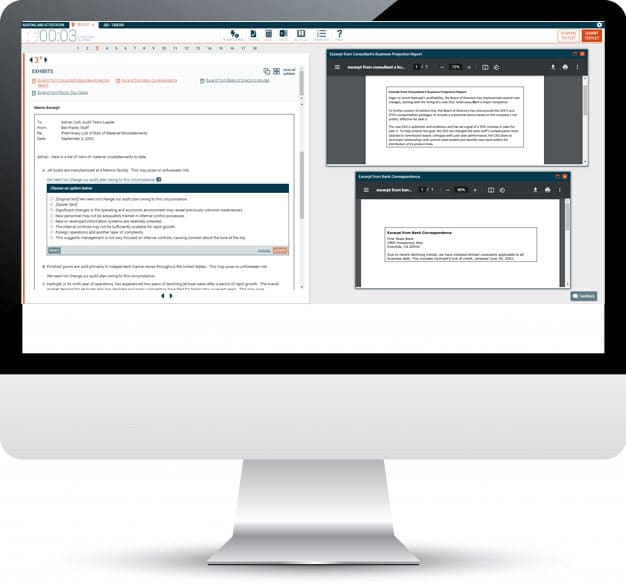 Task-Based Simulations
Additionally, all of the course options come with a full set of task-based simulations. These simulations include many different topics and emulate the real CPA exam format. This is an important part of your study time because the simulations are becoming a bigger part of the overall CPA exam score. They can also be tricky to understand because the format of each simulation is usually different. The UWorld Roger simulations are developed to expose you to several different layout and question formats as well as different types of topics covered.
Exam Simulator
UWorld Roger CPA Review features a complete practice exam that candidates can use to improve their test-taking ability, time management skills, and overall awareness of the CPA exam format. The simulator acts and looks like the real exam environment and is timed like the real exam as well. This is among one of the many aspects of this course that has been updated after the UWorld deal. Hence, candidates can rest assured that it's up-to-date with the latest developments in the CPA exam itself.
Audio Lectures
Recently, audio lectures have been added to all three UWorld Roger packages! These audio versions of Roger's energetic lectures allow candidates to listen to lectures and study while in the car on the way to work or out on a jog. You can take the audio lectures anywhere; they're a great way to study when it's impossible to read the study text or watch a video lecture.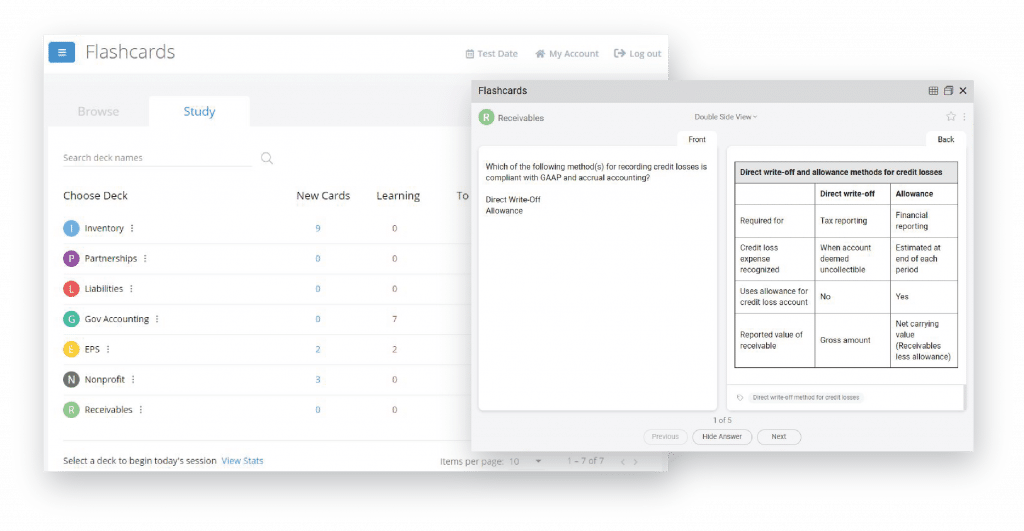 Flashcards
UWorld Roger's digital flashcards are great for people on the go who don't want to carry a full set of cards to study; instead, you can quickly access your flashcards online or offline with your smartphone or tablet. These cards cover similar content that you'll find in the practice questions, along with key terms and other features.
Recently, UWorld added Spaced Repetition technology to their flashcards: this reintroduces some cards during your study session, making it easier to memorize its contents. And with the ability to instantly generate new flashcards by highlighting sections of the study text, this is one of the best sets of digidtal study cards you can get for the CPA exam!
UWorld Roger Cram Course
The UWorld Roger CPA cram course is a great final review for anyone whether you use the full Roger study guide or not. It's a comprehensive final review that candidates can use in the final two weeks before their exam date to refresh on important topics and make sure they memorize all of the necessary facts for each exam section.
That covers the entire overview of the CPA review course format. Let's look at some of the benefits and drawbacks of these study materials.
---
Benefits
Free Trial
If you aren't sure about signing up, you can test drive the course for FREE! If you don't like it, don't worry about it; It doesn't cost you anything. If you do like it, on the other hand, you can pick your full course after the trial period. It's a no-brainer!
Video Lectures
Roger Philipp's video lectures are nothing like any other course's lectures. He's energetic and helps you stay focused with memorization techniques, interesting stories, and funny jokes. If you want lively lectures instead of the typical dry, boring accounting lectures, this is the right course for you.
Cram Course
The cram course is a big bonus in the Elite-Unlimited version of this course. This final review really helps prepare candidates for the exam and makes sure they remember all of the topics and key pieces of information covered on the exam. Use it as a quick confidence booster on the night before exam day!
Audio Lectures
Unique to this set of study materials, the audio lectures let you study wherever you are. Whether you are in the car or at the gym, you can listen to lectures and learn about the topics you haven't covered yet.
Financing Options
UWorld Roger has financing options available for those who need it. Students can get a rate as low as $149/month with variable interest rates. This makes it much easier to get the Elite-Unlimited version of their course, which we highly recommend.
---
Drawbacks
Video Lectures
I know what you are thinking. "Wait, wasn't this a benefit?" Well, it is a benefit for some people. Other candidates have complained that Roger speaks too quickly and his jokes aren't funny. International candidates, particularly, have a difficult time understanding Roger's speedy lecture style. Fortunately, there are accessibility features like captions and video speed that can be used to make the information easier to absorb.
Study Hub
Have a specific question about the exam, or about public accounting in general? Chances are your question has already been answered in UWorld Roger's Study Hub, which you can access with any course. However, you'll only be able to ask questions of your own if you sign up for Elite-Unlimited.
Bottom Line
UWorld Roger CPA Coupon Codes & Discounts
UWorld Roger CPA Frequently Asked Questions
❓What is Roger CPA?
UWorld Roger CPA Review is an educational test prep company that offers review courses and study materials for students who want to pass the CPA exam.
📅 How long does Roger CPA last?
Study materials for individual CPA exam sections expire after a 12-month period. UWorld Roger's Premier Bundle offers six more months of access, expiring after 18 months. Alternatively, the Elite-Unlimited course offers unlimited access and never expires.
💲How much is Roger CPA Review?
UWorld Roger CPA Review offers two different packages for their full-length prep courses. Their Elite-Unlimited course is $2,999 and their Premier Bundle is $1,899. Alternatively, students can purchase study materials for specific sections of the CPA exam for $649 each.
1️⃣ What is the best CPA review course?
Surgent, UWorld Roger, and Gleim each offer compelling benefits, depending on what is most important to your study (video content, practice questions, scheduling technology, exam simulations, etc). Every student is different, so use our comparison chart to see how they all stack up against each other!