The bar exam is the final and most important step towards becoming a lawyer. In order to make sure you have the best possible chance, you should sign up for a bar exam prep course straight out of law school.
But which one should you pick?
Quimbee Bar Review is a great option for anyone looking to pass the test on their first try. They have several different methods to prepare yourself for each aspect of the test. Read on to see just how effective these methods are.
---
Overview of Quimbee Bar Review
Quimbee was launched back in 2007 with the express purpose of helping law students with their schooling. They do so by providing affordable and effective study courses. Plus, they believe that anything that isn't saving you time is not worth the money. That's why their courses are designed to be as efficient as possible.
The content contained in Quimbee's bar review courses are intentionally designed for remote working. Even their staff is spread out across several countries, such as the US, Taiwan, Canada, and more.
Here are a few features you can expect from Quimbee:
2,000+ Licensed Practice Questions

Essays and Performance Test Graded by Real Attorneys

4 Full Length Diagnostic Exams

Comprehensive Outlines

Print and Digital Materials

On Demand Video Lessons

Study Calendar

Performance Tracker

Mobile App
---
What's Included With Quimbee's Bar Prep Course?
Licensed Questions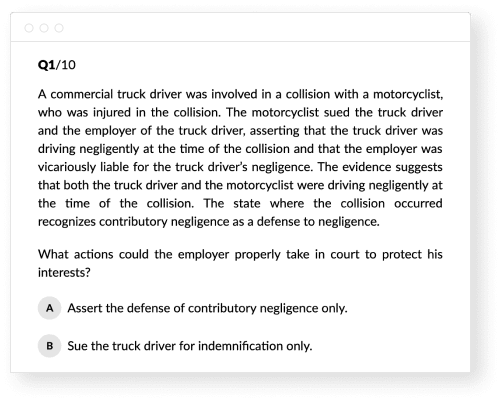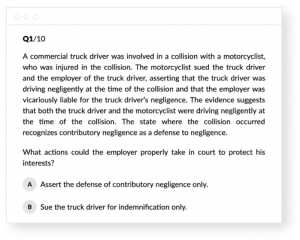 Quimbee uses real, licensed bar exam questions in their course. This allows you to get a feel for what the exam will look like in both content and format. And because these are licensed, you can trust the information in them to be accurate and relevant. When using them as practice questions, you have access to over 2,000 of them. If this isn't enough, Quimbee also has over 3,000 MBE-style questions for you to practice with.
However, that's not the only way you can use these questions:
Each course comes with 4 different full-length diagnostic exams. This allows you to experience the conditions of the real exam and work on time management skills. Plus, you can see how far you've come— and how close you are to being prepared for the real thing. These practice exams are the ideal study aid for relieving pre-test anxiety.
Video Lessons
In addition to questions, you'll also have access to on-demand video lectures. These are designed to break down difficult concepts into bite sized chunks. Doing so makes them easier to digest and speeds up your learning process. Remember the study aids videos that you know and love, the videos in the bar review course follow the same format, providing consistency in your study experience.
Practice Essays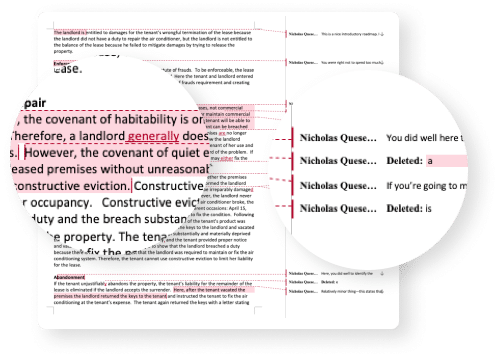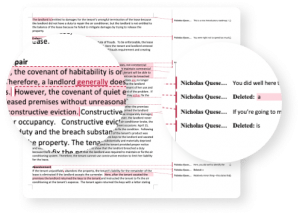 Quimbee also wants you to be prepared for the essay questions on the bar exam. That's why they include several essays throughout their review course that are actual questions from the previous bar exams. Additionally, answers to these questions are graded according to the same scale. Having a dedicated attorney grading your answers also ensures that you receive personalized feedback on every essay that you submit for grading. Should you incorporate that feedback on each exam, you'll improve your writing by leaps and bounds!
---
Quimbee Bar Review Pricing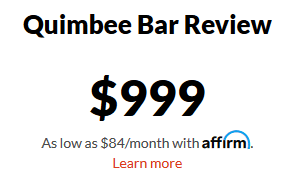 Quimbee Bar Review costs $999. This may seem like a lot of money, but you can pay for it monthly through Affirm. Because of that, taking this course is much more affordable and approachable than it first seems.
There are tons of extra study materials found on Quimbee's study aids section that can be accessed without paying a dime. Check out some of their flashcards or case briefs to see for yourself!
---
Pros & Cons
If you're unsure about this course, try looking at some of the pros and cons of taking it.
Pro – Mobile Friendly:

Quimbee's entire course can be taken on mobile devices. This gives you a great deal of freedom when preparing for the bar exam. Now you don't have to worry about getting to your computer on a schedule— simply study whenever you have the free time!

Pro – Unlimited Retakes:

If you're unable to pass the bar exam, Quimbee offers an unlimited amount of free retakes. Consequently, you'll be able to use the course as much as you want until you pass the bar exam.

Pro – Qualified Writers:

Quimbee only hires the top legal educators and writers to create course content. This ensures that you'll always have access to the best bar prep materials on the market.

Con – Availability:

Unfortunately, Quimbee's course doesn't cover every part of the United States— it's only available in the 41 jurisdictions that have adopted the UBE, plus California and Florida. Check

this page

to see whether or not it covers your jurisdiction.
---
Ideal Customer
Quimbee is a great course, and it's perfect if any of the following statements apply to you:
If you only want the highest quality materials,

this is the course for you.

If you like to create your own study schedule,

this is the course for you.

If you want to practice with licensed test questions,

this is the course for you.

If you prefer live content,

this isn't the course for you.
---
Final Recommendation
Quimbee is one of the best sources of legal education online. Their course perfectly emulates the experience of taking the test, and their video essays and casebooks do an excellent job of teaching you important concepts.
The course itself may be a bit pricey— but through monthly payments, that's made much more manageable. All in all, Quimbee offers a great package for an affordable cost.
So what are you waiting for? Sign up today!
---
Frequently Asked Questions
Still on the fence? Why not take a peek at some of the most commonly asked questions about this course?
📖 Q: Can I choose between a digital and physical course with Quimbee Bar Review?
A: Yes you can! Quimbee Bar Review defaults to an all digital course, but you may add on a print package at checkout. Currently, this package includes bar review outlines and workbooks.
💰 Q: Can I get my money back from Quimbee if I fail the bar exam?
A: Yes you can. If you complete at least 75% of the course and still are unable to pass, you will receive a full refund from Quimbee. Bear in mind that this does not apply to print materials.
👩‍🏫 Q: Does Quimbee include live or in person courses?
A: Unfortunately, no. Quimbee's prep course is designed entirely for self study; they want you to set your own pace and not be beholden to a preset schedule.
💵 Q: Is Quimbee worth it?
If it helps you pass the Bar exam, absolutely! Obtaining your license to practice law opens the door to an exciting and financially rewarding career. If you're interested in seeing how Quimbee might compare to other competitors, you can check out our complete breakdown of the best Bar review courses and study materials here.