There are many courses designed to maximize students' LSAT scores. However, few are as involved or effective as Alpha Score LSAT Review. At first glance, it may seem like another run-of-the-mill test prep course, but there's actually quite a bit under the hood of this course.
The production quality of Alpha Score's lecture videos make most other companies look like amateurs. This same level of quality carries over into their practice questions and tests. If you're sick of spelling errors, outdated design, and a headache-inducing course structure, Alpha Score is the breath of fresh air that you need.
Keep reading to find out more!
---

Overview Of Alpha Score LSAT Prep Course
Alpha Score Seminars Inc. has been assisting students since 2003 and has a positive reputation in the test prep field. They have several in-depth courses that include clear video lectures designed to help students learn effective strategies to earn a high score on the infamously difficult LSAT exam.
Students of Alpha Score LSAT gain access to a vast collection of online resources intended to ease their way through the study period before taking the LSAT. Paid subscriptions grant access for twelve months and the free trial grants access for one month. During this period students will have access to all the assistance they could possibly need for their test preparations. According to their student testimonials, tens of thousands of LSAT students trust in the quality of Alpha Score's educational program.
Here's A Snapshot Of Alpha Score's LSAT Review Course:
50+ HD Video Lessons and Tutorials
1000+ LSAT Practice Questions
Practice Quizzes and Assignments
In-depth Explanations

Personal Instructor Assistance
---
What's Included With Alpha Score LSAT Review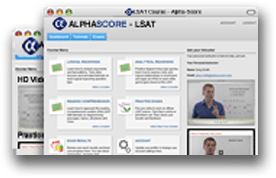 Video Lessons and Tutorials
Alpha Score boasts over fifty full-HD video lessons and tutorials designed to maximize your score on the LSAT. Each video can be sped up or slowed down for clarity, and re-watched as many times as you wish. This is fantastic for meticulous note takers who need more time to write down everything.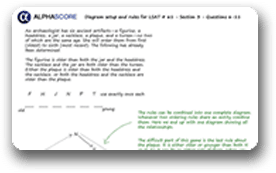 Official LSAT Exams
The LSAT review course contains previous exams from as far back as 2007. Using these as practice shows students what they can expect when it comes time for them to take the real test. Consequently, paid students can access as many as 61 exams when getting ready to take the LSAT.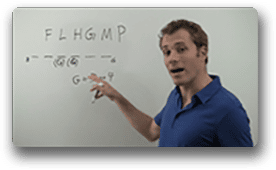 Personal Instructor Assistance
Alpha Score's most impressive feature is in the assistance of personal instructors for every student. Each instructor is highly qualified with a minimum of five years experience in teaching LSAT.
But that's not all they do for you:
Personal instructors make sure to give in-depth explanations for actual LSAT questions from previous exams. They'll even give analysis of each right and wrong answer choice and will work with you on any questions where extra help is needed. With these instructors on your side, a higher LSAT score is easily attained.
---
Alpha Score LSAT Pricing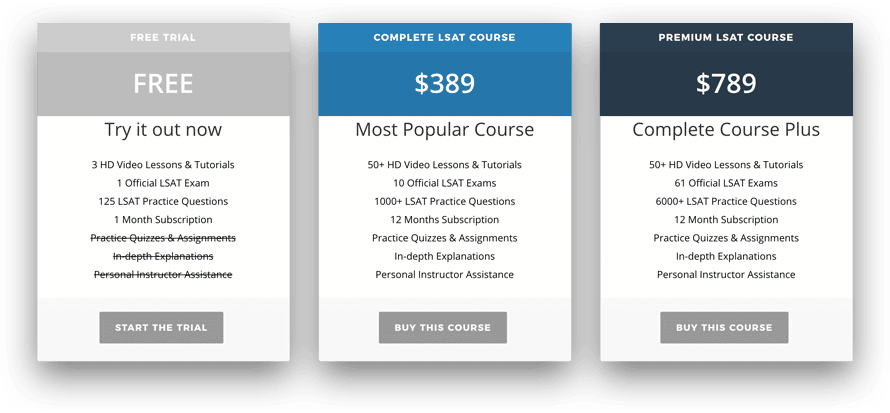 Alpha Score has three different pricing plans that you can see below:
| | | |
| --- | --- | --- |
| Free Trial | Complete LSAT Course | Premium LSAT Course |
| 1 Month Free Trial | 12 Months $389 Subscription | 12 Months $789 Subscription |
| 3 HD Video Lessons | 50+ HD Video Lessons | 50+ HD Video Lessons |
| 1 Official LSAT Exam | 10 Official LSAT Exams | 61 Official LSAT Exams |
As you can see, the three courses increase in price based on how advanced they are. Students who are curious about the course but not yet committed can try the one month free trial before subscribing to one of the two paid options. When they do so, they will be granted full access to all the features of the LSAT review course.
Best AlphaScore LSAT Promo Code Coupons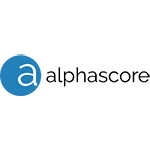 Save 10% off AlphaScore LSAT Courses
LSAT, Special Offer, Alpha Score LSAT Promo Codes
3 uses today
Last Used: 42 minutes
---

Pros & Cons
To learn more about Alpha Score's positives and negatives keep reading below:
Pro – Set Your Own Pace: Twelve months is a long time for a study period, especially when considering that the LSAT is administered six times a year. With such a generous period of time to study, students can move at the pace they are comfortable with. Want to speed through the course in time for the nearest test? Want to take your time learning everything throughout the course of a year? Alpha Score grants students the opportunity to make their own choices in studying.
Pro – Learn Test Taking Strategies: Alpha Score instructors break complicated questions down into different parts. From there, they walk students through each step to solve the problem. These strategies make sure students are prepared for tricky questions when they take the LSAT.

Pro – Reasonable Prices: The Alpha Score LSAT Review program has great value compared to other courses. In-person courses can cost up to $1600 and other online courses have a minimum price of $500 for a subscription. Alpha Score knows how to deliver effective test prep at a good price.
Con – Free Trial is Fairly Limited: Unfortunately, some of the promising offerings from the Alpha Score program do not appear in the free month trial. Those with the free trial do not have access to the practice quizzes and assignments or personal assistance from their experienced instructors.
---

Frequently Asked Questions
Are you still wondering whether Alpha Score is the right way to go for LSAT test prep? Here are answers to a few common questions about the service:
Does Alpha Score work on mobile?
Alpha Score LSAT Review is available on any device, including tablets and phones. Additionally, any and all progress is saved when logging off. This means you can switch between devices and pick up studying right from where you left off.
How well is each section of the LSAT covered in this course?
Alpha Score provides complete coverage of every aspect of the test. They provide sections on logic games, reading comprehension, writing, logical reasoning, and more.
How does the free trial work?
After providing an email address, you get access to some LSAT questions and an exam. From there, you can even get in touch with an instructor to learn more about the Alpha Score program before deciding to upgrade.
---

Ideal Customer
Still not convinced? The following is an overview of what aspiring students can look forward to in the Alpha Score LSAT Review course:
If you're a student who wants an accurate and effective LSAT review, this is the course for you.
If you're a student who enjoys setting their own schedule and working at their own pace,

this is the course for you.
If you're a student who likes receiving personal instruction from experienced professionals,

this is the course for you.

If you're a student who wants in person, classroom meetings when studying with an instructor,

this is not the course for you.
---
Final Recommendation
AlphaScore contains a wealth of helpful and easily understood instruction for a reasonable price. They've clearly earned their positive reputation in their field of test preparation.
The most worthwhile value option is the $389 subscription, which grants access to all of the site's features for one year. Even the premium subscription is worth the money for students who want a more comprehensive course, as they gain access to an additional fifty tests and 5000 practice questions.
I strongly urge any aspiring LSAT takers to at least check out the free trial to see just how effective Alpha Score is.
---