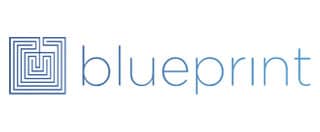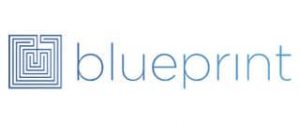 There's an inherent level of stress associated with preparation for your Law School Admission Test. Sometimes, just the act of finding the correct online course to help prepare can be just as agonizing. You've probably had some trouble finding the best provider to help you prepare for and obtain the highest scores possible on your LSATs, but don't worry— there are plenty of options available. 
Blueprint is one of the leading providers of LSAT test prep courses and stands out from the pack. The secret to its success is that this test preparation course takes a different approach than most— providing LSAT prep courses in a variety of formats to support all types of students and schedules. Additionally, Blueprint emphasizes a focus on finding ways to engage their students and have fun. 
Ultimately, this online LSAT course understands that preparing for the test and enjoying yourself don't have to be mutually exclusive!
How do you rate Blueprint LSAT Review?
---
About Blueprint LSAT Prep
Blueprint started from a team of passionate individuals that saw room for improvement in their field. Guided by one simple principle, Blueprint has continued to help students succeed at improving their LSAT scores over the past 15 years. That principle is simple; it's easier to teach students if they're having fun.
Master the LSAT on your terms with Blueprint's Live Online Course
Blueprint goes about making LSAT prep fun by introducing game-like elements to their courses as well as social features that encourage a higher level of interactivity for their students. Best of all, they have the results to support their approach— on average, Blueprint students see an improvement in their test scores of 11 points or more.
Here's a quick outline of what Blueprint LSAT Prep has to offer:
Comprehensive courses led by elite, trained instructors

System analytics track your progress to indicate key learning milestones

Engaging content and UX

A proven track record that has helped 50,000+ LSAT students

200,000+ Hours of live instruction

Team made up of 150+ qualified instructors
Here's what's Included With Blueprint:
Elite Instruction
Blueprint prides itself on a rigorous hiring process, with a bar set high for its instructors. In order to qualify to teach for Blueprint, you must first score within the top 98th percentile on a real, bona fide exam.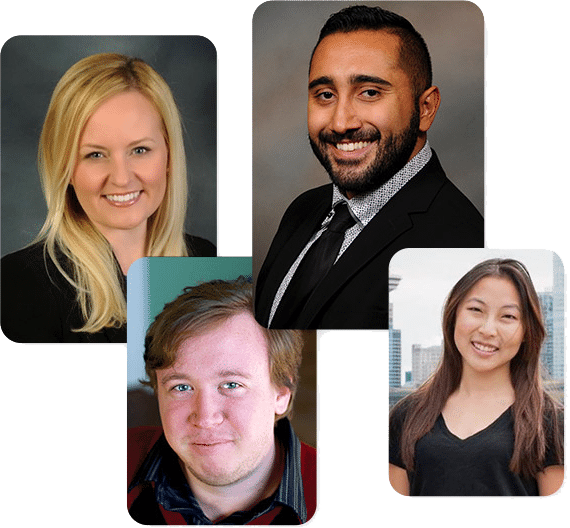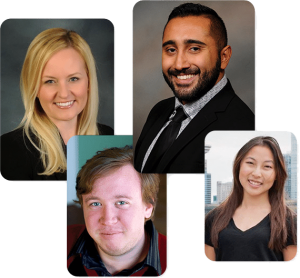 And that's just the first step. Now for the hard part:
After proving themselves as top performers on their exams, Blueprint hopefuls must then be subject to a hiring process in which they need to demonstrate their effectiveness as potential instructors. The odds are not in their favor though; Blueprint rejects over 90% of teaching applicants.
Applicants who make it past the highly selective process then undergo several hundred hours of training with a veteran instructor. By the time they're facing students in a physical classroom or online study session, all Blueprint instructors have been thoroughly trained and are fully capable of providing students with a top-notch legal education!
Cutting Edge Analytics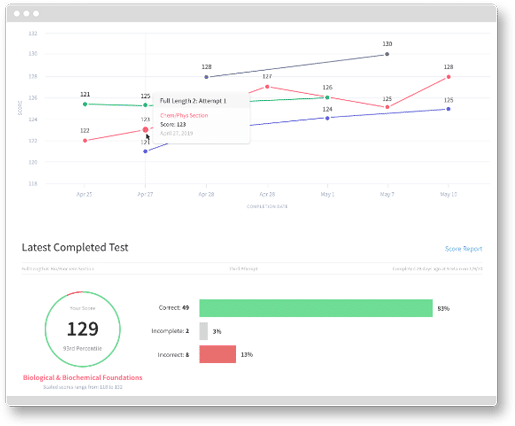 Blueprint provides its students with an impressive user dashboard. While other online courses are content to simply throw all relevant information up onto a screen, Blueprint takes this important aspect of their course one step further:
The Blueprint LSAT preparation dashboard tracks every move you make within their system by studying your practice exam questions. By breaking down each interaction that you have with the system and the course content, they're able to provide you with analytics that pinpoint where your weak points and subject areas are. From there, it's much easier to learn more about these subjects and how you can improve upon them. 
Engaging and Fun
If your platform is built around the idea that it's fun, you better not disappoint. Fortunately, Blueprint has an acute understanding of this with their entire learning platform built around it. 
The online content has gamified elements and social interactivity elements that help you learn alongside your peers. These elements enhance the practice tests and logic games, making their information more easily remembered on exam day. Furthermore, Blueprint's UX is bright and colorful— which really helps to break up the monotony of staring at legal text for hours on end. This visual style adds a fun flair to course content while also helping Blueprint stand out from competitors.
Proven Success
Anyone curious as to why they should choose Blueprint for their LSAT prep might want to look at their success rate. 98% of Blueprint students have improved their LSAT scores, and the average student enrolled in their courses can expect to see their score improve by a whopping 11 points or more.



The system Blueprint has developed is great at letting you know where you are by tracking your results on practice exams as well as your study habits. The entire concept is built around learning from your mistakes and improving upon each iteration. From their track record, this approach definitely seems to be working!
A Wealth of Content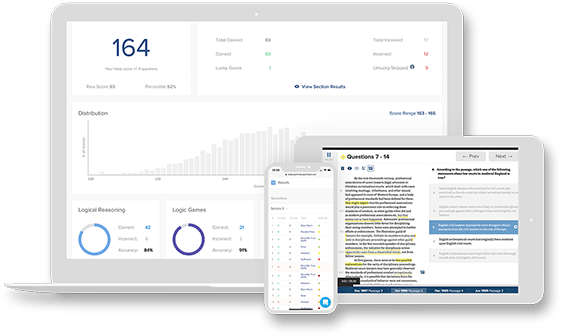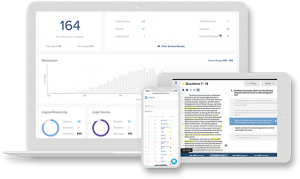 LSAT test prep covers a wide range of dense topics. Blueprint has a course catalog full of varied subject matter that provides you with plenty of options to get started. They even have a page on their site that can help you compare options to see what fits best for you.
Blueprint's LSAT courses help provide you with access to over 200,000 hours of live instruction. Additionally, they have an option to sign up for additional LSAT tutoring or actual in-person classroom learning.
---
Blueprint LSAT Pricing
You get what you pay for with Blueprint. The costs may look a little high to some, but the quality and the sheer amount of content that you receive through their courses are definitely worth it. 
In addition to a monthly Online Only pricing model, you can also apply for monthly financing through their 3rd party partner Affirm. These options can help to break up the costs in a way that fits your budget the best!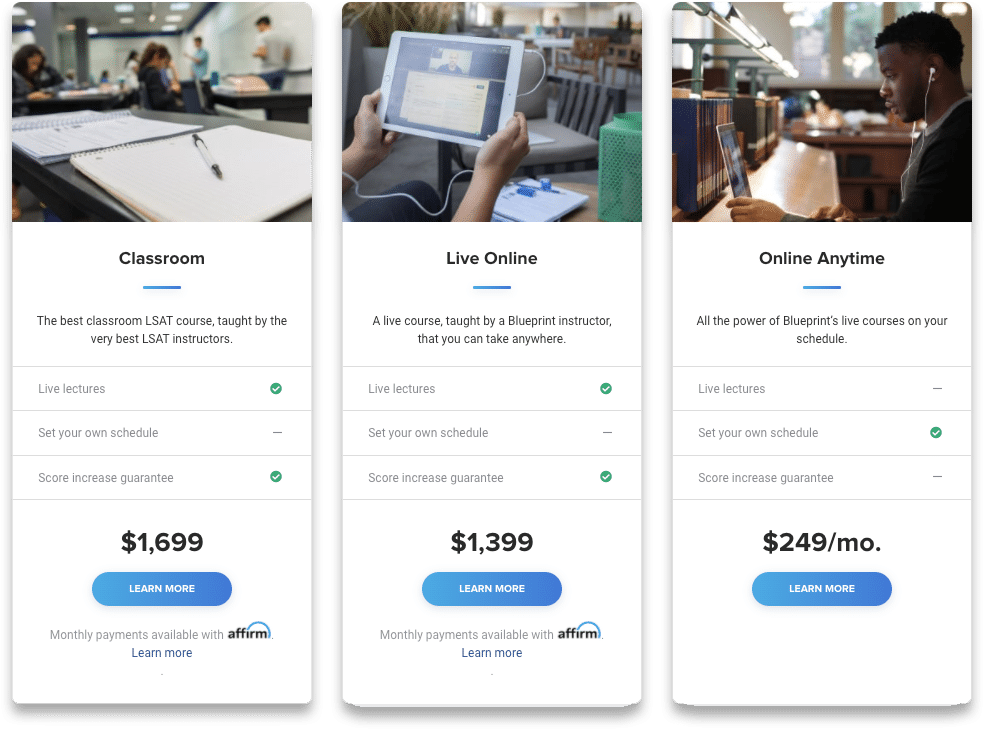 ---
Pros & Cons
Here are the ups and downs for students who sign up for Blueprint:
Pro – Plenty of Options:

Blueprint's offerings really allow you to tailor your LSAT test prep to your personal preference. Whether you choose live lectures, on demand content, or an in-person classroom course, they have you covered.

Pro – Payment Plan Options:

Not everyone can just put down the full amount for one of Blueprint's courses. That's totally okay, though— you can apply for payment plans through Affirm. Select a plan that's right for your budget and complete your payments in monthly installments.

Pro – Thoroughly Trained Instructors:

A common fear with online courses is that they may not be legitimate or officially recognized in some capacity. The fact that Blueprint has such strict hiring standards is highly reassuring and helps you get more out of your course.

Pro – Legitimately Fun:

It's rare to find a test prep course that's actually fun to take, especially with a subject as dry as the LSAT. The flair that Blueprint brings to their content really helps to freshen everything up and keep you engaged.

Con – Price Point:

While the payment plan options help to alleviate this issue, having to shell out a few hundred dollars a month can be difficult on a student budget. The courses are definitely worth it— just be prepared to pay for quality.
---
Frequently Asked Questions
Still have questions? We got you covered:
✅ Does Blueprint guarantee my success/improvement?
Yes, they do. If you fail to see results, provide your official LSAC score report within 3 months of completing a course. If you didn't score higher on the official exam than your first practice exam, you can either retake the course for free or receive a full refund.
✅ Does Blueprint offer financial aid?
Blueprint offers you the option to sign up for payment plans through their 3rd party partner, Affirm. They also offer free LSAT prep content on their website in addition to a blog that is regularly updated with timely topics and tips.
✅ How do I know which courses I should take?
Blueprint is aware that they have a lot on offer. Use their handy Course Comparison page to help take a deeper dive into some of their offerings and find the best choices for you.
---
Ideal Customer
Still weighing potential options? Here are a few points to consider:
If you want a course with a high success rate and proven track record,

this is the course for you.

If you prefer the option to complete your test prep in an actual classroom setting,

this is the course for you.

If you want to have fun while you learn and enjoy using modern technology,

this is the course for you.
If you are on a tight budget and looking to save money on your courses, this isn't the course for you.
---
Final Recommendation
For the aspiring law student, Blueprint's LSAT Test Prep course catalog is a diamond in the rough. The elements of fun they try to incorporate into their courses are matched only by the pedigree of their instructors. Additionally, multiple payment options ensure that courses are within reach of anyone, regardless of their budget.
At the end of the day, though, the sheer wealth of study materials and the next gen technology behind Blueprint's courses make them the go-to provider for LSAT prep!
Get Discounts On Blueprint LSAT Review!
Save $300 off Blueprint LSAT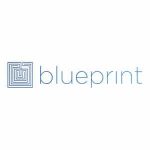 LSAT, Blueprint LSAT, Deep Discount 37 uses today
LSAT 35 uses today
Last Used 43 minutes ago
Expiration Date:
December 5, 2020