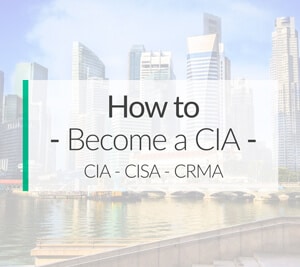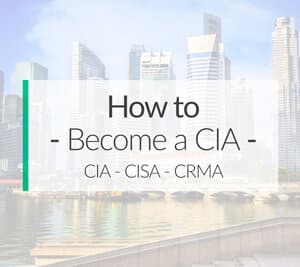 Becoming a CIA (Certified Internal Auditor) is one of the biggest steps you can take to advance your career as an auditor. You will have more opportunities, ability to take new responsibilities, and will gain respect with this certification. Not to mention you will probably get a pretty sweet raise after you attached those credentials to your name!
Becoming a Certified Internal Auditor will help you take your audit career to the next level. There are so many opportunities out there for CIA's. As pressures for the internal audit to contribute to the strategic direction of entities and move away from myopic procedural audit, the need for auditors to advance their competencies and professionalism and provide enhanced value-adding services to management grows.
The Certified Internal Auditor (CIA) designation will help you demonstrate you are a true expert that understands these needs. Certified Internal Auditors (CIA's) play a key role in enhancing control environments within entities and managing risks that entities' face for the achievement of objectives by providing assurance and consultancy services on governance, risk management and control activities of an entity.
Before committing to the becoming a CIA, here are a few things you might want to know:
---
How Do You Become a CIA?
---
Steps to Become a Certified Internal Auditor
Fulfill the CIA Exam Educational Requirements
The Institute of Internal Auditors (IIA) allows the access to register for the CIA exam only after completing work experience and educational requirements.
Generally, CIA candidates must meet the following minimum educational requirements in order to sit for the CIA exam. Candidates must graduate with a 3- or 4-year post-secondary degree (or higher) or have Associate's degree prior to satisfying the educational requirements of IIA.
There's no requirement that your degree needs to be in a specific field. Your degree may be in the fields of health-care, business, applied science, or any other field. Also, subject to the approval of IIA, an alternative eligibility path is given to those candidates who do not possess minimum education requirements.
Verifiable seven years of internal audit experience or its equivalent may serve as a substitute to the minimum education requirements.
---
Fulfill the CIA Exam Work Experience Requirements
Some CIA candidates may also have to complete a work experience requirement before taking the exam. The maximum level of education determines the work experience requirement.
Internal audit experience is usually required, but experience in some type of audit or assessment discipline like quality assurance, external auditing, internal control, or compliance also qualify.
Since these rules affect individual candidates differently, it's a good idea to contact your local IIA chapter. Contact IIA and local IIA chapter near you for confirmation of work experience to ensure that work experience falls under the categories recognized by IIA.
You may sit for the exam while completing this requirement; just ensure that the requirement is met within the 4-year eligibility window. If the complete certification process is not completed within 4 years after the approval of the application, all fees and exam parts taken will be forfeited.
---
Prove Your Moral and Professional Character
In addition to education and experience, a character reference to show a high moral and professional character of the candidate is needed.
Character reference of the candidate may be a CIA, CGAP, CCSA, CFSA, CRMA or the candidate's supervisor.
---
Get a CIA Review Course
Just like any professional exam, proper studying and preparation is key to your success. You will definitely want to get a CIA review course that fits your learning style in order to make sure you are confident on your exam day.
There are a bunch of different options out there and all of them have different advantages and disadvantages. The important thing is that you find one that works for your study schedule, budget, and needs.
Getting the wrong course will most likely cause you to spend way too much time studying or even worse, it might cause you to fail the exam. That's the last thing you need. Here's a list of the top CIA courses. Check it out and see which one is right for you.
---
How to register for the CIA exam
Only upon the submission of required forms, satisfactory supporting documents, and the completion of experience verification will the IIA issue the access to register and schedule for the exam.
After you've met all these requirements, you can register to take the exam.
---
Pass the CIA Exam
The CIA exam is divided into 3 parts. Proper scheduling of the exam parts is necessary to provide sufficient time for preparation for the exams. You also have to be aware of the level of difficulty the IIA sets for each topic or concept.
Concepts and topics in the CIA exams are tested in 2 levels: (1) Awareness and (2) Proficiency.
CIA Exam Part 1 is entitled Internal Audit Basics. This part consists of 125 questions with a time allotment of 2.5 hours (150 minutes). The topics tested in this part include internal control and risk concepts; aspects of mandatory guidance; and tools and techniques for conducting audit engagements. All items in this section are tested at the Proficiency level unless otherwise stated.
CIA Exam Part 2 is entitled Internal Audit Practice. This part consists of 100 questions with a time allotment of 2 hours (120 minutes). Topics tested include how internal audit functions are managed, fraud risks, and management of individual engagements. Like part 1, topics in this section are tested at the Proficiency level.
CIA Exam Part 3 is entitled Internal Audit Knowledge Elements. This part consists of 100 questions with a time allotment of 2 hours (120 minutes). Topics tested include risk management, governance and business ethics, communication, organizational structure, IT and business continuity, management and leadership principles, financial management, and global business environment. For this part, all items are tested at Awareness level unless otherwise stated.
The CIA Syllabi provides a detailed list of topics and sub-topics covered by each part, and the level of knowledge a candidate must possess for each topic. IIA also provides a list of references that may be used to study and review for the exams. Also, there are a number of CIA review providers that may help you in the preparation for the exam.
---
Pay the CIA Exam Fees and Certification Costs
How much would the program cost?
Apart from the time and energy that will be put into pursuing the program, fees need to be paid. Below is the certification fee structure for CIA:
| CIA Exam Parts | Member CIA Exam Fees and Costs | Non-Member CIA Exam Fees and Costs | Student/Professor |
| --- | --- | --- | --- |
| Application Fee: | $115 | $230 | $65 |
| CIA Exam Part 1 Fee: | $280 | $395 | $230 |
| CIA Exam Part 2 Fee: | $230 | $345 | $180 |
| CIA Exam Part 3 Fee: | $230 | $345 | $180 |
Becoming a member is not a requirement in obtaining CIA designation but becoming a member can save you a lot of money.
The membership fee is at $250, but from time to time the IIA waives the application fee to its members, not only to CIA certification but also with other specialty certification programs. On top of that, exam parts registration fees are $115 cheaper as compared to non-member fees.
During the study and preparation for the exam, you may also visit your local IIA chapters to use their free learning resources to help you in the preparation for the exam. Becoming a member will also help you build your connections that will help you be on track with your exam and also in your career after. Local chapters of IIA may have different approaches to helping their members, but it pays a lot to contact and visit them to know how they can help.
IIA may also help you with their in-house training programs. This entails additional costs but they provide discount also to members. IIA also can provide assistance in finding an external review service provider to assist you with your preparation. These external review service providers are not sponsored by IIA, but IIA maintains statistics on the success rate of such providers.
---
Fulfill the CIA Continuing Education Requirements
Obtaining the CIA designation is just the start of your career as a world-class internal auditor. Professional standards for Internal Auditing require the continuing professional development and the maintenance of high level of competence in the conduct of an internal audit. As such, continuing professional education (CPE) or continuing professional development (CPD) units have to be earned prior to renewal of the certification.
CIA's are awarded 40 CPE hours for the year in which the certification is earned, and 40CPE hours for the subsequent year. CPE/CPD requirements vary whether a CIA is a practicing or non-practicing auditor or in related services. Annual CPE/CPD hours of 40 CPE for practicing and 20 CPE for non-practicing are required to maintain the designation.
There are various ways to earn CPE/CPD units. Ways to earn CPE/CPD units include education, publications written, oral presentations, participation in activities of a professional organization, and other activities such as the achievement of other certifications. Earned units must be reported in IIA's system. IIA conducts 5% sampling of these reported CPD units and false reporting of such may result in the revocation of the certification.
---
Will You Become a CIA?
Being a CIA is a life-long commitment to delivering high-quality internal audit services. Recognition of this designation from the community we serve boosts opportunities and career growth as compared to peers not certified. Rise above the challenges of changing and ever growing needs for assurance and consultancy services and become a CIA.