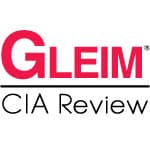 The best way to improve your chances of passing each part of the CIA exam on your first try is to prepare with an effective review course. And since the CIA exam changes often, you'll want to make sure you have access to updated materials that reflect these changes!
Gleim CIA Review is consistently recognized by industry professionals (and former students!) as one of the most effective ways to prepare for the CIA exam. The adaptive learning platform, large number of practice questions, excellent instructional videos, personalized counseling, and authentic practice exams make Gleim our top pick for getting your CIA certification as quickly and painlessly as possible.
Recently updated for 2023: New edition includes a second Mock Exam during the final review for Premium users. New outlines for better accessibility and recall, enhancing the learning experience.
---

Why Choose Gleim CIA Review?
For the past 40+ years, Gleim has earned its reputation as one of the longest-running and most effective programs to help students review for various accounting tests, including the CIA exam. The company takes pride in providing the most efficient and affordable way to study for and pass professional exams.
Gleim's prep course gets rave reviews from past exam-takers because the material is comprehensive, and the practice tests are virtually identical to the real thing. Unlimited access to study materials while preparing for the three separate parts of the exam is a welcome feature that covers you for future versions of the exam.
Any CIA exam changes are also explained clearly on Gleim's website and reflected in their review materials, so you should have no problem knowing what to study and when
---
In a Nutshell
We recommend the upgraded Premium package from Gleim, it includes:
A CIA exam Test Bank with 3,500+ questions
45+ hours of Gleim Instruct video lectures
Audio lectures
SmartAdapt™ technology
Access Until You Pass® guarantee
Realistic practice exams
Access to accounting experts and personal counselors
Digital and physical textbooks
Interactive study planner
Mock Exams for final review
Digital flashcards
Optional payment plan
---

Best Gleim CIA Course Features
Personal Counselors
One of the best and most unique features of this course is that you are assigned a mentor to give you personalized help when you need it most. You can customize the level of advice and support you want to make sure you aren't getting too much or too little feedback. Given the lack of live review options, keeping yourself motivated and on track with an online course can be challenging; fortunately, Gleim's counselors will help keep you accountable.
In addition to your personal counselor, you'll get access to accounting experts, which is more typical of the kind of support offered by Gleim's competitors.
Automatic Electronic Updates
Once you've purchased Gleim's CIA exam review materials, electronic material will update automatically when new editions are released, or revisions are made. Gleim will also ship new physical textbooks and only charge you the shipping cost. This is especially useful when sweeping changes are made to the CIA exam. With Gleim, you'll always have access to the most up-to-date practice questions and exam format.
Realistic Exam-Day Simulation
Gleim consistently gets high praise for their Mock Exams. This exam-day emulating software is nearly identical to the actual exam. Previous test takers report that it is virtually indistinguishable from the CIA exam, right down to the font, color, instructions, calculator, and navigation buttons. You won't see which questions you got right or wrong until you've finished, and you'll be under strict time constraints: just like on the actual exam!
Practicing under exam-like conditions makes you more comfortable on the day of the test and can give you a huge psychological boost. If you are used to navigating your way through the exam-like interface during your practice tests, you'll be able to save precious time during the exam itself. And if you enroll in their Premium course, you'll have access to two of these rehearsals in your package.
Adaptive Technology
Like most quality review courses, Gleim uses adaptive technology to make each learner's experience more efficient. Gleim's SmartAdapt software pinpoints your strengths and weaknesses so that you don't waste time studying things you already know and can avoid answering the same questions over and over.
Detailed analysis and feedback identify which types of questions you are getting wrong and help you focus on learning those topics. Your overall performance is tracked, so you'll be able to tell right away if you are on track or whether it's time to touch base with your personal counselor.
Access Until You Pass & Money Back Guarantee
One of the best features of this course is continued access to the study materials as long as you are still preparing for and taking the CIA exam sections for which you purchased study materials. In other courses, you often have to pay an additional fee or even full price if you need more time!
There's also a money-back guarantee if you don't pass the exam after following Gleim's "suggested steps" in the Premium CIA Review System and if you aren't satisfied with the course. You can request a refund within 18 months of your purchase, which is pretty generous. See Gleim's website for details.
---

Gleim CIA Review Pricing
Choose the Gleim Premium CIA Review System bundle for $949, purchase the study materials for each exam part separately, or see if you qualify for a …monthly payment plan (about $86/month for the Premium Review System).
The Traditional Review System is slightly cheaper at $799 ($73/month for the payment plan), but it doesn't include video lectures, an Access Until You Pass Guarantee, or access to accounting experts.
You also have the option to buy the study materials for each part of the exam separately, but it costs more than purchasing the entire package. For Premium, you'll pay $339 each for Part 1 and Part 2, and $379 for Part 3. For Traditional, Parts 1 and 2 each cost $279, and Part 3 costs $319.
If you are still in school, take advantage of their offer for students who get up to 20% off. See Gleim's website for details.
Best Gleim CIA Promo Codes & Discounts
---
Pros & Cons
Here's a quick summary of Gleim's pros and cons:
Large Question Bank: Practice makes perfect, and there's certainly no shortage of practice questions in Gleim's test bank of 3,500+ multiple choice questions. The video lectures take you through typical and past exam questions one step at a time. You can filter questions by type or eliminate those you've already completed. Detailed explanations are included for correct and incorrect answer choices.
Materials Available in Spanish and Other Languages: Gleim's practice questions have been available in English and Spanish for some time now, but did you know that the Online Review Course component has been translated into Portuguese, Chinese and Turkish too? If English is not your first language, Gleim is a great option!
Access Until You Pass, Including Updates: As mentioned above, the continued access to study materials for as long as you need them to pass all three parts of the exam is one of the best reasons to buy this course. Automatic updates mean that your materials are never outdated and that you will always be preparing for all three parts of the CIA exam with relevant material.
No Live Option: Although Gleim's tried and true online study approach is very popular and gets results, self-paced online learning is not for everyone. Gleim has tried to address this shortcoming by assigning a personal counselor to each client to help keep them on track, but some people still learn better in a live or live online classroom environment.
---

Ideal Customer
Still not sure if this is the right course for you? Here's a quick summary of which learners will benefit most from Gleim's online review materials:
If you're trying to pass all three parts of the CIA exam to become a Certified Internal Auditor,

this is the best course for you.

If you want up-to-date and easy access to study materials that won't expire until you have passed your tests,

this is the right CIA course for you.

If you are comfortable with online self-study courses and don't need more support than regular contact with your assigned counselor,

this is the course for you.

If you're a student who learns best in a classroom setting with a live instructor,

this is NOT the CIA exam prep course for you.
If you're a student who wants to access learning material through an app, this may not be the CIA Review course for you; however, Gleim has done a great job optimizing their course for mobile learning on most mobile devices.
---
Final Recommendation
You really can't go wrong with Gleim's first-rate study materials. Students consistently report that they felt well-prepared for the CIA exam when they took the three tests and found the course to be user-friendly and manageable even with so much material to go through. Not surprisingly, this industry leader has done a superb job keeping students informed of all CIA exam changes and continually updating their materials accordingly.
Anyone who wants a flexible online course with countless opportunities for authentic practice and feedback that will fit into their busy schedule will benefit from Gleim's CIA exam prep course. If you're still on the fence, try their free demo today to see if it's a good fit!
---